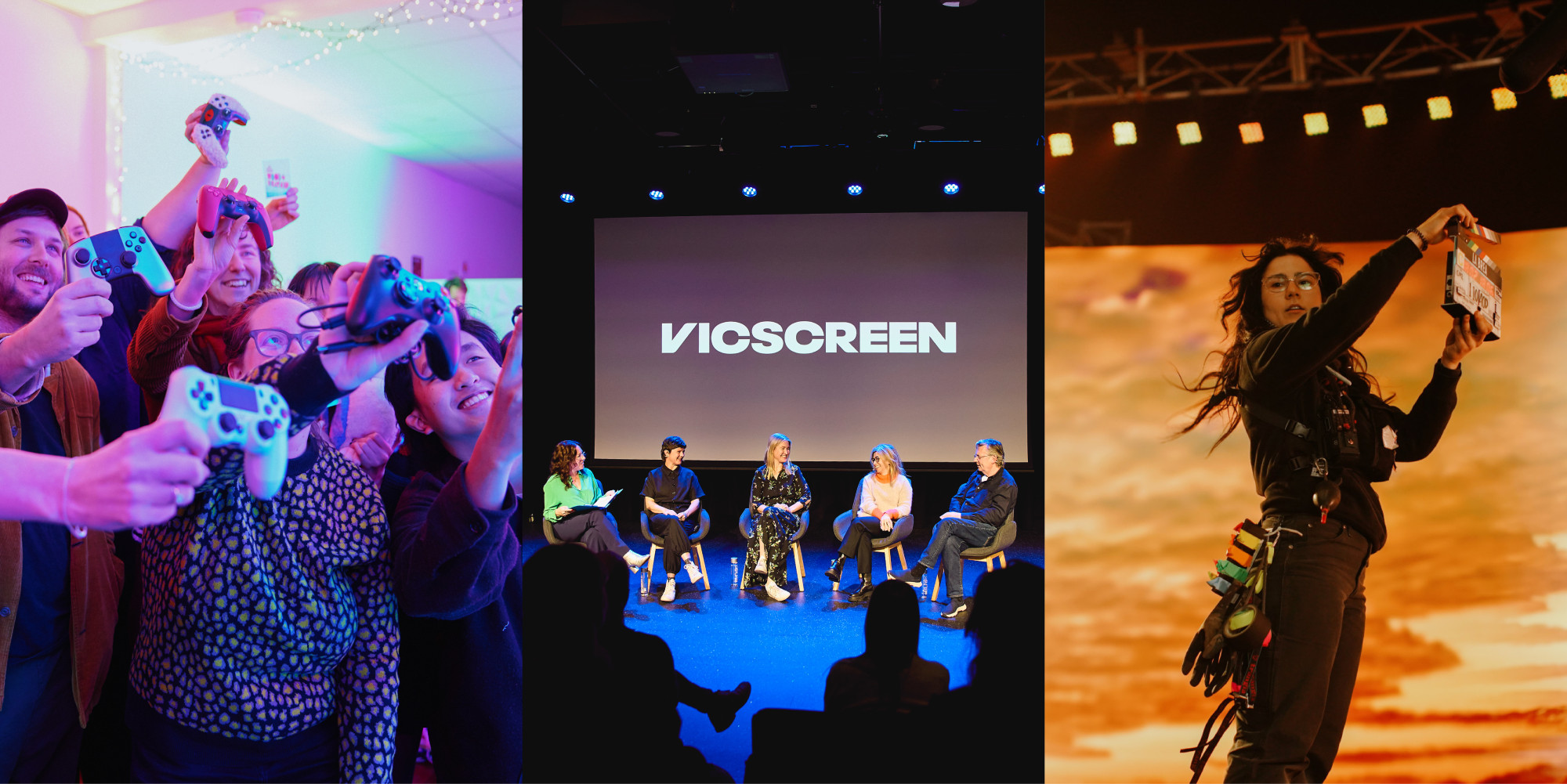 It has been a big year for the Victorian screen industry, with people, productions and projects eager to get back to business as usual. From the launch of the Victorian Production Fund to the massive success of indie game Cult of the Lamb, 2022 has been an important year for supporting and cultivating a more vibrant and ambitious future for screen in the state.
Reflecting on our first year as VicScreen, here are some of our favourite moments that defined our ever-expanding sector.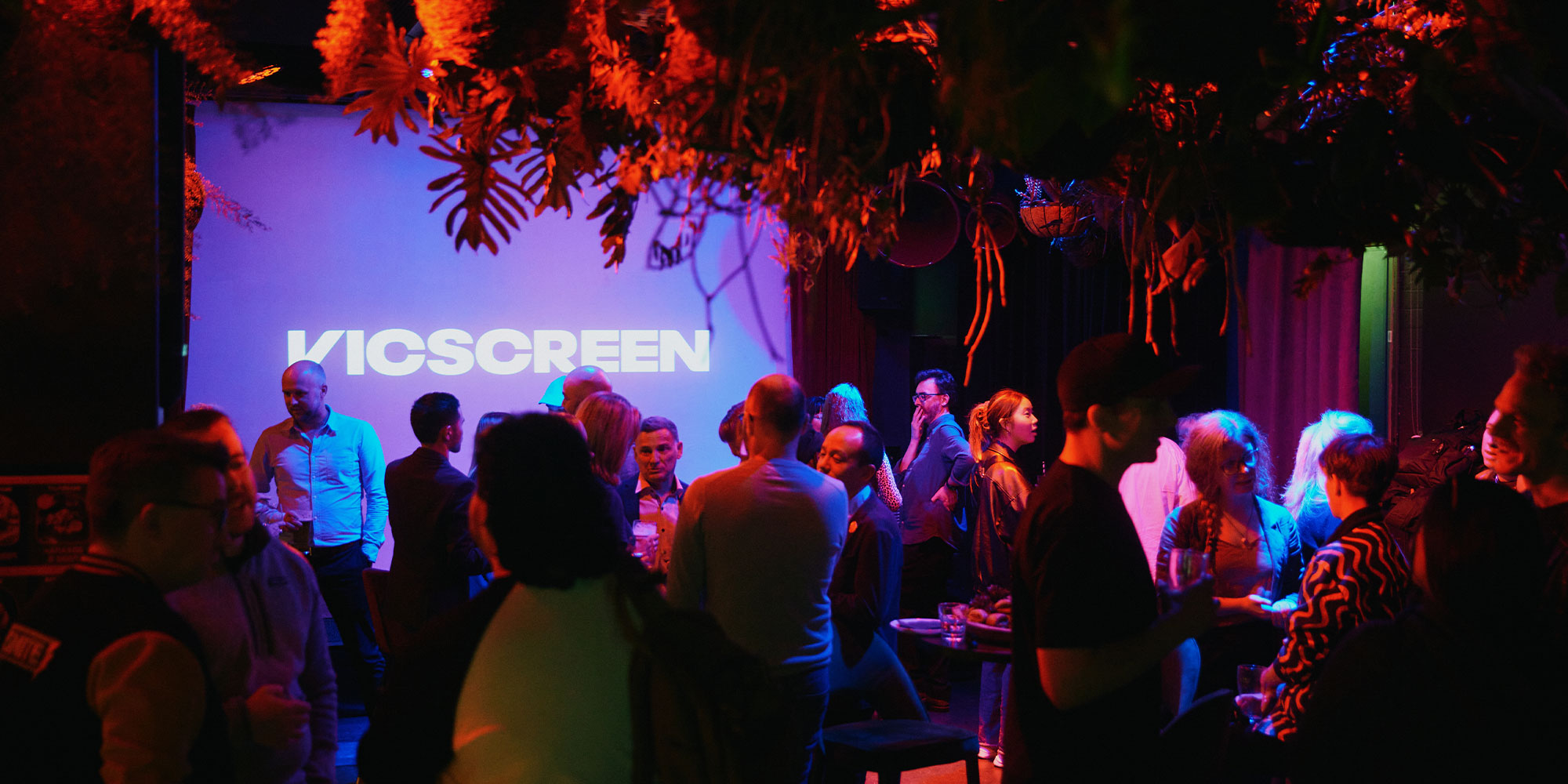 SUPPORTING A NEW ERA FOR SCREEN IN VICTORIA
Back in March, we announced the launch of the Victorian Production Fund (VPF), a $40 million program that aimed to increase support for Victorian-led film, television, digital games and online content created in the state. Responding to the growing demand for skilled workers across the screen industry, a new $2.06 million Specialist Placement Program was also established, addressing critical skills gaps across the screen ecosystem.
Both of the programs are supported as part of the Victorian Government's $191.5 million VICSCREEN Strategy, which is investing in new talent, skills, businesses and events to grow the state's screen industry. The announcement also marked our rebranding to VicScreen - a name that reflects the breadth of screen sectors in the state.
As Victoria's creative and economic screen development agency, the name change recognised Victoria's growing strengths—in areas such as digital games— and allows us to promote Victoria as a global screen powerhouse.
A PHENOMENAL YEAR FOR DIGITAL GAMES
Victoria continued to prove why it's the epicentre of Australia's games industry in 2022, with massive wins across the sector. From an incredible slate of new and upcoming locally made digital games to the return of Victoria's Games Development Internship program, it was a record year for the Victorian digital games industry with VicScreen-supported games injecting $9.7 million into the state economy—a whopping 46 per cent increase on the previous year.
With Victoria home to 57% of Australia's games workforce, over 170 digital games studios, and recent award-winning titles like Cult of the Lamb, Gubbins, and Kinder World, it was only natural to announce Originate Games. A dynamic new initiative, the program supports the development of original early-stage concepts from Victorian game developers, with a focus on new voices and new projects.

VICTORIA ATTRACTS MORE INTERNATIONAL PROJECTS
It's been a massive year for international projects, with the Victorian Government attracting highly anticipated international projects. This year saw the announcement of Amazon Studios' Foe—which followed other epic productions like Better Man starring Robbie Williams and Blacklight starring Liam Neeson—and saw stars Saoirse Ronan (Little Women, Brooklyn), Paul Mescal (Normal People) and Aaron Pierre (The Underground Railroad) filming in the state across locations to including Winton Wetlands in northeast Victoria and Docklands Studios Melbourne.
In the realm of television, Victoria attracted its biggest-ever screen production, Metropolis: an epic new TV series by NBCUniversal's Universal Studio Group. Season two of the international drama series La Brea also returned to Victoria, showcasing the state's exceptional facilities and diverse locations, creating hundreds of jobs for Victorians.
UPLIFTING THE VICTORIAN TALENT WORKING BEHIND THE SCENES
We got up close and personal with Victorian screen practitioners this year, profiling the people working on our favourite films, series, and games. From speaking with the studio behind the beloved game Wayward Strand to interviewing breakthrough director Goran Stolevski, or going in-depth with the booked and busy camera operator Hazal Alakus to chatting with doco filmmakers Isaac Elliott and Lucy Knox, each interview shared insights into their careers and pathways.
When it comes to pathways into the screen industry, 2022 was a standout year for stories shared by people who have been part of our Skills Development programs too. In the words of emerging scriptwriter Melissa Black, her attachment on La Brea felt like a career-changing move "to create connection and network within the industry, to learn, and to be part of the whole experience was phenomenal."

SPOTLIGHTING LOCAL CREATORS THROUGH ORIGINATE FEATURES
Through September, we got to know the four finalists of Originate Features, the dynamic development and production program designed to support and amplify the work of writers from traditionally underrepresented backgrounds.
Chatting with Kalu Oji, Katie Found and Markella Kavenagh, Harvey Zielinski, and Adrian Chiarella, each project showcases a wide range of exceptional talent, highlighting the importance of having a robust development process when crafting production-ready screenplays for the marketplace.

LAUNCHING SOUND STAGE SIX AT DOCKLANDS STUDIOS MELBOURNE
Melbourne's screen industry entered a new era this year, with the opening of the city's first super-sized sound stage. At 3,700 sqm (40,000 sq ft), Stage 6 at Docklands Studios Melbourne is one of the largest in the southern hemisphere and enables the city to host bigger productions than ever before.
The first production to shoot in Stage 6 was the Robbie Williams' biopic Better Man, which was directed and co-written by Victorian Michael Gracey (The Greatest Showman). The studio's 2022 slate included the second season of La Brea and psychological thriller Foe.
CELEBRATING THE BEAUTY AND COMMUNITY OF REGIONAL VICTORIA
It was win after win for regional Victoria this year, with projects heading outside Melbourne to tap into the state's diverse locations and local communities. Supported by VicScreen through development, production and the Regional Location Assistance Fund, the Summer Love cast and crew moved to Victoria's famed Great Ocean Road for two months in late summer to shoot eight episodes of the ABC series.
Netflix show Surviving Summer also placed the scenic surf coast front and centre—with the 10-part Werner Film Productions series injecting almost $11 million into the Victorian economy, including more than $1.8 million into regional Victoria—supporting more than 500 local businesses and creating 711 jobs in the process.

CHAMPIONING A VIBRANT SCREEN CULTURE
This year, the Victorian Government backed Victoria's screen industry with the introduction of Australia's largest film festival prize at the 70th anniversary of Melbourne International Film Festival (MIFF). Already the Southern Hemisphere's largest and longest-running film festival, Melbourne International Film Festival's new competition seeks to attract more major titles, global profile and leading filmmakers to Melbourne in August with its $140,000 award for Best Film.
In August, the Indian Film Festival of Melbourne celebrated a return of its iconic in-person events, with festival director Mitu Bhowmick Lange, film director Kabir Khan, writer/actor Puneet Gulati joining Minister for Creative Industries Steve Dimopoulos in announcing additional support for IFFM to deliver a new short-film initiative.

CELEBRATING THE 2022 VICTORIAN SCREEN DEVELOPMENT INTERNSHIPS
Getting together with Paramount Australia and New Zealand, Blackfella Films and Fremantle Australia, we announced Gina Song and Madeleine Ruskin as the successful recipients of the highly coveted Victorian Screen Development Internships.
The internships are designed to overcome traditional barriers to entering the screen industry, as well as supporting emerging screen creatives to fast-track their careers and the duo have already been kicking goals—with Gina awarded the 2022 Sir Peter Ustinov Television Scriptwriting Award for her project Miss Underworld and Madeline sparking important conversations on chronic pain and disability, with a recent article and interview with national youth broadcaster Triple J and Triple J Hack.
Want to stay up to date on the latest VicScreen news? Sign up for our newsletter here or follow us on Instagram @wearevicscreen.