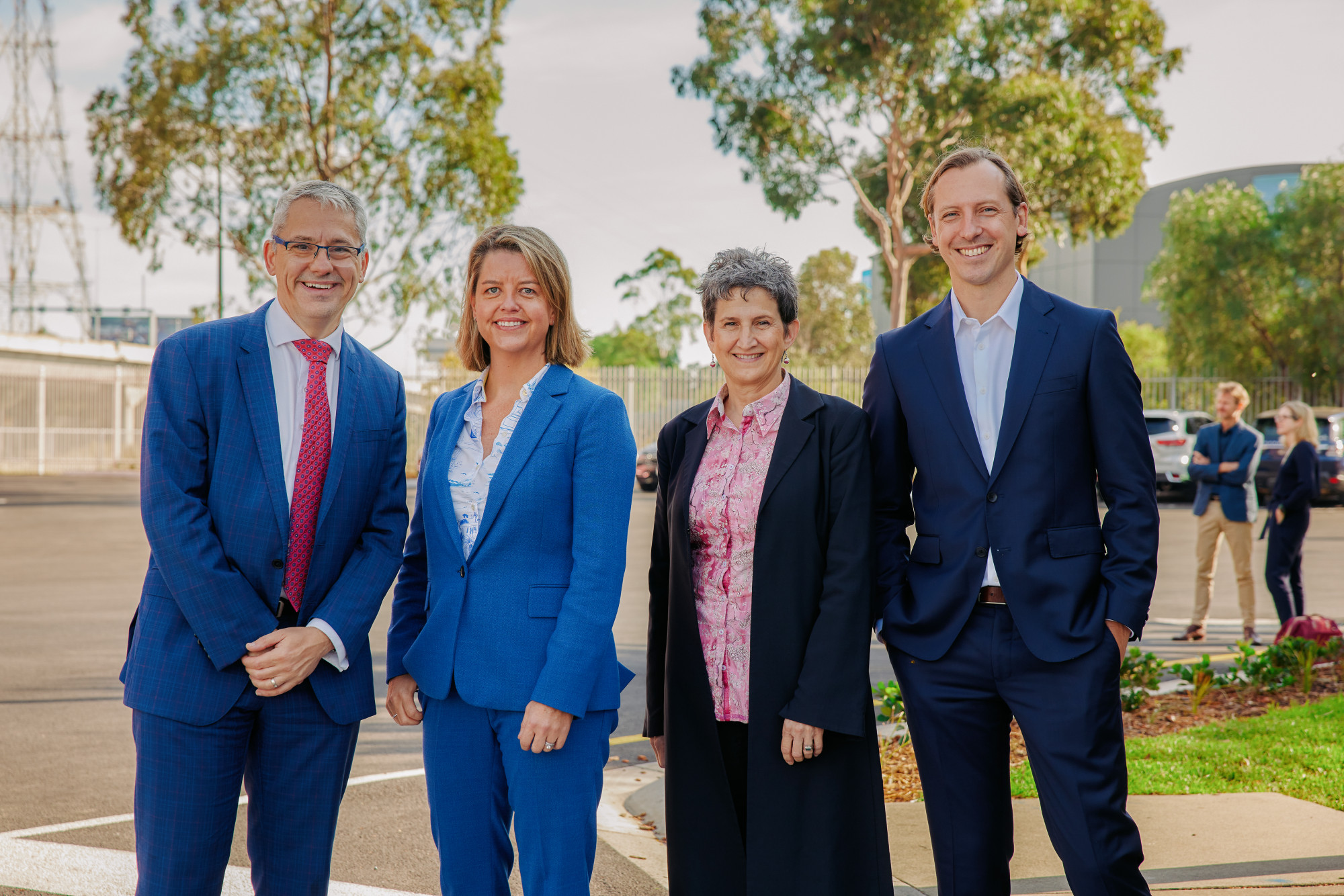 From left to right: Minister for Creative Industries Danny Pearson, Caroline Pitcher (VicScreen), Professor Marie Sierra, Matt Vitins (Matchbox Pictures). Photography by Daniel Mahon.
Victoria has attracted its biggest ever screen production, Metropolis—an epic new TV series by NBCUniversal's Universal Studio Group which is set to create thousands of local jobs.
The highly-anticipated sci-fi series was attracted to the state through VicScreen's Victorian Screen Incentive grant as the first in a pipeline of projects from NBCU which is expected to inject $416 million directly into the Victorian economy over coming years.
The Victorian Government further backed the project by supporting state-of-the-art virtual production infrastructure to be built in Victoria, including one of the largest permanent 'LED volumes'—high-tech digital screens that display background environments and visual effects on set—in the world.
This technology has already been used to bring worlds to life in the ground-breaking Star Wars series, The Mandalorian. In ever better news, the infrastructure will be longstanding, and available for local and international productions to utilise and as a training ground for budding film practitioners.
Minister for Creative Industries Danny Pearson said, "With this industry-leading infrastructure capability, we're putting Victoria at the forefront of the global screen industry. Together, with the recent addition of our new super sound stage, this will make Victoria the go-to place for ambitious screen productions."
Metropolis, inspired by the revolutionary Fritz Lang science fiction work in 1927, is written and directed by Sam Esmail, who also serves as showrunner on the series. Esmail is the creator, writer and director of Mr Robot, starring Rami Malek, and Homecoming, starring Julia Roberts.
The 8-part series is expected to create 3,980 local jobs, including 500 Victorian cast and crew and over 2,400 extras, and 600 Victorian businesses and service providers will benefit from the local production. 
This massive project comes off the back of numerous international smash hits filmed in Victoria, including NBCU's La Brea, and Clickbait which screened on Netflix. The Greatest Showman director, Victoria's own Michael Gracey, is currently gearing up to film Robbie Williams' biopic Better Man in Victoria, and the much-talked-about sci-fi drama Foe, directed by Victorian Garth Davis and starring Saoirse Ronan and Paul Mescal has recently wrapped.
Caroline Pitcher, CEO of VicScreen said, "Metropolis is set to be one of the most technically ambitious screen productions in the world, and the state-of-the-art infrastructure being built right here, along with our outstanding crew and locations, truly places Melbourne as amongst the world's great screen production cities."
Matt Vitins, Chief Operating Officer of Matchbox Pictures, who will be managing production services on the project, said, "This latest pipeline of projects, as well as the investment in infrastructure and training, will position Australia for a decade of high-end work in virtual production driven film and television shows."