Sweet Milk Lake charts the story of a softly spoken trans man named Jake who, after being mistaken for his alpha, cis twin brother by his estranged and dying dad, relishes the opportunity to be "one of the boys"; until the weight of his lie becomes heavier than his need for the truth.
Sweet Milk Lake is Harvey Zielinski's first full-length screenplay and has been selected as one of VicScreen's top-four finalists in the inaugural Originate program.
Thematically, this work is autobiographical, Harvey explains. "The story isn't, but the allegory is," he says; prompting the young filmmaker to write, direct and star in his biggest project to date. "It's definitely my central focus. It has been for a while now. Creatively, it would be an enormous achievement all round."
At its core, Sweet Milk Lake is a screenplay about identity, not just for the film's protagonist, Jake, but for the entire cast. "It's about compromising on identity, for a sense of belonging, and how that can really corrupt and distort your true nature." At the start of the film Jake feels trapped and suffocated by the external world's projections of his transness. "Everybody views that as the first and most foremost thing about him." It's a sentiment Harvey is personally familiar with.

Alfie Gledhill and Harvey Zielinski acting in Sweet Milk Lake.
"I've written a whole film about the fact that I'd like to stop talking about it so much."
The idea was rattling around in his head for some time. "In its initial conception, it was about a trans man going back to a rural town and having his identity mistaken at a funeral." The story needed to be as much about masculinity as it was about transness,Harvey says. "It's more about me trying to process my initiation into male privilege and how shocking and startling that was, especially at first."
"Part of the motivation for this film was a bit of a pushback from me…I aligned with Jake wanting everyone to stop talking about his identity and just breathe and exist. But at same time, we've got to keep talking about it, so that one day, maybe we can stop talking about it." The irony is not lost on Harvey. "That never stops," he says laughing. "I've written a whole film about the fact that I'd like to stop talking about it so much."
Someone had to, and who better than this burgeoning filmmaker right off the back of his VicScreen director's placement on series two of The Newsreader. Like his lead character, Harvey wants to exist in a more fluid, multi-dimensional world where gender identity, representation and experience are accepted as varied and multifaceted, rather than being boxed into certain categories.
In Sweet Milk Lake, Jake accidentally walks into a persona defined by male privilege and bravado, compromising on his own ethics to benefit from that privilege. "It's intoxicating," Harvey extrapolates. "The power is intoxicating. Until it all blows up, and he is forced to choose which version of masculinity he wants to embody." Sweet Milk Lake asks the same question of all its characters: what lines are you prepared to cross for the sake of acceptance?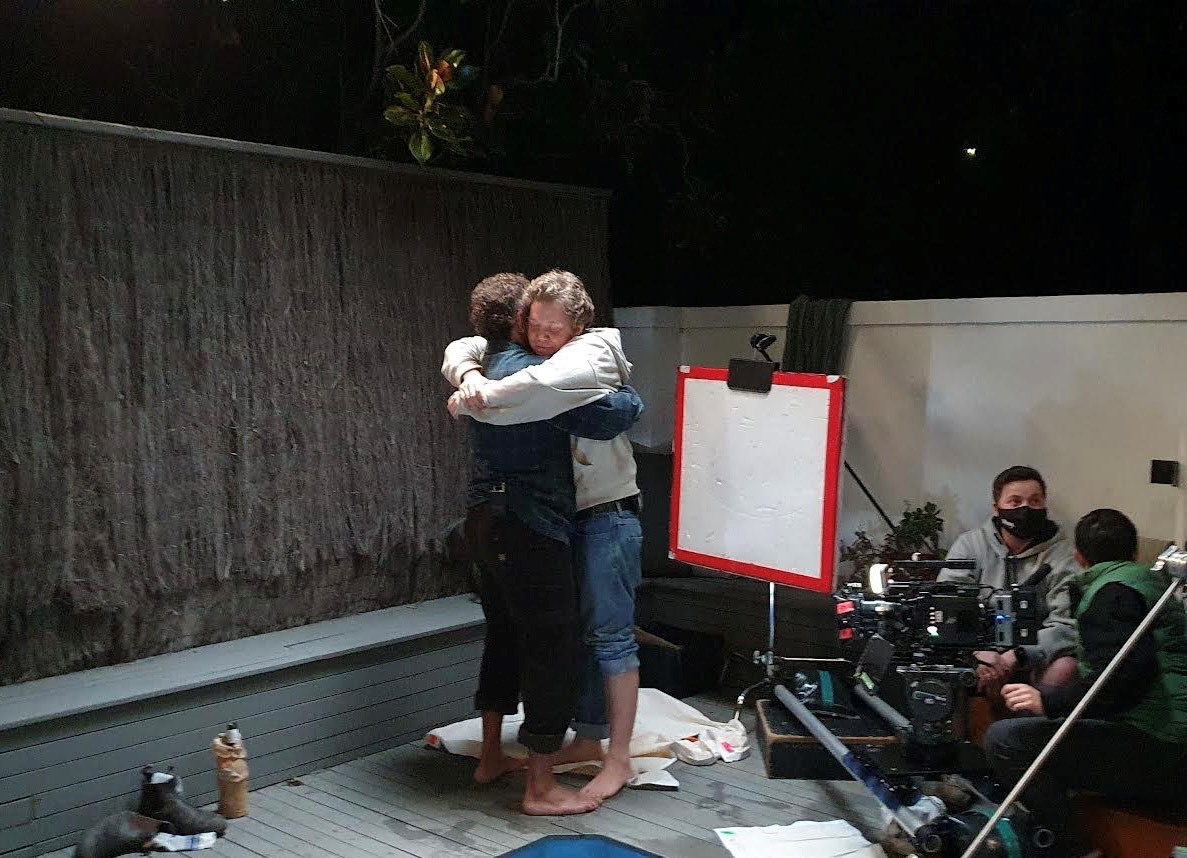 Pictured (L- R) Alfie Gledhill, Harvey Zielinski, Han Palmer and Flick Smith at the proof-of-concept shoot.
"Sweet Milk Lake asks the same question of all its characters: what lines are you prepared to cross for the sake of acceptance?"
As a top-four Originate finalist, Harvey benefited from a series of early workshops before redrafting his script. "It was amazing to have that creative freedom, supported by Originate to just see what the next phase of this project could be, before my producer, co-producer and I shot a proof of concept."\
It's still early days for the development of Sweet Milk Lake, however, as Harvey's debut feature film, he is crystal clear on the spirit of the project and the kind of collaborative energy he requires from his cast and crew. "I want to prioritize having as many queer and trans team members as possible. That's important, I think, for the spirit of this film."
The inspirations and references for Sweet Milk Lake are plenty. Think Martin McDonagh's cinematic triumph, Three Billboards Outside Ebbing, Missouri, or Tracy Letts Pulitzer Prize-winning August: Osage County. McDonagh and Letts, like Harvey, have theatre backgrounds, contributing to the ensemble-style narratives that play out with large chunks of dialogue. "I'm a big fan of a big ensemble piece, which almost feels like stage [on film], and I'm a big fan of slightly heightened, larger than life characters who push the bounds of naturalism, Harvey says.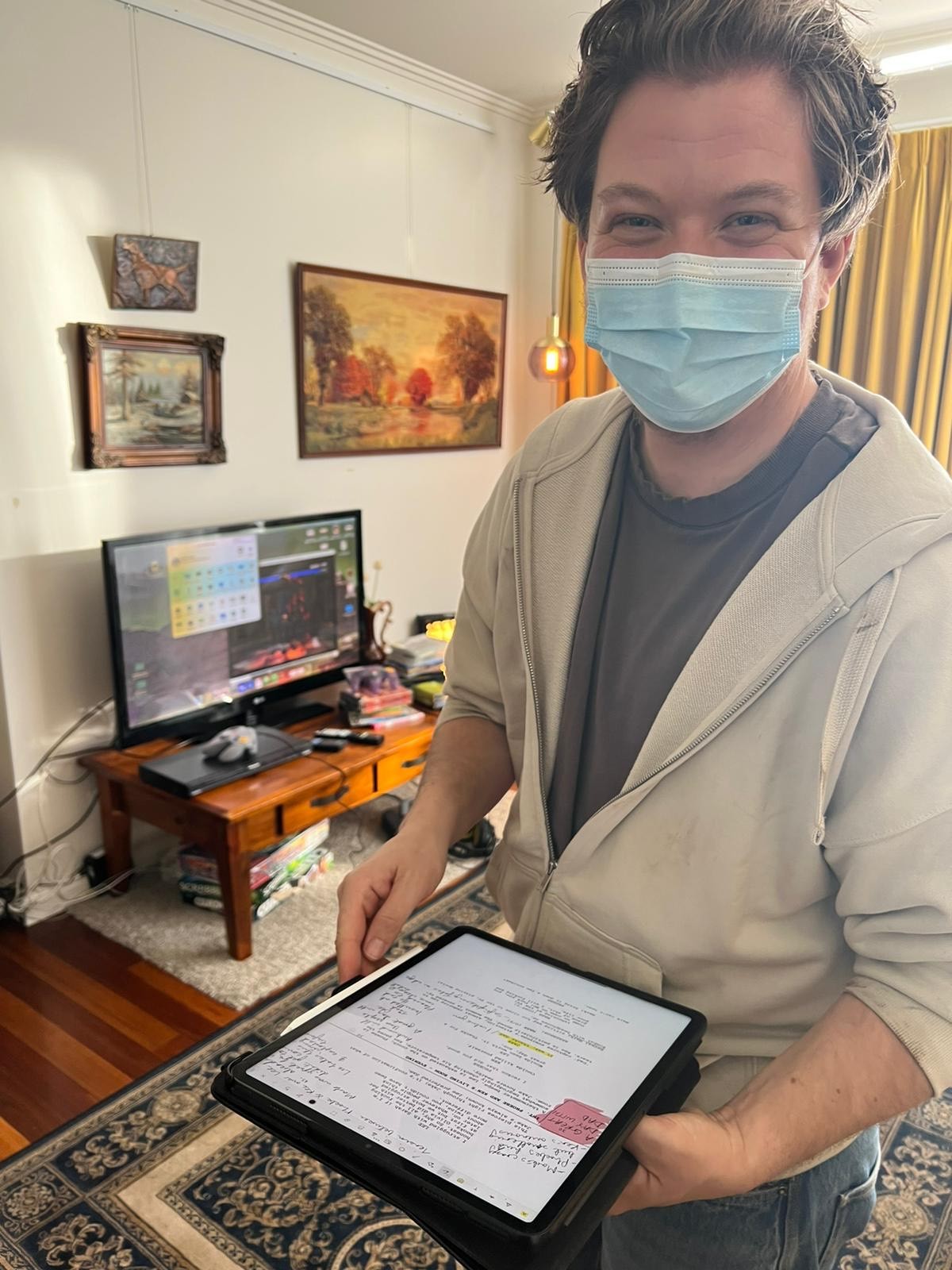 Harvey Zielinski with his completed screenplay, Sweet Milk Lake.
Both August: Osage County and Three Billboards Outside Ebbing, Missouri capture the visual language Harvey would hope to achieve, but also the dark, comedic narratives driven by their characters. "I want to follow Jake's point of view quite strongly, so we see everything as he does." Think handheld and Steadicam footage throughout. "It shouldn't be glamorous or glossy; it's rougher than that and more about what Jake's looking at and how he's seeing the world, both literally and emotionally."
Sweet Milk Lake is especially for anyone queer identifying, trans or gender diverse Harvey clarifies. "I haven't created some tragic figure or a hero either. I'm trying to represent a multifaceted human being and provide the sort of complex representation that we're currently lacking."
This interview is part of the profile series for Originate 2022, where we will be speaking to all finalists. Find out more about Originate and VicScreen's funding for development here.
All images supplied.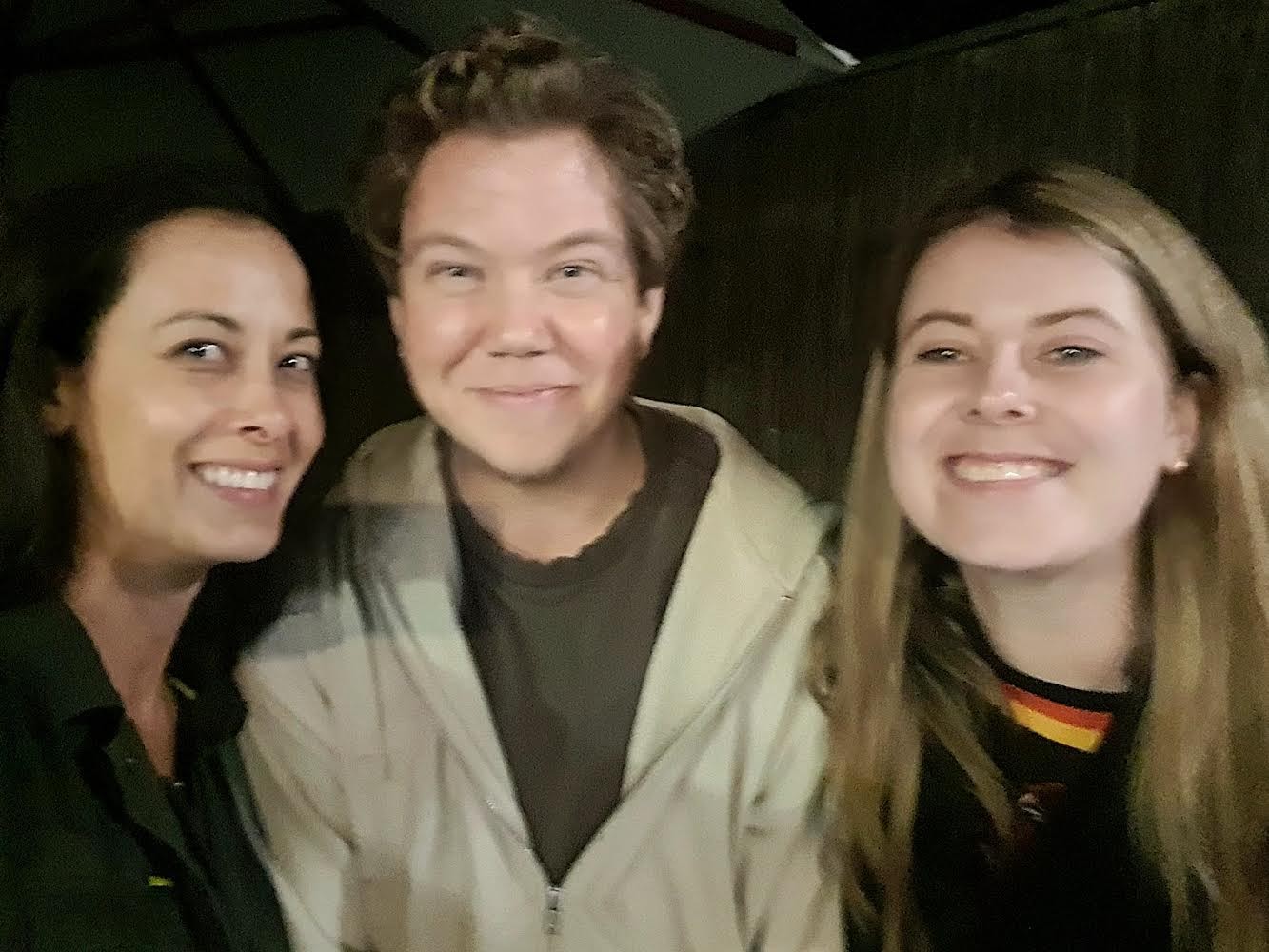 Harvey Zielinski (middle) with producers Rosie Lourde and Alexandra Keddie.