Husband and wife duo, Wayne Hope and Robyn Butler (the brains behind Gristmill) initially penned this pilot as an antidote to Melbourne's 2020 winter lockdown. They knew early on that to incorporate the kind of diversity they expected to see on screen, they needed to employ a writing team as varied as the characters and storylines they wanted to explore in each episode.
"It was a very different experience for us as we usually write most of our work," Hope and Butler explained, "We felt that Summer Love, as an anthology, was the ideal show to engage with a diverse group of writers whom we greatly admired. It was a challenging creative task as the series was written during the pandemic and almost entirely over Zoom – in fact we are yet to have all the writers in the same room."
As showrunners, it was Butler and Hope's job to tie the tone and feeling of the episodes together across the series. "The whole experience was quite labour intensive, but deeply satisfying," they said. "It's a marvellous team."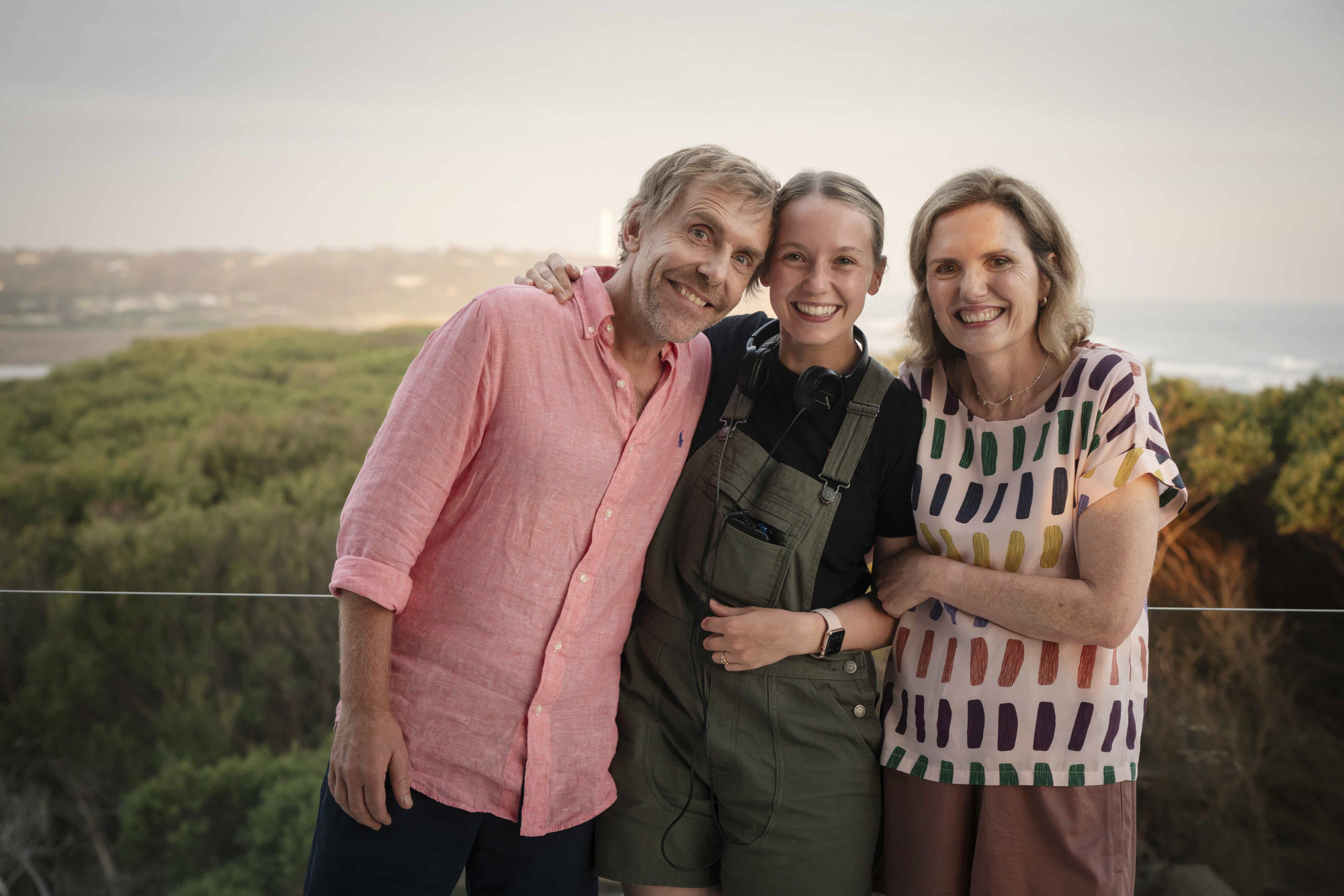 Wayne Hope, Nina Buxton and Robyn Butler on location for Summer Love. Nina Buxton, worked as an EA at Gristmill for five years, whilst being mentored as a director by Hope and Butler. Buxton went on to direct two episodes of Summer Love.
Supported by VicScreen through development, production and the Regional Location Assistance Fund, the Summer Love cast and crew moved to Victoria's famed Great Ocean Road for two months in late summer to shoot eight episodes. They were aiming for sweltering summer days followed by balmy, mosquito-bitten nights, but were greeted by Victoria's erratic La Niña forecast instead. "The house had a 180-degree view of the ocean, which was stunning," Hope said, "but also presented challenges in terms of lighting and being at the mercy of the weather. In the end, we leant into going with whatever natural light we had on the day and the results are some of the nicest pictures we've ever shot."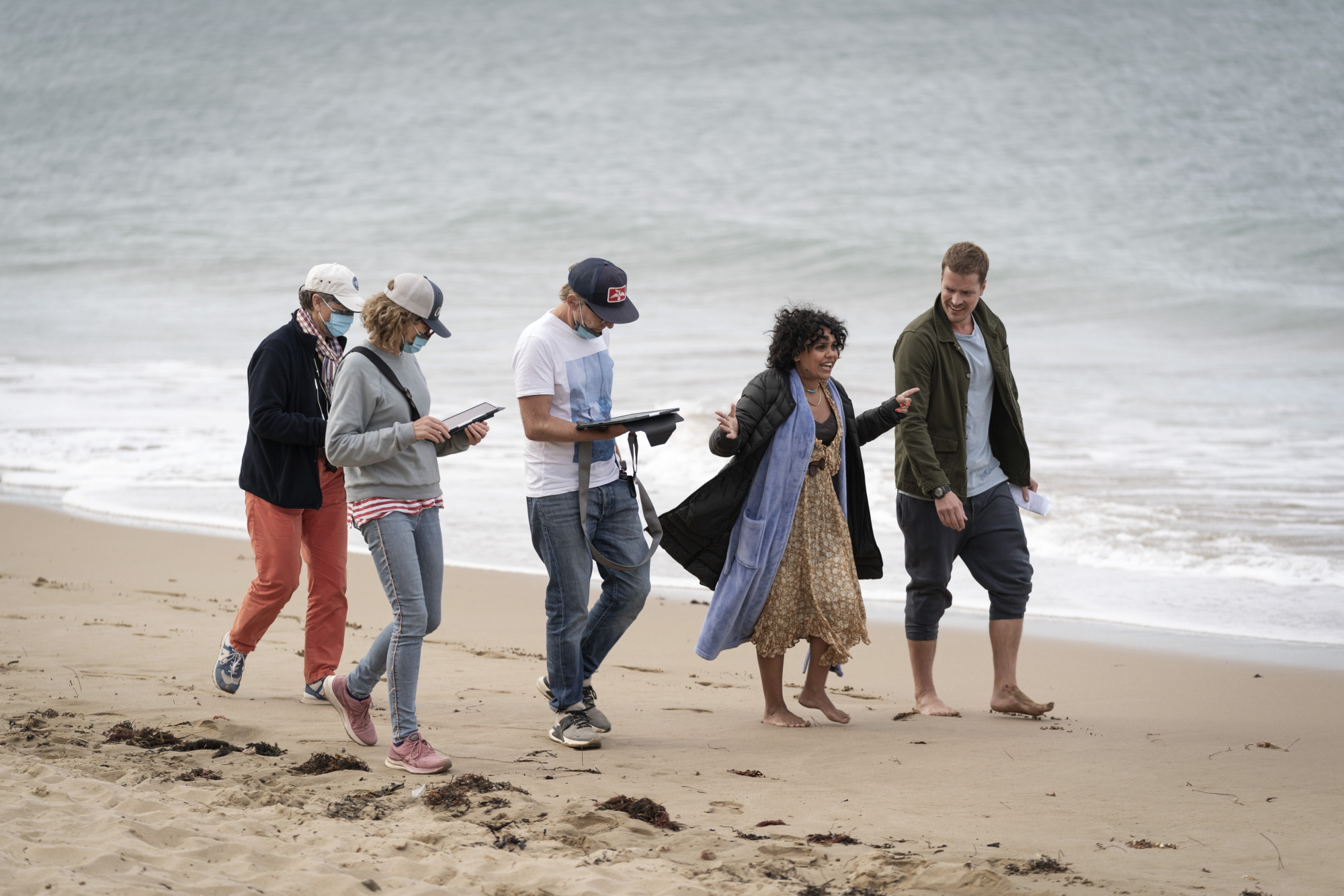 Miranda Tapsell wears a dressing gown and puffer jacket over her costume while rehearsing on the set of Summer Love.

"It's not called The Great Ocean Road for nothing!" Hope continued, "The obvious pro of filming at our hero house in Fairhaven was the magnificent coastal view. The Surf Coast of Victoria is epic in its scale and is a magnificent backdrop for the show."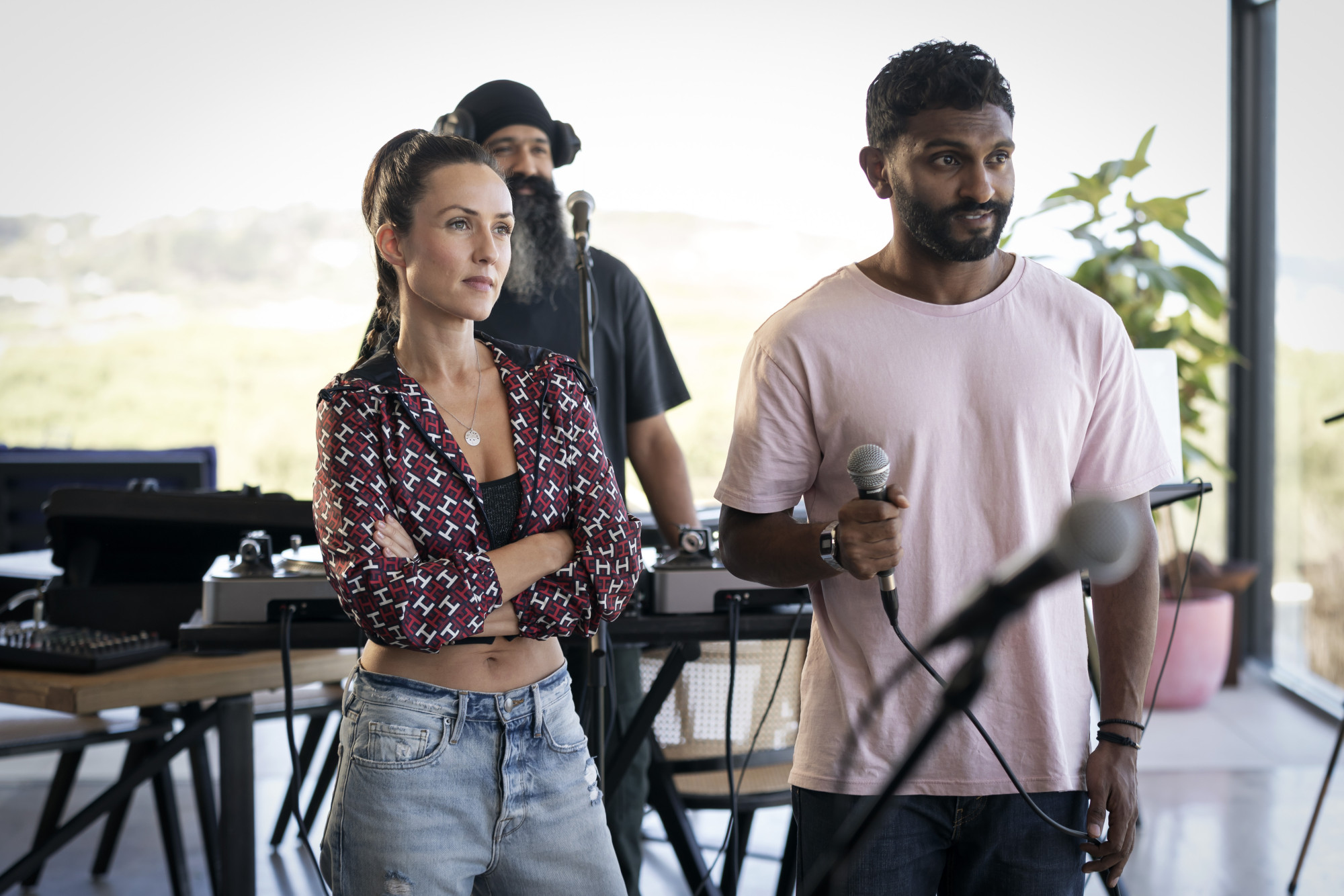 Nazeem Hussain on set with co-stars Jane Harber and Sukhdeep Singh Bhogal.
Comedian Nazeem Hussain formed part of the show's core writing team and played the role of Imran. "One of the main reasons I was genuinely excited about being part of Summer Love was being able to write alongside Robyn and Wayne," Hussain said. "I'm such a massive fan of all their work, and I knew that working with them would be a masterclass in writing episodic comedy."
Having written a lot of sketch and stand-up comedy over the years, Hussain had not yet embarked on writing 30-minute narratives. "To be honest, the idea has always daunted me. I'd always loved the idea of doing it but have felt unqualified and inexperienced. Which is true. But Robyn and Wayne were the best mentors a newbie like me could ever hope for, and they made me feel supported from the get-go. The whole experience was a total laugh, and I'm just annoyed I haven't bothered them with my ideas sooner."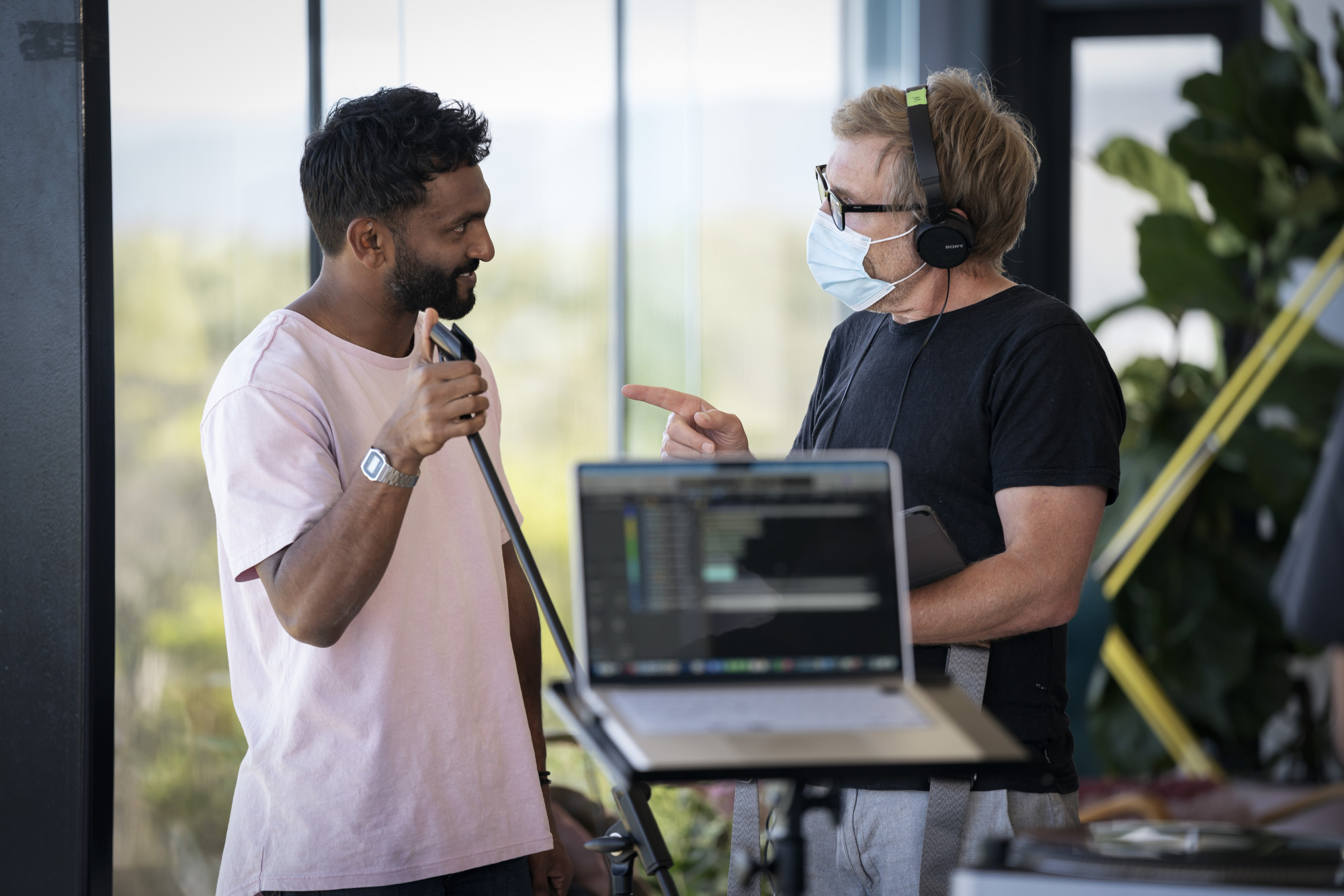 Nazeem Hussain and Wayne Hope behind the scenes on Summer Love.

The constraints of writing each episode at the same beach house acted as a helpful formula, Hussain said. "I loved it. It gave the project certain parameters, which helped give the ideas and script a framework. Using the same location meant that the crew and production more than knew their way around the set, and it meant we could shoot through lots of scenes more quickly than if we were constantly setting up at brand new locations."
"I can't think of a con of shooting in that same location for each episode. Perhaps there are certain audience members out there who don't like tuning in each week to look at an insanely beautiful house on one of the most picturesque beaches in the world, week after week?" he asked.

Locations Manager Jacob McIntyre said shooting the series on Victoria's Great Ocean Road was a major source of inspiration for the storytelling. "VicScreen has strong connections with the Great Ocean Road Coast and Parks Authority, as well as VicRoads and Parks Victoria. These relationships enabled us, as a fast-paced television series, to pivot quickly and take advantage of the amazing landscapes in the Surf Coast region."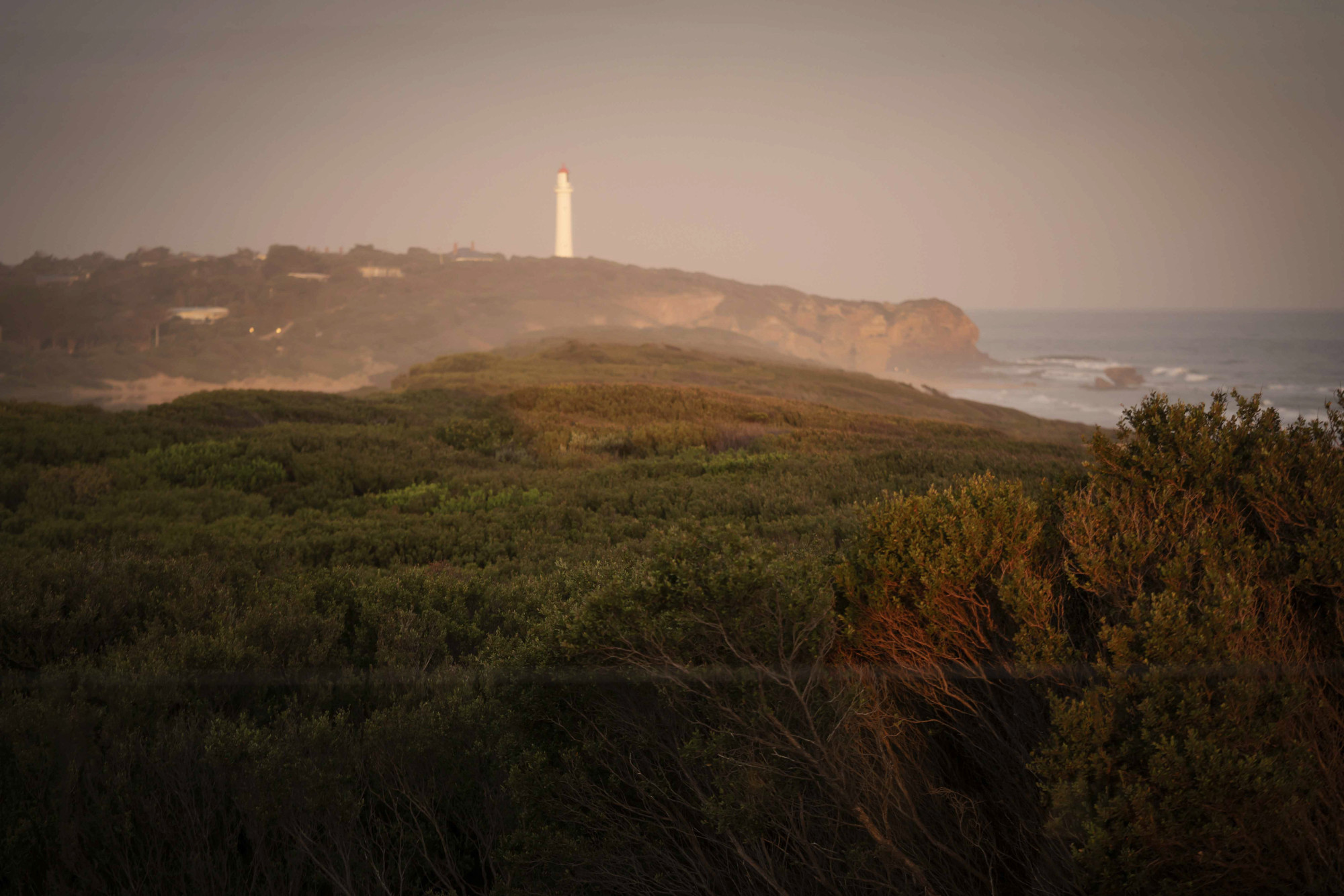 The view of Airey's Inlet lighthouse from the 'hero house' in Summer Love.
Showrunners Hope and Butler now claim to know every inch of beach between Anglesea and Spout Creek. "There's one for the locals," they revealed, referencing the popular surf spot at Spout Creek just beyond the renowned Great Ocean Road sign. "We chose our beaches in accordance with what the emotion of the scene called for. In Nazeem Hussain's episode, Imran and Nabilah, a very large family comes to the beach for a picnic, so we needed a location to accommodate that story. We chose Point Roadknight because it's such a perfect family beach. In Charlie and Zeke, written by Kodie Bedford and Bjorn Stewart, Charlie and Zeke have a reckoning about their relationship and so we chose the grand and vast Fairhaven beach as their backdrop. Luckily, there was a stretch of sand and surf to suit every occasion we needed! The spectacular Anglesea Surf Life Saving Club was one of regular characters and the Point Roadknight Cafe became our local fish and chip shop. We were so grateful to all the amazing locals who helped us out."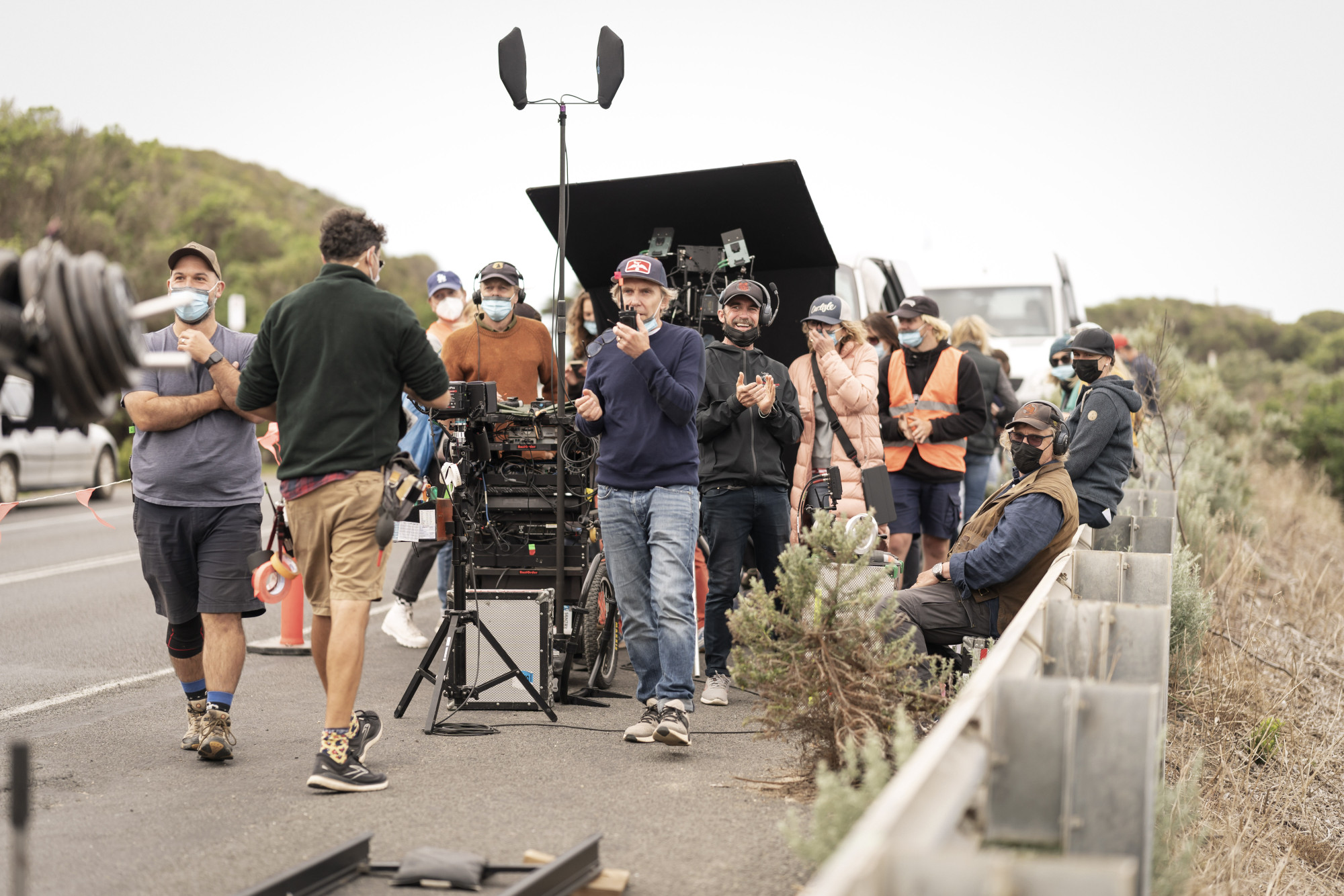 The crew of Summer Love with their production unit on the Great Ocean Road above Fairhaven beach.
Summer Love premieres on ABC at 9pm, Wednesday 31 August.