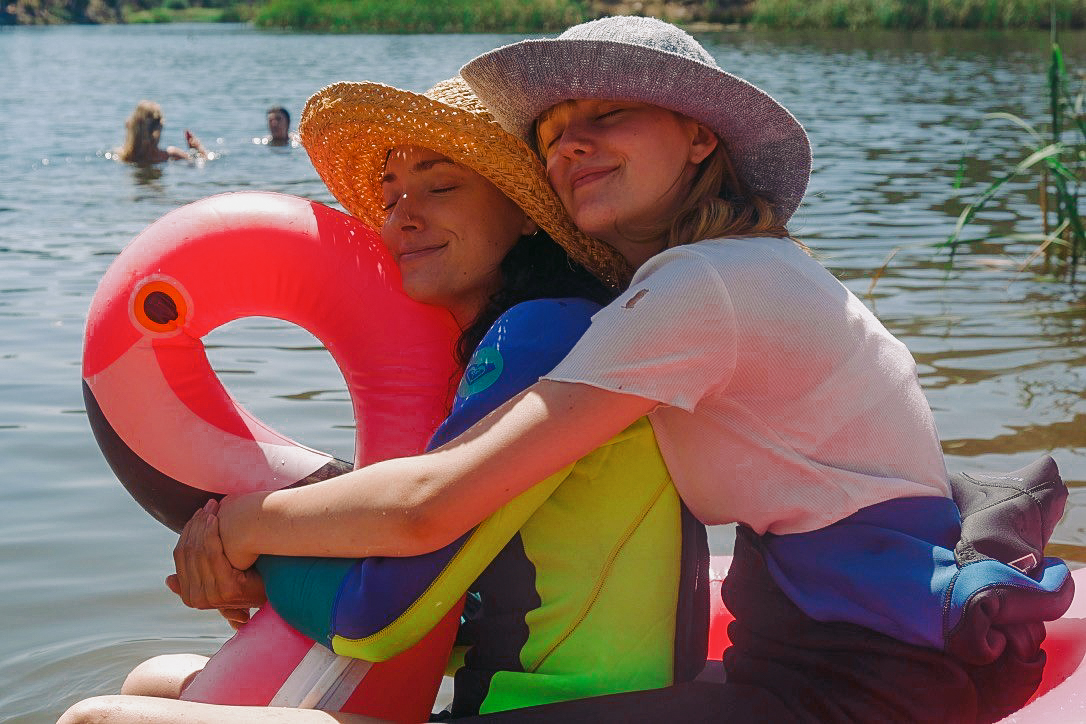 Katie Found and Markella Kavenagh have been developing their screenplay Into the Blue for a year and a half now, although the seeds for this project were germinating much earlier.
Co-writing across two continents—between international Amazon projects, Emmy Awards presentations, and toddler duties—has proven difficult for writer/director Katie and writer/actor, Markella. So, when Into the Blue was selected as a top-four finalist in VicScreen's Originate Program, their project received the boost it needed to move from 'words on a page' to the 'proof-of-concept' stage.
The soul of their story, which delves into the complexities of aging and dementia in a world where the elderly become increasingly invisible – has kept their screenplay ablaze despite life's competing priorities.
Into the Blue tells the story of Poppy, who helps her grandmother, Iris, fake her death to avoid entering a much-feared nursing home. With a deep connection to their coastal town, Iris and Poppy hide away by the ocean, guarding their secret until the dementia escalates beyond the pair's control and suspicion starts to close in on their ploy.
It's a project close to both Markella and Katie's hearts, who watched their grandparents slip away with this disease. "It was devastating to watch my grandfather worsen over time into a constant state of confusion," Markella says. "I'd like to try and connect with him through this project—without being patronising—and I think film is a really powerful way of doing that."
"It was a similar story with my Nanna," Katie adds. "And from what we've been reading about Alzheimer's, and caring for someone with Alzheimer's, it's a strange feeling to grieve someone who's still physically alive. But there is a process of grief as you lose parts of them to the disease."
Markella and Katie met on the set of Katie's first self-backed feature film, My First Summer, which premiered on Stan in 2020. As the film wrapped, director and actor knew they wanted to work together again. "We really connected over this one particular topic, so that's where the concept for Into the Blue was born…from a very sad, but very loving place," Katie explains.

It's a film they'd like to make for their grandparents, and also for anyone experiencing the kind of helplessness that accompanies a dementia diagnosis, Markella adds. "It's for people who are feeling powerless in a situation where someone they love is ill… we're pushing those feelings to the extreme and asking, how does that manifest if you don't have a support network around you, and you're caring for someone who's in that state?"
In their first draft, Markella and Katie focussed on the science behind an Alzheimer's diagnosis. "We spent a lot of time reading and researching about the cognitive impact of the disease, which was really important for the groundwork and foundation of the script, but what we ended up with was something quite cold and clinical," Katie says. In their second shaping of the narrative, they focussed on the carer role.
"Poppy, the film's protagonist, is her grandma's full-time carer. She deals with the day-to-day, moment-to-moment business of it. So, in many ways, this story is for carers."
Together, they're tackling big themes in this work, including euthanasia, end-of-life care, and unprocessed grief. However, at its core, Into the Blue is asking: how far would you go to care for someone you love? As well as what does care—in all its definitions—actually look like?
"I don't think we talk about [memory-related diseases] enough... I think we need to speak about the nuances of these experiences more and hopefully Into the Blue will help to do that." — Katie Found
Filmic references for Into the Blue include Céline Sciamma's Portrait of a Lady on Fire, Olivier Assayas's Clouds of Sils Maria and Ingmar Bergman's Persona. The isolation and arresting coastal locations featured throughout these films have helped inform their growing mood board.
"It's set in a very isolated coastal town," Katie says, "With dramatic cliff faces, rugged beaches, and violent seas. We want moody skies and lots of sweeping landscapes." Book references include What Dementia Teaches Us About Love by Nicci Gerrard, along with many other titles charting the intricacy of memory-related diseases.
Both Katie and Markella have intersected with VicScreen at various points of their careers. Markella played the lead role in VicScreen-funded Matchbox Pictures production Bad Behaviour, and Katie participated in the VicScreen-supported MIFF Accelerator Program in 2021. However, their selection as a top-four Originate finalist still came as a huge shock, they say.
"We applied for Originate with a one-page synopsis, which is all we had at that point," Katie explains. "Then we got through to the next round, and we wrote a treatment. Then we got through to the next round and wrote a first draft. And then we got through to this round and wrote a second draft, all in the space of a year and a half." It's been a whirlwind, Markella adds.
Together, they're emotionally invested in telling this story. "I don't think we talk about [memory-related diseases] enough," Katie says. "I think we need to speak about the nuances of these experiences more and hopefully Into the Blue will help to do that."
This interview is part of the profile series for Originate 2022, where we will be speaking to all finalists. Find out more about Originate and VicScreen's funding for development here.
All images supplied.