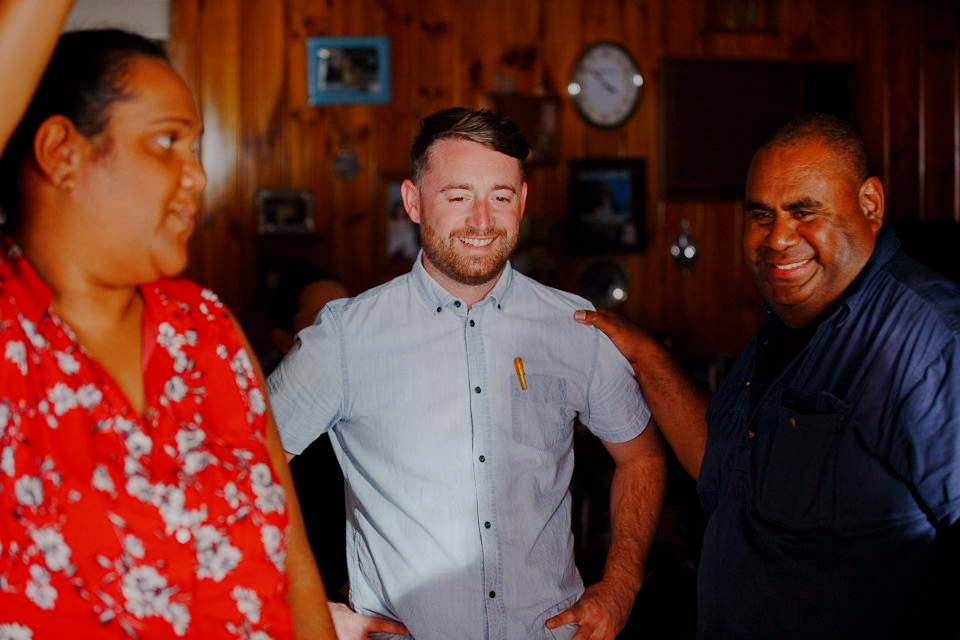 Michael Hudson on the set of his short film Ties That Bind.

Filmmaker Michael Hudson grew up in Shepparton on Yorta Yorta country, the eldest of 10 children, on the country of his elders. He didn't have much growing up, however, he did have his grandmother's 'mooki' stories—"spooky dreamtime stories," he explains, which ignited his imagination.
"Everything that could go wrong growing up, did go wrong," he says. "But for me there were two constants. One was my grandmother [respected Yorta Yorta and Bangarang elder, Irene Thomas] and her stories. The other one was the movies. I immersed myself in Nan's stories, and I was able to escape through film."
As a "fair-skinned " Aboriginal kid in a town where "everyone knew everyone", Michael felt cursed by the complexity of his identity. "I couldn't escape the fact that I was Aboriginal," he says, "But then there were Aboriginal kids who called me white…It was very confusing for me for many, many years.
Eventually, like countless artists before him, Michael learned to channel this adversity into a powerful advantage, and the identity complexity which had plagued his childhood morphed into a point of distinction in adulthood.
"It gave me a unique perspective because I could see the world through two different minds. I think that's beneficial to my work as a filmmaker. And I think it gives me an interesting angle to tell Indigenous stories."
From a young age, Michael knew he wanted to continue in his Nan's footsteps of storytelling. However, the definitive moment he realised he wanted to make movies was walking out of the cinema having seen Jurassic Park. "I said, 'How the hell was that made? I want to do that.'"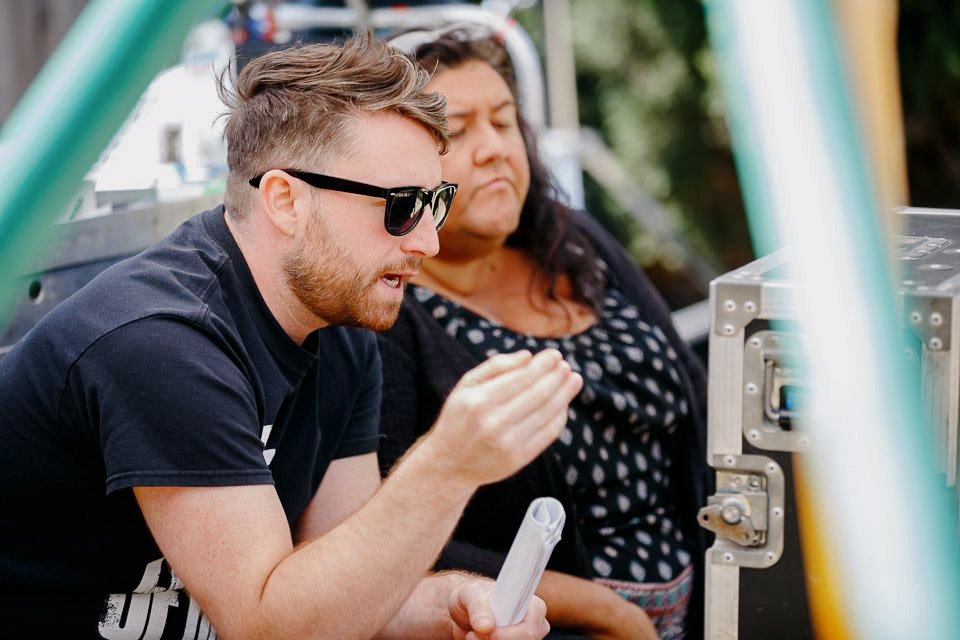 Michael Hudson directing on the set of his short film Ties That Bind.
"My connection to my culture is through family and storytelling...That's how I'm connected to my grandmother. I'm carrying on her legacy of storytelling."
The reality of attending film school in Melbourne was far less alluring, he admits. "I completely flunked out."

Having spent his whole life on the country of his ancestors, it was disorienting for the aspiring filmmaker to relocate to bustling Melbourne. It all became too much in the wake of a close family member's passing, and he left film school, returning to his hometown of Shepparton "a little bit broken".

"It took a while to build myself back up… I took what little knowledge I had from film school and just said, " F$%k it, I can figure this out." And true to his word, in 2015 before his 30th birthday—having set himself the arbitrary goal of making a film before entering his fourth decade—Michael released his self-backed short film Leonids, attracting instant attention and critical acclaim in the process, including a Best Cinematography award at Screen It Film Festival in 2016.

"You hear a lot of these Hollywood directors say 'Oh, we had a Super 8 camera growing up, we made movies.' And that's how they got into filmmaking. We were lucky to eat growing up, let alone have a camera to play with. But I did make up movies in my head and basically did that for a very long time." After the success of Leonids, those imaginary narratives took on a whole new meaning, with commercial and career prospects attached.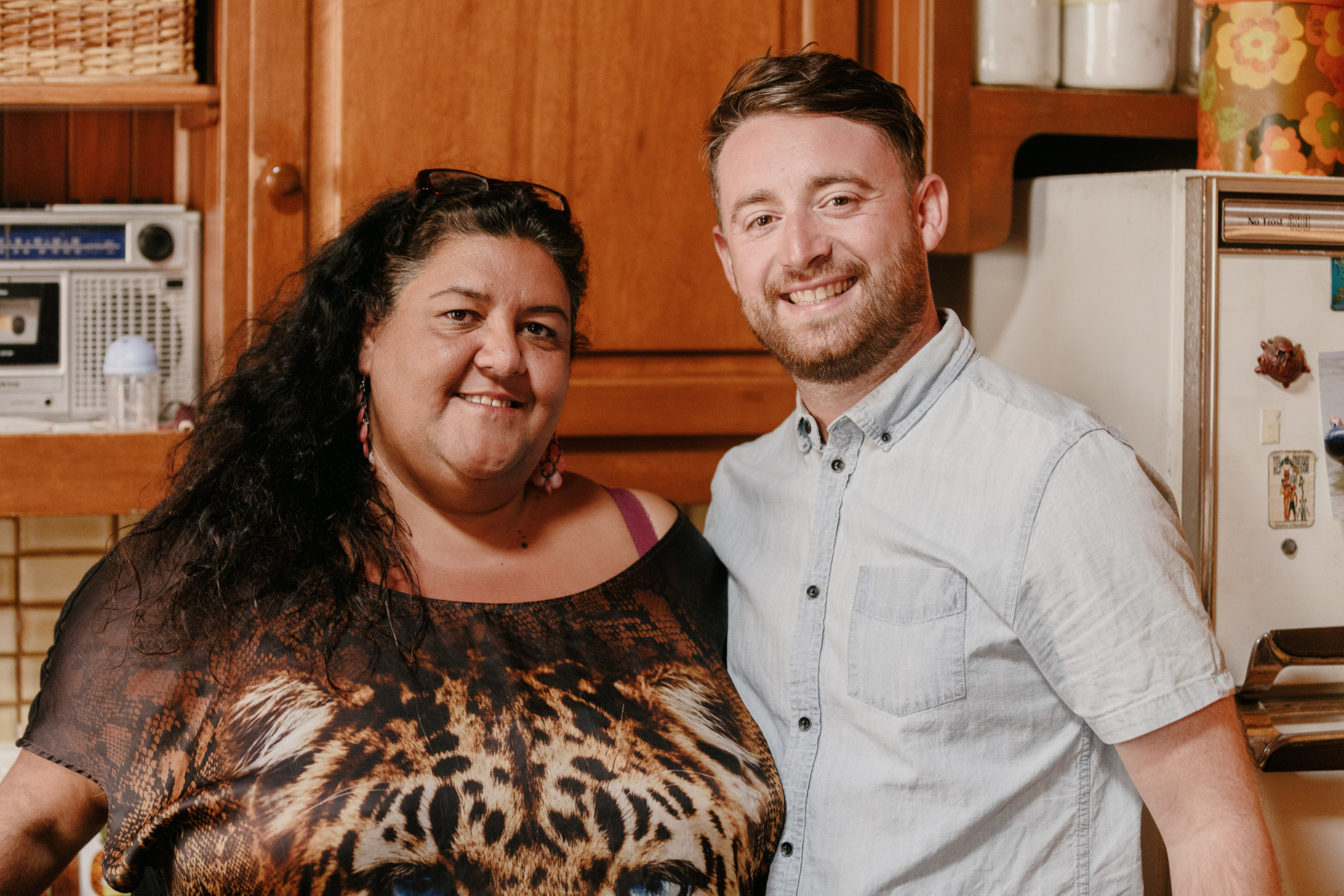 Producer Gillian Moody and Director Michael Hudson on the set of Ties That Bind.
In 2016, Chris Barker (Talent and Skills Coordinator at VicScreen) enrolled Michael on the VicScreen Professional Attachments Register and that same year he was Assistant Directing with Arenamedia. "Chris has kind of been there right from the start for me; he gave me that first look-in on the industry. VicScreen and Screen Australia reached out to me and just said, 'Hey, we've got opportunities here, are you interested?'"
There have been big and small breaks along the way, like working as an Associate Producer/Researcher on Dirty Feet, a stint directing, co-writing, and co-producing on ABC's Can you Hear Me? and Channel 10's Stuff Everyone Should Know About Australia. However, a career-defining moment for Michael as a filmmaker came in 2019 when he wrote and directed the award-winning short film Ties That Bind, collecting Best Short Screenplay at Sydney Film Festival.
"This film was reflective of bringing a traumatic part of my life, to life. And it became a defining moment for me as a storyteller."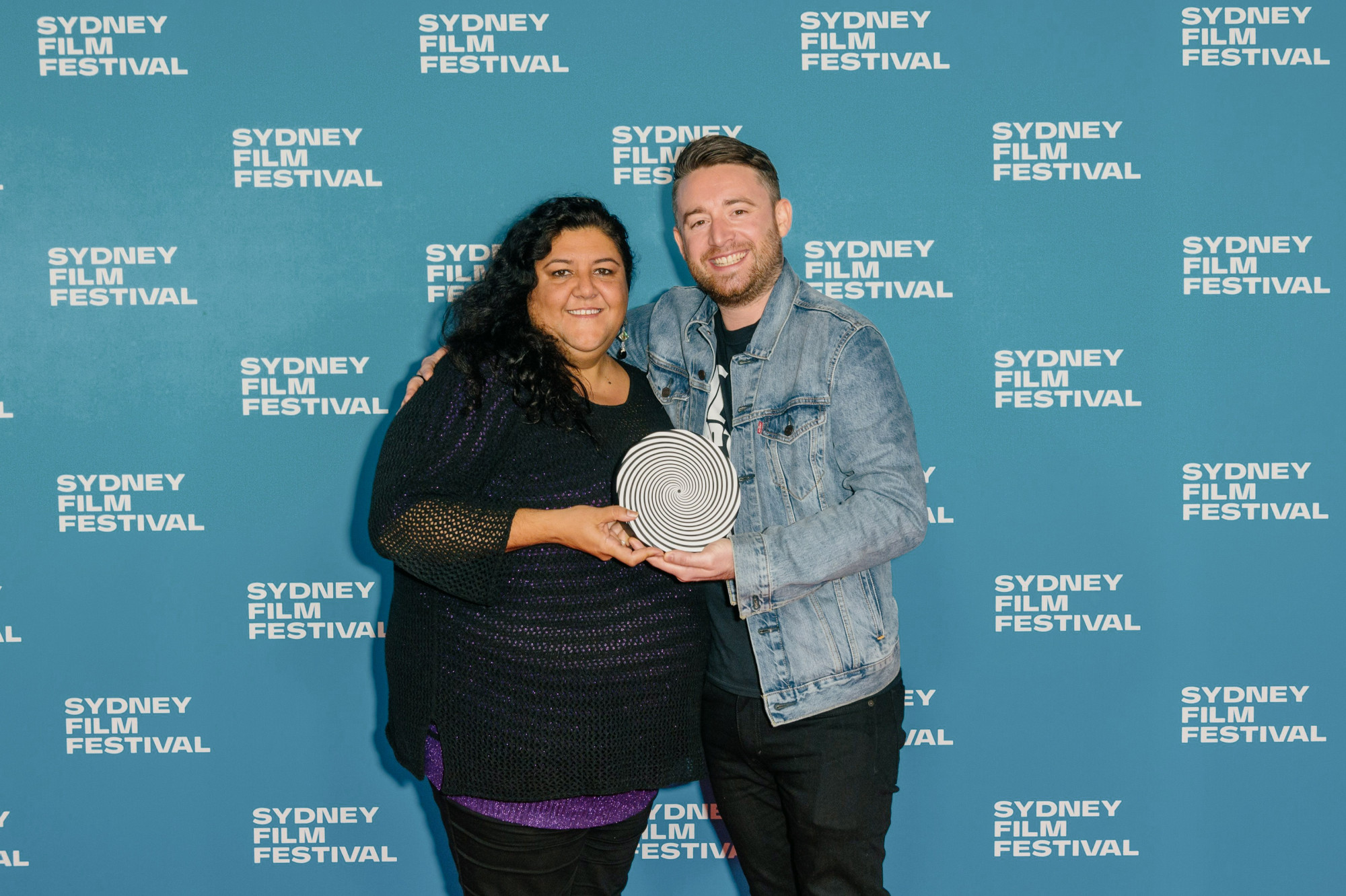 Gillian Moody and Michael Hudson at Sydney Film Festival.
At the start of 2022, Michael secured one of his biggest career opportunities to date with a Director Placement on the new sci-fi feature film, Foe. This placement allowed Michael to shadow director Garth Davis, best known for his Academy Award-nominated feature, Lion. He also got to work with lead actors Saoirse Ronan (Little Women), Paul Mescal (Normal People) and Aaron Pierre (The Underground Railroad) and build relationships with key decision-makers at the international production companies behind the film, Anonymous Content, See-Saw Films and Amazon Studios. "Not bad for the fair-skinned Aboriginal kid from the country," he reflects.

Of his experience as an attachment on Foe, Michael said: "How often does a director get to sit in and observe another director's work? Every director works differently. The way they think, the way they process information, and how they deliver information is completely different. The fundamentals are there, but how they get there is different. As a filmmaker, a storyteller, a director, and a communicator, that's where I took a lot away from Garth."
It's also unique that an international feature film would come to Michael's patch, with a major stint of production taking place at Winton Wetlands on Yorta Yorta country.
Foe is set in a dystopian future where climate change has ravaged the globe, requiring a desolate-looking landscape, which part of the wetlands perfectly resembled, Michael explains. "They used CGI for the rest."

"On location, we were shooting at a beautiful farmhouse barn, which looked legit. I drove up and was like, 'Oh, I didn't know this was here.' And Garth was like, 'It wasn't. We built it.'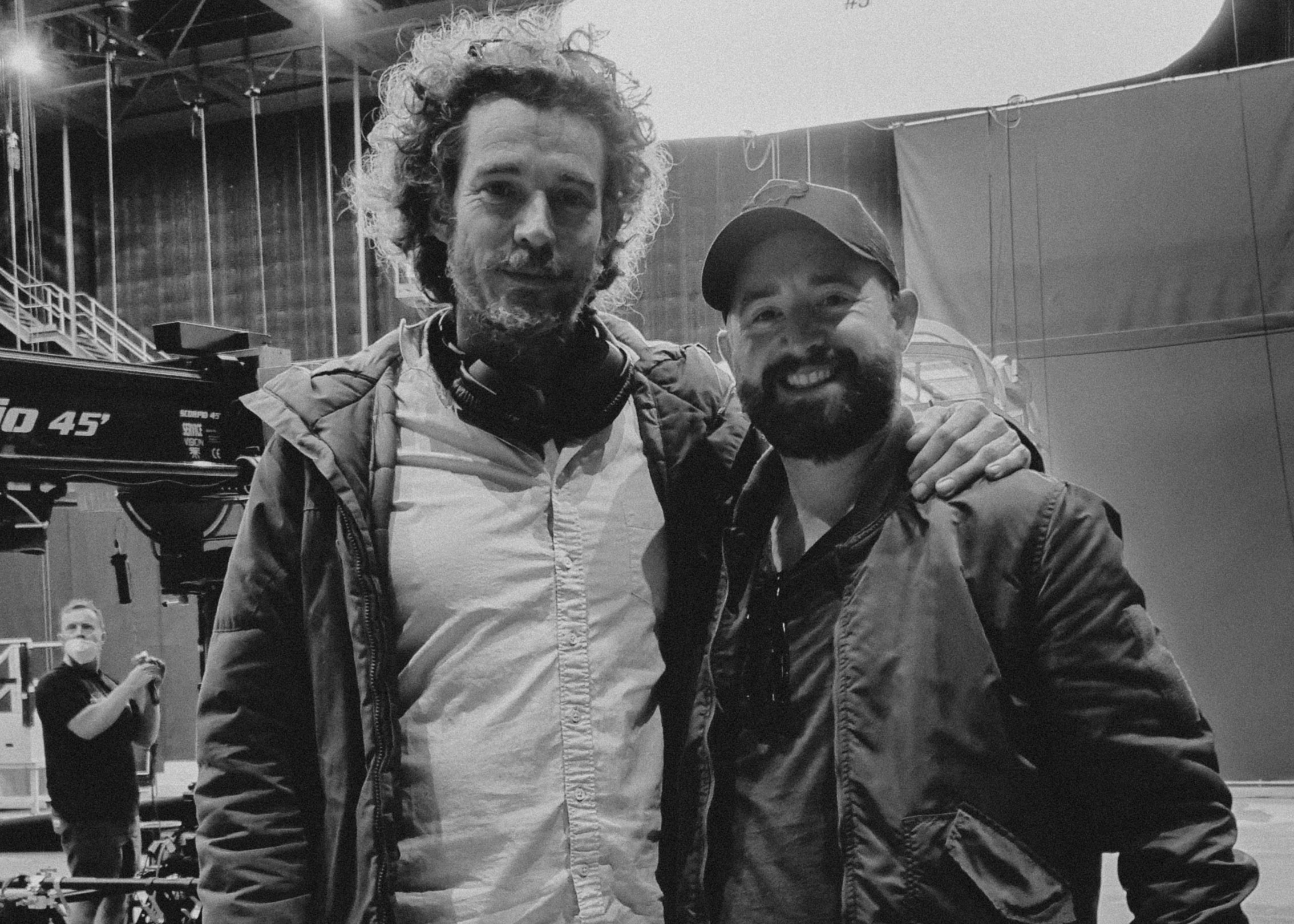 Director Garth Davis and Michael Hudson on the set of Foe.

That was the first of many wow moments for Michael on Foe. His Director Placement was extended beyond Winton Wetlands, to Docklands Studios Melbourne where he experienced the dream screen creating blockbuster visual effects and otherworldly space scenes.

"I'd be lying if I didn't mention how beneficial it was to be working alongside these amazing producers," he adds. "I knew that I wanted to get my confidence up on a film set, not TV, so this experience gave me a lot more than I was expecting."

Hailing from the regions, Michael doesn't take the opportunity of networking with international producers for granted. "I wanted to establish these relationships because I want to work with these people one day." Living regionally comes with obvious impediments, he continues, especially as a new Dad. However, creativity and creating great work is not defined by geography. "Creativity doesn't come from having everything laid out before you, with all the opportunities at your feet," Michael says. "Sometimes, creativity actually comes from being restricted."
"I'd love to explore and develop [Indigenous genre] stories and push that boundary." – Michael Hudson
"I think what COVID did for me—apart from becoming a Dad during that period—was make me think really long and hard about what I want to achieve. The luxury of travelling for work is trickier now. It's not just an opportunity, but also a sacrifice… so I had to be really strategic about the type of work that I was doing this year [in 2022] and I needed to ensure that whatever I did attach myself to was going to push me in the right direction."

The message Michael would like to relay to his daughter, is: "it doesn't matter if something feels unattainable. If you work hard enough, you can make it happen."
Currently, Michael is participating in Untapped 2022 where he's developing an Indigenous horror feature project called Unravel about an Aboriginal family tormented by a malevolent, parasitic presence that feeds off trauma. He's also partnered with Orange Entertainment to develop a horror/fantasy series titled Summer of Evil, about an unlikely gang of youths who venture on a terrifying quest deep into the bush to save the adults of their small community from a supernatural threat that has enslaved them.

"I want to write and direct and produce films," Michael says, "But ultimately, I want to have my own production company that specialises in Indigenous genre. For me, that's where I feel there is a lack of storytelling in this sector, and that's what I'm most passionate about."

If you are an early-career screen practitioner looking for your industry break (behind the camera), apply to join the VicScreen Professional Attachments Register.