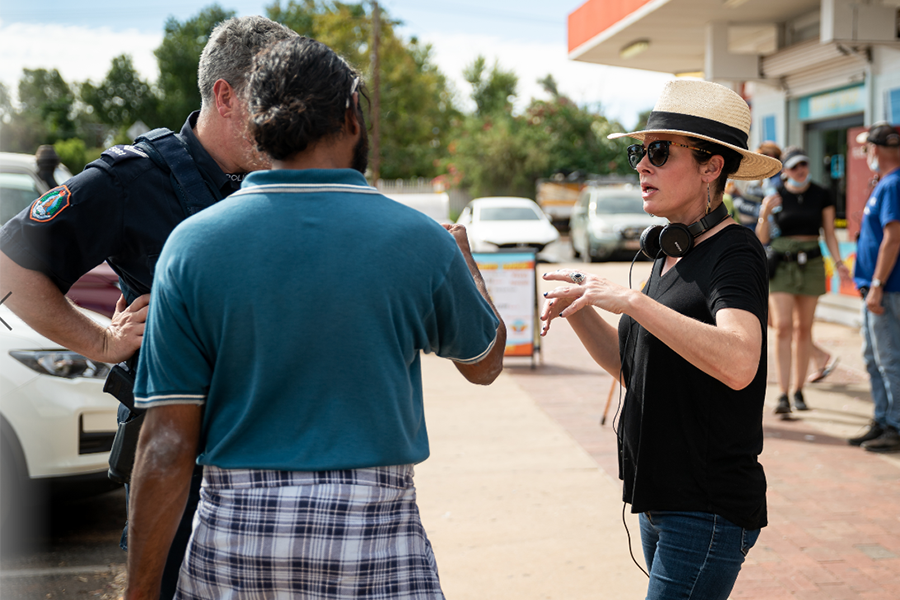 Beck Cole on the set of We Are Still Here. Photo by Jackson Finter.
VicScreen has launched the First Peoples Writers' Workshop, a new initiative that is committed to developing First Peoples creative talent within the Victorian screen industry.
Designed for First Peoples writers, directors and producers, the four-day workshop will help fast-track participants projects and experiences as screenwriters by giving them tools to craft and refine their story ideas to take to market.
Successful applications will be mentored and coached by acclaimed screenwriter's Dot West (Little J and Big Cuz, The Heights) and Kelly Lefever (Something in the Air, The Circuit) on how to craft an efficient and effective pitch document that accurately represents their vision for the project.
The workshop will take place in Shepparton, bringing together creatives from across the state to the regional hub.
Applications are now open, and close on Monday 2 October 2023. For more information and to apply, visit vicscreen.vic.gov.au/funding/skills-development.
Quotes attributed to Minister for Creative Industries, Steve Dimopoulos
"We are making sure First Peoples creatives from across the state have more support and pathways to tell their own stories on screen."
"VicScreen's First Peoples Writers' Workshops will be a powerful professional development opportunity for First Peoples creatives to take their compelling stories to the world."
Quote attributed to VicScreen CEO, Caroline Pitcher
"VicScreen is proud to deliver the First Peoples Writers' Workshop in Shepparton this year. This new initiative, facilitated by Dot West and Kelly Lefever will support our First Peoples creatives to enhance their screenplays and arm them with the tools they need to take their stories to market."