Looking for a career in film and TV? Meet Alice Zhao and Paula Salini, two talented screen practitioners who have been supported through VicScreen's Screen Industry Skills Development program.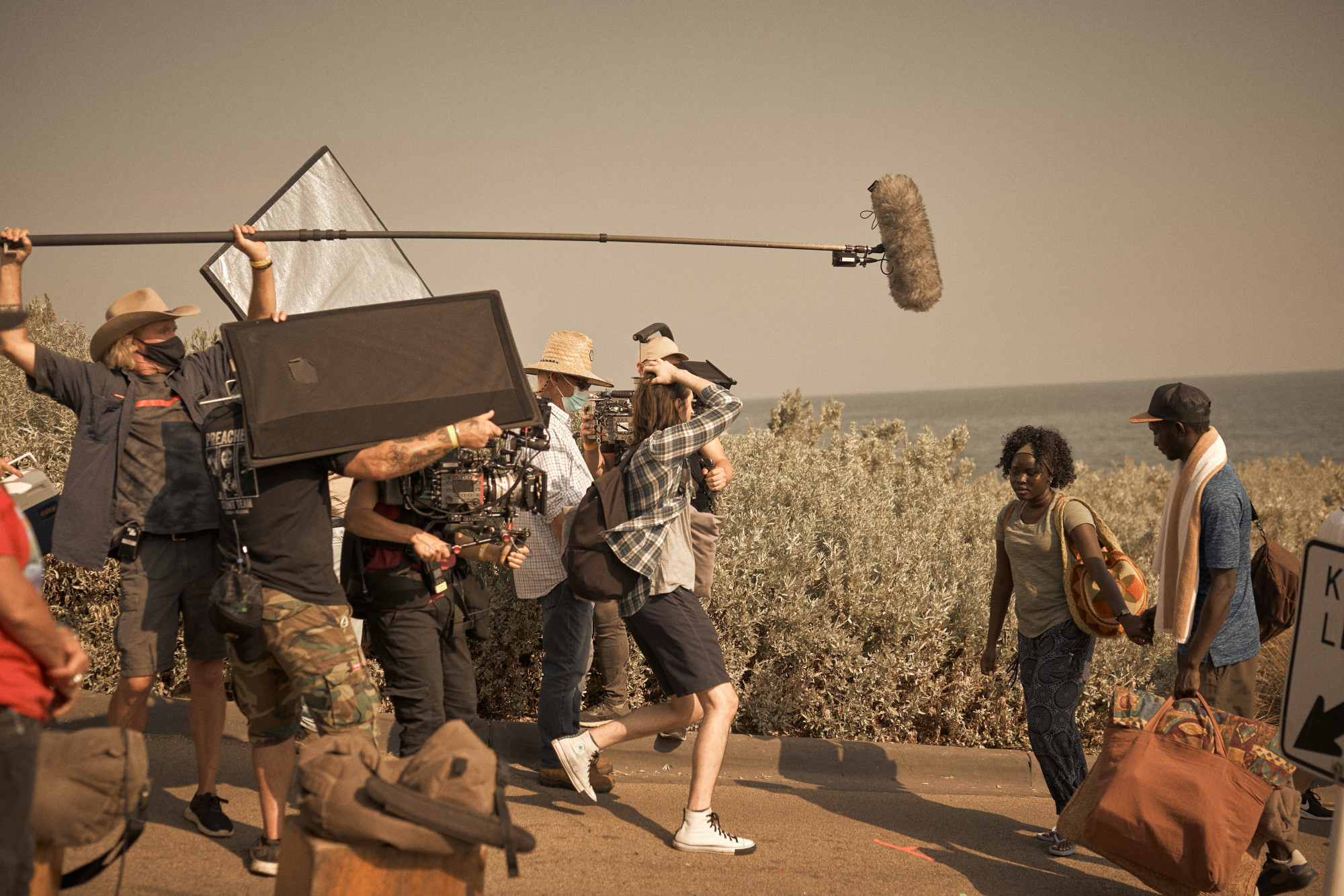 Behind the scenes on Fires
ALICE
Alice Zhao was working at the City of Melbourne issuing permits for film and television productions when she realised, she could jump the fence and work in the industry she had always loved. "I've always had a background interest in film and TV; it's something I've been passionate about for a long time." Alice completed a double major in Media Communications and Spanish and Latin American Studies at University, including an honours year focussing on Argentinian cinema.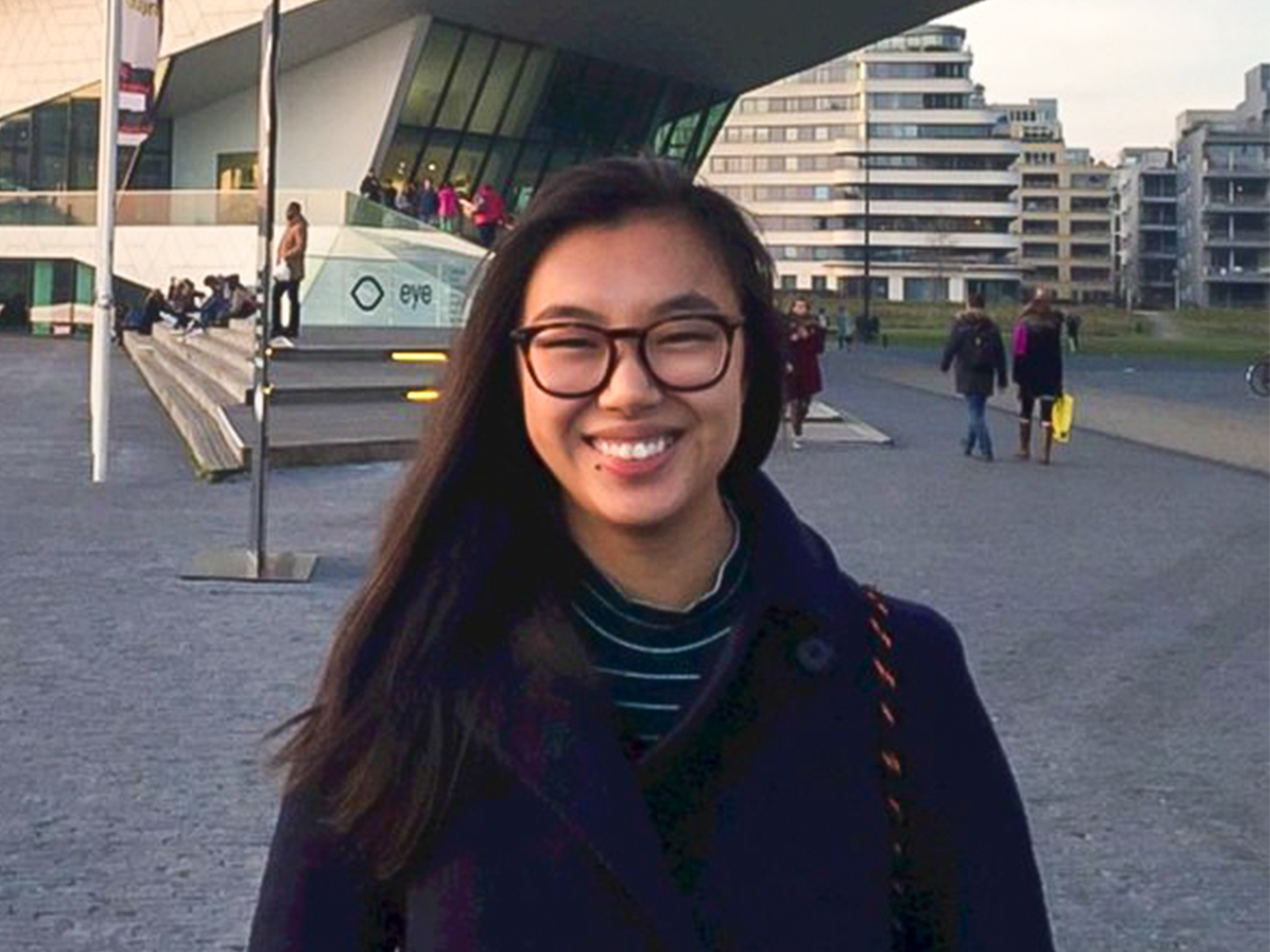 Alice Zhao
During her days at her desk job working for Council, she imagined all the places that working on set could take her. "I was talking to a Location Managers about the other side and one of them mentioned an attachment program, because if I wanted, that might be a good way in." Before Alice knew it, she had secured a VicScreen supported Locations Attachment position on the Netflix smash-hit, Clickbait.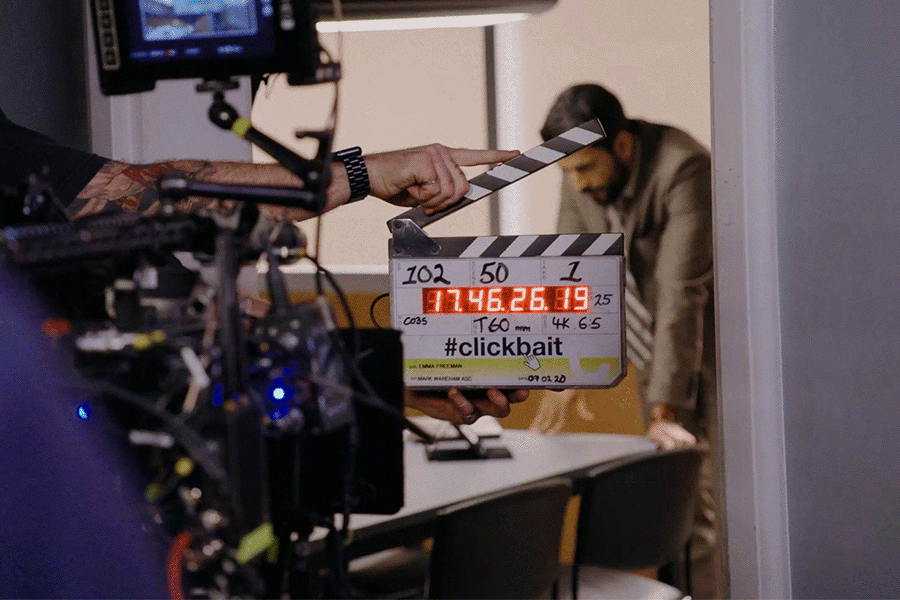 "I had to ask myself: 'Do I want to risk this sort of permanency and structure and comfort of a 9-5, for an industry that is freelance and based on networking and connections?' It was scary to think about, but I just didn't want to regret not doing it and not taking that opportunity. I knew I had to say 'yes'."
When Clickbait's production wrapped in February 2020, Alice had already connected with the Locations Manager on Jack Irish. After a couple of production delays due to the pandemic, she was back, however this time as an independent employee, not as an attachment. "That was my first solo locations job as a Coordinator…my first real gig."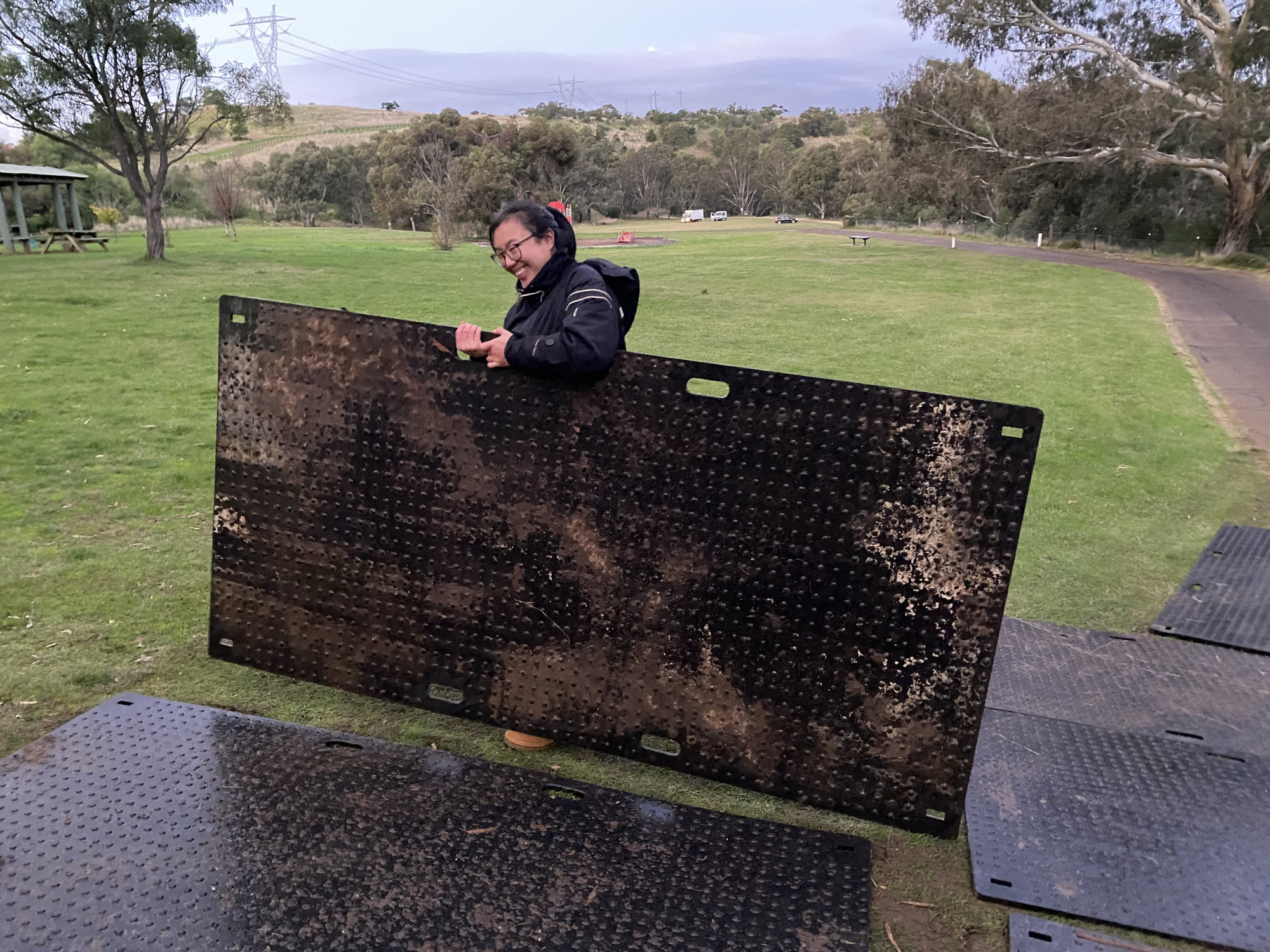 Alice Zhao on location for La Brea S2
From Jack Irish S3, Alice jumped onto Fires, then La Brea S1, then straight onto Shantaram; followed by Bad Behaviour, La Brea S2, and most recently the star-studded international feature, Sleeping Dogs. Sleeping Dogs centres on a former homicide detective Roy Freeman (played by Russell Crowe), who is undergoing treatment for Alzheimer's. He is tasked with re-examining a brutal murder case from his past after a death row inmate Roy arrested 10 years prior is now proclaiming his innocence.
Just a few weeks before shooting commenced, the Production Manager on Sleeping Dogs asked Alice to step up from the coordinator roles she'd grown familiar with to a Locations Manager position. "I felt really good about it…I didn't think it was beyond anything I could do…I was confident." However, those first few days filming at the University of Melbourne including Ormond College felt surreal.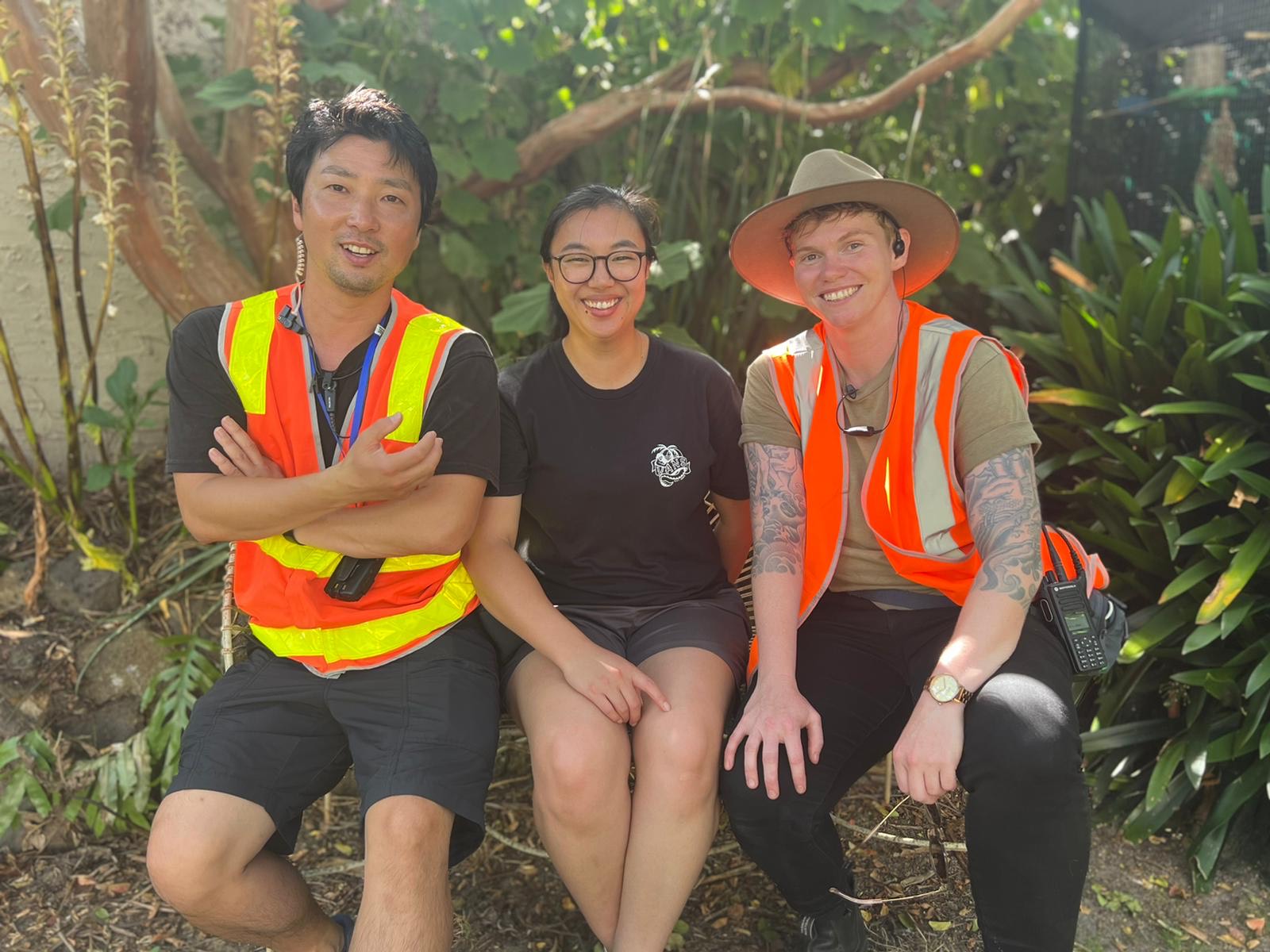 The Sleeping Dogs locations team
"They're massive locations with lots of moving parts," Alice explains. "Just thinking about where everyone was going to park in these tricky places is overwhelming, so knocking out those first two days was such a highlight. I was running around on campus, speaking to the security guards to allow the trucks in, making sure everyone was parked nice and close to set, where they wanted to be as much as possible. I think it all went really smoothly, and I couldn't be prouder of the work we did to pull that off. It's been crazy, but amazing," Alice admits. "I'm ready for a holiday."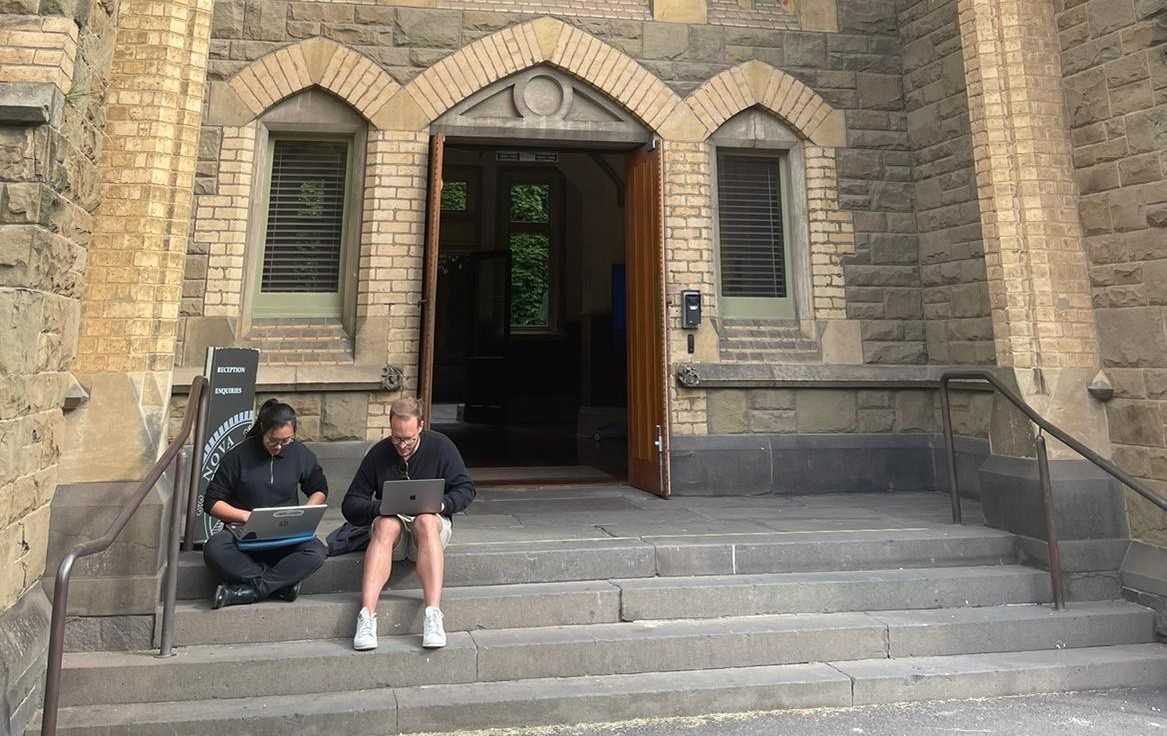 Alice Zhao on location for Sleeping Dogs
As a Locations Manager, it's easy to feel the pressure on set, Alice says. Because if something goes wrong, the entire crew is negatively impacted, and it throws everything out of whack for the day. An international feature like Sleeping Dogs – which shot entirely on location without the guarantee and predictability of a studio environment – relied on an extremely efficient production schedule. It was another baptism of fire for Alice, but when she watched the chain of production trucks arrive at each location, she felt the adrenaline she had once dreamed about in her old office job and knew she was in the right place.
PAULA
Paula Salini's ultimate ambition in the screen industry is to produce long-form scripted drama. "That's what I want. That's what I've always wanted," she says. For more than a decade, Paula has been working in a host of different production roles (she started her career as a runner on Deal or No Deal) and has been trying on various hats in the industry to hone her skills as a Producer ever since.
More recently she has worked as a Production Manager, an Associate Producer, and a Production Coordinator – arguably the most complicated gig of all, Paula says. She's produced a number of smaller projects and has a mini-series ticking away in development.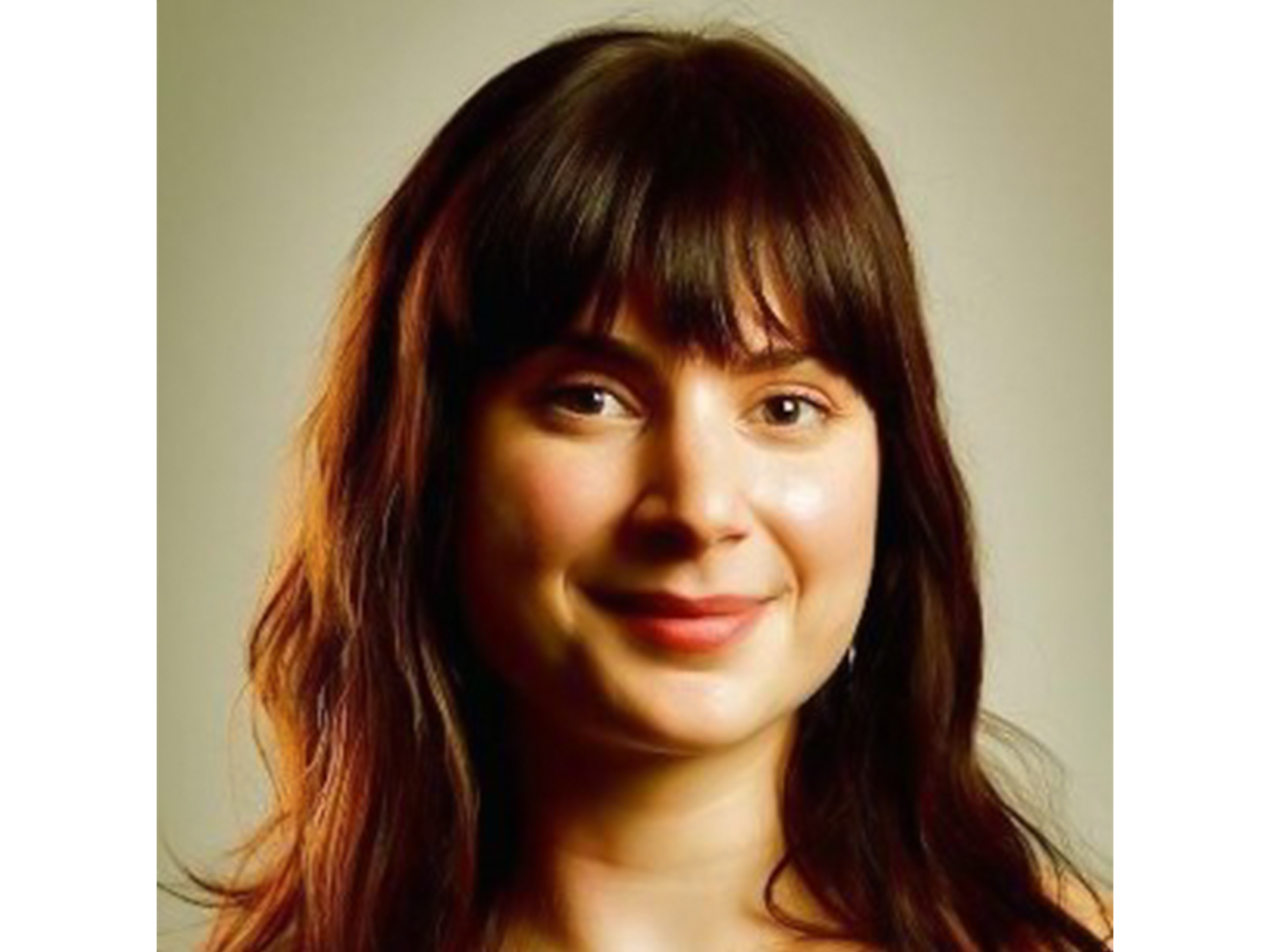 Paula Salini
When producer Mat Govoni called Paula about a Line Producing position on the Cairnes brothers' indie horror film Late Night with the Devil, Paula jumped at the opportunity. "I said, 'I've been an Associate Producer, I've been a Production Manager, I produce my own stuff, but I've never been a Line Producer before. So, that's what you'd be taking on…but I'd love to do it.'"
Seasoned producer Lisa Wang, agreed to take Paula on as a mentee through a VicScreen attachment where she could supervise her without having to commit one hundred per cent of her time. "Lisa mercifully agreed to mentor me through the process," Paula explained. "That's an opportunity that doesn't happen in this industry very often – to actually have somebody dedicated on production to talk through how things should be done. I had that experience, and it was a great opportunity for me to get my head around it and learn in a relatively safe environment."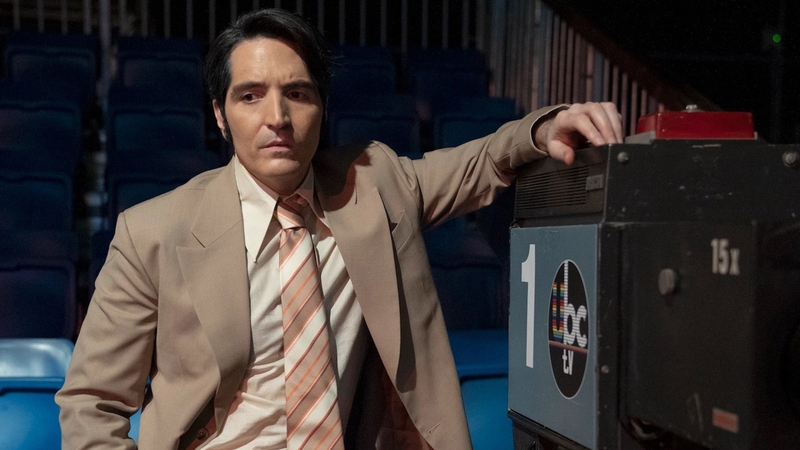 David Dastmalchian as Jack Delroy in Late Night with the Devil

"For me, I had never had the opportunity to delve into the day-to-day running of a budget that deeply," Paula said. "So, I knew that was a skills gap for me as a Producer. The road to becoming a producer is really windy and long, so this was an opportunity learn, and it turned out that I really loved the budget. I really enjoyed cost-reporting and going through the budget line by line and finding the savings and deficits, and associating everything that was going on with the production to a budget line. I found it really satisfying. And I also realised very quickly that there was a lot that I didn't know. [Producer] Mat Govoni was really generous with his knowledge."
When Late Night with the Devil wrapped, Paula went on to Line Produce Aunty Donna's Coffee Cafe before jumping straight back into a Production Manager role on Surviving Summer S2. "I wasn't ready to Line Produce a production this big [Surviving Summer] with so many moving parts…the thing about this industry is that you can explore different skill sets and patterns. For some people, it's really clear; they get in and they want to work in camera, or they want to work in costume or whatever it is. But for other people, it's not as clear and that's okay," Paula explains. "I think your career takes different turns at different experience levels. And there are certain moments in your career where you think, 'Ah, okay, this is my path for a little while.'"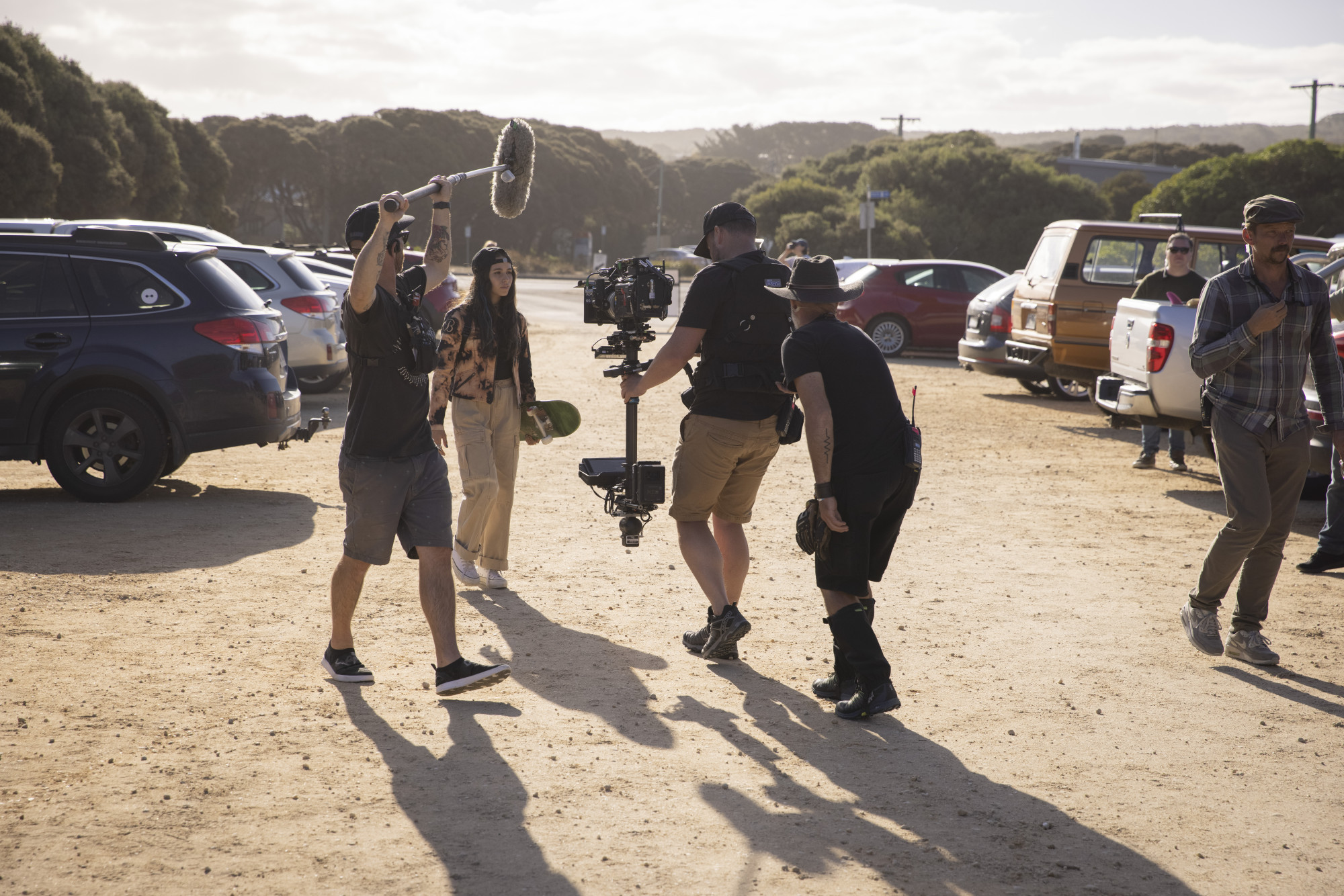 Behind the scenes on location for Surviving Summer
Working as a Line Producer may just be Paula's path for a little while, however, she's ready to stand up and start pushing a bit harder to back her own projects as a Producer. There are many powerhouses Paula looks up to in this business. "Naomi Mulholland is one of my biggest mentors," she says. "She's a really accomplished and talented Line Producer and Producer. I've always taken quite a lot of inspiration from her on how you can juggle your career and family and make them work for each other and with each other.
"Amanda Higgs is another one of those people that is such an inspiration in terms of how to be a successful Producer in this country…I've had the pleasure of working with her once, very early on as a Script Coordinator, and even then – in the very early days of my career – I knew, this is someone who knows how to get stuff done."
VicScreen attachments, like the one Paula did on Late Night with the Devil, make a world of difference, Paula thinks. You're never too experienced to receive mentorship from someone who's been in the industry for longer than you, and it's worth saying 'yes' to every opportunity, because you never know if you'll discover a new area of production that you love.
"My very first step in this career was working as the receptionist at Channel 31. I did a lot of volunteering before I landed my first run job on Deal or No Deal. And then through that, I got my first job in scripted long form. And that was it. I never looked back." One job can land the next, Paula says. If you align yourself with people you admire, your career in screen can take you in many different rewarding directions. Now, Paula is ready to start taking some creative risks, backing herself and trusting her considerable knowledge in this sector.
Are you a screen practitioner looking for your next challenge behind the camera? Check our range of Skills Development programs here.