How the nation's longest running soap opera doubled as a training ground for screen practitioners, creating a legacy beyond the episodes of Neighbours.

For nearly four decades, Neighbours has been a cornerstone of Australian TV and become one of Australia's biggest cultural exports in the process, producing a staggering 8,903 episodes for broadcast in more than 60 countries.
The fictional suburb of Erinsborough and its residents has done more than just entertain millions of viewers every weeknight: Neighbours has helped forge a lasting cultural snapshot of Melbourne since 1985.
That portrait has shifted over time and this little Aussie soap (turned major media export) has endeavoured to keep up the pace. In later years, it became the first to broadcast a series of LGBTQI+ storylines on a major Australian Network and, of course, cultivated some of our biggest box office-smashing and chart-topping stars, while carving out paths for scores of talent behind the scenes as well.
Now, the residents of Ramsay Street have called it wraps on this seminal series for the last time. Amongst the megawatt acting alumni like Kylie Minogue, Liam Hemsworth, Margot Robbie, Russell Crowe and Guy Pearce, are the lesser known but equally important talents churning out scripts, rigging lights, prepping catering and holding the cameras.
Neighbours doubled as an industry college, producer Andrew Thompson explains. "It was one of the greatest training grounds (if not the greatest training ground) for emerging practitioners in the country, which is going to be sorely missed," he shared.
"The film and television industry can be a hard nut to crack, so providing opportunities at the very beginning is so important. Through our association with VicScreen, we are proud to have supported many up and comers from attachment through to established director."
One of these directors, Tenika Smith, was working at a corporate production company after graduating with a Bachelor of Film and Television from VCA. She'd managed to continue exercising her narrative talents by writing and directing short films wherever possible.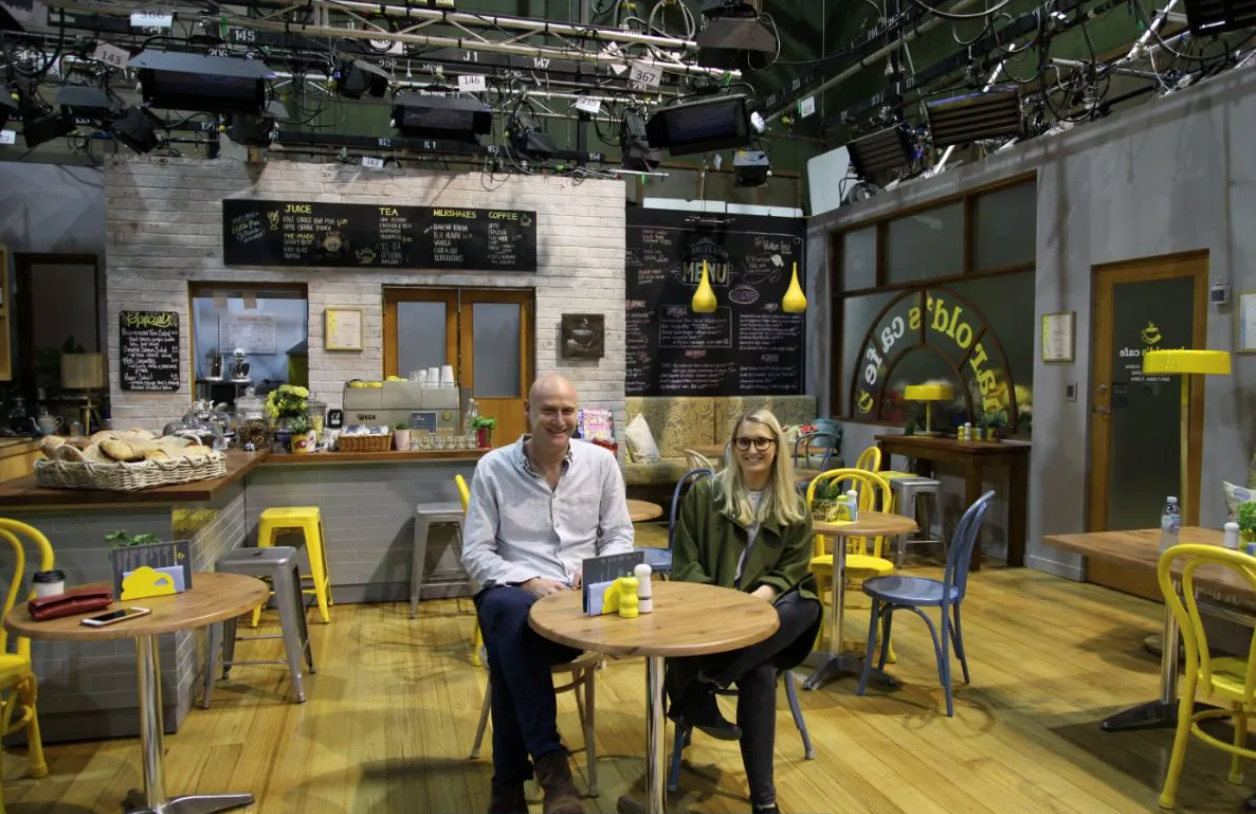 Guy Strachan and Tenika Smith on set during their Director's Placement on Neighbours.
In 2018, Smith was selected for a coveted position as a director's placement on Neighbours, catapulting her out of corporate content and TVCs and into the iconic Nunawading studios. "It was a game-changer for me, I'm not too sure what my career would look like today if it wasn't for Neighbours welcoming me onto the street."
This placement allowed Smith to be mentored by three directors across three separate blocks of the show, gaining an increasing amount of responsibility from directing a segment in the first block, to directing an entire episode in the third.
"It was apparent that the producers were committed to finding directors to work with and that it would be a hands-on experience, where I would be responsible for directing scenes, unlike other attachments which were purely observational. It was a really good opportunity and I ended up with my first television directing credit."
That first credit turned into 65 episode credits over four years. "The producers were really supportive of me from the get-go, and I feel like they valued having more female directors on their slate…It felt like my voice was important to them."
"Neighbours was like another world. The sheer volume we produced was like no other. It's hard work, but also incredibly rewarding."
Like a lot of cast and crew shooting at Ramsay Street (actually Pin Oak Court in Vermont South), the series was older than Smith was when she commenced her placement. "It was surreal at times walking onto a show with such a long history, especially directing actors who were playing characters I grew up watching. There were certainly a few moments of pinching myself along the way."
For seasoned producer Andrew Thompson, the experience of walking onto set for the first time was just as enthralling. "I had worked on big Films like Charlotte's Web in Australia and loads of drama series both here and in Canada, but Neighbours was like another world. The sheer volume we produced was like no other. It's hard work, but also incredibly rewarding."
"For many of us, stepping on set for the first time is such an iconic moment, it's hard not to get swept up in it all…The young cast and creatives are always so enthusiastic, and it reminds us older jaded ones how lucky we are to work in this industry. If new actors are in a scene with Jackie Woodburne and Alan Fletcher [playing Susan and Karl Kennedy], everyone understands that these actors have grown up watching these characters, and it feels really special."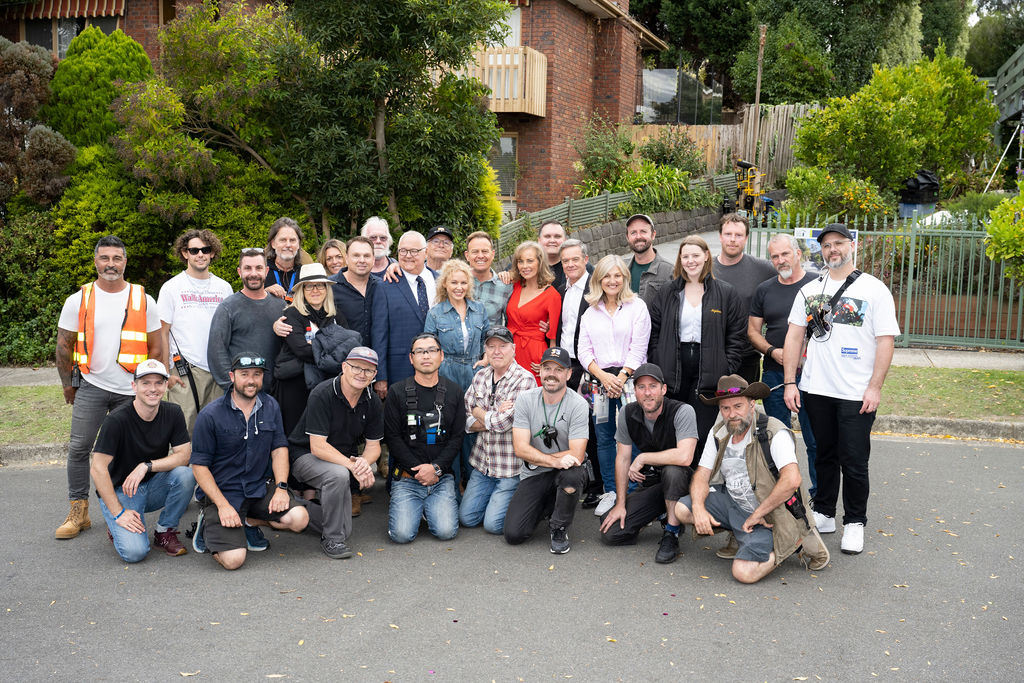 Andrew Thompson in Ramsay Street with cast and crew shooting the finale episode.
The volume and pace of shooting five episodes per week is like strength training for TV makers. "People say: 'If you can do Neighbours, you can do anything,'" Smith explains. "Once you can find ways of telling stories successfully at that speed, you can move onto other projects where you have more time and resources to refine your execution…in theory."
In terms of producing authentic and agenda-pushing content, Thompson credits executive producer Jason Herbison and the story team for scripting the voices and storylines of characters we hadn't seen on mainstream TV in Australia before, like the first trans actor/character and the first gay wedding, which aired several months after Australia legalised same-sex marriage in December 2017.
"For many of us folk from queer and gender diverse backgrounds, we understand the importance of seeing yourselves reflected on screen…Telling these stories authentically has always been the utmost priority at Neighbours," Thompson said.
This sentiment goes back to the show's founding philosophy in the mid-80s when creator Reg Watson (modelled on the success of the UK's Coronation Street) set out to portray ordinary families going about their regular lives in Melbourne's suburbs, giving equal airtime to the show's teenagers and parents, which broke new ground at the time.
Arguably the most iconic episode of the series, Scott and Charlene's wedding (starring Jason Donovan and Kylie Minogue) clocked a record-breaking viewership, with 2 million Aussies and 20 million Brits tuning in. When the producers snagged the return of Donovan and Minogue for the show's finale (along with Margot Robbie, Guy Pearse, Natalie Bassingthwaighte and Delta Goodrem), there was just as much excitement on set as the day Scott and Charlene tied the knot in 1987.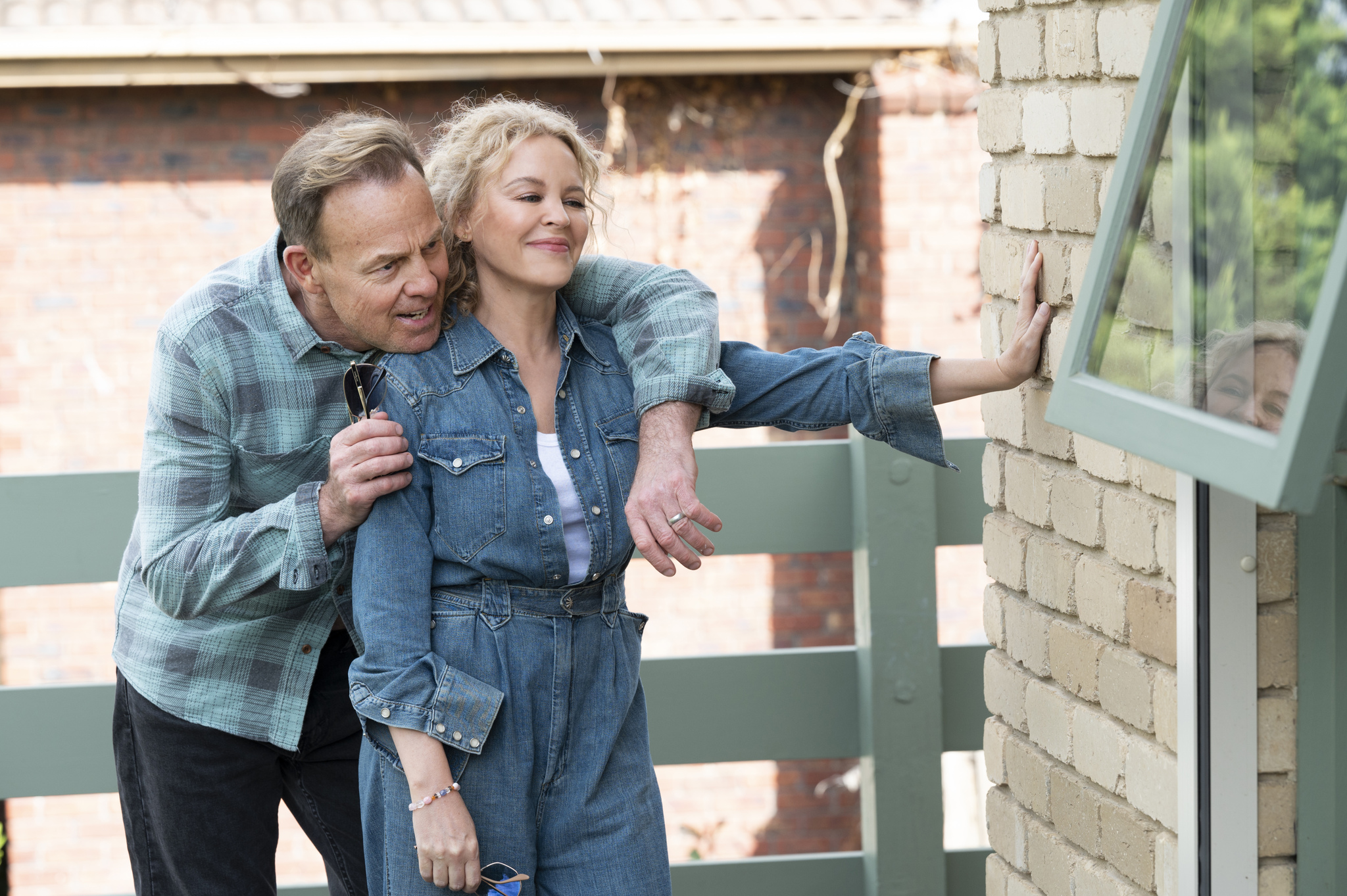 Jason Donovan and Kylie Minogue playing their original characters, Scott and Charlene, in the final episode of Neighbours.
"It's been a big nostalgia fest," Thompson revealed of the series' finale. "Having so many returning cast has been a total celebration. There's just so much goodwill and love for the show out there…it's been a really joyous process."
In terms of training platforms, it will be hard to match the impact Neighbours provided for so many upcoming practitioners. Both Thompson and Smith believe the industry will work hard to fill the vacuum this legacy production leaves behind, but there will inevitably be a void in the short term. "The longevity of the show meant it was a suitable place for someone to be trained in a way that wasn't rushed," Smith described.
"Neighbours was a great place to give new voices a go, because there was enough content being made to allow room for those risks."
"It wasn't a sink or swim environment, because there were always more episodes or another block to come, so you could increase someone's responsibility slowly and ensure first time directors weren't biting off more than they could chew."
That was the success of the VicScreen placement program, Smith emphasised. "So many of us ended up directing on the show because we were supported in our training. The other thing about learning on a show like Neighbours is that it can be quite a forgiving environment, because there's another episode the next day. This allows you to take risks creatively and try new things, because the stakes are a little lower if they fail.
"Neighbours was a great place to give new voices a go, because there was enough content being made to allow room for those risks – unlike a series that only has 8-10 episodes, where it would be hard to employ a director with no television experience."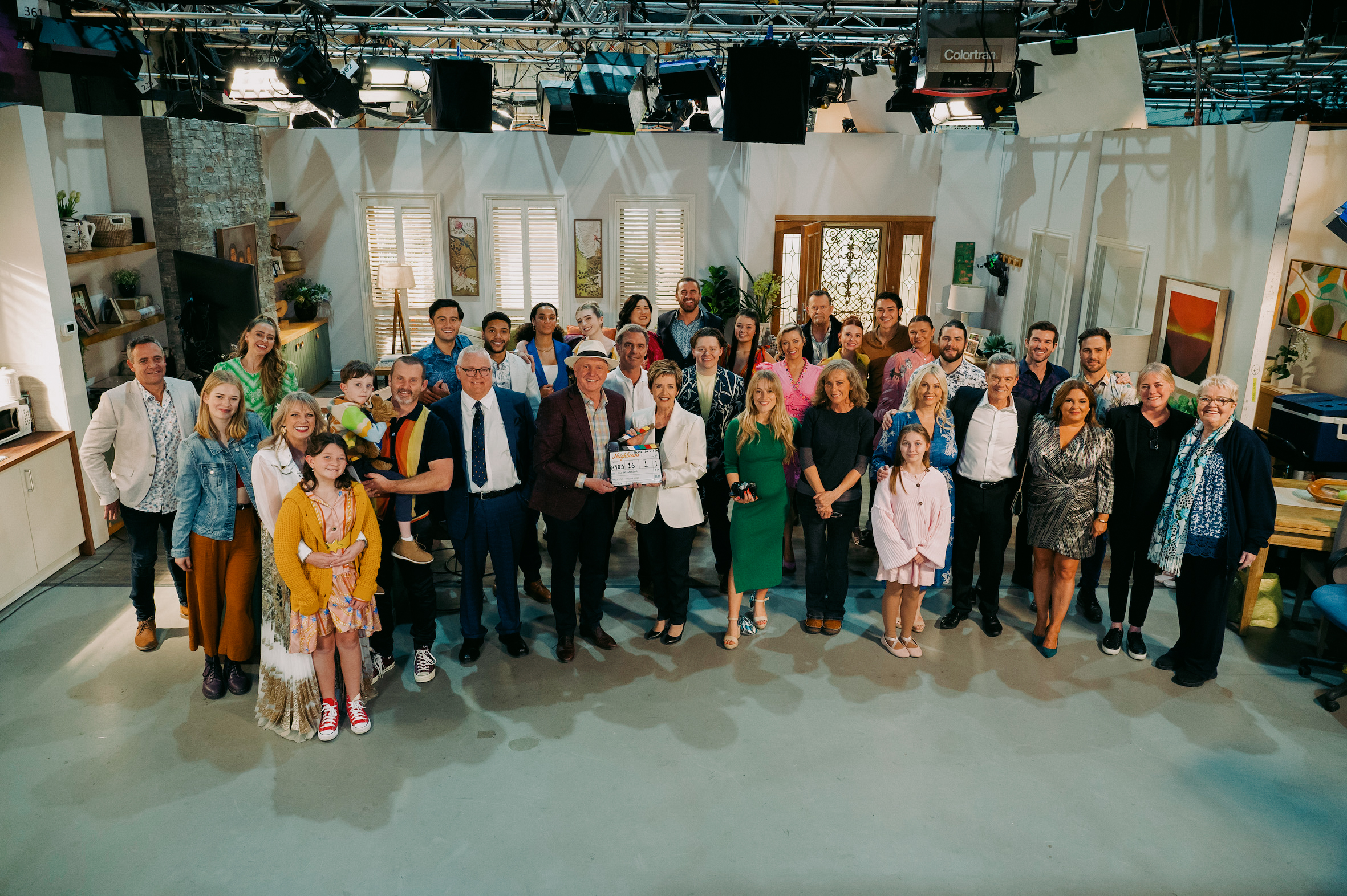 Main and guest cast featured in the final Neighours scene filmed on June 10 2022.
"I think that's a huge loss and it does worry me that the pathways may tighten for first-time directors getting that first credit," Smith continues, "In saying that, the current project I'm working on, Turn Up the Volume, has incredible producers who are one hundred per-cent committed to nurturing new talent and have split up a 10-episode series into four blocks to ensure they can give early career directors an opportunity. As long as producers can continue to share similar mindsets, there is hope that newcomers will find opportunities."
Manager of Industry Skills and Development, Jana Blair, said VicScreen's Key Talent Placement program would continue to identify up-and-coming Victorian directors and writers, and financially support productions that provided first-time creatives with hands-on training.
"We're always keen to hear from people who want to pursue a career below-the-line, as well. VicScreen's Professional Attachment program provides highly valued and successful entry-level positions for anyone wanting to join the crew, regardless of their prior work experience."
With soap-opera and children's TV credits under her belt, Tenika Smith would love to tackle adult drama moving forward. Andrew Thompson is looking forward to a well-earned break overseas where he can catch up on the sleep he missed producing Neighbours throughout the pandemic. Both of them are committed to providing similar mentorship opportunities, modelled by Neighbours, on the sets of their future productions.
Neighbours was inducted into the Logie Hall of Fame in 2005 and has undoubtedly cemented its place in Australian television history. Perhaps more importantly, it's cemented its place in Australian cultural memory – a legacy very few productions can achieve.
Catch the final episode of Neighbours TONIGHT at 7:30pm on 10 and 10Peach and a one-hour primetime finale episode on Friday, July 29 at 9.00pm on Channel 5 in the UK.
If you are a producer interested in hosting a placement for a Victorian key creative on your production, you should reach out to VicScreen's Industry & Skills Development Coordinators Kate Darrigan at Kate.Darrigan@vicscreen.vic.gov.au and Chris Barker at Chris.Barker@vicscreen.vic.gov.au.
Early-career directors and writers should explore applying to our Key Talent Register. If you're ready to kickstart your career on the crew, you should apply to our Professional Attachments Register.