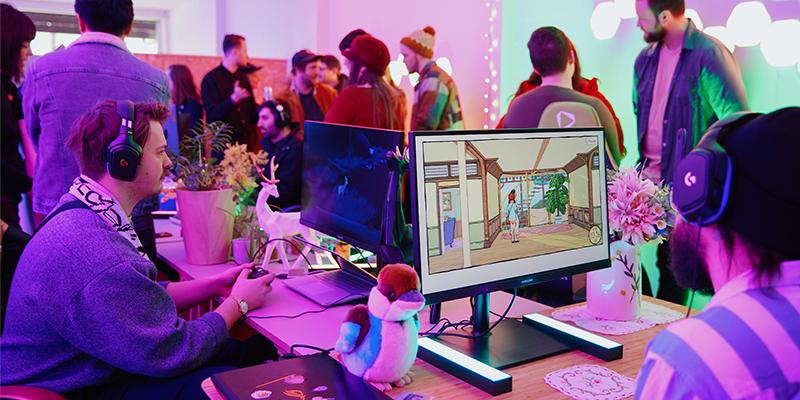 VicScreen is calling on Australian game developers to mark their calendars for 5 October 2023 and participate in Australia's foremost games market, Play Now Melbourne.
For one day only, Play Now Melbourne will take over the State Library of Victoria to connect some of the world's biggest publishers and game platform giants with the nation's most exciting game makers during Melbourne International Games Week.
If you're a game developer ready to level up your project and present it on the world stage, do not miss this unique opportunity to apply below.
I'm a developer, how can I get involved?
VicScreen is inviting ambitious Australian game developers with projects in active development. That means your concept is complete and you're ready to pitch to the world's best publishers.
To be considered for this life-changing opportunity, you should:

Embody innovation – Present powerful and compelling pitch materials or a playable build that will leave publishers begging for more playtime.
Be experienced – Display your team's prowess and professionalism in delivering remarkable results, demonstrating the readiness of your project for potential publishing or investment opportunities.
Bring market potential – Show us how your involvement in Play Now Melbourne will skyrocket your project to stratospheric heights and demonstrate how your game will enhance the Australian games sector.
Bring diversity, equity, and inclusion – Let us know how your team and project are fighting for a more equal games ecosystem. We believe in building an inclusive games sector; one that champions diversity and leaves no one behind. How does your team and project champion access and inclusion to create fairer representation across the sector?
You're eligible to apply if you can...
• Claim ownership or control of the rights to this one-of-a-kind project.
• Showcase your project in active development.
• Attend the event, in-person, in Melbourne on 5 October 2023.
What's the timeline?
Once you've submitted your application (by Sunday 27 August 11:59pm AEST) – and we're trusting that you will – you'll hear back within seven weeks from the deadline date. A diverse panel of industry experts from all corners of Australia will review your application, assessing its compatibility with publishers and platform holders. Good luck, developers!
Improve your chances:
• Get on a first-name basis with VicScreen's Terms of Trade.
• Don't skimp out on the Assessment Criteria found in the guidelines here.
• Let your submission shine with genuine inclusivity. Head to VicScreen's Gender & Diversity Statement for more info.
Ready to start your international game-making odyssey?
Begin your journey on the global games stage by commencing your application now and prepare to reach a new level of potential at Play Now Melbourne, Australia's pre-eminent games market.
Contact Us:
For more information, reach out to:
Head of Games and Interactive – Paul Callaghan, 03 9660 3224
Games and Interactive Coordinator – Lise Leitner, 03 9660 3277
Grants Officer – Connie Boyce, 03 9660 3267