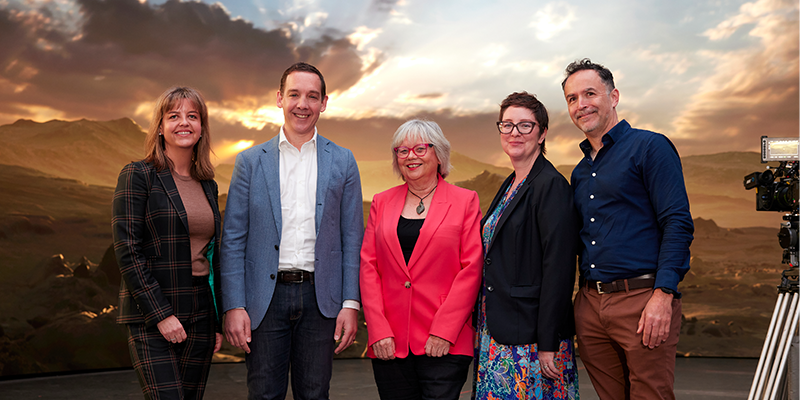 Left to right: VicScreen CEO Caroline Pitcher, Minister for Creative Industries Steve Dimopoulos, Co-Founder Media Mentors Denise Eriksen, Co-Founder Media Mentors Esther Coleman-Hawkins and Co-Owner/ Director Freelancers Promotions Andrew Campbell. Photo by Daniel Mahon
Victoria is a global leader in the development of highly acclaimed digital games, film and television content. Today, the Minister for Creative Industries Steve Dimopoulos announced a $5.4 million skills and training package to support Victorians that are aspiring to build careers in screen.
The announcement was made at Docklands Studios Melbourne which is home to Victoria's latest screen technology development, NantStudios' world-leading virtual production facility.
There are two LED volume screens at the studios including one that at 12mx88m is the largest in the world – the Victorian Government contributed $12.5 million to bring the technology to Victoria.
The Victorian Government will provide $3.6 million to establish a specialist, digital games and VFX school to ensure Victoria remains at the forefront of screen education. Digital games is one of the world's fastest-growing entertainment sectors and film and television productions are using more visual effects and animation than ever before. Expressions of interest are now open for TAFEs and other education providers to develop and deliver this training.
Fremantle and VicScreen have partnered on a major on-the ground paid training initiative to be delivered on the set of Neighbours. With the iconic TV series returning to production today, the Neighbours Training Program will provide paid training for emerging Victorian writers, directors and crew members in roles such as post-production, camera, lighting and sound. With the full endorsement of Neighbour's new commissioners Amazon Freevee and Prime Video and local broadcaster for 37 years, Network TEN, the scheme continues Neighbours' decades long commitment to nurturing new talent behind the camera. Applications are now open.
Also announced was Set Educated – a series of workshops to help workers outside the sector transfer into the screen industry, which has grown by more than 3,000 full-time equivalent jobs as a direct result of VicScreen investment in the past two years.
Through a partnership with VicScreen, commencing in May, the Set Educated program will help up to 400 aspiring screen workers break into the industry, while also showing workers such as accountants, electricians and designers how they can transfer their skills to the booming screen sector. The program will also offer tailored workshops delivered by industry experts for specific roles which are in high demand. Sessions will be held in Geelong and Melbourne.
Quotes attributable to Minister for Creative Industries Steve Dimopoulous

"This is about Victorian skills for the future and jobs right now. There is more work than ever in our screen industry and the demand for highly skilled creatives, crews and technical specialists continues to grow." 
"Whether you are starting out or exploring a career change, this is a chance to call `action' on a new screen career."
Quote attributable to VicScreen CEO Caroline Pitcher
"We know that growing Victoria's pool of talent is key to the continued success of our local screen industry. These programs will build our skilled workforce across all fields – from technical to creative, crew to corporate."
To find out more about this exciting program visit mediamentors.com.au/set-educated
To find out more about the Digital Games and VFX School visit: creative.vic.gov.au
To apply or find out more about the Neighbours Training Program, visit: vicscreen.vic.gov.au/funding/skills-development