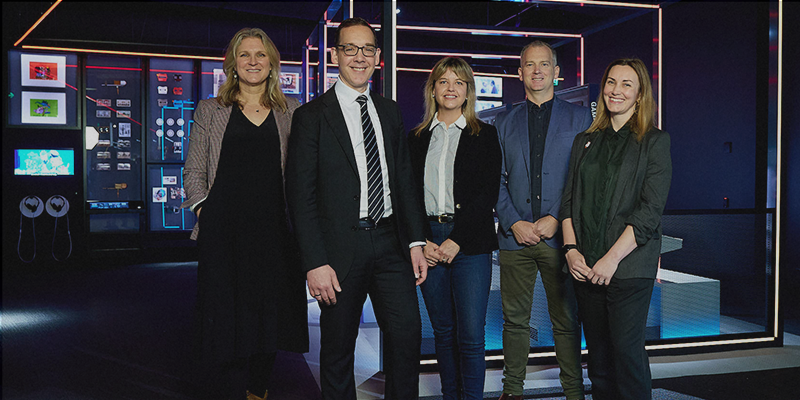 Left to right: Princess Bento Managing Director Emma Fitzsimons, Minister for Creative Industries Steve Dimopoulos, VicScreen CEO Caroline Pitcher, Keywords Studios Head of Operations Tom Davies, Hipster Whale CEO Clara Reeves. Photo by Daniel Mahon.
The Victorian Government is backing Victoria's highly skilled workforce in game development, post-production, animation and visual effects (VFX) with a $15 million rebate designed to attract new international projects to the state and support local companies to create bold original content.
With global demand for digital games, VFX and animation continuing to grow, the new Victorian Digital Screen Rebate will offer grants for projects that are undertaken in Victoria, employing Victorian workers.
Victoria is a screen industry powerhouse, leading the nation in the number of games studios and the size of its games sector workforce. This new funding reinforces the Victorian Government's commitment to the games sector and to the screen industry more broadly.
Administered by VicScreen, the rebate will build on the Australian Government's new Digital Games Tax Offset and the Post, Digital and Visual Effects Offset, ensuring local studios continue to capture their share of the global market, whilst enhancing Victoria's position as a leader in screen innovation and technology.
The rebate will position Victoria to attract more international projects and investment with a rebate of up to 10 per cent of qualifying expenditure and, in a first for Victoria, locally owned companies will be eligible to apply for a rebate of up to 15 per cent of qualifying expenditure that will support local content and creators.
The new rebate complements other recent screen investments including support for home-grown projects, the construction of the world's largest virtual production infrastructure at Docklands Studios Melbourne and $3.6 million to establish new vocational training for Victoria's digital screen sector.
Minister for Creative Industries Steve Dimopoulos said, "The digital games sector is one of the fastest-growing industries on the planet and we are backing companies to set up or expand in Victoria to create more jobs and boost our economy."
"This rebate will help ensure Victoria's position at the cutting edge of games, visual effects and animation is cemented for years to come."
VicScreen CEO Caroline Pitcher said, "Victoria is the go-to destination for digital games, VFX, animation and post-production, with many of the country's leading digital screen businesses operating in Melbourne."
"This rebate will support more locally based studios to develop and attract digital screen projects that will stimulate Victorian creativity, innovation and capability, as well as deliver job and career opportunities for Victorians."
Summerfall Studios Managing Director and Co-Founder Liam Esler said, "Victoria is already the best place to make games in Australia and the Victorian Digital Screen Rebate will have a huge impact on businesses like ours, giving studios more resources to create world-class projects."
"The rebate will mean local studios can kickstart their ambitions with a strong foundation of growth and encourage more to set up here. This rebate is truly game-changing."
The Victorian Digital Screen Rebate is open now for applications. For more information visit vicscreen.vic.gov.au/incentives.