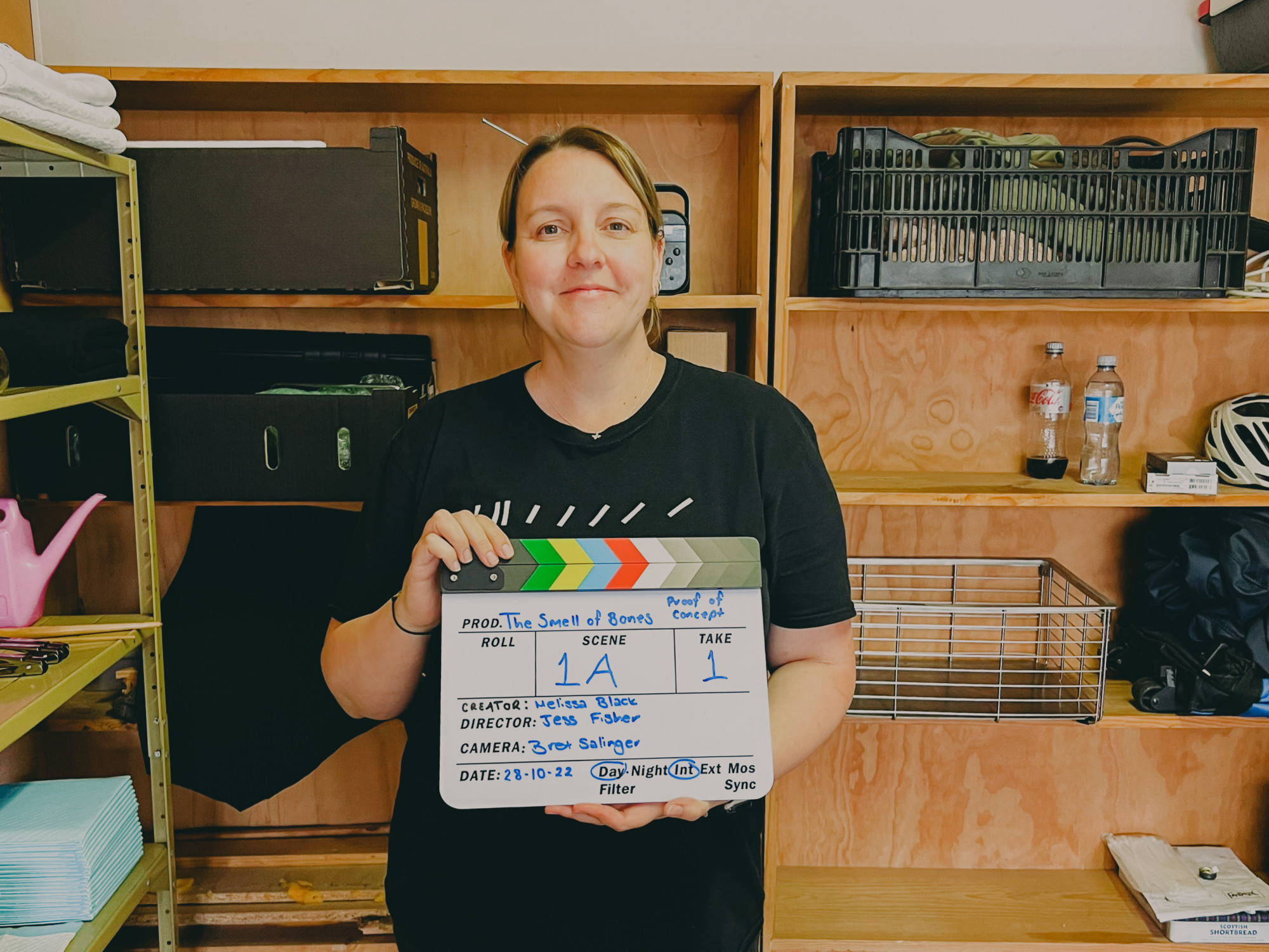 Melissa Black with clapper board on the set of The Smell of Bones.
Melissa Black was working as a librarian in Shepparton when she decided to take a giant leap of faith and enrol in a screenwriting degree at RMIT in Melbourne. "All my life I've wanted to work in film and TV, but it was only in the last five years that I realised I could," she explains.
Melissa researched viable pathways into this rapidly evolving industry and took the plunge. "That was the best decision I made, just starting."
Living in regional Victoria, over two hours from Melbourne's CBD in a town called Tatura, doesn't come without its challenges for an aspiring filmmaker. Just the other week Melissa found herself flooded into her hometown, with all major roads leading to the city inundated with water. "I did miss one day of a VFX shoot because of the floods," she explains—a job she was invited back to after her recent Professional Attachment on season two of NBCs hit show, La Brea.
The La Brea script supervisor attachment, facilitated through VicScreen, required Melissa to relocate to the big smoke for a six-week stint, with filming of the hit-US series taking place at Docklands Studios Melbourne and on location across Victoria.
"Characters are everything to me. So, watching them develop over season one, and knowing that the show was made in Australia got me so excited. Then being attached to the production in season two…I was just thrilled."

Primarily, Melissa is a writer, she clarifies. She recently completed shooting a proof-of-concept shoot for her short film, The Smell of Bones, which was selected as a top-five AACTA Pitch: Focus finalist. The opportunity to shadow a script supervisor on the second season of a major international TV drama, however, was exactly the kind of experience she was looking for to hone her craft as a screenwriter.
"I fell into script supervising by working on shorts with uni friends," she says. It's a job that ties the pre-production, production, and post-production together, providing an excellent insight into the entirety of a screen project.
"The script supervisor is there to represent the editor on set," she explains. "It's up to the script supervisor to be thinking about the cut. If a shot's still owing for whatever reason, the script supervisor will take note of that. They will always have a copy of the most up-to-date script to support the production team, and the cast with lines and actions and other script information. In pre-production, script supervisors will time scripts and craft scene breakdowns to prepare for shooting."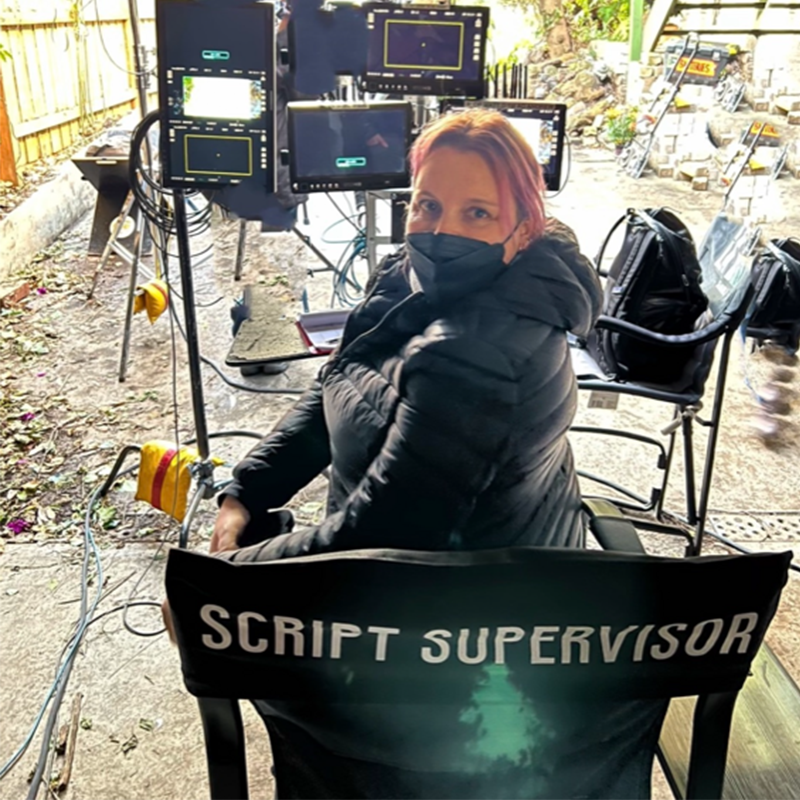 Melissa Black in the script supervisor chair on the set of La Brea S2.

"The crew felt enormous…there was a lot for me to take in and learn. But everybody was so generous and supportive and shared a lot of information."
Noting down shot sizes, camera lens changes, lighting variations, performance changes, as well as wardrobe, hair and make-up variables all fall into the script supervisor's remit to guarantee continuity across each scene.
"Departments are really on top of what they do but taking photos and keeping an eye on these changes helps a lot, especially if you're filming one part of a scene one day, and the other part two weeks later. For example, if a character turns to their left, and uses their left hand to open the door, taking note of that so it looks like the same shot."
There are a lot of moving parts on set, and they all contribute to the overall quality of a production. Ensuring continuity through script supervision is an important piece of the puzzle. "Even if [script supervising] isn't a path I follow forever, knowing what's expected; how directors work, what the editors are looking for, is so valuable…it makes me a better writer."
Melissa is a big fan of historical and supernatural story elements, so La Brea's first season was right up her alley. "Characters are everything to me. So, watching them develop over season one, and knowing that the show was made in Victoria got me very excited. Then being attached to the production in season two…I was just thrilled."
Ahead of La Brea's return to Melbourne, Melissa contacted the skills team at VicScreen and submitted her application to join the skills register in order to be in the running for a professional attachment.
"I received great support with that application process; I adjusted a few things in my life and I got it. I was very, very shocked, and very excited when I got this placement. I was also very frightened that something would come along to ruin it. And then, two weeks before I was due on set, I caught COVID-19. I was really frightened that my chance would just disappear somehow. But luckily, everyone was very understanding, and it was just postponed a week."
Melissa is a single mum to a 12-year-old boy. "So, the challenge is literally the distance and time it takes to get to the city," she says, "as well as being away from him and having to lean and depend on my great support team." Despite its challenges, being a single parent has emboldened Melissa to demonstrate what chasing your dreams looks like. "My son wants to work in the same industry, so he understands."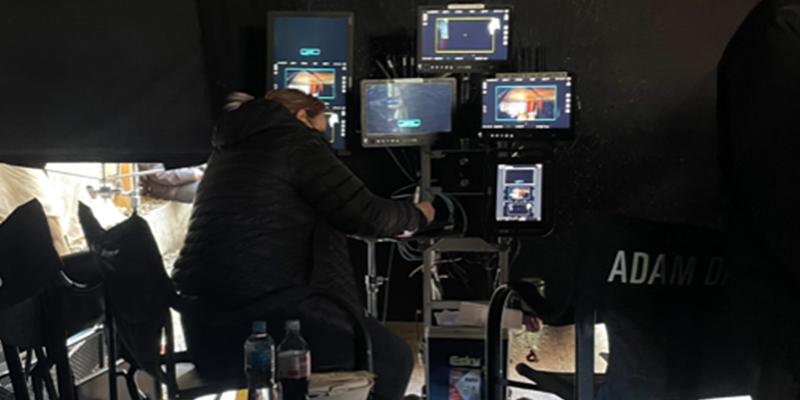 Melissa Black on location of La Brea S2.
Over six weeks, Melissa worked across several episodes of La Brea under the guidance of professional script supervisors Ted Green and Janes Forbes, and a handful of rotating directors, gaining a first-hand insight into how a changing crew can achieve the same result through different methods. "The crew felt enormous…there was a lot for me to take in and learn, but everybody was so supportive and shared a lot of information."
La Brea's production is run on more of a US model, Melissa explains. "That was great for me to see and learn, because for this kind of career, I want to know how it's done everywhere so that I can work everywhere. The majority of the crew were Australian, but there was a really good blend of people, and everybody was so knowledgeable… I can't even explain how much I learned."
Having spent 25 years working as a librarian, library manager, retail assistant and office administrator, Melissa isn't exactly new to the workforce, however walking onto the set of a TV series as a newcomer in the industry could have been intimidating if it weren't for the generosity of the crew surrounding her.
"The crew that I have come across have all been so encouraging with lifting people up in the industry. I actually got to pull up my sleeves and do the work myself. It wasn't just observational. This attachment was such a brilliant way to fully immerse myself in a production."
La Brea felt like a career-changing move, Melissa reiterates. "To create connection and network within in the industry, to learn, and to be part of the whole experience was phenomenal…It's extremely hard work. Long hours, big days, but on top of that, it was so much fun."
La Brea is produced by Universal Television and Matchbox Pictures, both divisions of Universal Studio Group, in association with Keshet Studios.
If you are an early-career screen practitioner looking for your industry break (behind the camera), apply to join the VicScreen Professional Attachments Register.
You can also watch Season 2 of La Brea at 9Now.