With a perfect Rotten Tomatoes score of 100%, Melbourne-made Late Night with the Devil from Colin and Cameron Cairnes has sent audiences and critics wild as its takes on the American film festival circuit.
Set on the evening of 31 October (Halloween) in 1977, Late Night with the Devil follows New York City late-night talk show host, Jack Delroy (David Dastmalchian) and his loyal sidekick, Gus McConnell (Rhys Auteri) as they invite a group of controversial guests onto their program in a desperate bid to boost ratings.
The line-up includes Christou the Psychic (Fayssal Bazzi), former magician turned sceptic and supernatural debunker, Carmichael Hunt (Ian Bliss), parapsychologist Dr. June Ross-Mitchell (Laura Gordan), and her teen patient Lilly (Ingrid Torelli) who has survived a Satanic cult and claims to be infested by a demon named Mr. Wriggles.
Delroy and his producer, Leo Fiske (Josh Quong Tart) decide to summon the demon inside Lilly and attempt to communicate with her possessor live on air. It's the stuff of a ratings bonanza, until pandemonium erupts, and all hell (literally) breaks loose, giving the studio audience much more than they bargained for.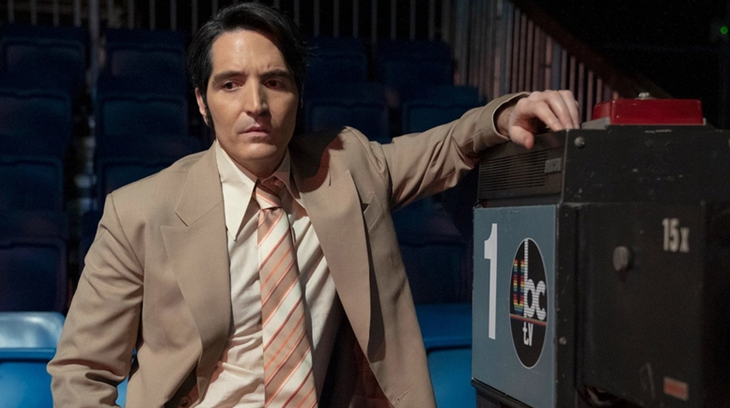 David Dastmalchian as Jack Delroy in Late Night with the Devil.
Shot in just twenty days at Docklands Studios Melbourne, Late Night with the Devil took years to research and write. Cameron and Colin explained, "We'd never shot a feature film in a studio before. We've always been on location," Cameron said, "So, it was wonderful, and also kind of maddening walking onto the same set every day. As far as possible, we treated it like we were actually shooting a live TV show in the 70s."
"Filming on the cusp of Melbourne's CBD was convenient and offered a great opportunity for international cast and producers to easily explore the city between takes. "The location at Docklands is fantastic, we'll definitely do it again," Colin emphasised.
"Aussie crews are the best," Cameron added. "They just get on with it. And most of them are multi-skilled, that's why they get such a good rap in the U.S."
"You can see it with Aussie actors, too. They're professional, work hard and know their lines, but they're also the first to put their hand up if something needs to get done. Everyone has a great sense of humour too, which is part of what makes shooting in Australia so much fun."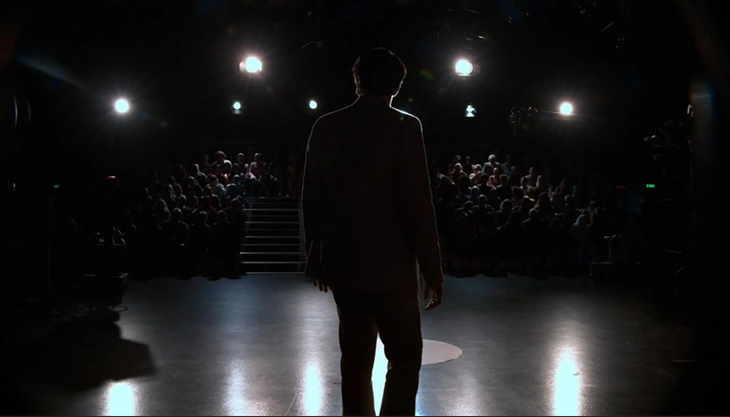 David Dastmalchian as Jack Delroy in Late Night with the Devil.
"We just came back from SXSW in Austin and Overlook Film Festival in New Orleans where some of the most well-received films were Australian," Colin said. "We [Australia] had three genre films at South by Southwest, which is one of the best festivals in the world. So right now, there's a bunch of really cool, low-budget Aussie horror films that people are raving about in the States."
The King of Horror himself, Stephen King, applauded the film following its premiere at SXSW, tweeting to his 7.1 million followers : "LATE NIGHT WITH THE DEVIL: I got a screener. It's absolutely brilliant. I couldn't take my eyes off it. Your results may vary, as they say, but I urge you to watch it when you can."
"I mean we're just honoured that he watched it, that's already a buzz. And that he liked it…it's amazing," said Colin.
"A month ago, no one had seen the film outside of our core team," Colin continued, "We felt that we had made something at least interesting. It's certainly not a film we've seen before, so we thought there was a potential for it to get some attention, but we never could have expected the responses to be as glowing as they have been."
"The bottom will drop out soon enough," Cameron says, laughing.
Currently, the film has a perfect Rotten Tomatoes score of 100%. "It almost looks like it's been rigged; it's laughable really," Colin joked. "We need to get that down to at least 97%."
"But it's very flattering. We've been going to a lot of screenings and Q&As with smart audiences who ask great questions. People are picking up all the little details that we'd planted, hoping they would register. And they have."
After the critical success of their first two features, 100 Bloody Acres and Scare Campaign, Late Night with the Devil has come about through the efforts of Melbourne-based Future Pictures, in association with U.S. genre label Spooky Pictures and Image Nation Abu Dhabi.
With their Late Night creative team including DOP Matt Temple, Production Designer Otello Stolfo, Costume Designer Stephanie Hooke and a host of other talented creatives, the Cairnes brothers are proud of the impact their Indie retro horror is having.

"It all comes back to a desire to share something special with an audience," Colin says. "You've only got 90 minutes, so we always say let's be as generous with story, genre, character, and left turns as we can."