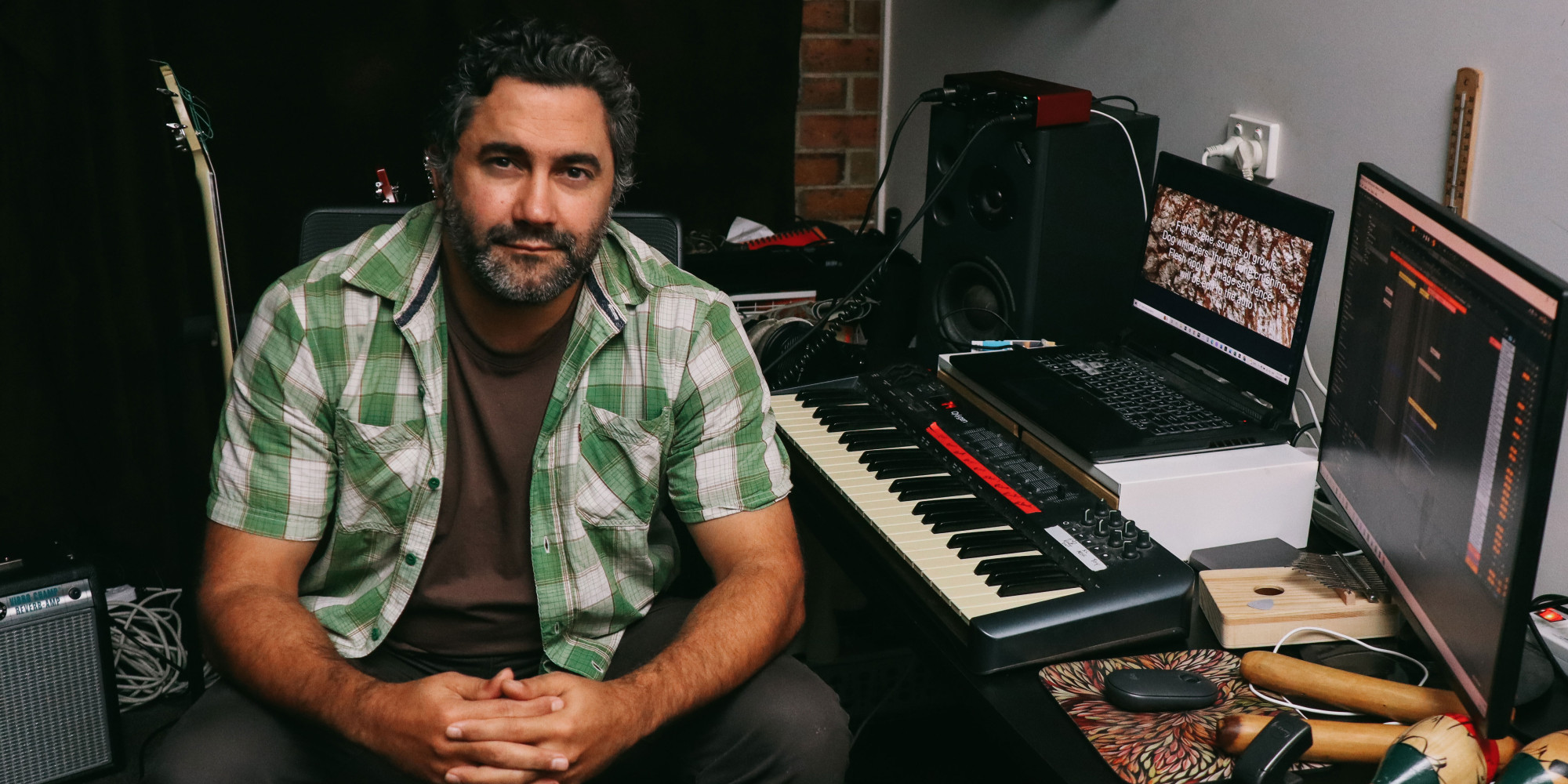 We spoke with Melbourne-based sound designer and composer James Henry about carving his own path in the music industry.
Discussing his early influences, what he finds exciting in his work, as well as his hopes for more First Nations voices on screen. Read and watch the full interview below.
Hi James, can you tell us about the community in the area you grew up in?
I grew up with my grandparents in Sydney's inner west, surrounded by many aunties and uncles and cousins. I've got my closest Aboriginal ties to my grandmother's side of the family, and we spent a lot of time going up to Walgett and Lightning Ridge in the northwest of New South Wales and getting to know some of the country and the people up that way.
How did your early years influence your work?
My grandfather is a well-known singer and songwriter who had quite a long career, starting off in the '50s. He was known as a crooner, a balladeer, but also a country music artist, and later he performed more familiar contemporary songs. I toured with him occasionally and got to see a little bit of the music business and what life was like on the road.
How did you get started in the screen industry?
At the time of moving to Melbourne about 16 years ago, I was writing a lot of different styles of music, using audio programs to record and make arrangements. I got to know the community in Melbourne and received a lot of encouragement and support for my music. At the start, I was doing sound design and composition for theatre and art installations, which led to commercials and then film and TV projects followed.
"I couldn't help but be inspired to go on and do music myself, but in my own way with composition."
What do you enjoy most about working on film and TV projects?
Seeing the great work that's been done by the directors, the scriptwriters, the cinematographers, and then having my little part to play within that. It's like creating a film clip in reverse!
You're in demand as a composer and sound designer across various music genres, as well as theatre, dance, major cultural events and screen. What excites you in your work?
Being able to play instruments, create sounds and see how I could do something different to what I've done before, but different to what other people have done as well. Also, having a diverse range of projects that allow me to immerse myself in that music is rewarding and inspiring.
Right now, I'm writing a score that has a country feel, working on a second project that is a contemporary take on a Dreamtime story, and then playing with some electronic beats for another score.
What did composing on Freeman, the documentary about Olympic champion and fellow Indigenous Australian Cathy Freeman, mean to you?
It was an honour to be an important part of the telling of her story. It was a bit of a step up for me in my career, but I had the power of the story to inspire and direct me. I knew it was going to be seen by a lot more people than who normally get to get to see my work, and it did turn out to be a magical piece of documentary making.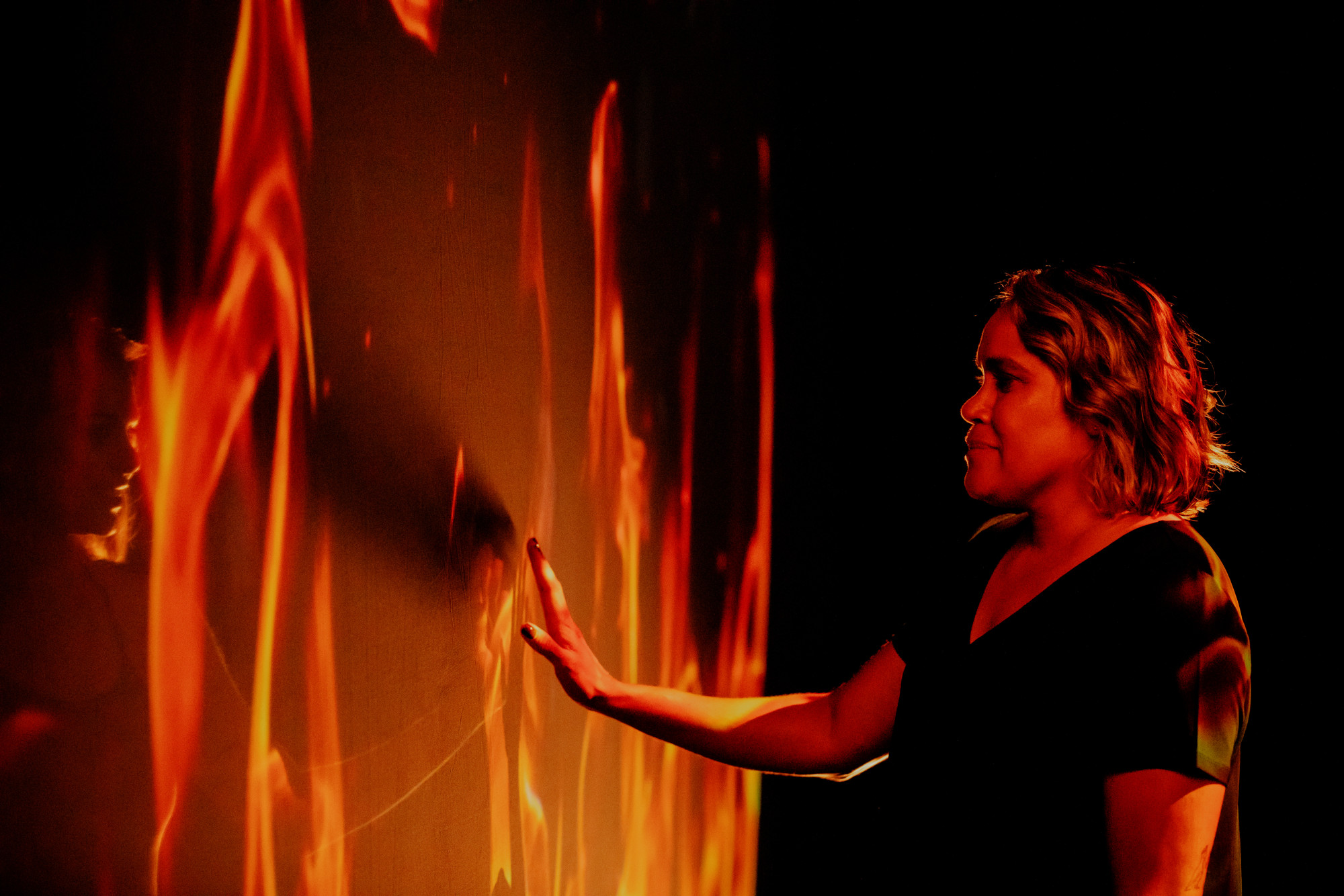 Image from VicScreen supported project, Freeman. Photography by Daniel Boud.
"If I was listening to music just for my own pleasure, I'll be listening to different music in the morning to the night and on the weekend, and my work is the same."
Where do you find inspiration?
YouTube gives me access to sound designers and composers at my level, all the way to the biggest composers in Hollywood. I spend a bit of time learning from them, working out how to get a particular sound – or sometimes just troubleshooting!
Your music also led you to photography, and your screen credits include How to Stay Married, Superwog and The Ties That Bind. How does stills photography fit in with your composing?
I probably see photography as more my day job, and music as a bit more where my passion is, where I'm more creative. I like being able to take my photography and incorporate that into filmmaking. And it's just a great vibe being on set.
What is your vision for the Australian screen industry, particularly as it relates to First Nations creators?
For First Nations artists and creatives in the film industry, I'd like to see Aboriginal people doing non-specific Aboriginal roles. Aboriginal people are representing their community and their culture in many ways and we're seeing more and more of that. It would be great if there were Aboriginal actors, or even writers and storytellers, being able to tell stories that are universal.
Having said that there are so many Aboriginal stories that haven't yet been told. I can understand why people are more drawn to telling those stories and having that Aboriginal perspective heard.
Want to find out more about working in Melbourne with talented screen creators like James? Visit our Industry Directory here.