In the world of digital game development, Memia Lin understands that making a great game requires more than just skill. Instead, it demands a bold and confident creativity, and a willingness to be open and receptive to all ideas. That's why her bigger aspiration in the games sector is to create a Community Hub, similar to The Arcade, where likeminded creatives can congregate, overcome their cultural or linguistic differences, and share their passion for making unique games.
Memia was born in Sydney and moved to China before her memories kicked in. She spent most of her early childhood in Shanghai before returning to Australia to complete her schooling. Arriving back in Sydney on the cusp of high school, Memia felt the full weight of a tricky language barrier. Today she recognises the advantages of being bilingual, however, as a child, being unable to converse as easily as the others in the playground manifested in social anxiety. In lieu of speaking, Memia took to drawing and subsequently became a practiced artist and illustrator.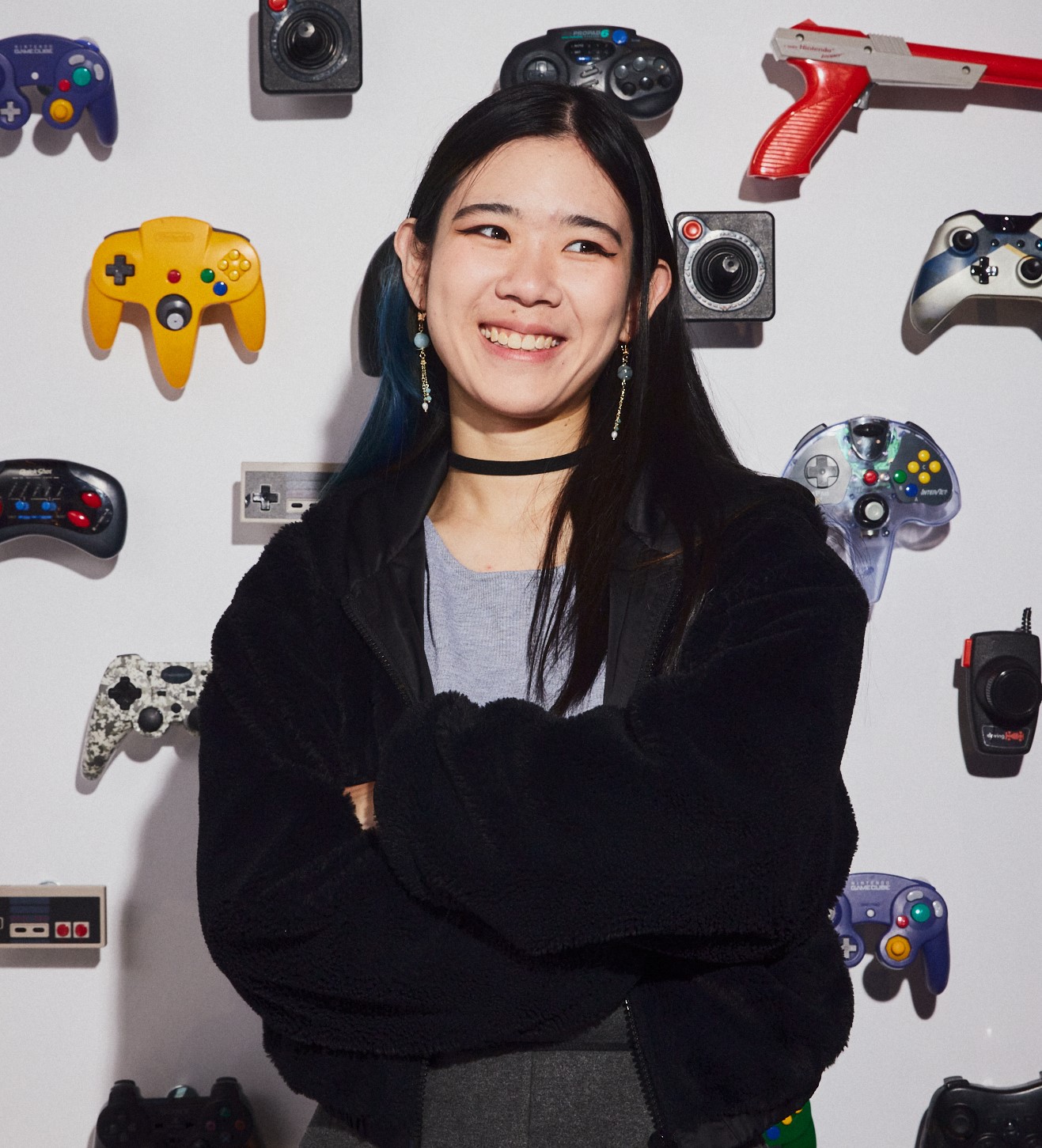 Memia Lin at ACMI Games Lab - Presented by Big Ant Studios, photo by Sarah Chavdaroska
When Memia started her Bachelor of Game Design at RMIT, she made a concerted effort to find her voice again and recognise within herself that she had a lot to share with her teachers and peers. At RMIT, she could relate to the cohort of Chinese students who huddled together, burdened by the same language barrier she'd experienced at school. Her classmates felt segregated by cultural cliques, so she took it upon herself to break down these invisible barriers and establish ties between different groups. Upon graduation, Memia was awarded the Collegiality Award for her efforts in unifying her peers. It's something she's become passionate about – connecting people with different experiences – and hopes to continue pursuing in her career making games.
VicScreen spoke to Memia about her 18-month internship at VicScreen, Sledgehammer Games and Robot Circus.
VicScreen: When did you know you wanted to work in games?
Memia: It was in 2017. I've always loved and practiced drawing; I wanted to become an artist or create special effects for movies. My high school ESL teacher showed me a list of TAFE courses and I saw a game development course that teaches art for video games…I really enjoyed everything I learned from it, but as I experienced the full spectrum of game development, I developed interests in the design and development of games rather than just the art stuff. And I haven't looked back since.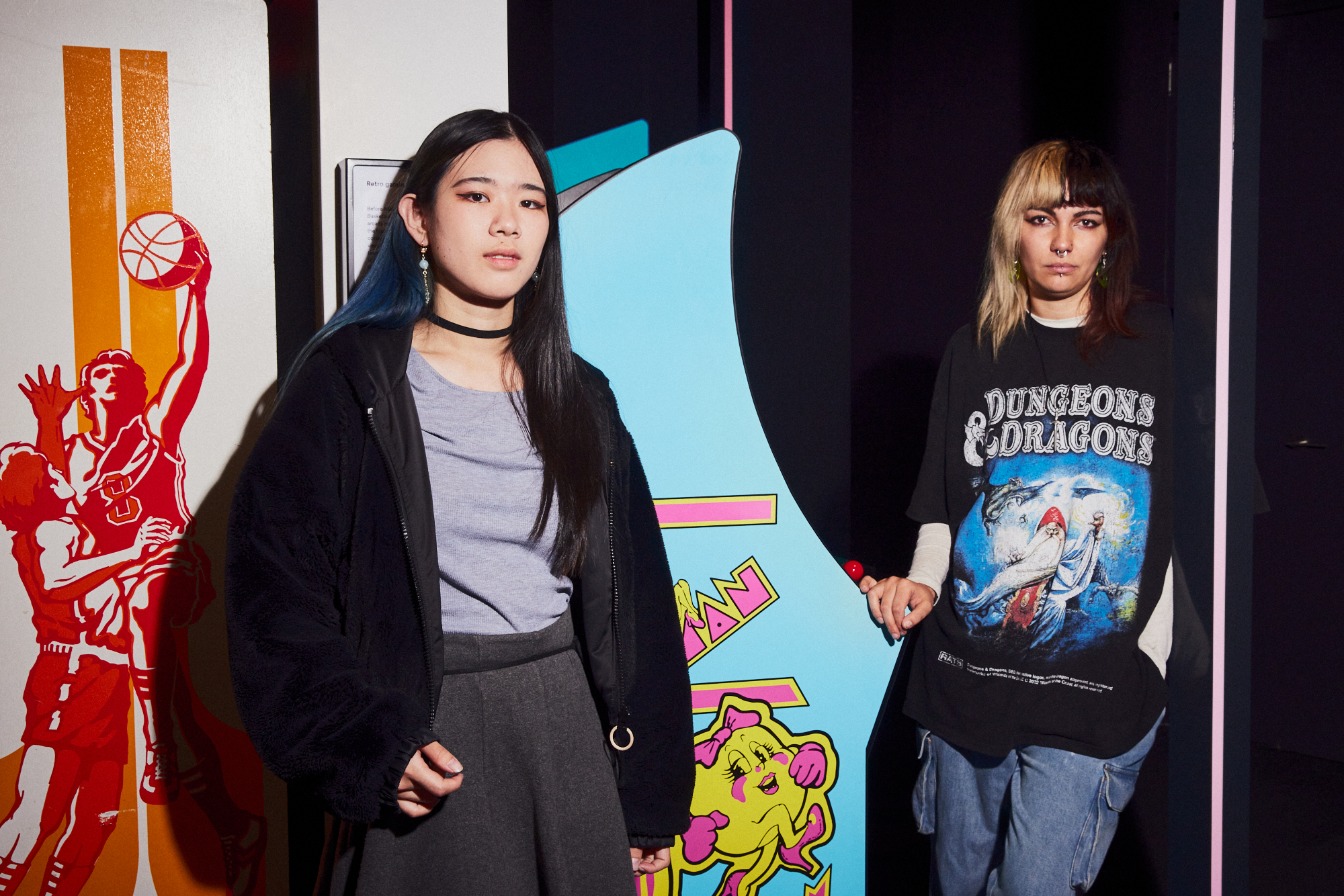 Memia Lin with fellow VicScreen Games Intern, Phoebe Watson at ACMI Games Lab - Presented by Big Ant Studios, photo by Sarah Chavdaroska
VicScreen: What games are you playing and loving at the moment?
Memia: I have to shrink this list, but the games I'm playing and loving at the moment include: Blackbox – mobile game, free to play, very unique and gets you squeezing the last bit of your brain juice to solve abstract puzzles. Inscryption – I love it! For card game enthusiasts who love Slay the Spire or Ring of Pain, this is an absolute must play. Hades – third person rogue-like Hack 'n' Slash, it is spectacularly made and has one of the most enjoyable diegetic storytelling methods. Heave Ho – physics based, good to play with friends, fling yourself around with very frustrating physics-based arms. Risk of Rain 2 – good to play with friends, third person rogue-like, really well made and has very creative and diegetic world building through weaving gameplay runs with explorative elements, which is not commonly done to this level for rogue-like genres. Heavenly Bodies – I would also recommend Heavenly Bodies, if you want your friendship torn apart in the most wonderful way possible. It's chaotic. It's frustrating. It's beautiful. Cult of the Lamb – so cute. Untitled Goose Game – If you haven't got around to it, get around to it.
VicScreen: What does your 18 months internship entail? And how are you breaking it up?
Memia: VicScreen developed this program for diverse and aspiring video game producers. This is such a unique and amazing opportunity that I never expected to exist. Instead of the typical internship where you get a specific role and the goal is you eventually get absorbed into the system, this is more like a VIP ticket where you get to observe almost everything you find beneficial to your growth. Instead of a specific role which limits you to the bubble of that position, you get to see pretty much everything, which is just infinitely more valuable since whatever you choose to do is tailored to your need for personal growth. I remember when Jana [Blair, VicScreen's Manager – Industry and Skills Development] called, I freaked out over the phone and needed a moment to calm myself. I'm really grateful and over the moon about it.
The Internship goes for 18 months, you spend six month intervals at three different organisations. I'm spending the first six months at VicScreen, shadowing Paul [Paul Callaghan - VicScreen's Head of Games and Interactive] and Lise [Lise Leitner - VicScreen's Games and Interactive Coordinator]. I get to learn what the day-to-day looks like and see everything behind the scenes.
And then you go off to two studios: one AAA studio, and one Indie studio. I think these two organisations will give me a good view of the game development sector. I will get to see how different scaled studios employ different methods of developing games, and I look forward to learning how producers work at projects of different scales.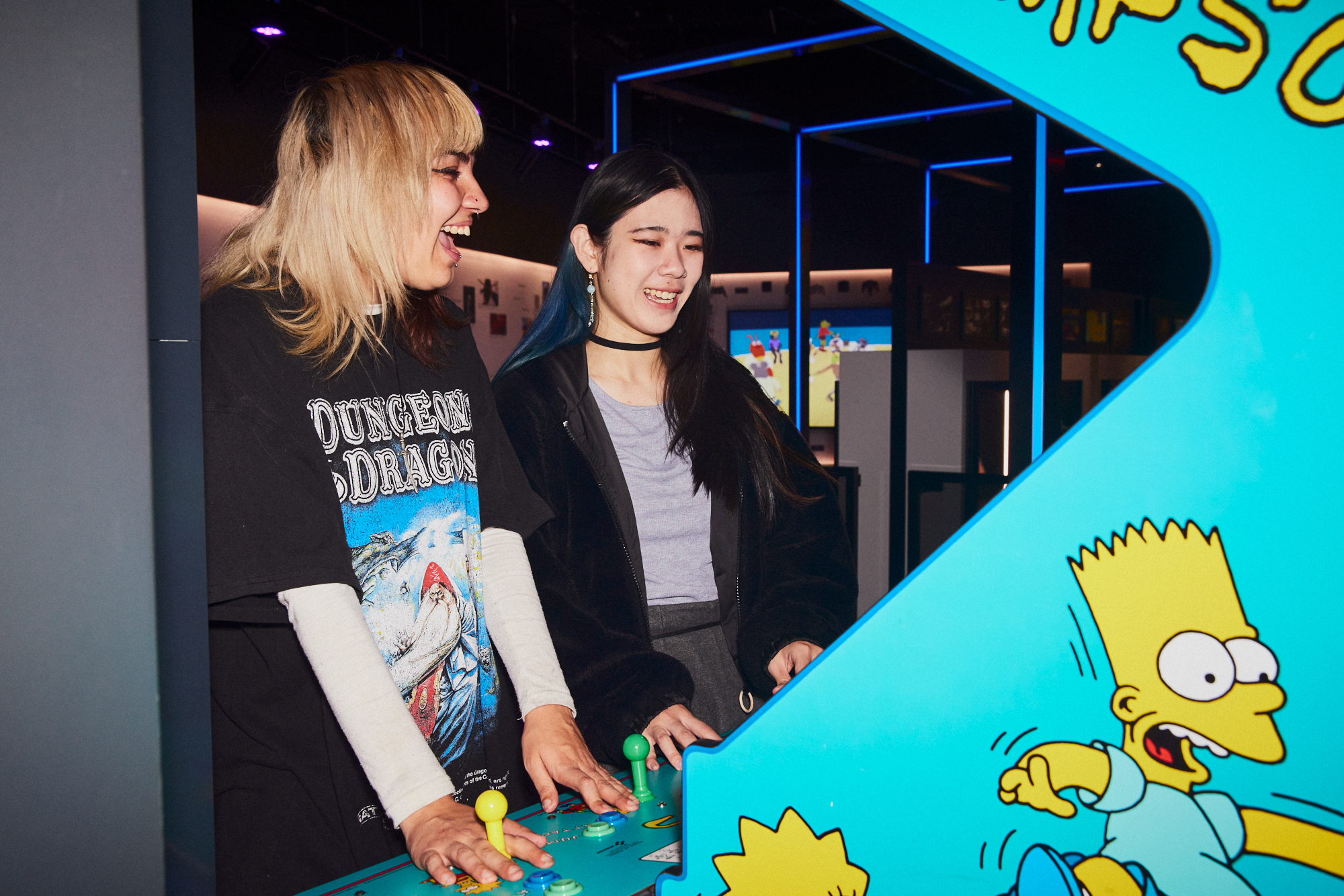 Phoebe and Memia playing a Simpsons arcade game at ACMI Games Lab - Presented by Big Ant Studios, photo by Sarah Chavdaroska
VicScreen: Can you tell us what trends you've noticed in the Australian games sector in recent years?
Memia: I went and did a TAFE course in 2016 and I think there has definitely been a shift since then. In caps, DIVERSITY, is a big one. At TAFE, I noticed that there were very few female students, and even less Asian students. For a while, I was the only Chinese student among a very tiny portion of Asian students.
And when I joined RMIT in 2019, around half of the course were females, and there were a lot more students from more diverse cultural backgrounds. I have this WeChat group that I created specifically for the Chinese students, and it's grown to having more than 80 members. Compared to when I was the only Chinese student in the TAFE course, that's a pretty exciting difference.
At Uni, I definitely noticed that the Chinese student community were separated from the local students, and they formed their own corner. It's hard for the two groups to mix. But I wanted to provide support for them.
I don't know if anyone ever feels a complete sense of belonging, I think I will always feel a little bit out of place wherever I go, but it would be cool if they [the Chinese student community] could feel more comfortable interacting with different groups of people, because from my lived experience, it's of so much benefit. You can learn from each other's differences and really expand your world view.
VicScreen: What are you hoping to gain from your internship experience?
Memia: I want to have a comprehensive view of the game development scene and develop knowledge on how to create my own games, as well as further develop my skills after the internship. I also want to be supportive of the game development community. What it means right now is helping people who are looking to take their first step in the game development journey. I want to help everyone connect with each other and exchange helpful resources that benefit everyone.
VicScreen: What local studios are inspiring you?
Memia: [Melbourne-based social enterprise] Institute of Games, not necessarily for the projects they've made, but for the interests they have in raising awareness about the risks of video games, preventing harm, and promoting the positive impacts of video games and technology. They use games and video development to achieve social impact. They want to help others. That aligns with my value a lot. I'd also love to be a part of studios with similar goals and values.
VicScreen: What has been your career highlight to date?
Memia: My career has only just started, so this internship itself is a highlight. But I can speak about the highlight of my student life. It's hard to pinpoint one specific thing because there were so many things that I really cherished and feel proud of. A big one for me is something more personal; gaining the confidence to feel like I can voice my thoughts and opinions, rather than just sitting in the corner at the back of the room. I feel so deeply about that, and I want to help and empower others on a similar journey. Another one is finding the autonomy to chase my interests, for example setting up a creative space for game makers. Seven years ago, I wouldn't have dared to think that I could do that. But I now feel confident that I trust in myself to actually chase my dreams; that anything could happen through my own effort and capabilities.
If I have to talk about "physical" achievement though; getting the Peer Collegiality award when I graduated was very cool. I also organised an event called T-Rex Run, where you run in inflatable T-Rex outfits, Ninja-style like a Naruto Run, meaning you run with both your arms positioned behind you. Imagine having to run like that as a big T-Rex with those little arms. It's going to look so stupid because it won't really work, and the thought of people Naruto-running around in T-Rex outfit was just so hilariously stupid so I made sure it happened.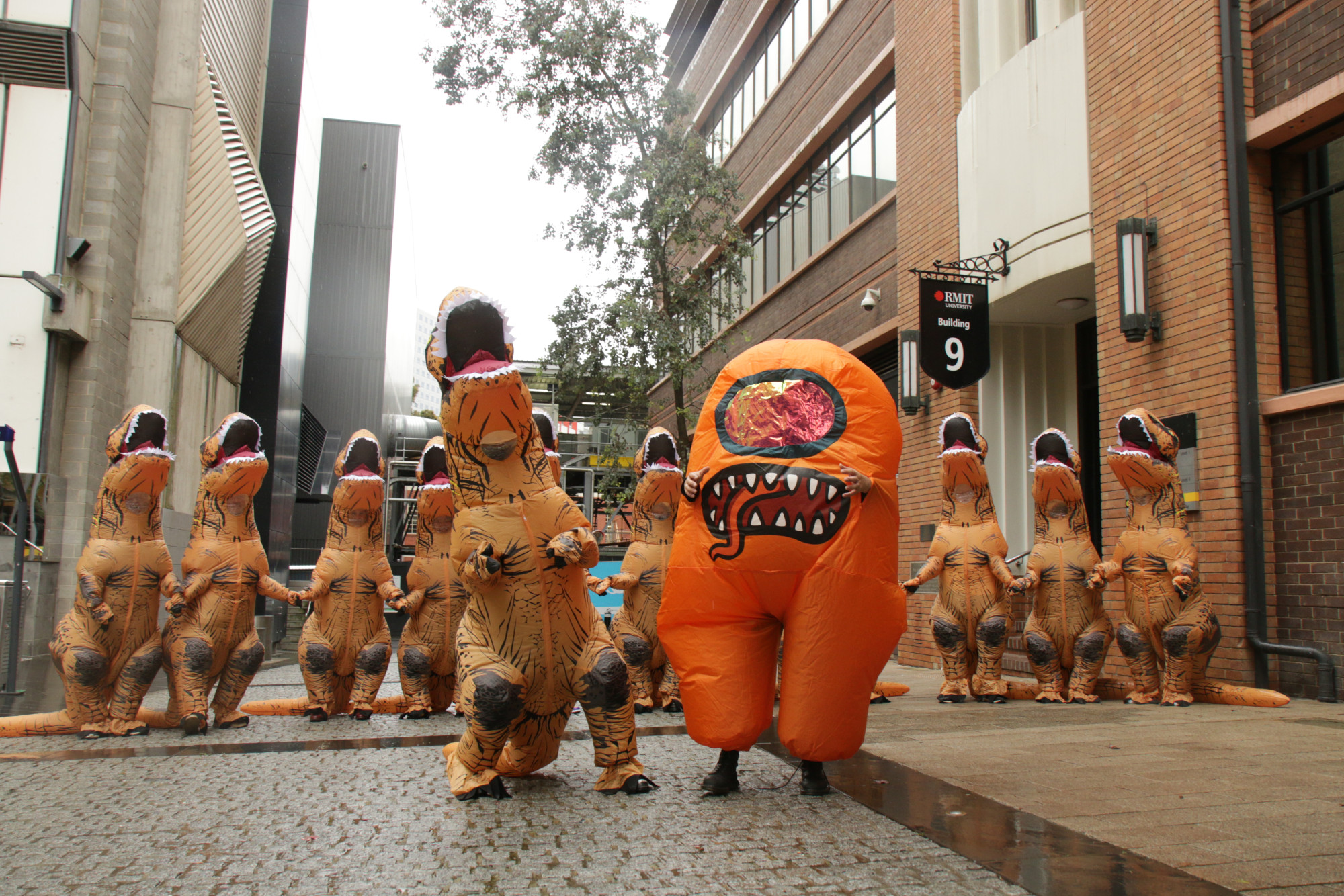 The Graduation T-Rex run at RMIT.
For Memia, her graduating T-Rex Run event was a turning point. "What I realised was, there are always going to be people who find little to no value in your idea, but there are also always going to be people who see sparks the same way you do. It's a matter of being confident in your own ideas and projecting your voice; you will find your tribe and you can make things happen." Running across RMIT's campus as a group of giant blown-up dinosaurs (and one inflated Among Us astronaut) for a moment of absurdity, demonstrated to Memia that no idea is too stupid. It's a philosophy she hopes to carry throughout her career making games. To be brave, open, inclusive and one hundred per cent herself.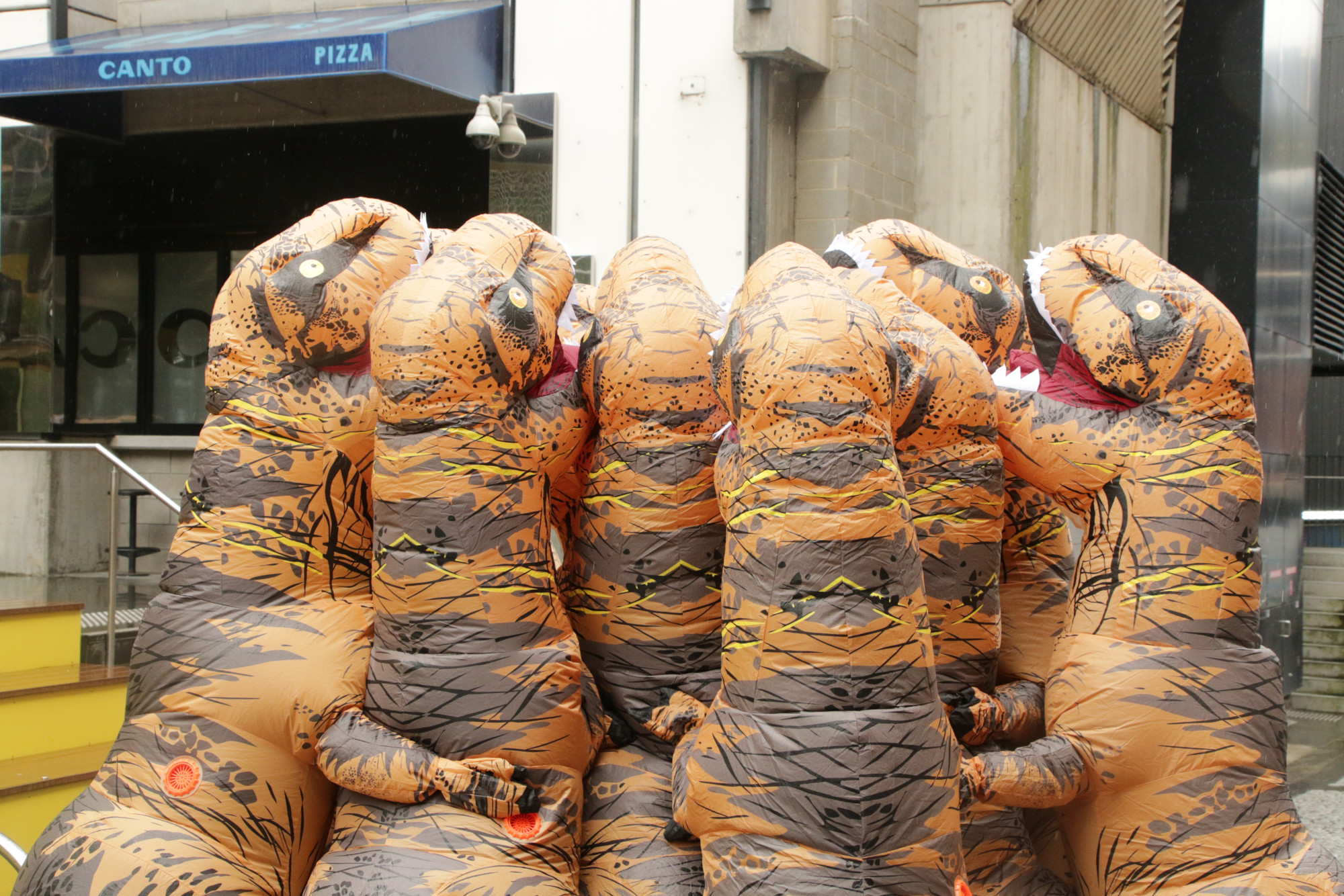 A T-Rex huddle before the big event.
Learn more about VicScreen's Skills Development programs here.