When Garth Davis read the novel Foe, he was completely taken by its mystery and suspense. However, what inspired the ultimate adaptation of Canadian author Iain Reid's novel into a film was the deeply moving relationship at its centre; one which echoed themes of climate change and our shifting relationship with the natural world.
Garth shares the intricacies of his creative journey in making this film, from the creation of the screenplay to the challenges he faced on set, and the philosophical impact he hopes the film will have on its audience.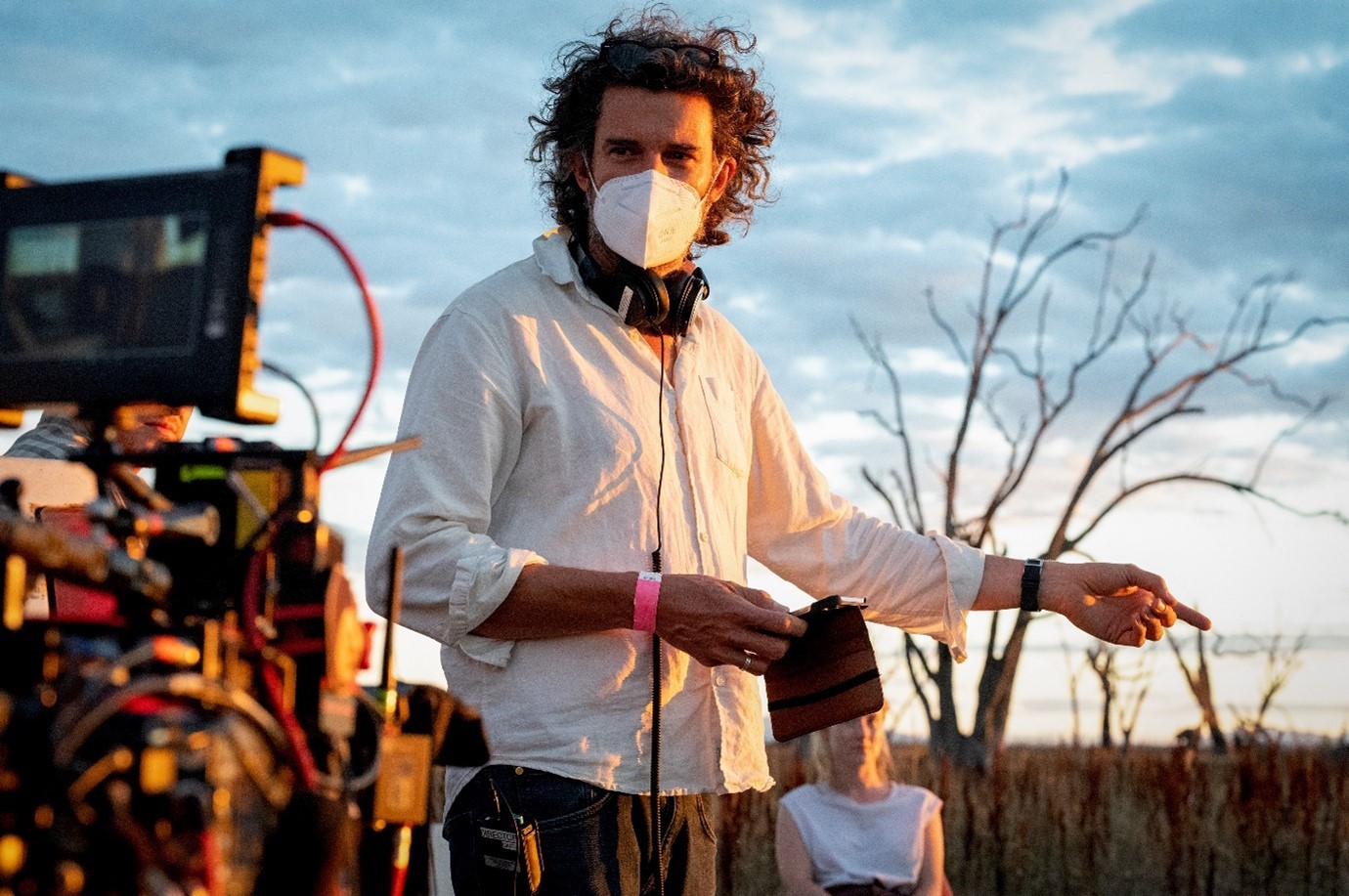 Director Garth Davis (Lion) was on the lookout for a project that would challenge him – one where he could get stuck in the weeds with his actors – when he stumbled across the book Foe. "I read it and felt excited about it, challenged by it, and it felt like it had meaning behind it that resonated with me as a human being."
Foe revolves around an American couple, Hen and Junior, who farm a secluded piece of land in the Midwest that has been in Junior's family for generations. That is until their quiet life is thrown into disrepair, when an uninvited stranger shows up at their door with a frightening proposal.
Fortunately, there was an early meeting of minds between the Canadian novelist and the Australian director, and the process of adapting the text from novel to screenplay was only ever exciting, Garth explains.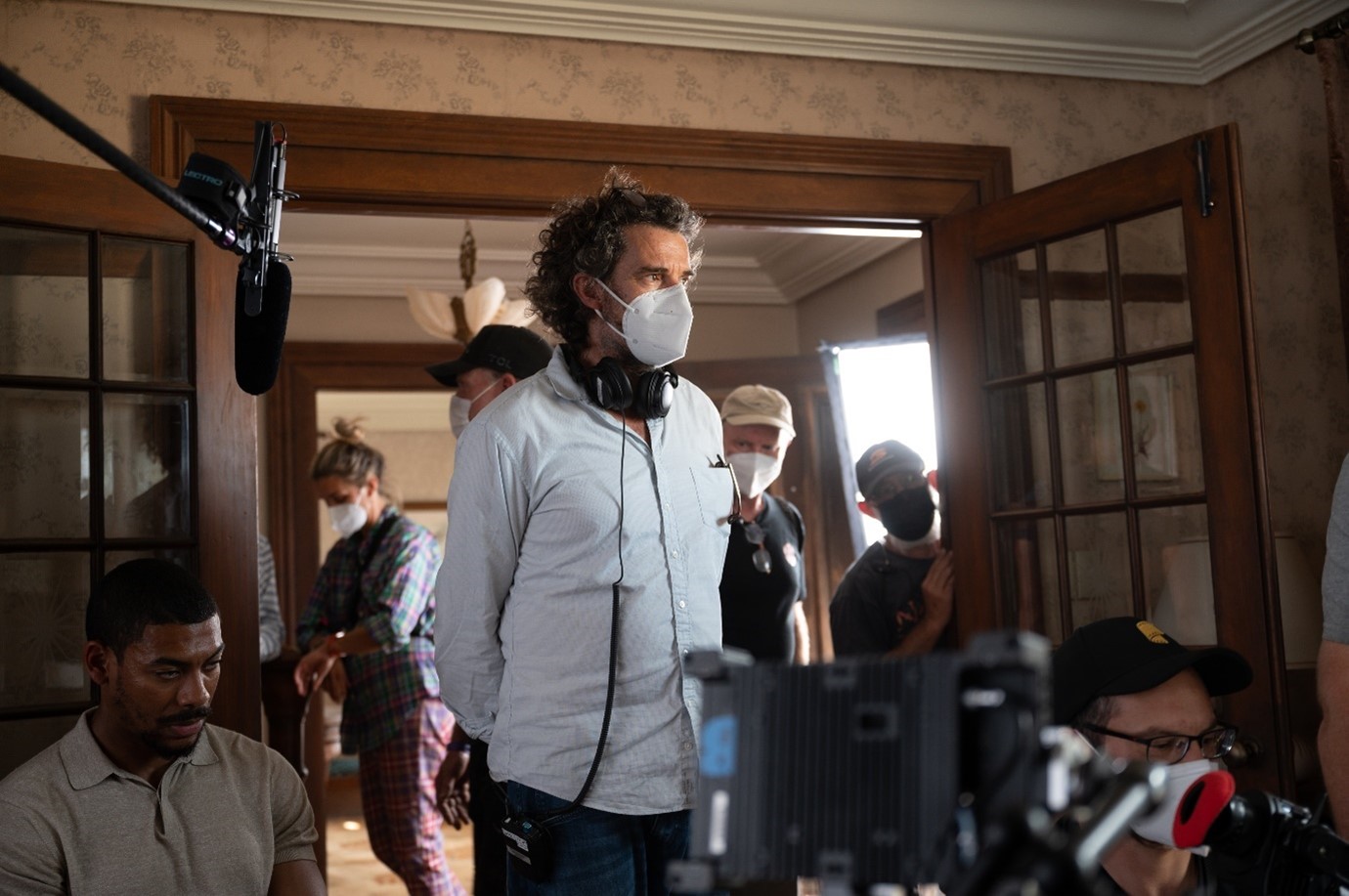 Garth Davis on the set of Foe
"I was really excited to meet [Iain] because, for me, it was a chance to get inside his mind, and discover what motivated all of his decisions. We quickly discovered we had a lot in common, and the things that motivated him to write the novel were the same things that excited me to make it into a movie."

Casting this film was a lesson in patience, Garth explains. "To be perfectly honest, it took a long time for us to get this up and running." And the main reason was securing Saoirse Ronan (Little Women, Lady Bird) as the film's lead character, Hen. "Obviously Saoirse has always been on my bucket list to work with, I think she is one of the greatest out there."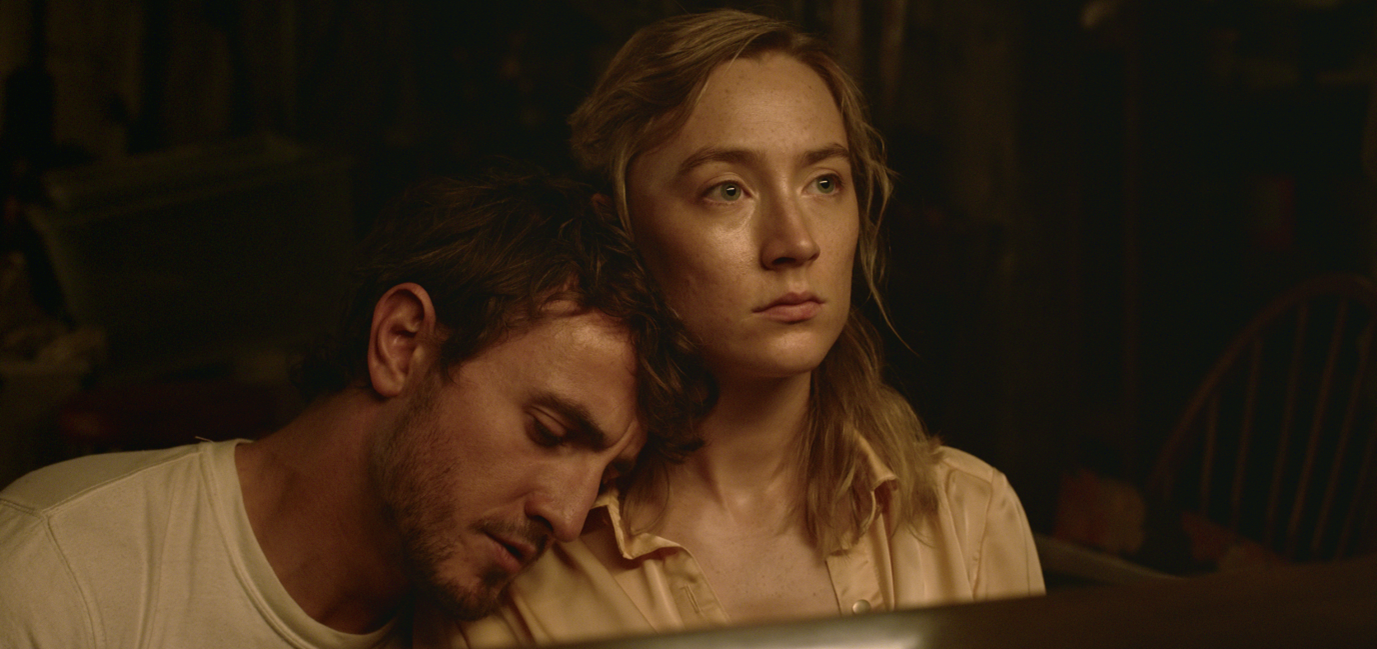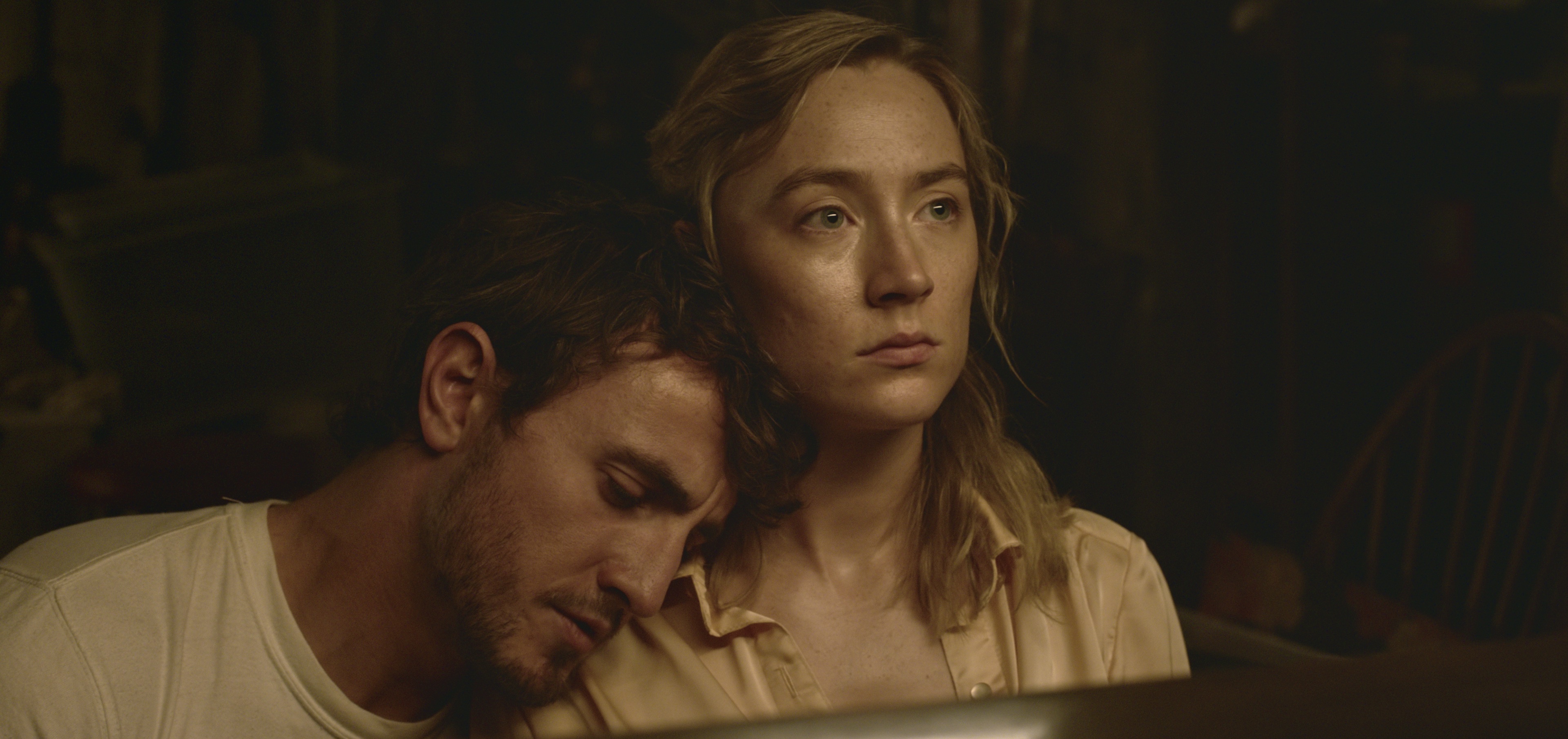 Paul Mescal and Saoirse Ronan as Junior and Hen in Foe.
As the spiritual centre of the movie, Hen was the character Garth needed to lock in first. "I'm a big believer in chemistry and alchemy, so the minute she agreed to do it, I could cast out the rest of the film. We got lucky and she engaged with the material, and we waited for her to be available. It was a long wait, but I said, 'If you're committed. I'll wait for you,' and I'm really, really glad I did."

Alongside Ronan, Paul Mescal (Normal People, Aftersun) – whose passion for the script was palpable from his first read – was cast as Hen's husband, Junior. "I went up to Sydney to meet Paul and we just fell in love with each other straightaway." Garth says. "I was met with someone who was deeply passionate and very intelligent…he has this old school quality about him, which I really love. He's got manners."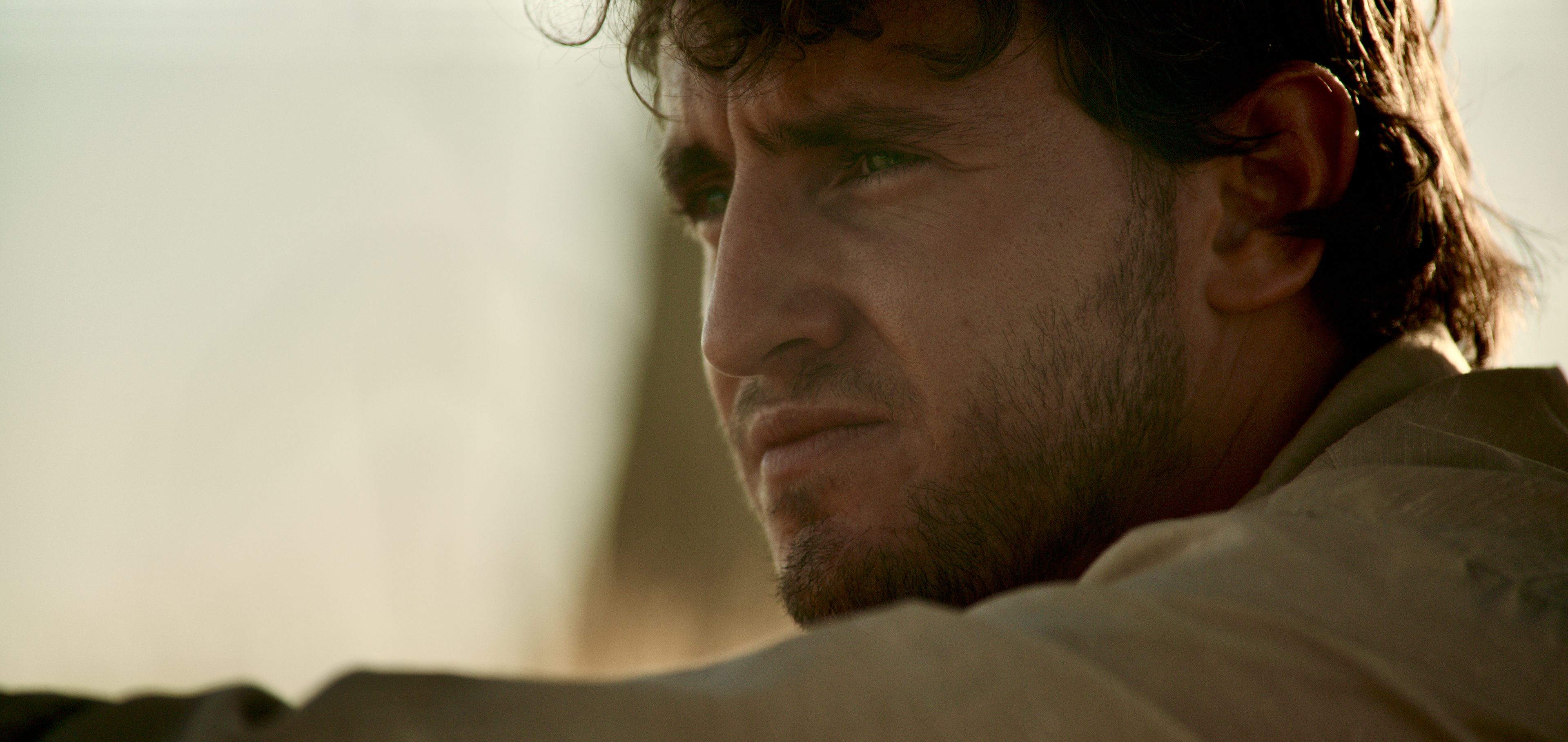 Paul Mescal playing Junior in Foe
Garth and Paul ended up on a three-hour walk, discussing the characters and the emotional complexity of the script. "He was fighting for it. And I was absolutely happy to accept. I was completely blown away by him." It helped that both his lead actors hailed from Ireland, Garth thinks. The chemistry between the two became cornerstone of the film's emotional depth.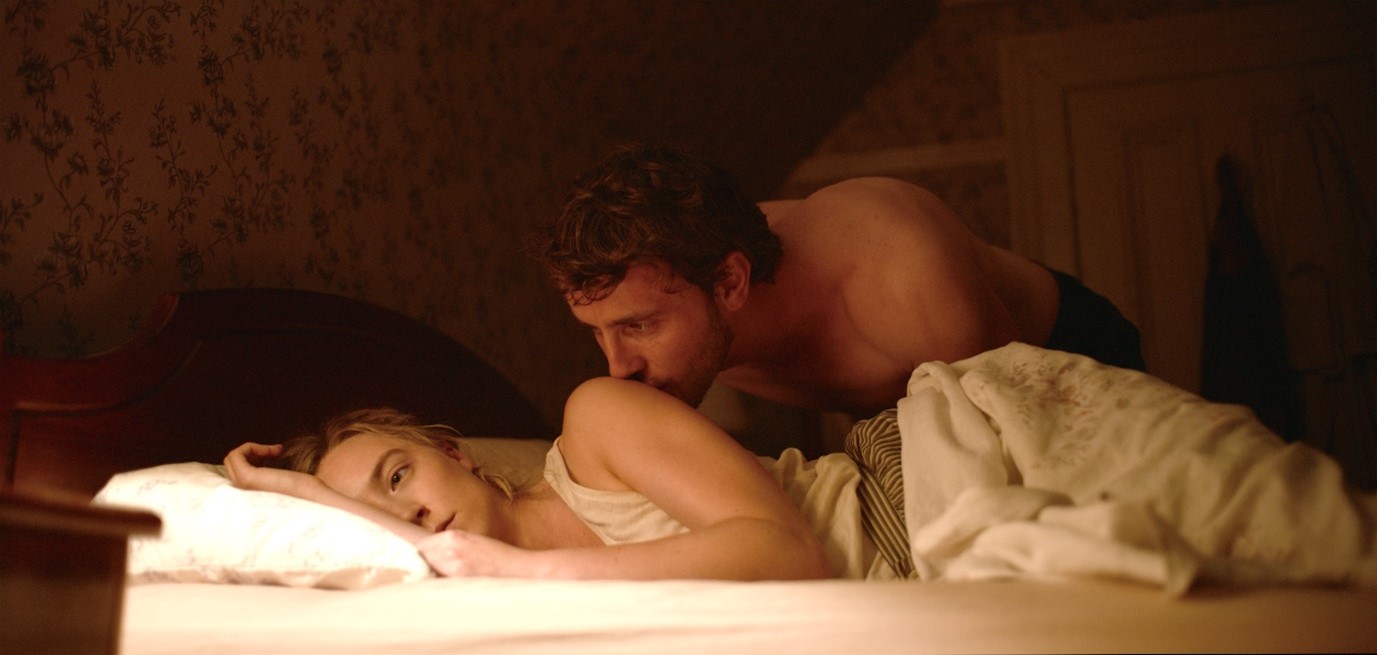 Saoirse Ronan and Paul Mescal in Foe
Foe is set in America's Midwest so when the creative team set about choosing locations to shoot in, Victoria, Australia was not even on the list. Garth found himself, however, captivated by the allure of Victoria's Winton Wetlands on a family camping trip. "I saw one car driving down the road with its headlights on at night and it's almost the opening of the novel. I instantly thought, 'this is it'. So, I had the idea of building the farmhouse here, of taking a Midwest world, and using Australia as the climate-stricken backdrop."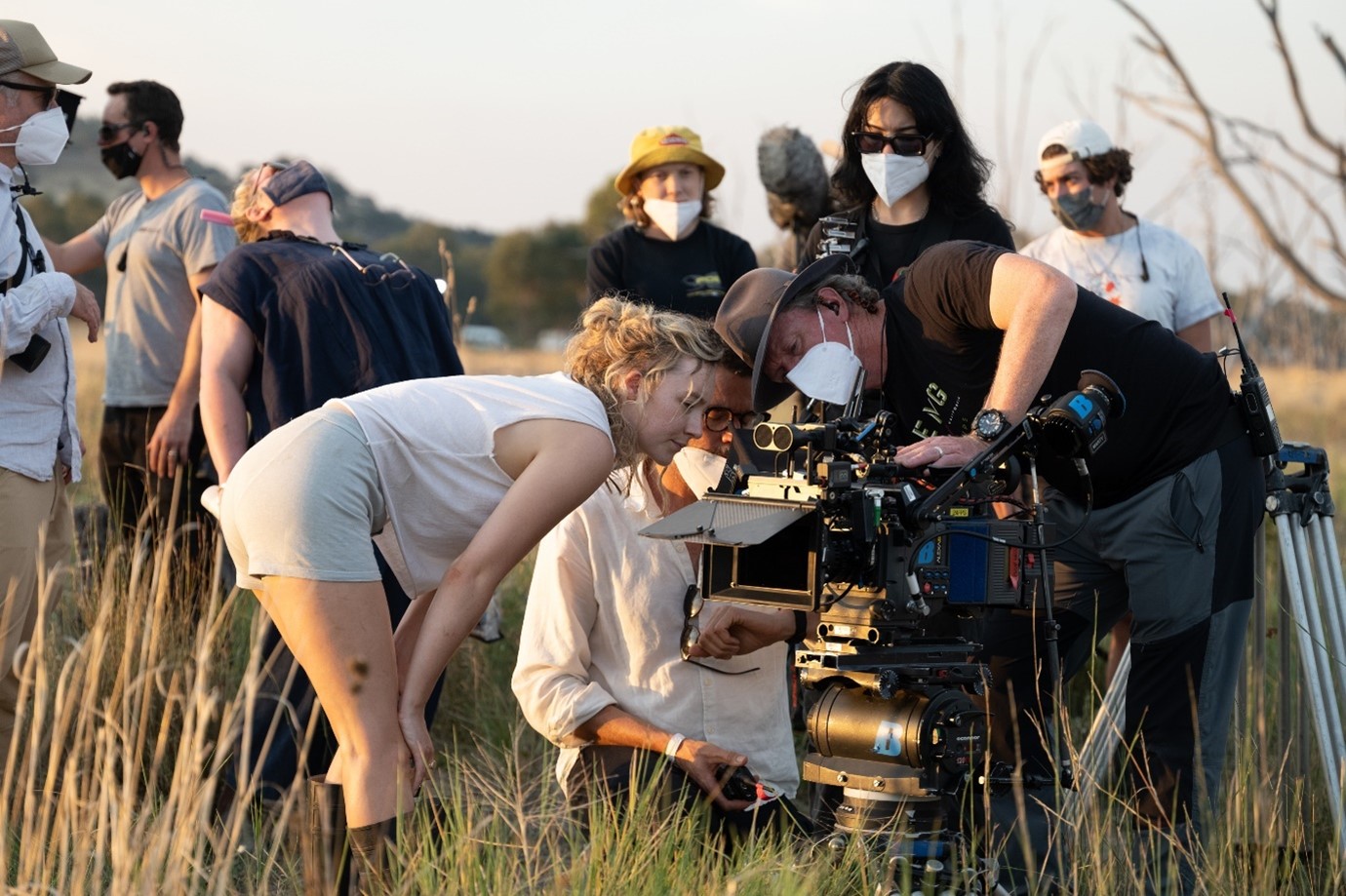 The cast and crew shooting at Victoria's Winton Wetlands
Winton Wetlands became the canvas which Foe's Production Designer, Patrice Vermette, and Garth could paint their vision. A chance discovery of an old farmhouse in Ontario, Canada provided the blueprint for Junior and Hen's home and the production team set about building a double-story, early colonial inspired property from the ground up on a swamp.

"Even though this movie is set in the near future, it's very nostalgic," Garth describes. "It's about how we hold on to the past. So, the house had to feel like you could see all the different eras and generations who had lived in it."
The production team were forced to navigate the complexities of shooting in a landscape under duress, moving the location of the farmhouse multiple times in pre-production. "There was a chance we would experience a one in 100-year storm, where we would be inundated with water…that was probably the most stressful aspect of the shoot." In addition to unpredictable weather patterns, Garth was shooting under the shadow of the pandemic. All of this real-world turmoil tied into the film's major themes of earth becoming uninhabitable.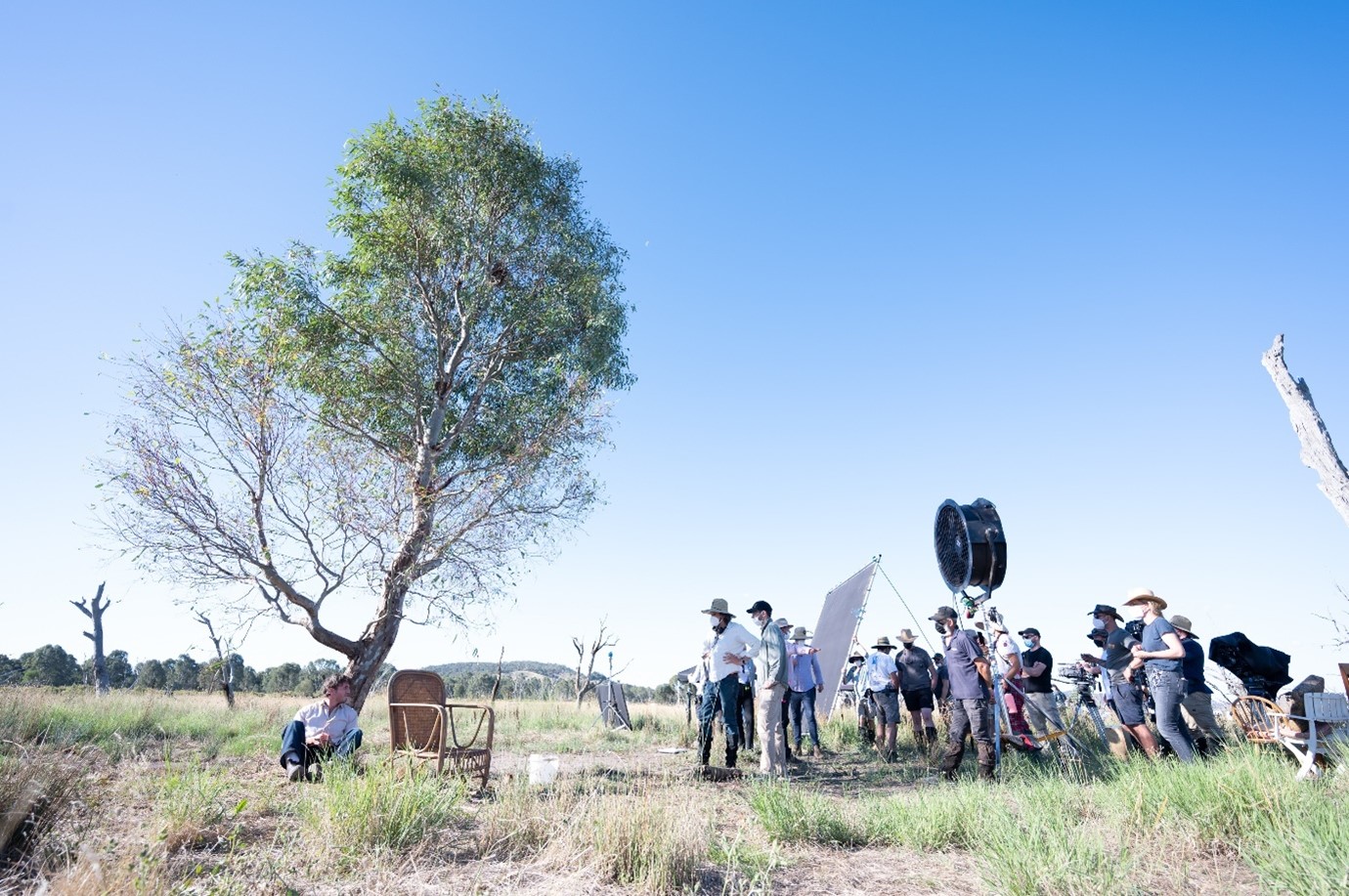 The cast and crew shooting on locations at Winton Wetlands.
"I choose to live in Melbourne for all the all the reasons people are Melburnians. I love this city.," Garth says. "It's the creative hub of Australia, there's no doubt about it. So, to actually make a movie like this in Victoria, in my hometown, where I could come home at night, and just be in a very familiar environment working with familiar crews, it was super exciting."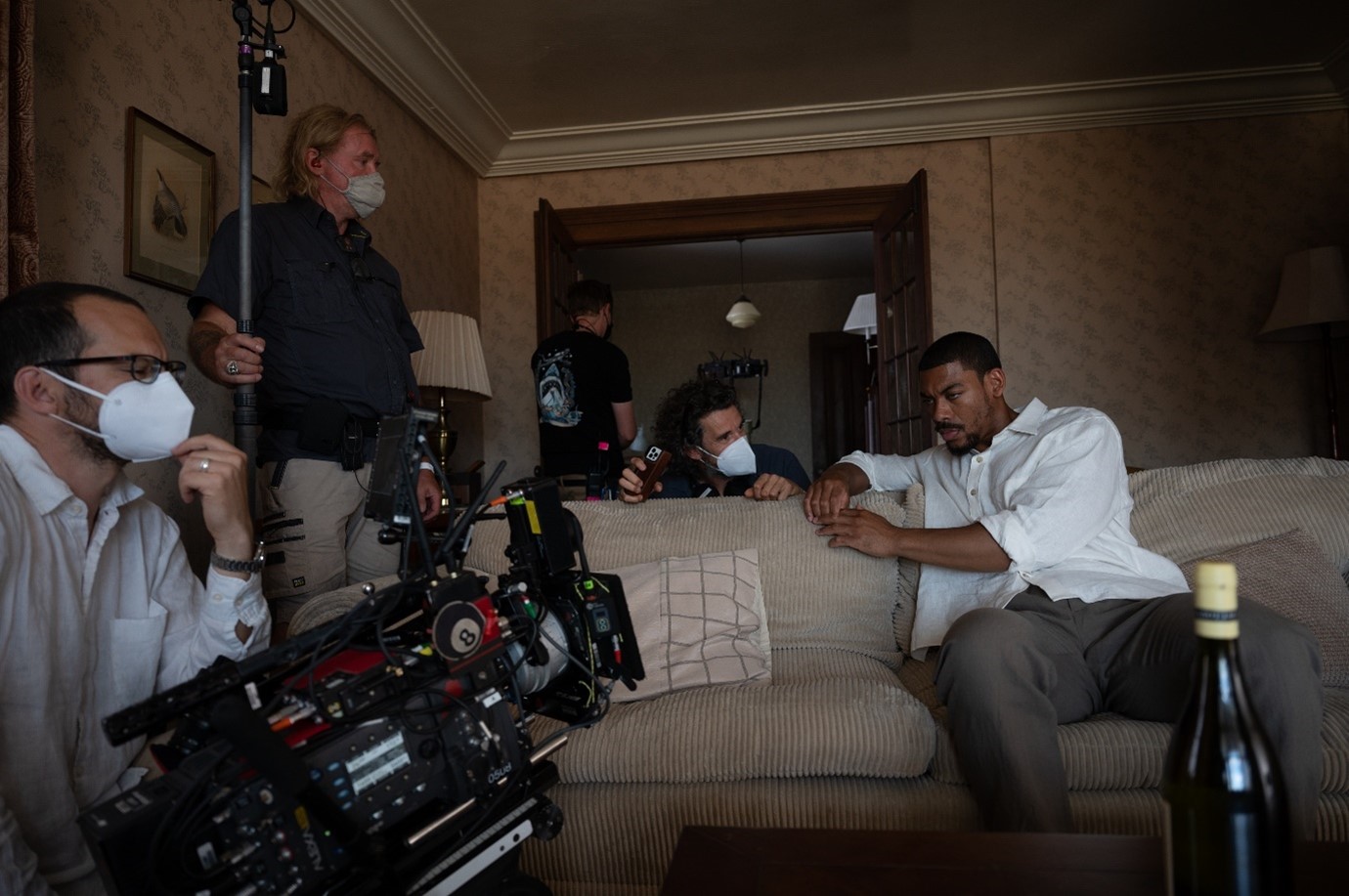 Cast and crew on set at Docklands Studios Melbourne shooting Foe.
Garth describes himself as 'not a big studio person'. "But with this, I had to really embrace it. And I found that super rewarding." The Foe team spent half of their production filming at Docklands Studios Melbourne. "It's so close to the city, so the access was brilliant, and the crews are extraordinary, including our construction crew. We definitely got the A team."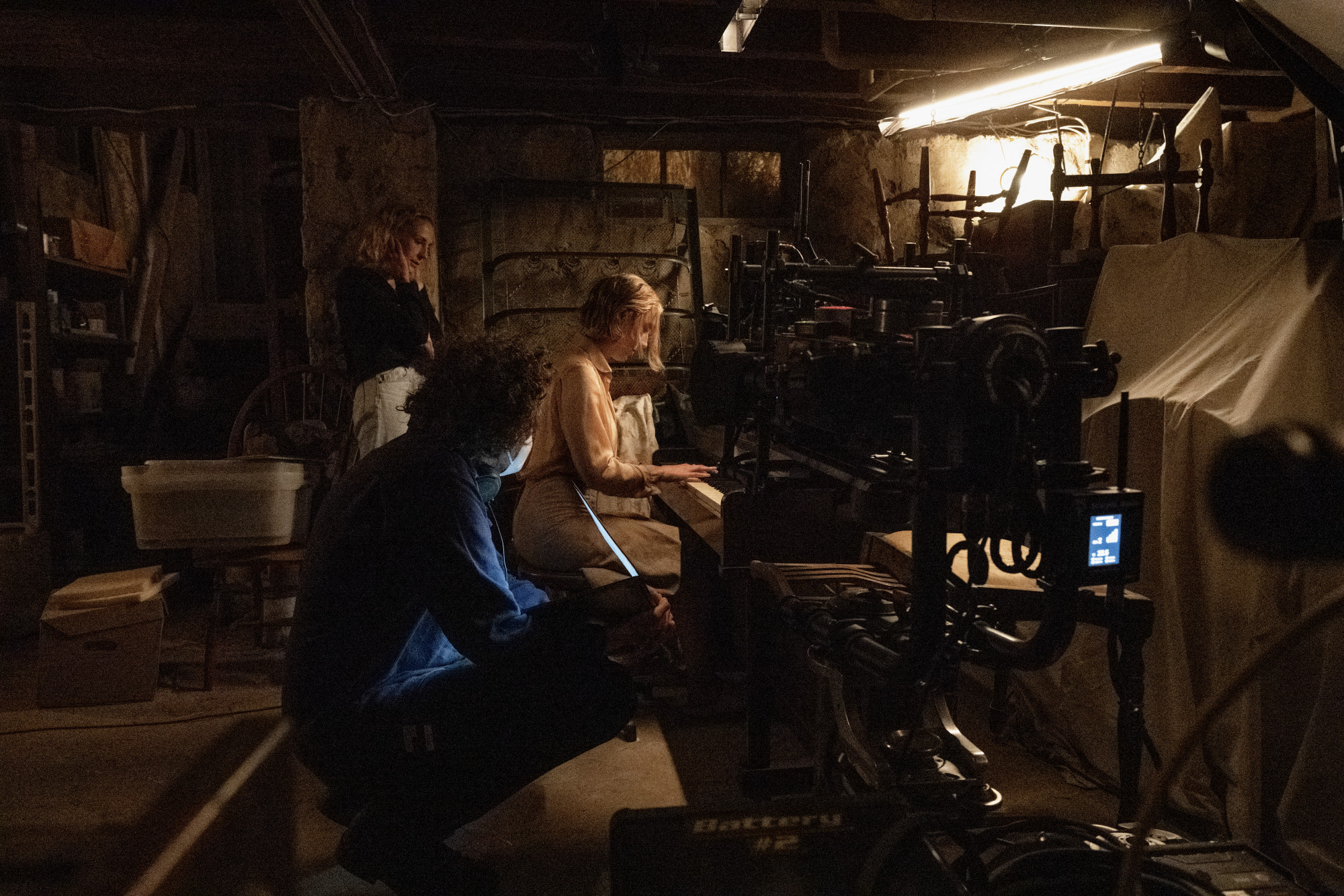 Garth Davis and Saoirse Ronan on set at Docklands Studios Melbourne

Looking back on the finished film, Garth is blown away by what their team were able to pull off. "Everyone gave it everything they had." Working in Melbourne also facilitated some great mentorship opportunities with VicScreen supporting three emerging screen practitioners on the project. This included Ellen Stanistreet (Assistant Costume Buyer Placement), Michael Hudson (Director Placement) and Thomas Herbert (Set Decorator Placement).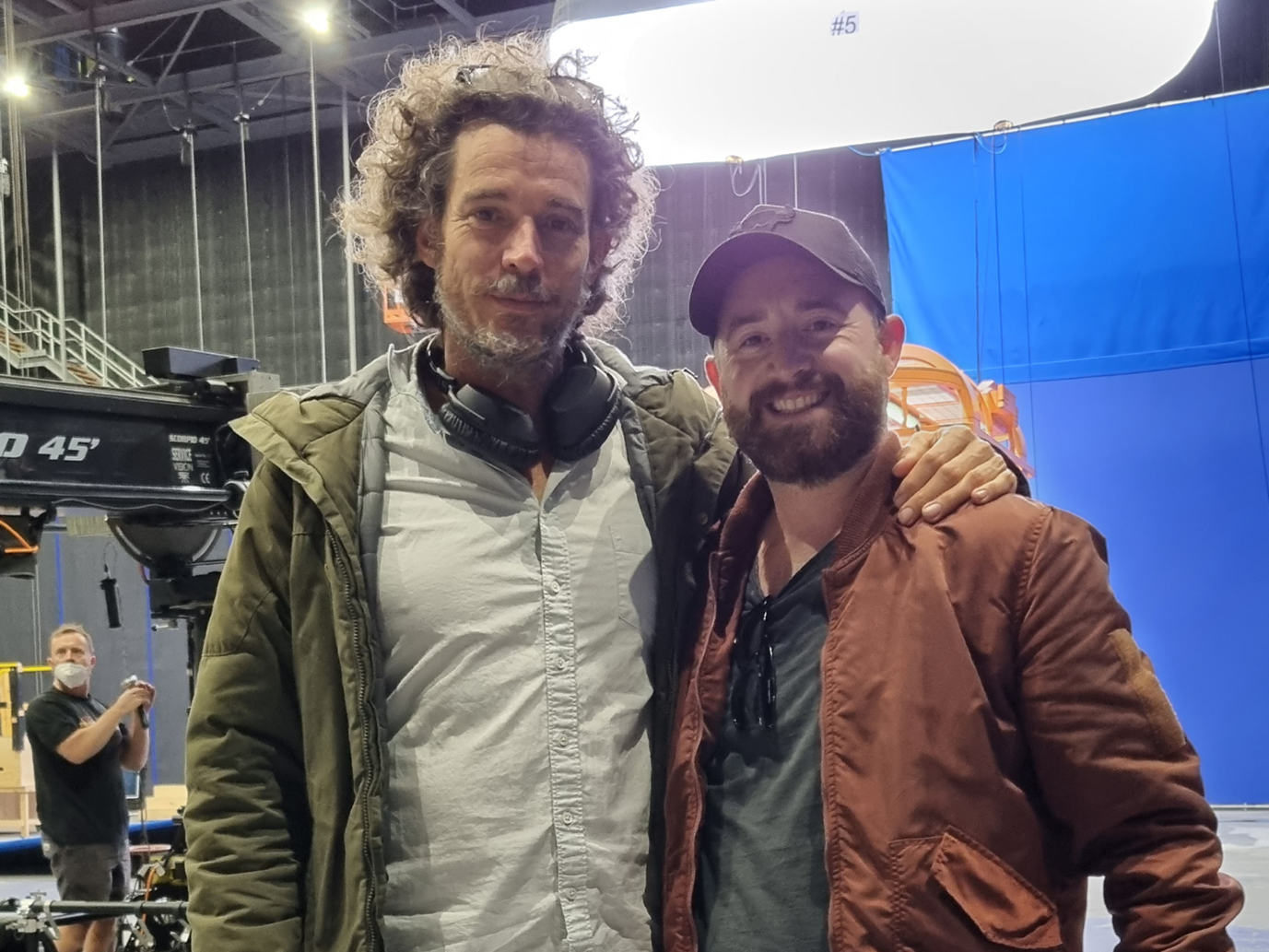 Director Garth Davis and Michael Hudson (Director Placement) on the set of Foe.
"I've always been a big fan of mentoring people like my assistant, Bonnie Moir, who ended up directing part of the film. So, it was nice to keep that feeling going in the way that we worked on Foe."
As Foe prepares to make its Australian debut on 2 November, Garth hopes the film reminds us that every decision we make has an impact not just on our own lives, but on the planet itself.

"We're one and the same, so I think it's a great reminder of our responsibility to the choices we make. And, also, I think it's very much celebrating the preciousness and the beauty of our lives."

As viewers delve into the intricate layers of Foe, Garth hopes they leave the cinema with lingering questions and a newfound appreciation for the delicate balance between humanity and nature.
Foe is screening at cinemas from 2 November 2023.