Most of us can draw upon a visceral memory of our adolescence that still makes us burn with shame. Producer Amanda Higgs and director Corrie Chen, alongside writers Pip Karmel and Magda Wozniak, have carved up that lingering inner-torment of being a teenage girl and spun it into the four-part miniseries titled Bad Behaviour.
Bad Behaviour is based on the 2015 acclaimed memoir by author Rebecca Starford, who endured and bore witness to the worst kind of bullying at an elite boarding school in the bush. As an adult, she examined these memories–and the desperate complicities that so often accompany bullying–and crafted a compelling narrative.

In 2015 the rights to the book were optioned by seasoned producer Amanda Higgs (co-creator of The Secret Life of Us) and over the course of seven years, Amanda fought to secure the kind of compassionate, gentle, and nuanced creative team – who could grasp the viciousness and complex duality of these characters, and more broadly the female adolescent psyche at the centre of their decision-making. In 2019 director Corrie Chen (New Gold Mountain) joined the project, and Bad Behaviour found its wings.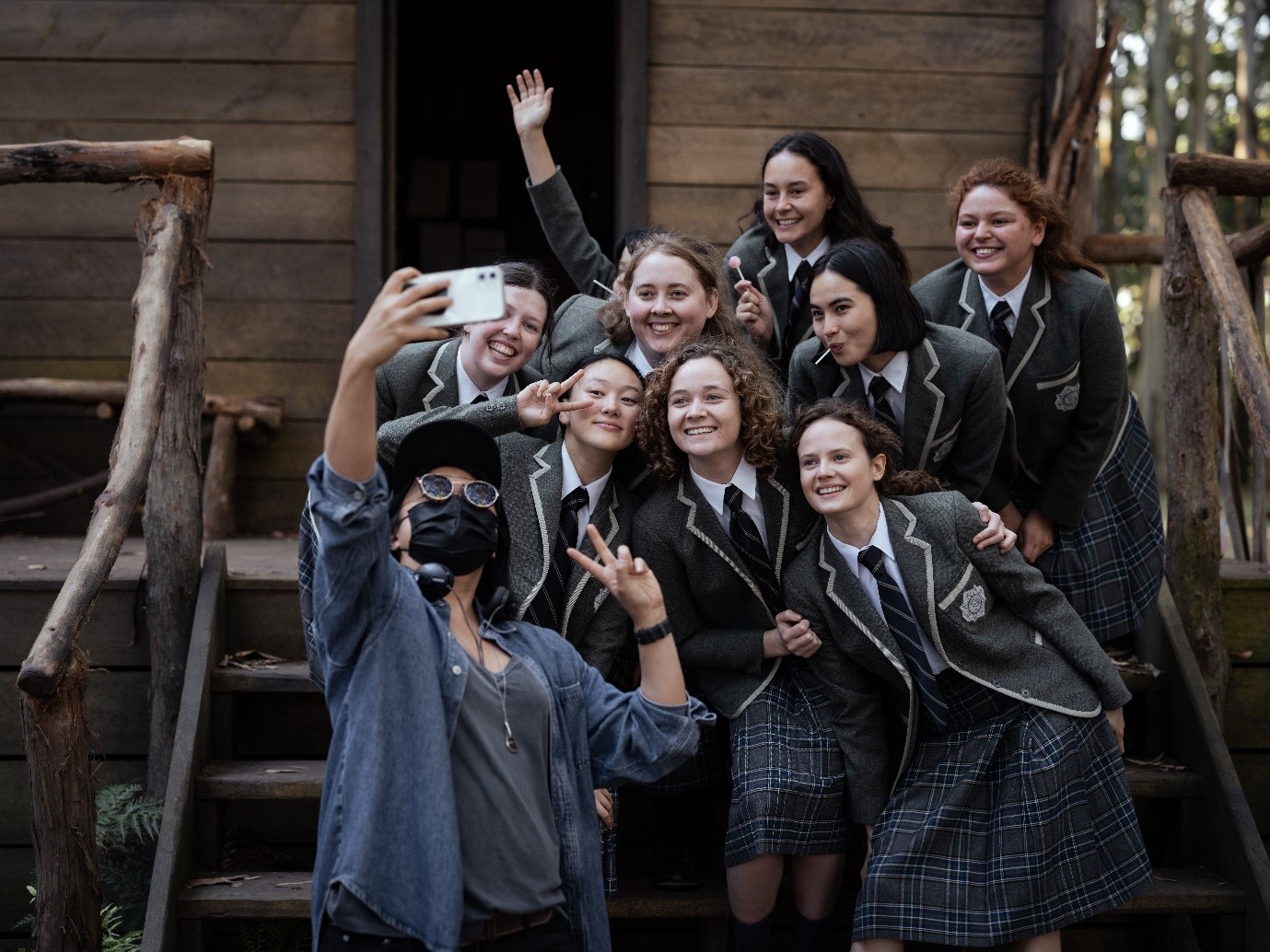 Bad Behaviour Director Corrie Chen poses for a selfie with the cast on set. Photo Jane Zhang
Why this particular project and why now?
Bad Behaviour is set across dual timelines, ten years apart, and predominantly centres around scholarship student Joanna Mackenzie (Jana McKinnon), resident master manipulator and queen bee bully, Portia (Markella Kavenagh), and socially vulnerable musician, Alice (Yerin Ha). At 'Silvercreek', these students are left to fend for themselves, largely unsupervised, where the full spectrum of teenage brutality flourishes in the dense Victorian bush. Ten years on from the horror of Silvercreek, Jo runs into Alice (now a world-renowned cellist), and reconnects with Portia, only to discover she is still desperate to gain Portia's acceptance.
For Amanda Higgs, the characters and story world of Bad Behaviour crawled under her skin and stayed there. But making the show was far more challenging than she ever imagined.
"Honestly, if I put a gun in a man's hand or proposed a story that starts with a murder, I could get a show commissioned more easily. If I try and tell a story about the actual lives of young women, about a time that is formative in all our lives, and then who we become in difficult circumstances... that feels impossibly hard," Amanda said.
"Stories that I feel are completely relatable… especially around feelings of desire at an age when we're so fragile and vulnerable in who we like and who we are attracted to."
For director, Corrie Chen, the pull to Bad Behaviour felt personal. "There was something about the book that hooked its sinkers into my brain," Corrie said. "It was unassuming at first…But then I closed it and it just kind of simmered. Over years. Which is bizarre. I think the story is really about how unspoken desire can be unforgettable and have an everlasting impact on our identities. And when I say desire, it takes many forms in this story; the desire to fit in, to be liked and to be loved."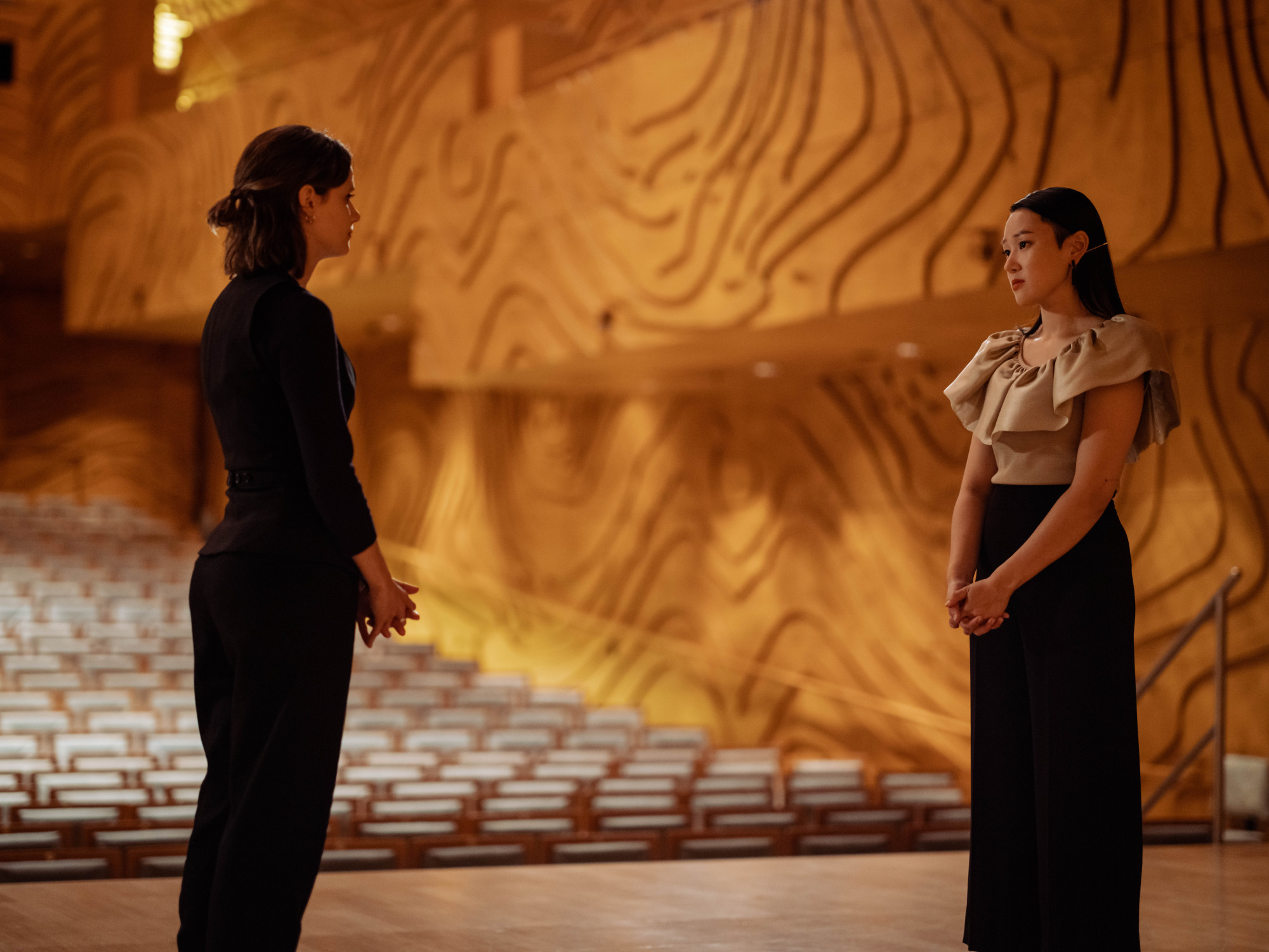 Jo (Jana McKinnon) and Alice (Yerin Ha) on set at the Melbourne Recital Centre. Photo Jane Zhang
The wide scope of looking at female desire and all that encompassed was unusual and exciting for both Corrie and Amanda. "What I responded to so deeply in Rebecca's book," Amanda continued, "was the concept of going away for this period of character building, and then ending up in a dorm with, as Rebecca describes it, the most volatile and the most vulnerable girls. Having to learn to fight to survive, becoming someone you don't recognise to do so…everything about that felt true to me."
Although Amanda admits, the creative team took some dramatic license with the series, especially in the adult storyline, the roots of the project remain in Rebecca's own story and discoveries of herself as she got older. "We tried to remain as true as we could to the essence of Rebecca's book."
Securing a dream team
Amanda and associate producer and writer, Pip Karmel, joined forces from the very beginning. Then several years later, after some stops and starts, Amanda approached Corrie after collaborating on ABC ME's Mustangs FC. "I remember not long after watching the precision with which Corrie directed our young cast on Mustangs, I knew I wanted her to direct the adaptation," Amanda said, "Bad Behaviour is a very specific project. Its themes are extremely personal. I wanted Corrie's clarity of vision at the helm. A vision that absolutely, relentlessly drove every single emotion that is now on screen. Bad Behaviour is a show that made us dig deep in ways we probably could never have imagined. As practitioners and storytellers, and collaborators. To be very clear about what we were saying and why we were saying it. Corrie demands an exceedingly high standard of herself in the execution of her vision. The shoot was probably the hardest part, we both felt tested in so many ways, but I always had complete faith in Corrie's talent that she would deliver something truly standout in Bad Behaviour. That she just understood this story from the inside out. She always said it was a show about feelings and it took a lot of big feelings to make, in a way that changed me for the better as a producer.

"I was very keen to work with Amanda again," Corrie remembers, "because I really feel like she brings out the best in me as a director."
"A few unexpected events occurred on the path to production that were truly heartbreaking – but ultimately better for the show. With each delay, it opened up the possibilities within our creative team, and in the later stages of writing with Pip and Magda Wozniak (who wrote episodes 2 and 3). I know we really pushed each other, and it was a testament to how much this story mattered that we all just kept going," Amanda said.
"There was a really intensive period where the four of us [Amanda, Corrie, Pip Karmel and fellow screenwriter Magda Wozniak] just locked ourselves in the Zoom room and existed in that emotional world. This show is probably the first time where I became a little bit too in sync with the main character," Corrie reflects, laughing. "I was just emotionally quite volatile."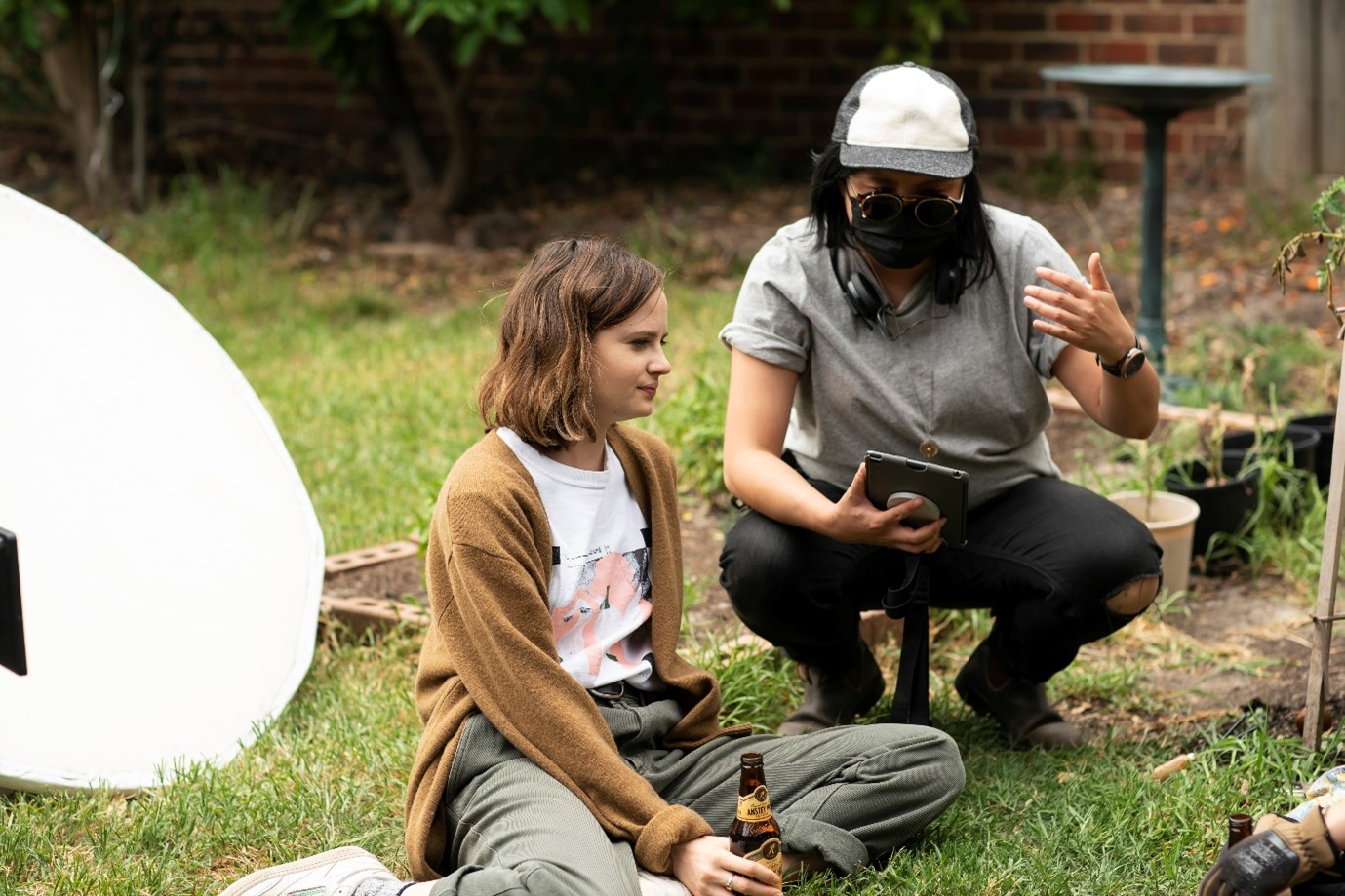 Director Corrie Chen on set with actor Jana McKinnon. Photo Jane Zhang
Lived inspirations and following gut instincts
For Corrie, the experience of protagonist Jo wasn't a huge stretch of the imagination. As a student, she was similarly whisked off to the Victorian bush for several physically intimidating and 'character building' camps. "I come into projects through a 'feelings path' rather than a cerebral or intellectual path. Not to say I'm not also interested in that, but early on in [Bad Behaviour's] development, I went through my box of camp stuff, just like Jo did. I flipped through my old diary. And I found all these photos. It was quite illuminating."
Corrie ended up providing these images as a visual reference to the art department for the show's production design. "There are a couple of shots in the show that—and I didn't know this until it was completed—but they are almost directly lifted from my photos."
When the team finally made it on location to start shooting, Corrie developed a 'method' approach to her directing. "I kind of had this weird out of body experience, where I saw myself in the scene that I was directing…I'm certainly at an age where I can still remember the feelings of high school, like it's present tense, and that was something that I really wanted to try and reflect in the show – how for some people, it really stays with them."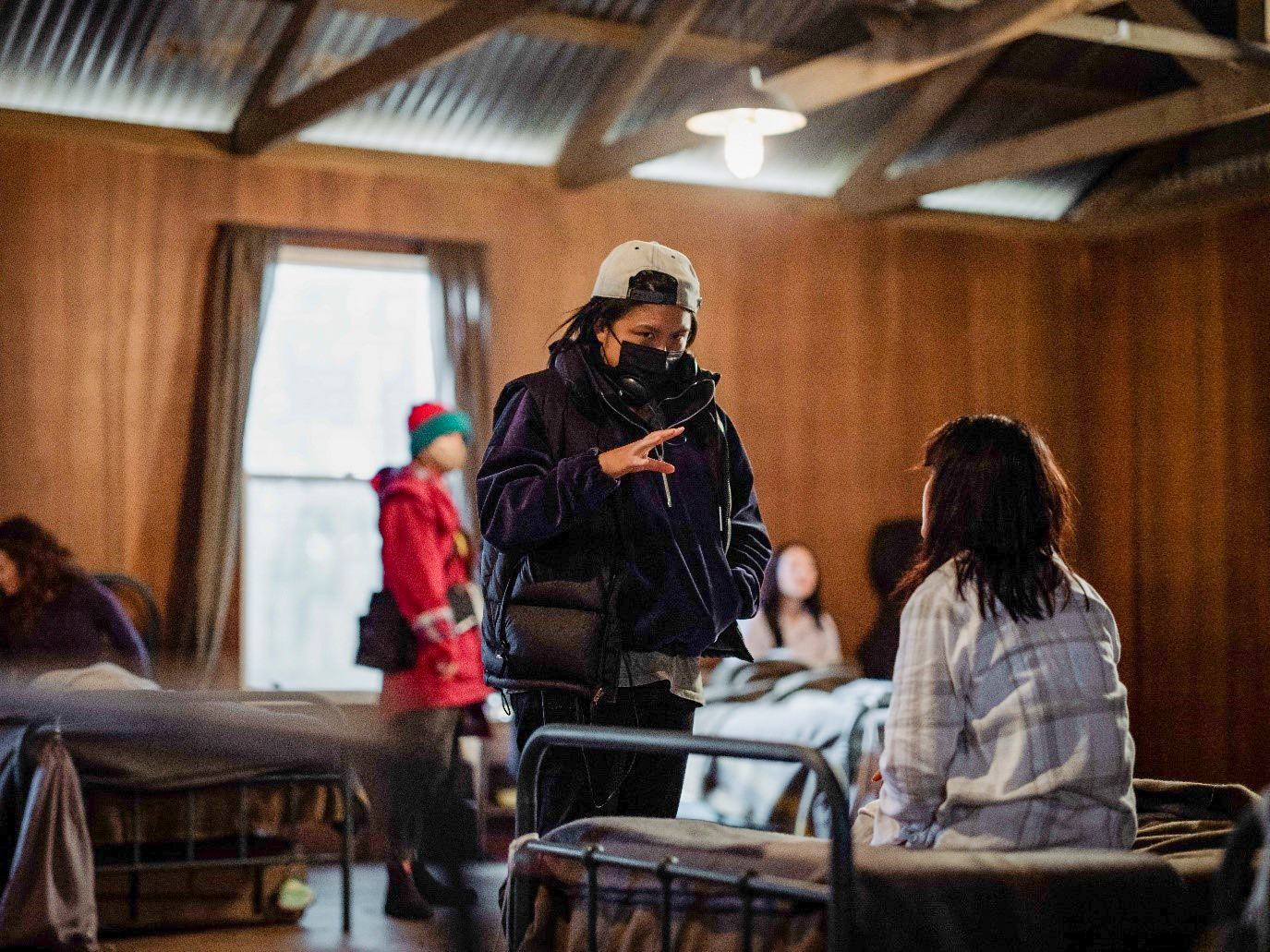 Director Corrie Chen on set with actor Markella Kavenagh. Photo Jane Zhang
"I'd be lying if I said this project hasn't really completely devoured me, mentally and emotionally through the entire making of it, right up until now." – Corrie Chen
"Corrie is extremely rigorous at holding us close through Jo's point of view," Amanda said, "She allows us to be completely immersed in Jo's shifting emotional landscape. To not only understand the complexity of her decisions—the small shifts that mean so much—but to allow empathy for Jo within these contradictions. I felt humbled to watch Corrie work with our cast on some very difficult material. It demanded a lot of her, and of them, particularly the Red House ensemble."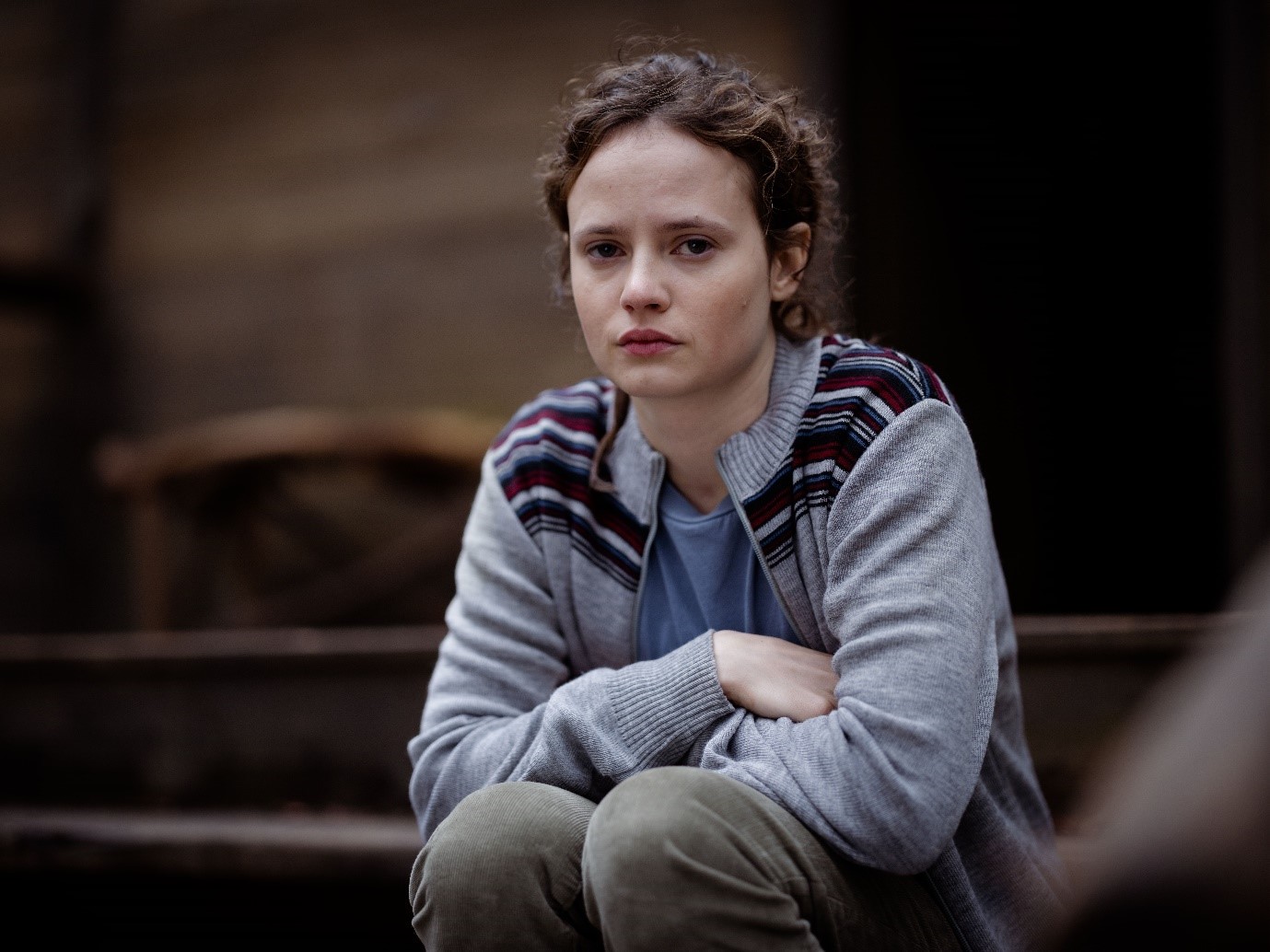 Jana McKinnon as Joanna Mackenzie. Photo Jane Zhang
The score of Bad Behaviour is predominantly classical, which can be both grounding and melodramatic, Corrie explains. Sound designer Emma Bortignon and composer Caitlin Yeo worked closely to create a score that was heightened and bold, but simultaneously naturalistic. The score needed to form Jo's interior monologue, which unlike the book, the audience never get words for. Themes of power, lust, desire and loneliness needed to emanate. "That was a key direction for every single department, because tonally [Bad Behaviour] is this heightened Gothic ghost story, sort of like a psychological haunting, but everything had to feel naturalistic. It had to capture memory. That was quite a fine line for everyone to walk."
"The score required these big, bold, emotional pieces that needed to come to the precipice of overpowering, but never cross that line; which I think reflects that feeling of being a teenager when everything's just bursting…It's quite a delicate and dangerous brief to give someone. But I was confident that Caitlin had the talent to execute it."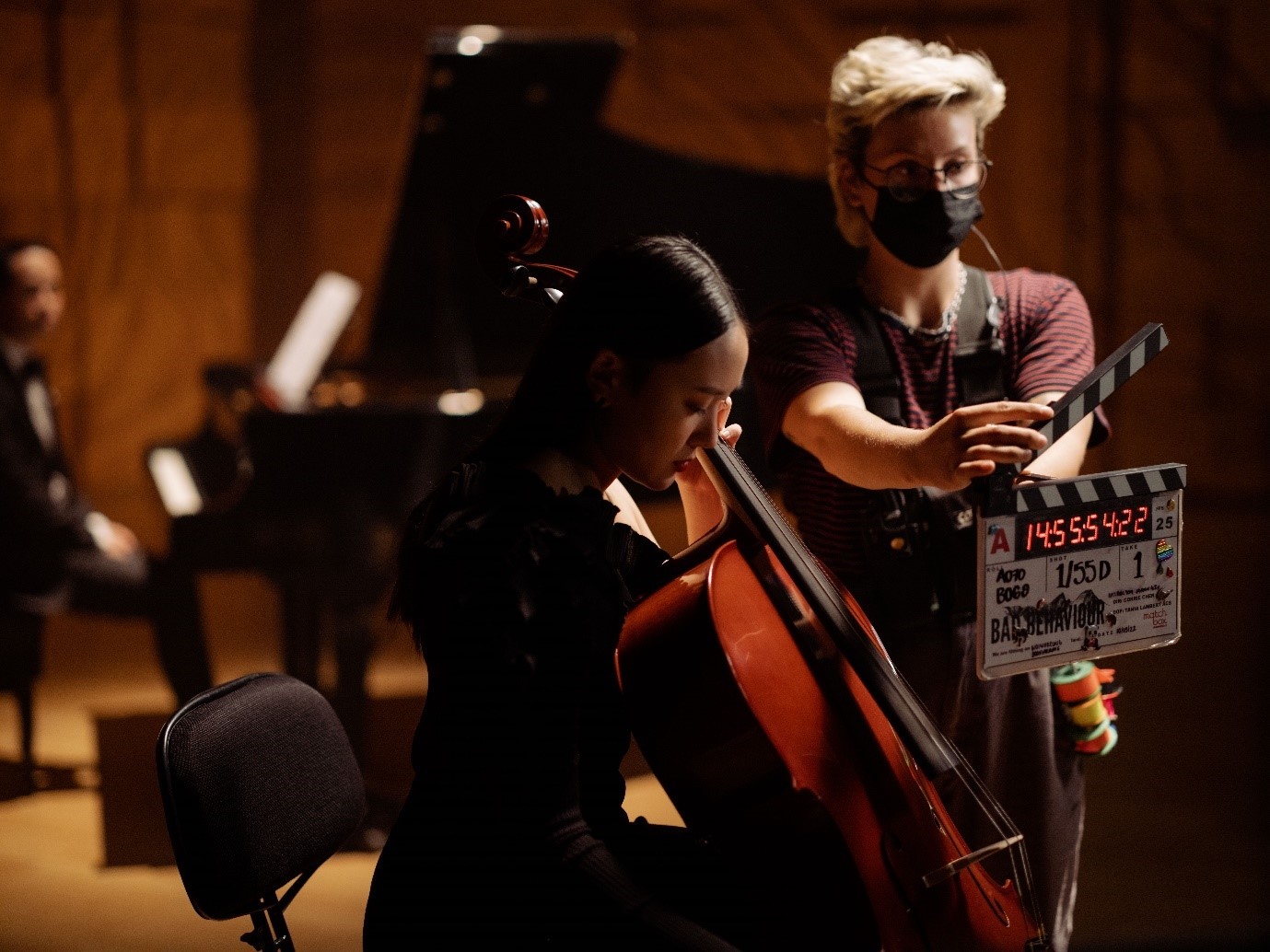 Yerin Ha as Alice. Photo Jane Zhang
The complexity of casting
"We didn't find Jana McKinnon until quite late in the auditioning process," Amanda explained, "Alison Telford, our casting director, was watching We Children From Bahnhof Zoo and found our lead actor Jana was Austrian/Australian. She tracked down Jana, who just happened to be in Queensland at the time visiting family. Jana sent a test, and it was clear she was our Jo. It all felt very serendipitous, just when we needed it."
"Jana has a presence on screen that I kept talking about," Corrie said. "I just wanted someone who you can watch them sit and stare into space. There was this darkness with her performance that was very hard to find. We were thrilled that we found her."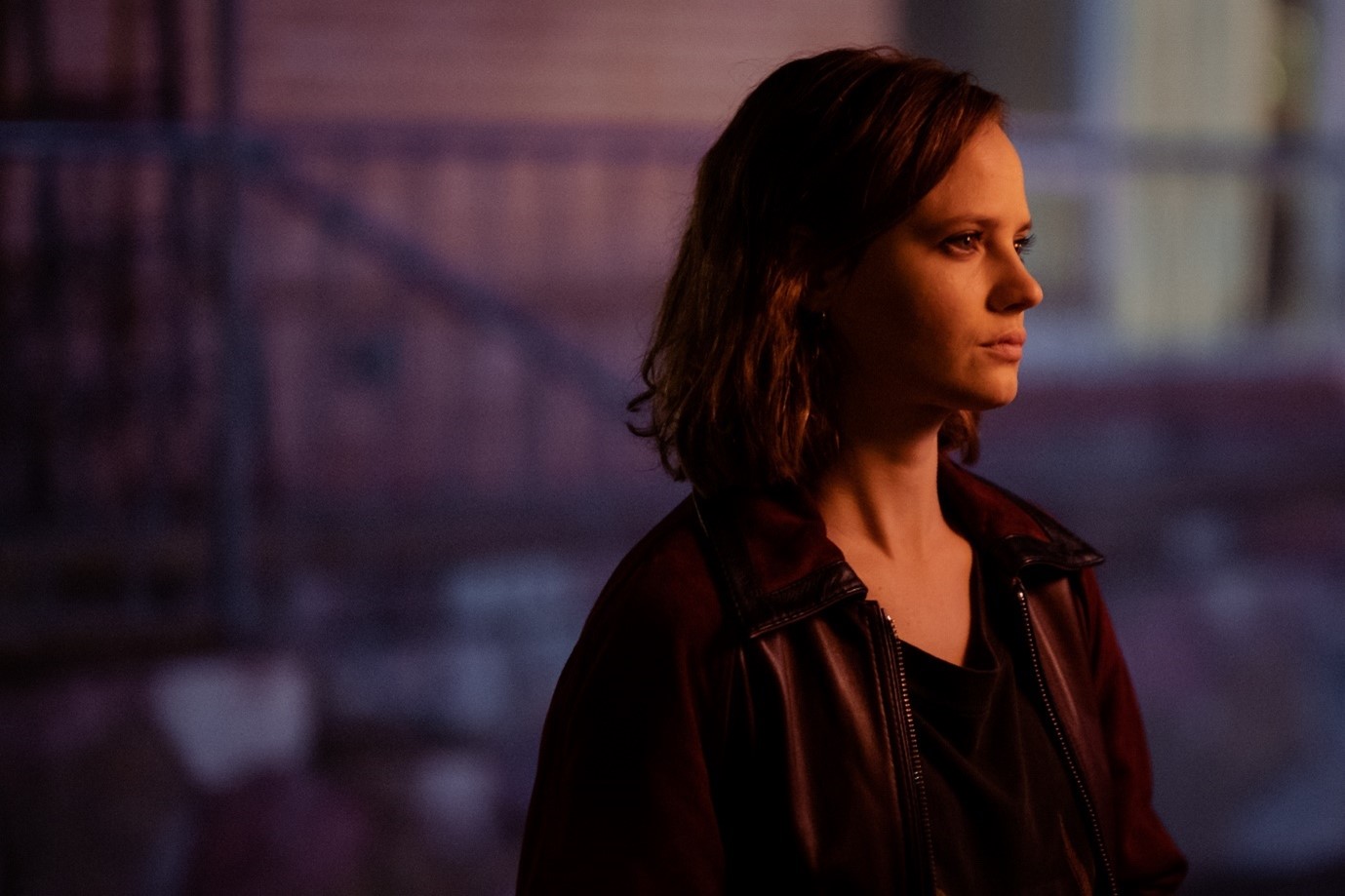 Jana McKinnon as Joanna Mackenzie. Photo Jane Zhang
"I feel so proud of our exceptionally talented cast, and how they supported each other through this story," Amanda emphasised. "They became especially close when we were on location in Macedon for three weeks. They united as a team, looking after one another, producing beautiful work together."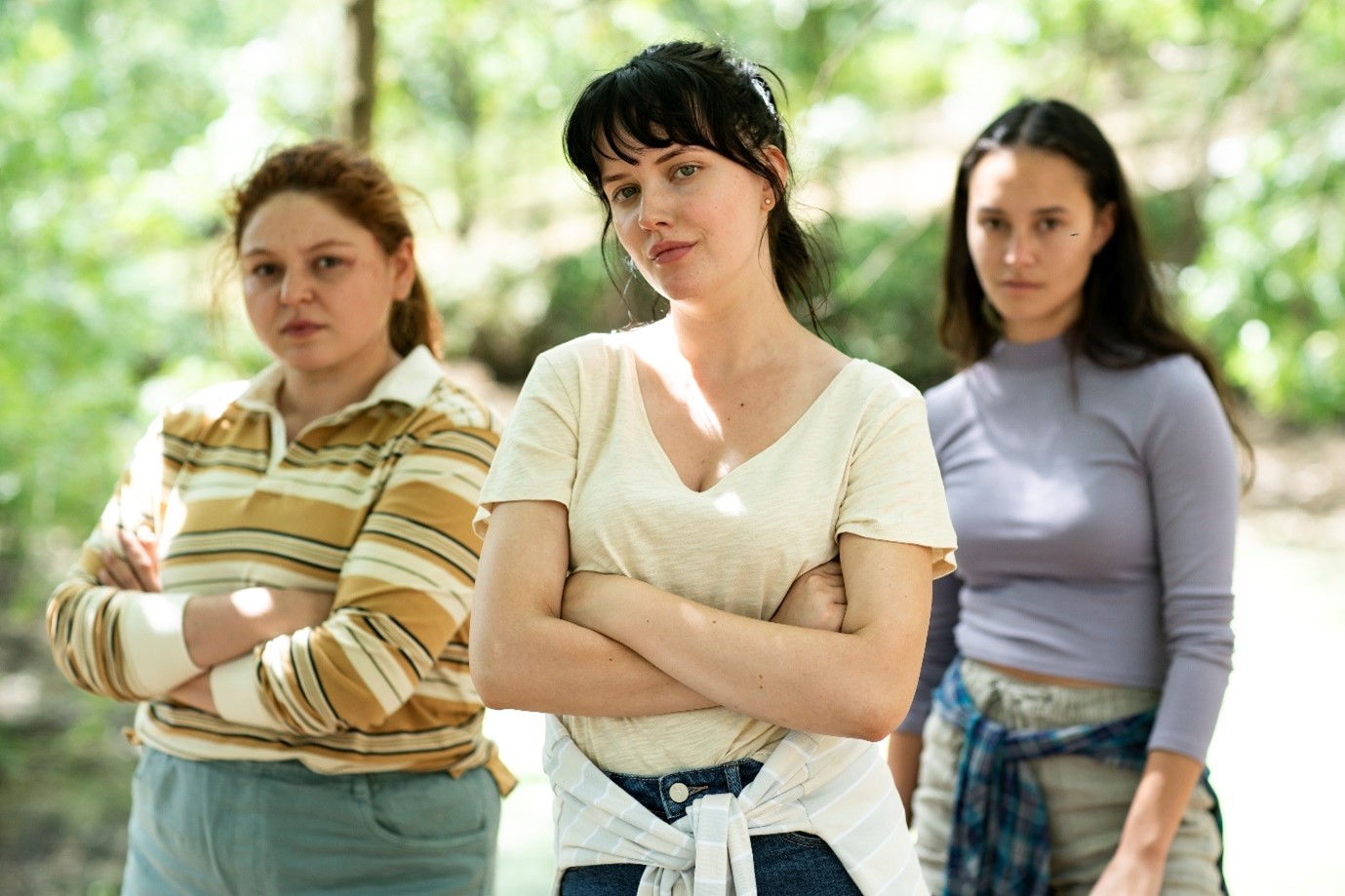 Briohny (Melissa Kahraman), Portia (Markella Kavenagh) and Ronnie (Erana James). Photo Sarah Enticknap
Locations with feeling
Corrie created a visual bible in pre-production with a statement of intent that could be summarised as: this is a show about what it means to feel. She shared this sentiment with locations manager Paul Walton, who took her ambition for the visual identify very seriously.
"Paul only presented locations where he said he felt something when he saw it," Corrie explained. "And I love that, because often you just get presented locations that work for the plot or the schedule. And that gets a bit flat after a while."
The creative team secured a property in Macedon, surrounded by dense bush where they could build the girls' dorm (designed by Ben Bengay). "That was the key visual pillar and set the gothic tone of the environment," Corrie said, "Everything grew outwards from that."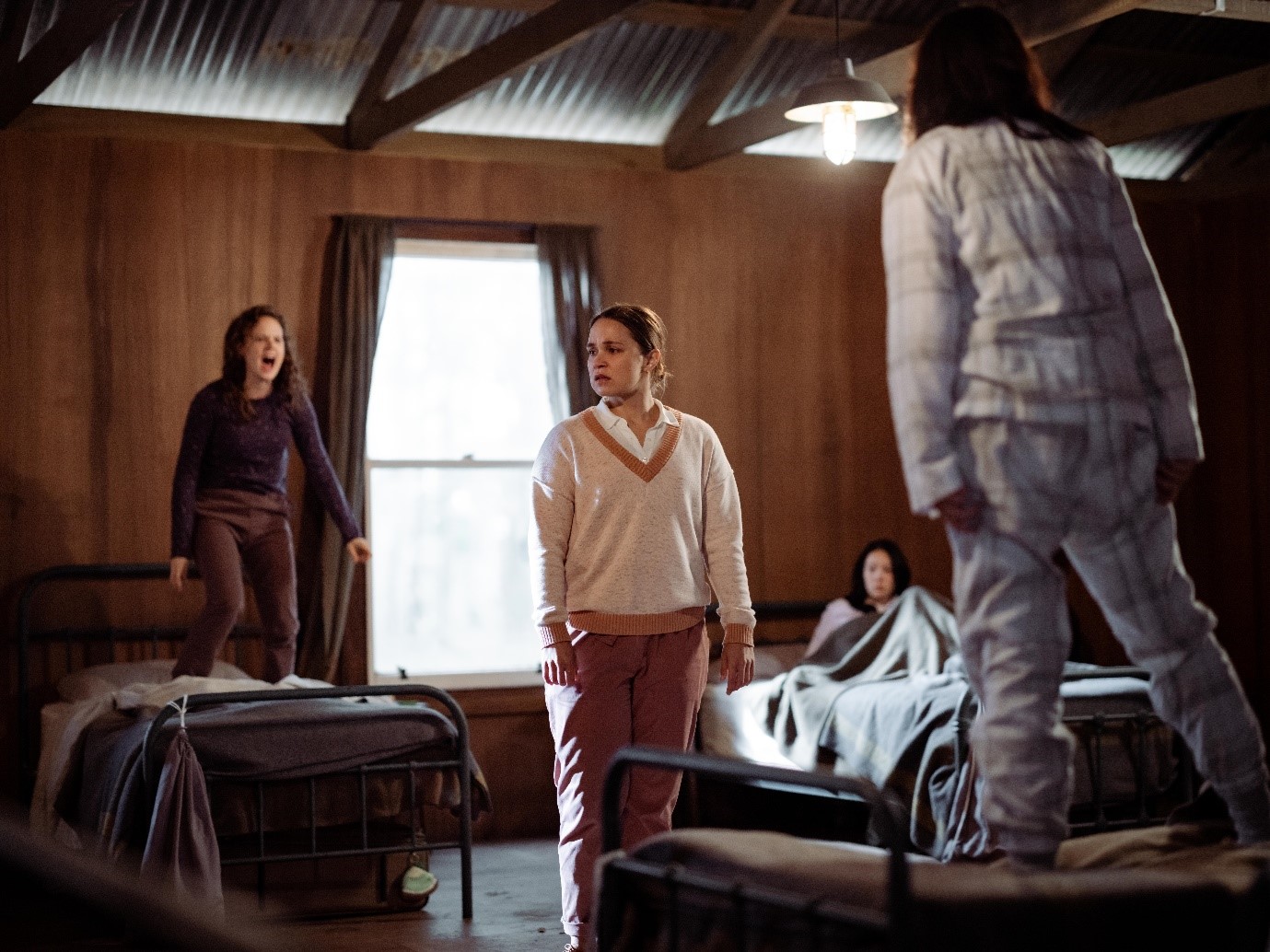 Jo (Jana McKinnon), Miss Lacey (Tuuli Narkle) and Alice (Yerin Ha). Photo Jane Zhang
A Victorian production with an international audience
Developed, produced, shot, and edited on the ground in Victoria, the creative team behind Bad Behaviour were elated to discover their show would be making its international premiere at the 2023 Berlin Film Festival.
"I am equal parts terrified and equal parts ecstatic," Amanda said. "We've had it to ourselves for so long and it's been such a long journey, so we want everyone to see it, but it's scary. Berlinale is extremely thrilling. Everyone's so excited for us and for the show. It's feels like a really lovely reward after some fairly challenging times along the road of this project. I'm ready for it to be out in the world now."
"It's scary," Corrie agrees. "I'm really curious about what people will make of it. I'm really happy and excited about Berlin…we're proud we get a launch on such a big stage."
"It does feel really exposing. In many ways, even though it's based on a memoir, I feel like this is the most personal thing I've made." – Corrie Chen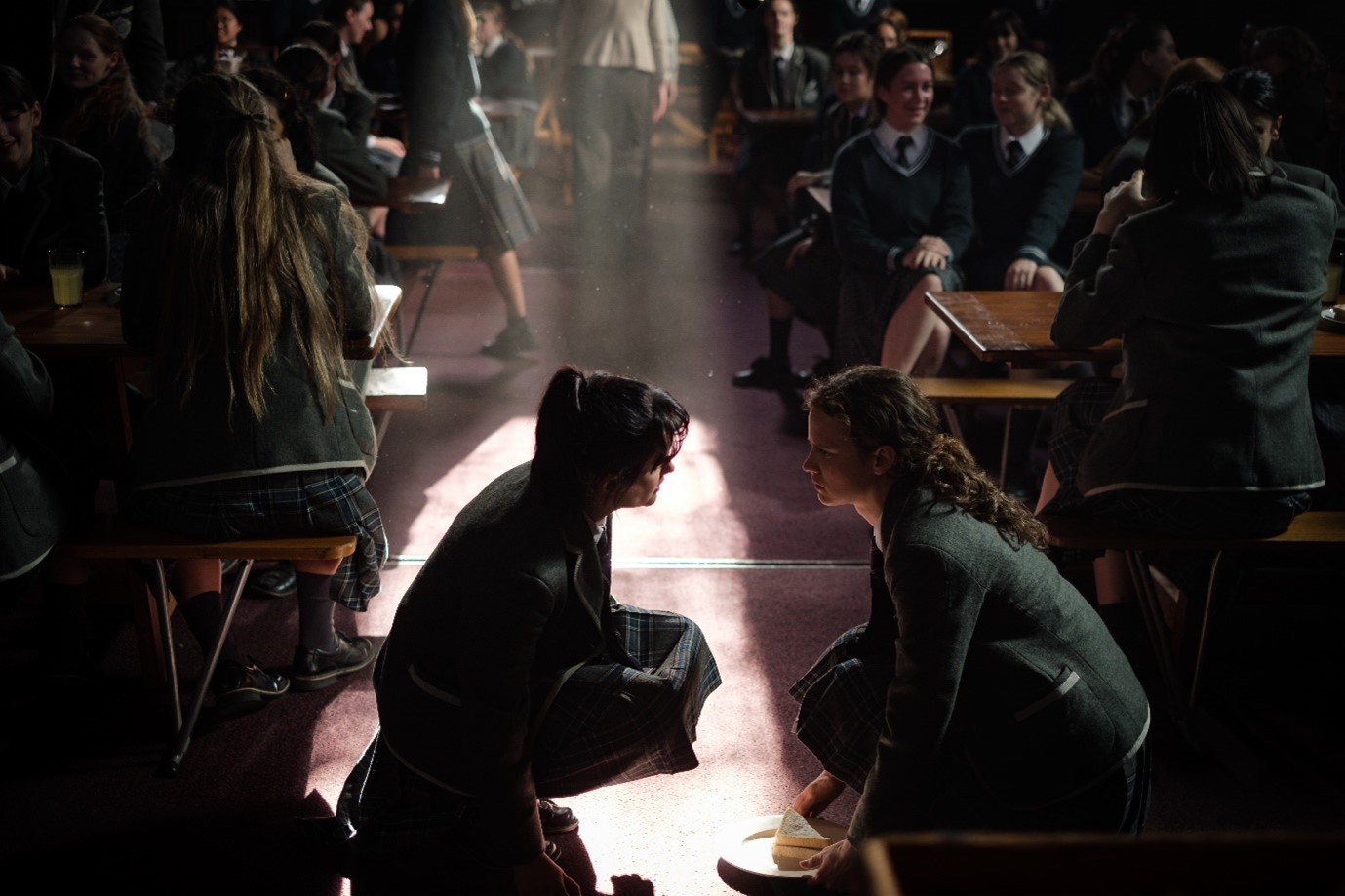 Portia (Markella Kavenagh) and Jo (Jana McKinnon). Photo Jane Zhang
Arriving on our screens
Bad Behaviour wouldn't exist without VicScreen's support, Amanda says. "At a crucial point in the project, when little but all hope was lost, the SBS/VicScreen 'Pitch to Pilot' initiative came up, and I submitted the project as a bit of a last chance. Amanda Duthie [then commissioning editor at SBS] and Katherine Slattery [then VicScreen's Fiction Development Manager] rang me, and said, 'Oh, we love this project.' And it was the first time that I thought, actually, maybe there is a sense that you do need women to spearhead this…it's not that I don't think men can identify with this experience, because I think they absolutely can. It's just Amanda and Katherine so quickly recognised what we were trying to do and became our absolute champions. That initiative turned the tide of the project."

"There's no Bad Behaviour without Amanda Higgs," Corrie said. "She's been such a defender of this project, which was easily dismissed by a lot of people early on, because they never even tried to see the enormous emotional scale and ambition of what Amanda, and I could see. As a show, it's everything I dreamed of being able to do on television. From a craft sense, and from a personal exploration sense. I feel really lucky."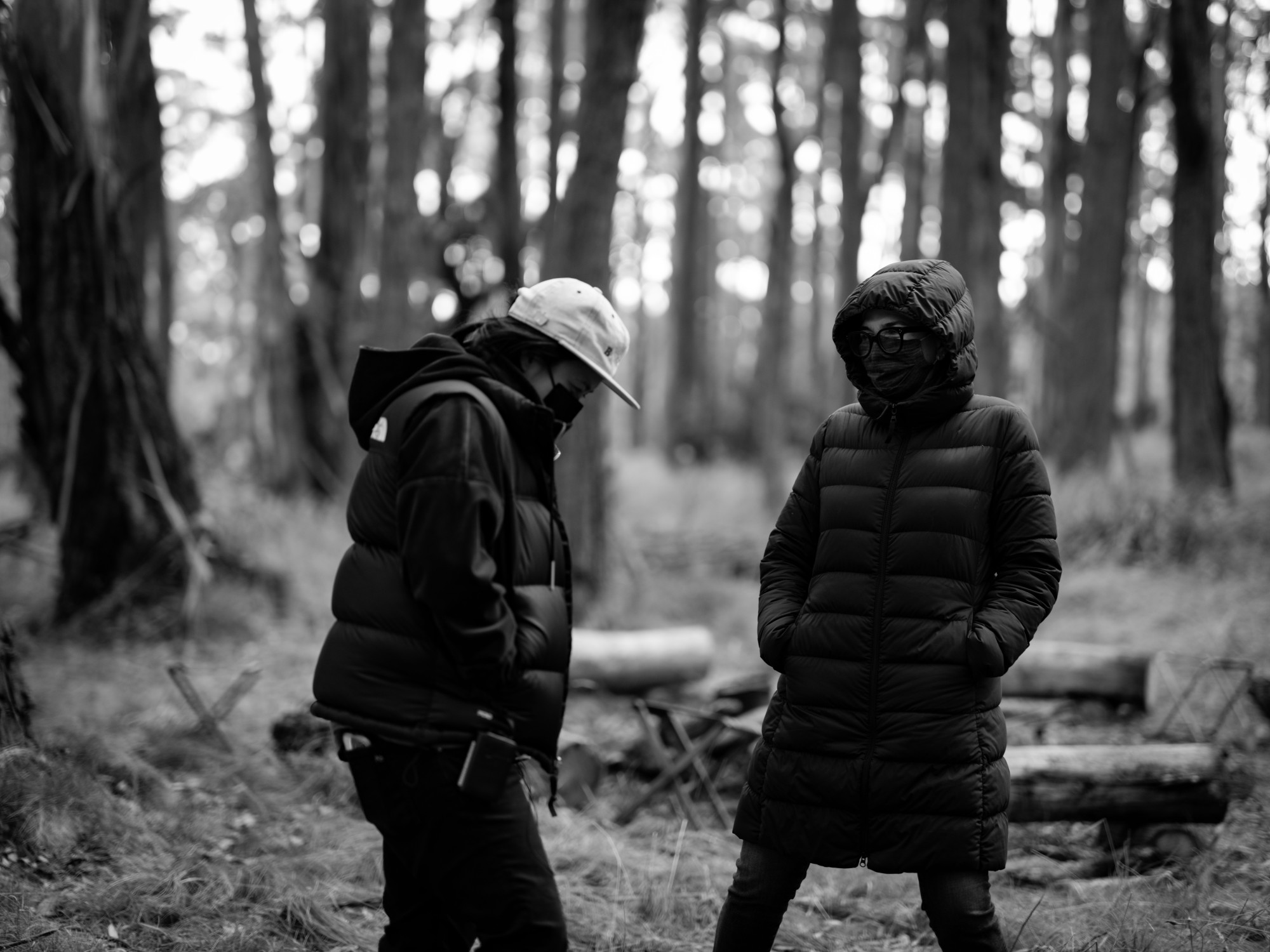 Corrie Chen and Amanda Higgs filming Bad Behaviour on location in Macedon.

Bad Behaviour premieres February 17 on Stan.