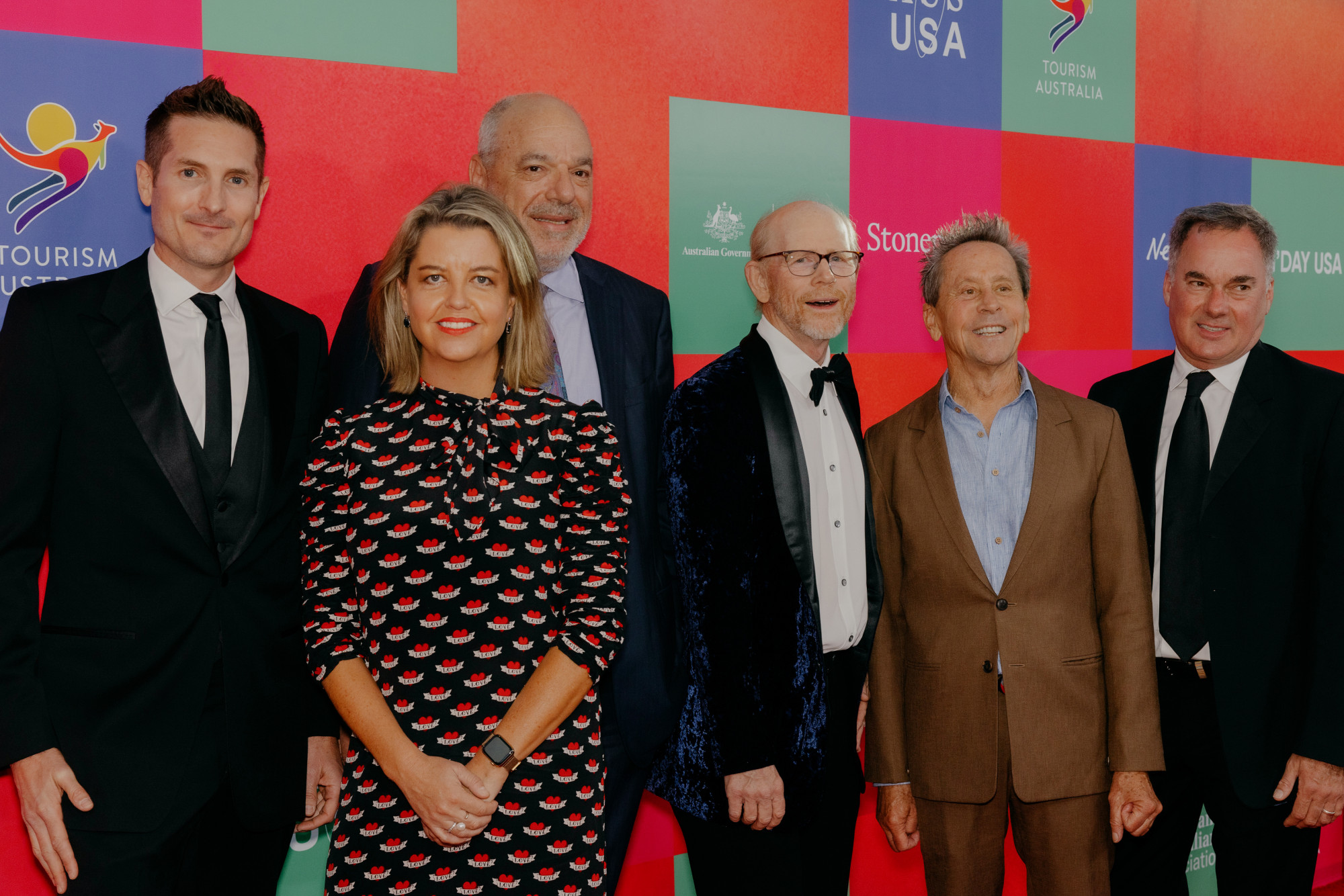 Image from G'day Usa featuring from left to right: Tyler Mitchell, Caroline Pitcher, Greg Basser, Ron Howard, Brian Grazer, and Graeme Mason.
In another boost for Victoria's growing screen industry, the highly coveted screenwriter accelerator program Impact Australia returns to Melbourne for its third year with principal funding from Screen Australia and VicScreen.
The Australian edition of the intensive eight-week program will be delivered by international entertainment start-up Impact and Melbourne-based production company Gentle Giant Media Group. The program is supported by Learning Partner the University of Melbourne and state and territory screen agencies across Australia and will be held at the University of Melbourne's Victorian College of the Arts' Southbank campus.
Impact Australia is designed to discover, cultivate and empower diverse Australian screenwriters, with the goal of accelerating projects to be pitch-ready for global buyers and producers.
During the program, participants will be mentored by industry-leading screenwriters from around the globe. The mentors will work with the creators to hone their projects and prepare them for Pitch Day, where they will be given the opportunity to pitch their project to the global market.
The first two years of the program has resulted in tremendous success. The majority of the 19 projects developed in the 2020 and 2021 programs have attached producers, and almost all of the 23 alumni writers have signed with representation or have gone on to have success after their participation in the program.
Impact CEO, Tyler Mitchell said, "Australians continue to prove that they punch above their weight creatively. 70% of the projects developed in Impact Australia's 8-week accelerator programs have gained producer attachments or received additional funding, 60% of our writers have been hired or sold a new project after completing the program, and one alum had his first TV series debut on AMC+ earlier this year.
We're thrilled that Impact Australia will be going into its third year and are excited to continue working with our incredible partners to create more pathways that promote and empower talented Australians pursuing careers in the screen industry."
Gentle Giant Chairman and CEO Greg Basser said, "Impact Australia, in just its first two seasons, has shown the international screen industry the great depth of creative talent we have always known was embedded in the Australian industry. I have watched our alumni punch those holes in the sky and can't wait to see what our third season of great Australian creativity will bring!"
Impact Australia supports successful participants with all they need to succeed, including a stipend to allow them to relocate to Melbourne and focus on their projects during the eight-week intensive program.
Minister for Creative Industries Danny Pearson said, "Victoria's screen industry is dynamic, diverse and growing all the time – the $191.5 million VICSCREEN strategy provides the best career development and job opportunities in the nation. Impact Australia creates a unique opportunity for our screenwriters to break through and take local stories to global audiences."
Screen Australia CEO Graeme Mason said, "Impact provides a unique opportunity for local creatives to develop distinctive original stories, connect with global decision-makers and find pathways to showcase them on a world stage. We're proud to continue supporting this program and help generate opportunities for local screenwriters."
VicScreen CEO Caroline Pitcher said, "The Impact Australia program is proven to foster the next generation of screenwriters and progress their careers on the global stage. We are proud to support the innovative program's return to Melbourne for the third year running, and again, highlight our exceptional homegrown talent."
Impact Australia is supported by Screen NSW, Screen Queensland, Screen Canberra and Screen Territory.
Applications are open from 21 June - 10 July, with the mentorship program set to begin on 26 September 2022 and the Pitch Day in January 2023. For more information or to apply, visit: impact-australia.com/accelerator
ABOUT IMPACT
Founded by Brian Grazer and Ron Howard and led by CEO Tyler Mitchell, Impact was created to solve problems in the entertainment industry. Through its accelerator programs, Impact discovers, cultivates and nurtures creative storytellers around the world through its innovative talent identification and mentorship system, which enables promising writers to break into the industry in a matter of months. Impact's talent identification system is able to quickly evaluate thousands of submissions while ensuring that all creatives receive equal access, opportunity and transparency.
Since its inception in 2018, Impact has built a network of more than 75,000 creators in over 140 countries, and developed 90 original projects, 48 of which have been acquired by leading entertainment companies, including Netflix, Sony, FX, Warner Bros., AMC, Amblin, Chernin, eOne, Village Roadshow, Legendary, Scott Free, Midnight Radio, Imagine, and more. 47 Impact writers have gone on to sign with major agencies and management companies, including Verve, CAA, WME, UTA, Management 360, Lit, 3 Arts, Anonymous Content, Grandview, Circle of Confusion, M88, and more. Last year, 33 Impact alumni either sold a new project or were hired on shows at Netflix, Apple, Amazon, Disney+, HBO Max, CW, FX, Nickelodeon, Hulu and BET. Impact alums have had eight feature films greenlit and a series premiere this year on AMC+. Impact was named 2021's #2 most innovative company in entertainment by Fast Company.
In addition, Impact has partnered with Netflix US Original Film Group to source and develop original feature films, Netflix EMEA to identify and develop up-and-coming writers in the DACH region, and Skydance Television to source TV series from the next generation of screenwriters. In 2021, Impact also partnered with Imagine Entertainment to source an emerging writer to pen an original family basketball film and worked with Screen Queensland to source crew attachments for Ron Howard's forthcoming feature Thirteen Lives. Impact recently launched The Impact Network, an online platform that connects industry professionals with network-driven tools and collaborative software designed to make people more productive and successful at their jobs.
For more information, visit impact.net, subscribe to the Impact newsletter, and/or follow on Instagram @impact.development, Twitter @TweetsByImpact, and Facebook @impact.developmentFB.


ABOUT GENTLE GIANT MEDIA GROUP
Gentle Giant Media Group is an independent producer of Hollywood film and television and Australian treaty co-productions, which promotes the film and television production in Australia. Gentle Giant partners with major studios and independent producers, matching projects with creative and technical talent in Australia and co-producing both film and TV. Leveraging its extensive networks and contacts across Hollywood, Australia and China, Gentle Media Group also acts as a financial mediator for creative visionaries and specifically seeks out projects best suited for production in Australia.

Chairman and CEO, Greg Basser, co-founded and led Village Roadshow Entertainment Group for over 18 years, producing 126 films with global box office exceeding U.S. $19.5 billion. gentlegiantmedia.com.


ABOUT SCREEN AUSTRALIA
Screen Australia is the Australian Federal Government agency charged with supporting the development, production and promotion of Australian scripted and documentary content. The agency funds productions for television, film and online. Screen Australia also administers Australia's Official Co-production program, in addition to the Producer Offset tax rebate which assists eligible Australian and Official Co-productions to be made. The agency provides a range of resources and opportunities to the industry including access to research, market intelligence and special initiatives. For more information visit screenaustralia.gov.au.


ABOUT VICSCREEN
Based in Melbourne, Australia, VicScreen is the Victorian Government's creative and economic screen development agency. Behind the scenes, supporting professionals, infrastructure, projects and events – elevating Victoria as a global screen destination. You'll find us wherever the action is. Investing in production and content development. Industry placements. Filming incentives. Location assistance. Skills training. Industry events. Partnership activities. And anything else that boosts Victoria's standing as a global screen powerhouse. For more information visit: vicscreen.vic.gov.au.


IMPACT AUSTRALIA MEDIA ENQUIRIES
Impact | help@impact.net
AUSTRALIAN MEDIA ENQUIRIES
Screen Australia | Jessica Parry jessica.parry@screenaustralia.gov.au
VicScreen | Jadan Carroll jadan@commonstate.co