Imagine this: after a long day, you sit on the couch and turn on Netflix. Except you're not just watching any show—you're running to your Watch List to put on a series you worked on, waiting to spot your name in the end credits.
For ex-office worker Alice Zhao, this was her reality this week after gaining hands-on experience through Film Victoria's Professional Attachments Program, where she worked as the official Location Attachment for new Victorian-made thriller, Clickbait.
Completing her placement in 2019, it was the experience she gained through Clickbait that led her to work on other Film Victoria-supported productions including Jack Irish 3, Fires, and currently, La Brea. Looking back on her time on-set, Alice shares how she took a risk leaving her nine-to-five to pursue a career in the screen industry.
Hi Alice, thanks so much for taking time out to chat with me. Tell me a little bit about yourself?
I always loved film, cinema and TV growing up. It was always in the back of my mind, but never something that I actively pursued or really thought of as an industry that I could have a career in. So when I went to uni, I completed a Bachelor of Arts and soon found myself working at ACMI in customer service and in the gallery, where I also volunteered. …From there I moved onto the City of Melbourne joining their Event Operations Teams where I fell into the role of the Permits Officer for Filming.
What did your role as Filming Officer at City of Melbourne involve?
In my role at the council, I was responsible for overseeing permits for filming activity in public spaces within the municipality. I worked with different Location Managers, along with all kinds of screen industry people who needed permissions to film. It was a great experience; I spoke to lots of people, helping them get their projects into places where they wanted to film. Through that I met lots of people working in Locations and connections slowly developed from there.
"They taught me how to work with different teams, to listen and to understand what was happening on-set, and to see things through the world of filmmaking. Clickbait was big and fast-paced... I really enjoyed that."
As you learned more, when did you realise you were interested in working on screen productions?
It was around the time when Preacher was filming in the city. There were big things happening in the CBD, so I would go down and have a look. I was engrossed by the big film sets and would speak to the Locations Managers. It was there people encouraged me to look into work attachments, telling me that I came from the opposite "other" side and my different perspective could be a strength.
It was around this time that the opportunity for a Locations attachment through Film Victoria on Clickbait came about and Film Victoria were really supportive. I remember asking myself: am I going to quit my Council role to take a chance on this? I couldn't bare the idea of looking back and knowing I never gave it a go; I didn't want to miss this opportunity.
That's so great you took that chance. Before starting your attachment, did you know much about the scope of work that Locations do for a production?
I only knew what I had been doing for Location Managers at that stage. I knew they had to get things like parking, maps, and applications together. I had an understanding of the back-end paperwork they needed to prepare in order to get a location ready. But while I knew some of that, I didn't know anything about the production side of things. It was quite a big leap—especially coming from a structured nine-to-five day job—to work in the film industry, on a massive set for a Netflix show. I definitely experienced quite a big culture shock.
I can totally understand that. What was your experience completing a work attachment on Clickbait and did you deal with any imposter syndrome?
Yeah, I definitely dealt with feelings of imposter syndrome when my attachment through Film Victoria started. Joining the Clickbait team, they already had a Location Coordinator and Location Assistant, so instantly I questioned: where do I fit in? It felt daunting at first, when I realised how big the scope of production was. But from day one, the Locations team were so supportive and gave me so many opportunities to get involved.
They taught me how to work with different teams, to listen and to understand what was happening on-set, and to see things through the world of filmmaking. Clickbait was big and fast-paced, with an atmosphere where something was always happening—and I really enjoyed that.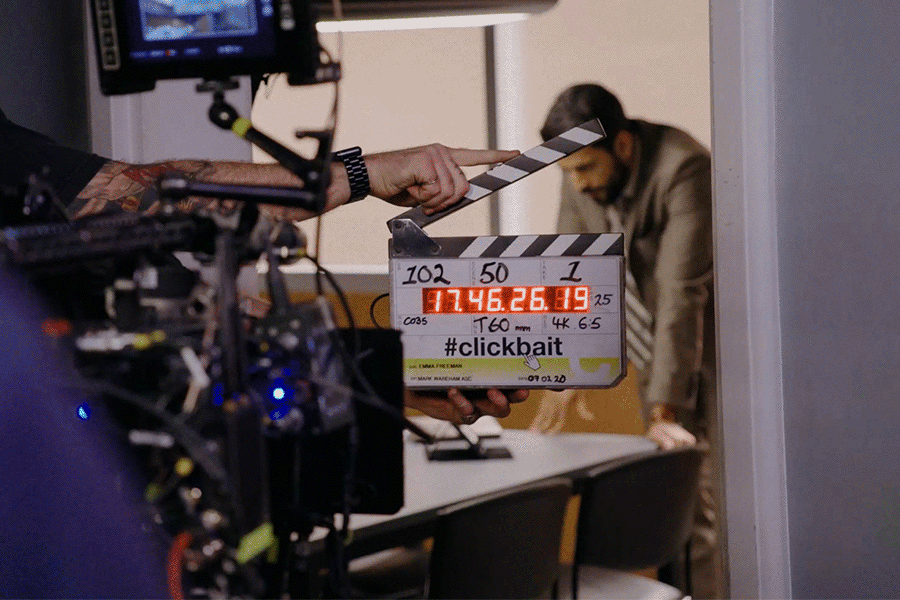 "This experience really gave me the confidence to pursue a career in the screen industry. It not only boosted my knowledge of the Locations role but... really empowered me to keep following this path."
What did your day-to-day look like on the set of Clickbait?
My time on Clickbait predominately saw me shadowing the Locations Coordinators. Each day, we would go through multiple calendars, ensuring we had all the correct permits and parking ready, and movement orders written up for production. It was those fine details I was learning, looking weeks ahead and ensuring checklists, spreadsheets, and tasks we were assigned to had been done.
I remember on one busy day I also got to help on-set. There was a location move, so I got to see how everyone moved from one location to the next and helped the On-Set Location Manager wherever I could. That was a hectic day. So yeah, lots of little things that made sure we met all our deadlines, knowing what was coming and what we had to stay on top of.
That sounds so rewarding. What did your Location work attachment teach you and what kind of opportunities followed?
This experience really gave me the confidence to pursue a career in the screen industry. It not only boosted my knowledge of the Locations role but also gave me the encouragement and skills needed to keep going. It really empowered me to keep following this path.
During my time on Clickbait, word spread that I was working in Locations and I saw that they were further opportunities for me in the industry. I remember getting an email about the chance to work as a Location Coordinator on Jack Irish. It was nerve-wracking to think about jumping into the full role for the very first time. After the COVID-19 restrictions were lifted in 2020, I did go on to be the Locations Coordinator for Jack Irish and I am so grateful I had that chance, thanks to my time on Clickbait. I then did a short stint on Fires, mostly preparing paperwork and doing research for the Locations team. I later jumped onto La Brea as the Location Coordinator, which I've been doing ever since.
Honestly, I'm really glad I did it. Every day is so different. I really like the thrill of not knowing what's next and the excitement of going on to work on something different each time. I really do love the adventure of this work.
Yeah, totally. What advice would you give to people who are looking to make a jump into working behind the scenes in screen production?
My advice is that there are really so many different jobs in different departments within a production, more than you ever think about. So, if you have a goal in mind then pursue those goals, but just remember there are so many opportunities out there and you never know what you might end up falling into and liking. As someone who didn't know anything about the film industry, it really blew my mind learning how many entry points there were to get in.
So don't let fear or thoughts of failure or anything like that stop you from having a go, because you really never know how something might end up being your career. I never thought I would be working in Locations, that's for sure.
Clickbait is supported by Film Victoria and is available to stream now, only on Netflix. For more information on our Skills Programs, Professional Attachments, and how to be part of Film Victoria's Professional Attachment Register, click here.
All images and video supplied by Matchbox Pictures. Interview by Monique Myintoo.