CONTENT WARNING: This article features images and dramatic reconstructions of the 2019-20 Black Summer bushfires which may distress some readers. If you are feeling overwhelmed or having difficulty coping, support is available. Call the Lifeline Bushfire Recovery line on 13 HELP - 13 43 57 or visit www.lifeline.org.au.
Virtual production is where the physical and digital worlds meet, bringing together storytelling and technology to create a new vision. For Australian bushfire drama Fires—which was made in Melbourne by Clickbait creator Tony Ayres—the wide-ranging benefits of this tech can be felt throughout the production.
Inspired by real accounts from people who survived Australia's catastrophic fire season of 2019-20, Fires used virtual production to realistically convey the ferocity of the bushfires without compromising on safety or the authenticity of the stories.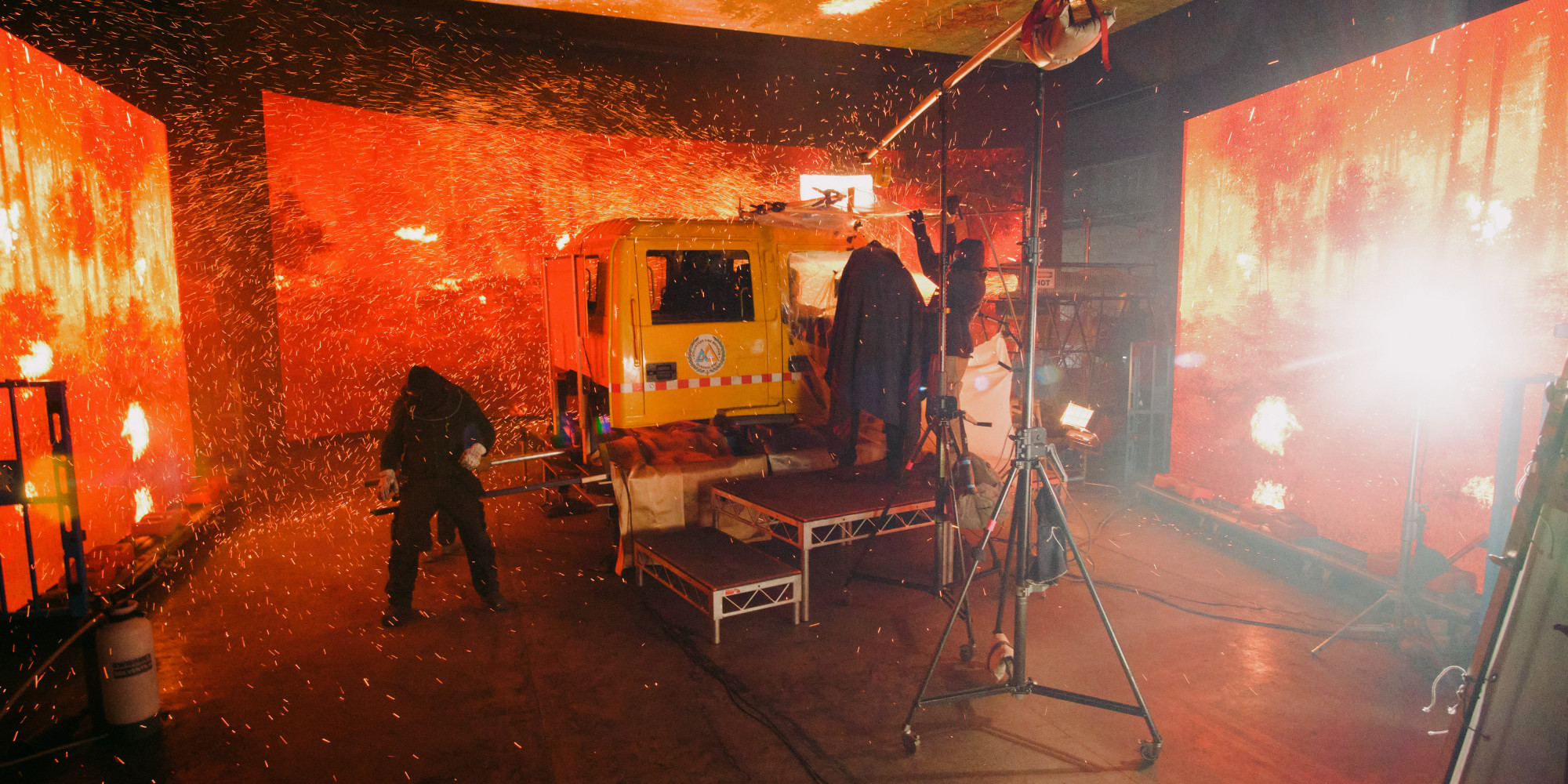 The burn-over scene incorporated practical effects such as fire, embers and smoke. Photo by Greg Spiller.
On the set of Fires, Ayres and director of photography Marden Dean collaborated with the same Melbourne-based company that worked on the hit NBC drama series, La Brea. The result saw Victorians gaining new skills, further building the virtual production experience and capabilities of local creatives and crew. While this isn't the first virtual production to hit Melbourne (Liam Neeson thriller Blacklight also shot complex action scenes using virtual production in Melbourne in late 2020), it demonstrates how the state of Victoria is leading the way when it comes to innovative filmmaking in Australia.
In the heart-stopping first episode of Fires —which had its international premiere at the London Film Festival in mid-October—two volunteer firefighters, played by Eliza Scanlen (Little Women) and Hunter Page-Lochard (Cleverman), are trapped as the flames overrun their stranded fire truck. For firefighters, a "burn-over" is one of the most dangerous and terrifying experiences and Ayres knew they couldn't film the scene surrounded by actual fire.
"Virtual production was the ideal way for us to create this experience, especially mixed with real special effects," shared Ayres, the creator of Fires. "We had a screen projecting the fires onto the three curved walls of interlocking LED panels. We had real embers and real smoke and real fire in the frame, and so we created as close as we could a similitude of being in the fire."
"Virtual production allowed us to film the stories in a way that comes much closer to honouring the incredible existing source material." — Dean Marden, Director of Photography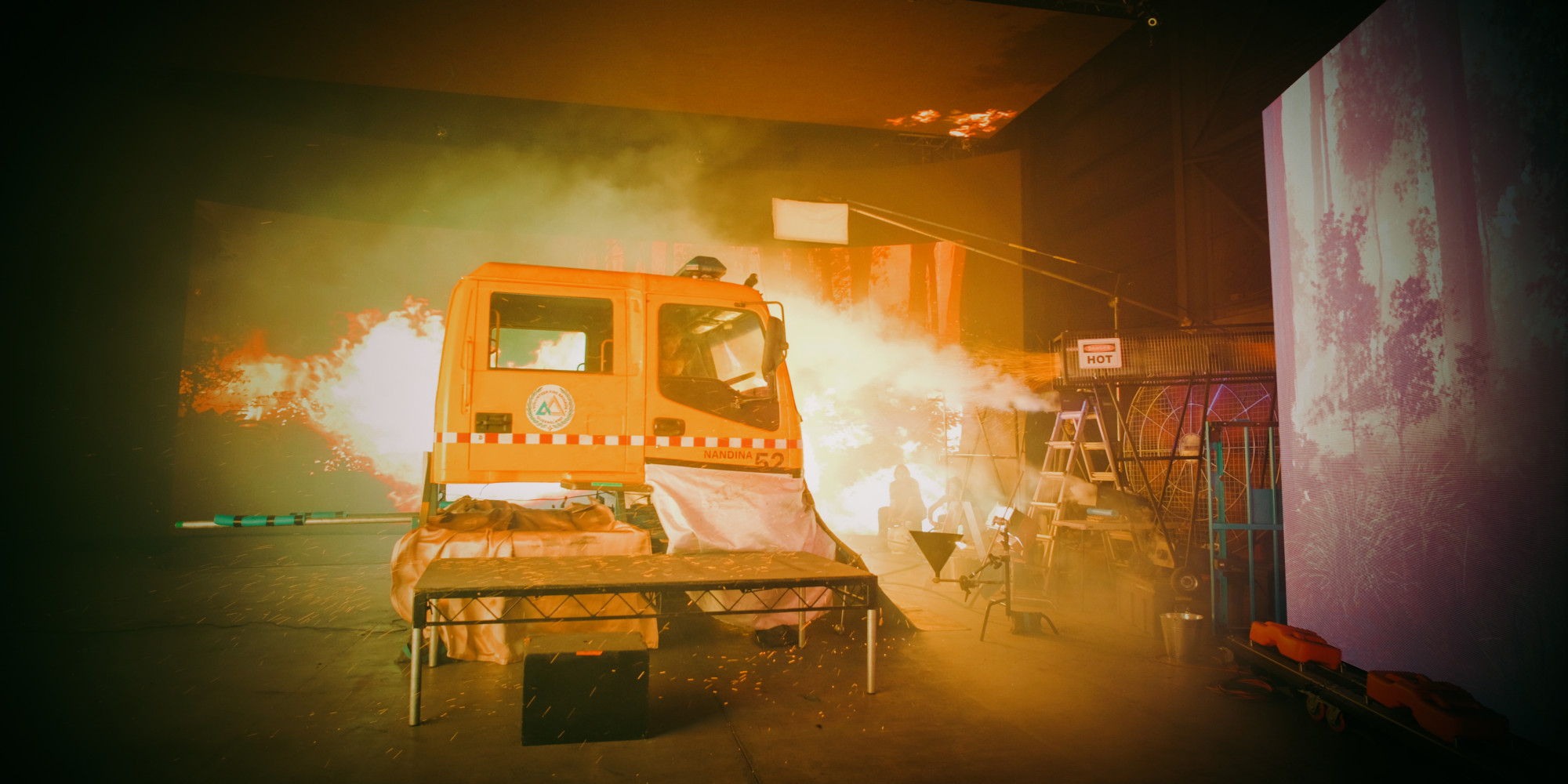 Filming the burn-over scene surrounded by LED light walls. Photo by Greg Spiller.
Fires was the first foray into virtual production for Dean, an award-winning cinematographer whose credits include feature film Breath and television series The Gloaming and Clickbait. Looking to virtual production, he immediately saw how much it increased the scope and viability of what can be captured on screen.
"Virtual production allowed us to film the stories in a way that comes much closer to honouring the incredible existing source material," explained Dean. "The burnover scene required transitions in background environments and incorporated practical effects such as fire, embers and smoke. Being able to have all these elements play in real time greatly increased the success of these sequences and helped the cast and camera operators respond to the visual cues in sync."
For the actors, the interactivity of virtual production made giving authentic performances easier than if they were in front of a green screen, relying on the emotionally charged scene to come together in post-production. "We really wanted it to be authentic because it's still so raw and real for a lot of people," shared actor Scanlen.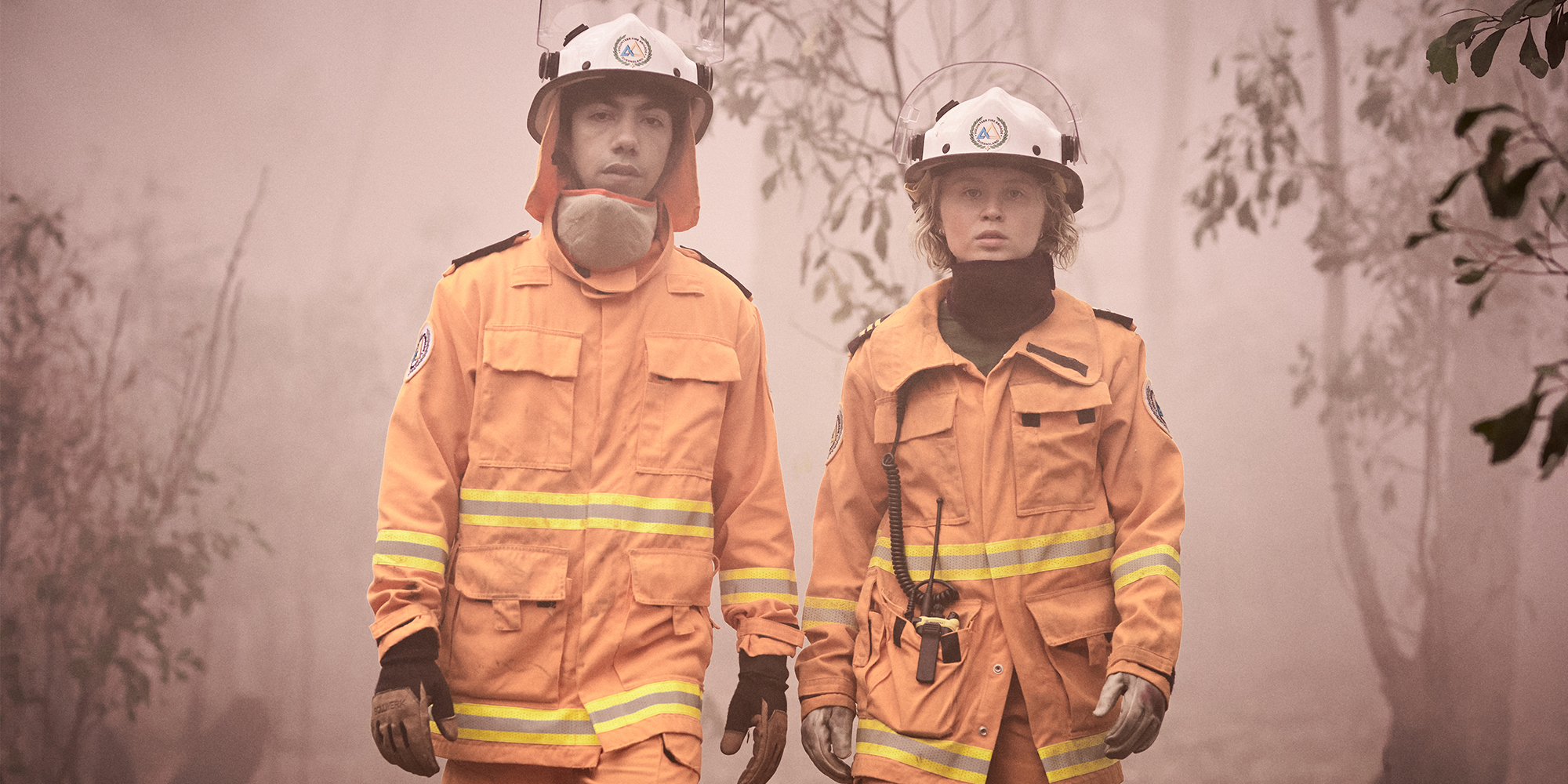 Hunter Page-Lochard and Eliza Scanlen in Fires. Photo by Ben King.
Fires is co-created by Ayres and Belinda Chayko for the Australian Broadcasting Corporation (ABC) and produced by NBCUniversal/Matchbox Pictures-backed Tony Ayres Productions. All six episodes of the anthology drama were filmed in Victoria, with the state doubling for neighbouring New South Wales and Queensland.
2021 has been a defining year for Ayres, who also created the Melbourne-made cyberthriller Clickbait. The 10-episode drama hit #1 on Netflix in 20+ countries following its release in August, racking up three times the streaming time of its nearest competition on the platform.
Fires was supported to film in Victoria and undertake post-production in Melbourne through Film Victoria's Victorian Screen Incentive (VSI) and Regional Location Assistance Fund.
If you want to find out more about VSI or be introduced to one or more of the state's talented creators, contact Film Victoria's Manager of Production Attraction & Support Joe Brinkmann at joe.brinkmann@film.vic.gov.au.