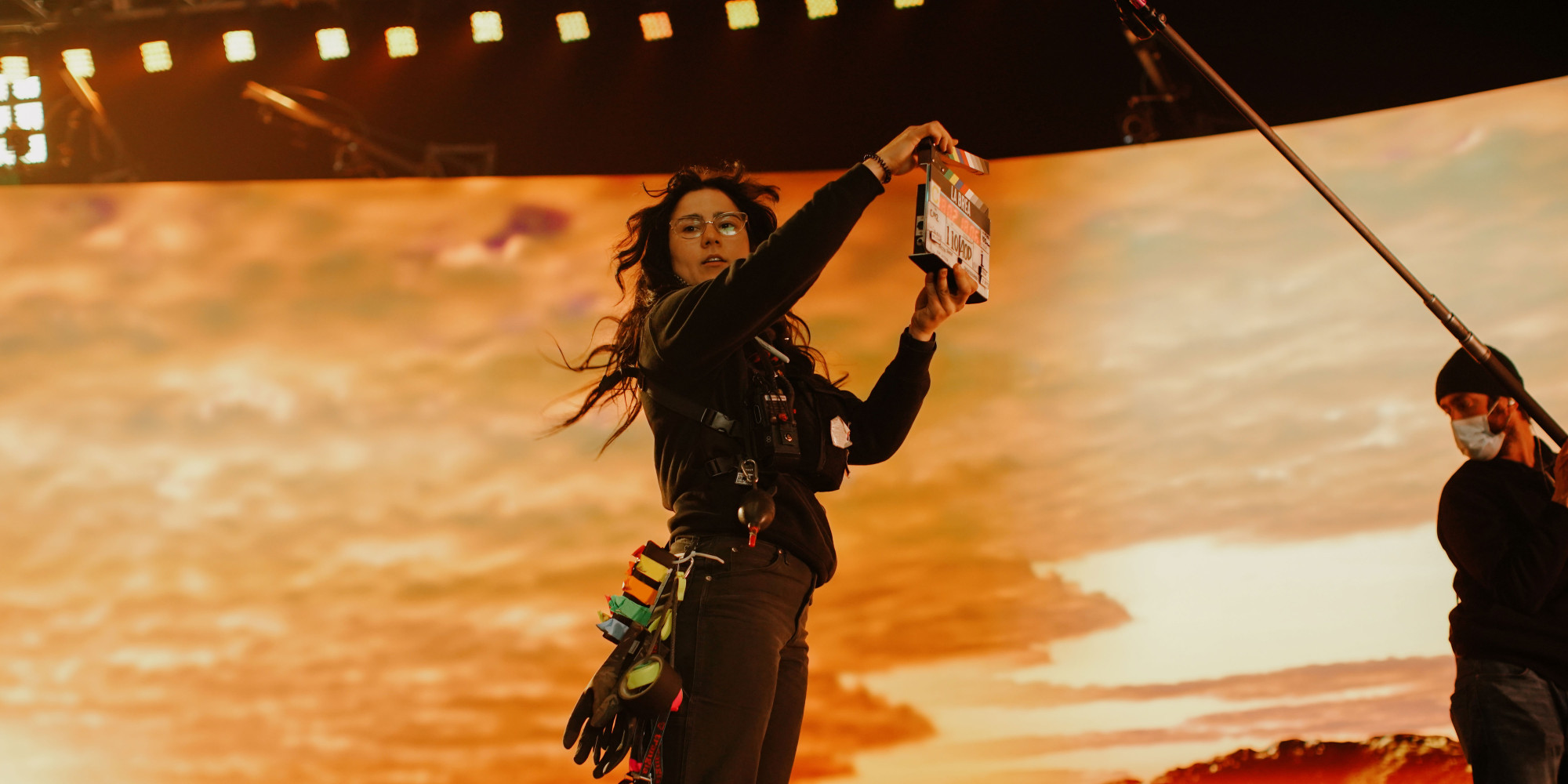 Hazal Alakus on the set of La Brea S1, photo by Sarah Enticknap.

In 2019, Hazal Alakus was attached to Five Bedrooms as a Camera Assistant. Despite a short COVID-19-related hiatus, she's been flying from one production to the next ever since. In fact, since her first attachment she's worked on VicScreen-supported projects Surviving Summer, The Newsreader, La Brea S1, Shantaram and now La Brea S2; sometimes wrapping one show on a Friday and picking up shooting for the next the following Monday. "It's exhausting," she says, "but I love it."

"I used to think that only a very small percentage of people got to work in the film and TV industry, because the industry is so small. But it's huge now. There are so many productions happening all the time." Her advice for other emerging practitioners: "You have to be consistent, don't take no as an answer. Because at some point, someone will be ready to hire you."

Nearing the end of Hazal's high schooling, she made up her mind to become a photographer. Then, in Year 12, her school introduced a media course. "My media teacher was this incredible, flamboyant, obsessive, visual man," Hazal explains. He said, "Have you thought about cinematography?'" Effectively setting her ambitions on a new course. "I was totally enamoured by him."

Hazal says she found that intersectionality between the moving image and still photography, and realised—thanks in part to her media teacher, Mr Joseph Crafts—that filmmaking was a viable career trajectory.
"I had it on the back burner for a while. I went and studied a Bachelor of Arts. I did Cinema Studies and German. But I was still in contact with my media teacher. And he was like, 'why don't you just go to film school?'

Hazal Alakus on the set of La Brea S1, photo by Sarah Enticknap.
So that's exactly what Hazal did, travelling to Sydney to complete a Graduate Diploma in Arts Screen at AFTRS. "From there, it was kind of like, 'oh, okay, this is something I can do.' But it always seemed like I would have to hustle."

At AFTRS, she met a bunch of aspiring filmmakers and ended up in Los Angeles making a documentary called Dead Hands Dig Deep about a horror rock musician living in Temecula, Southern California.

"It did okay," she says of her foray into documentary-making. "The following year, we went back for Slam Dance Film Festival, which runs alongside Sundance." A pretty cool experience for a 20-year-old she reflects. And also, an opportunity to dip her toe in the water of independent filmmaking.
"I realized I didn't know anything. Technically, at least. You have to learn what you don't know."

After moving back to Melbourne (where Hazal was born and raised), she felt like her industry networks needed re-constructing from the ground up. Her experiences in L.A illuminated the gaps in her technical knowledge, inspiring her to enrol in Swinburne's film and television program. "I think being younger at the time, I sort of felt like 'if it happens, it happens'. While I was studying at Swinburne, everyone was always talking about getting an attachment, as if that's all you needed. And once you did that (and if you did well enough at that) then it all kind of flows from there... So, my mentality was like, 'all I have to do is get an attachment'.

When Hazal graduated from Swinburne, she remembered feeling that her two trajectories were to either get a job in a rental house, where all of the camera/audio/lighting equipment lives, or to secure herself an attachment on a production. "I had just gotten a job at a rental house. And I remember going to my first shift really early because I was anxious about being late. I was sitting in a cafe, and I checked my emails, and I got an email from a line producer on Five Bedrooms saying that I had been successful. Wow. When I told the rental house, they were so understanding. It was obvious that I would do the attachment."
"It felt like I was in the right place. And I was proud to be there."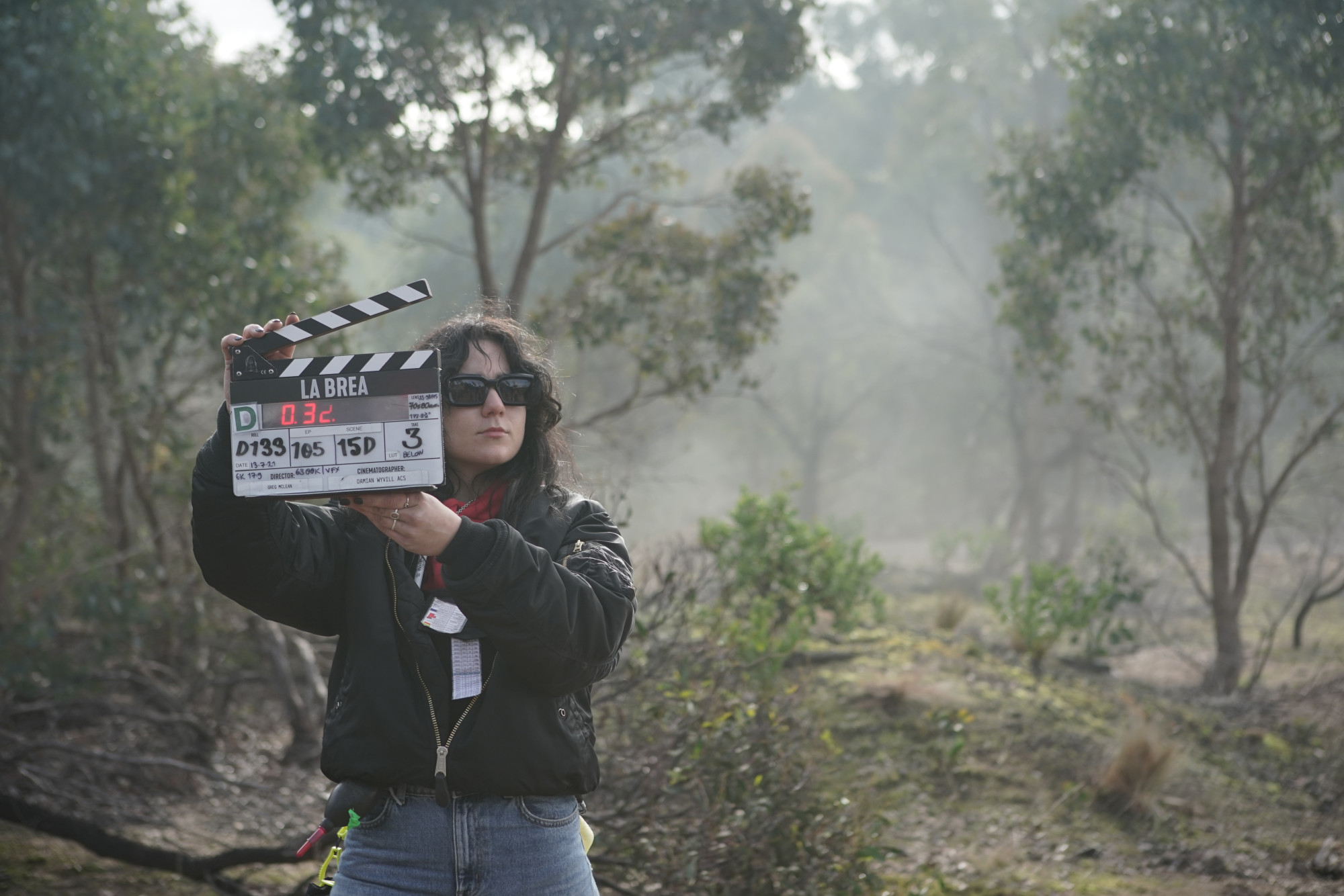 Hazal Alakus on the set of La Brea S1, photo by Sarah Enticknap.
"On [Five Bedrooms], I immediately discovered that film school hadn't really prepared me for the world out there. Technically, at least because camera is a very technical department…everything moves so quickly, and you have to know exact protocols of problem solving and troubleshooting, because no one really waits for you to rectify something if something goes wrong. You might have two minutes to sort it out. The onus is on you to make sure [your element] is always working properly."

Hazal admits it was overwhelming at first, but it was also the first time she felt like she was exactly where she needed to be. "It felt like I was in the right place. And I was proud to be there."

The general attitude of the crew, according to Hazal, was: 'Here is someone who's never been here before. Let's teach them everything we can if they're willing to learn.'

That six-week attachment on Five Bedrooms cemented her calling. However, COVID-19 was just around the corner and swiftly shut down the entire industry she'd worked so hard to enter. There were a few months of no work in 2020, however, when the industry picked back up, Hazal was hired, not as an attachment, but as a freelance camera assistant.

"We had wrapped on Five Bedrooms and within a week, the same line producer from Five Bedrooms was line producing a job called The Newsreader." A production that went on to win four AACTA awards and a Silver Logie for best drama. "As a show, it was a lot of fun to work on because the actors were amazing. The cinematographer and director were an incredible team. And the director [Emma Freeman] was also hilarious." Hazal worked as the video split operator and the B Camera AC on The Newsreader, essentially taking on twice the responsibility of her debut role on Five Bedrooms.

Before she knew it, The Newsreader had wrapped and Hazal found herself gripping on the Great Ocean Road (setting up, rigging, and striking lighting equipment) on the set of Netflix smash hit Surviving Summer. "The key grip on The Newsreader had overheard me say, 'I want to try gripping.' And he got me the job on Surviving Summer. Just like that."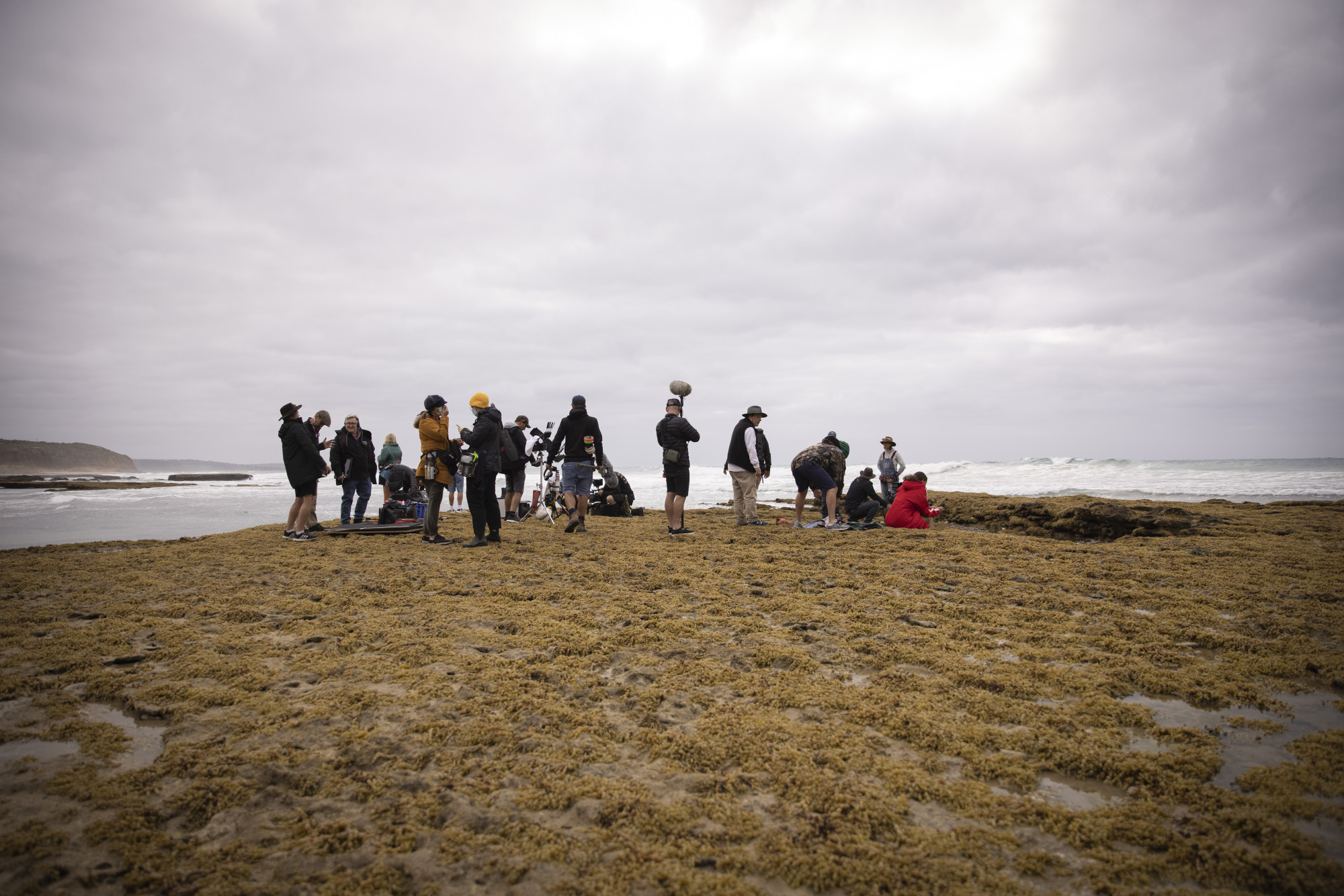 Cast and crew of Surviving Summer filming at Anglesea, photo by Ben Saunders.
"Surviving Summer was cool because we were on the beach, and we were living on the Great Ocean Road for the duration of production. The gripping department works adjacent to camera, but it doesn't matter where you fit in the department, everyone works together…. I also got really strong throughout that shoot because you're moving a lot of stuff. I kind of viewed Surviving Summer as my real 'break'."
The day after Hazal wrapped as a grip, she was back in Melbourne on season one of the new American sci-fi drama, La Brea, as a truck loader. "Up until a few weeks ago, I hadn't taken a break in years," she laughs.
"The truck loader is a role that only exists in Australia on very big productions," she explains. "It's still a junior position, but it's a tough job for a junior [carting gear on and off the production trucks day after day, week after week]. During La Brea I actually stepped up, because they ended up getting an additional camera on full time and I became a second AC on that job."

When La Brea wrapped, it was immediately onto the next gig. The highly anticipated live-action adaptation of Shantaram. "Everything made sense on Shantaram. Everything worked properly and it felt like a very professional set," Hazal reflects. The production design, morphing North Melbourne into 1980s Bombay was creatively inspiring. "The cinematographer [Stefan Duscio] was amazing. He always took the time to get exactly what he needed. The shoot wasn't over scheduled. We were never like, 'quick we have to do a location move in an hour, let's just get this.' It felt more considered. And it looks spectacular as a result."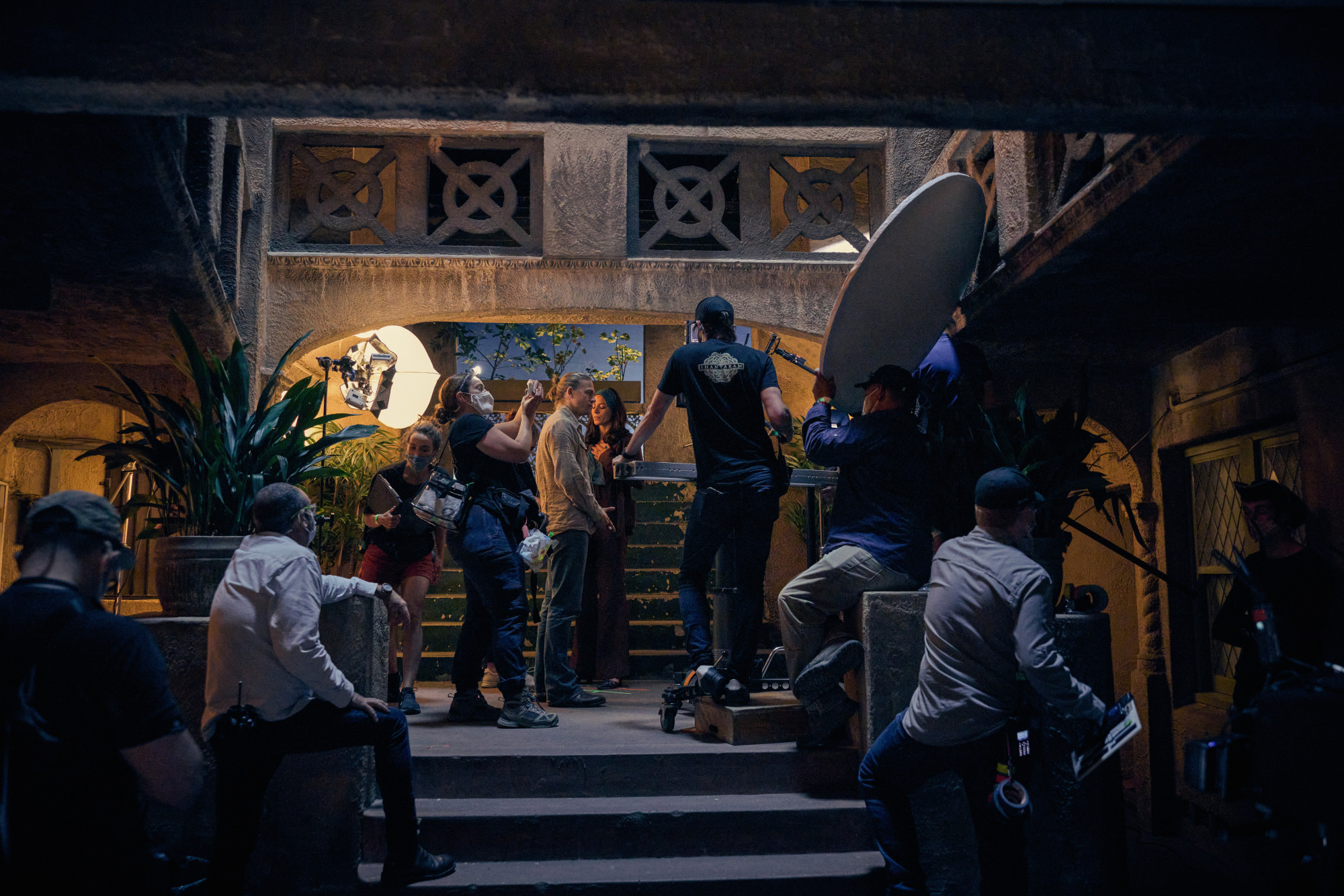 Cast and crew of
Shantaram
filming at the Beverley Hills apartments, South Yarra, image courtesy of Apple TV+.
Hazal had jumped into the B-camera second AC slot on Shantaram for the last eight weeks of shooting. "Stef had just come back from Thailand to shoot that leg and I remember he showed us all the Thai footage he had shot, and said, 'this is the look we're going for.' I had never had a cinematographer be like, 'we're a team and this is what we're trying to achieve.'"

It's been a jam-packed entry into the industry, Hazal acknowledges. "You do develop a match fitness to work in this industry… Getting a job is one thing, but you have to be willing to learn and take everything in and realise that the people working around you have years of experience and even in someone if film school told you otherwise, you have to listen to what people say [on set]. Just absorb everything – that's my advice."

Her other advice is to contact as many potential connections in the industry as possible, over and over again. "I work with focus pullers now who I emailed three years ago who never replied. In saying that, it's completely understandable if people don't respond to your email because when we're working, we're flat out. Which is why I say you just have to constantly hound people. Because it's all about them reading your email at the right time. Be vigilant and keep trying because you will get there."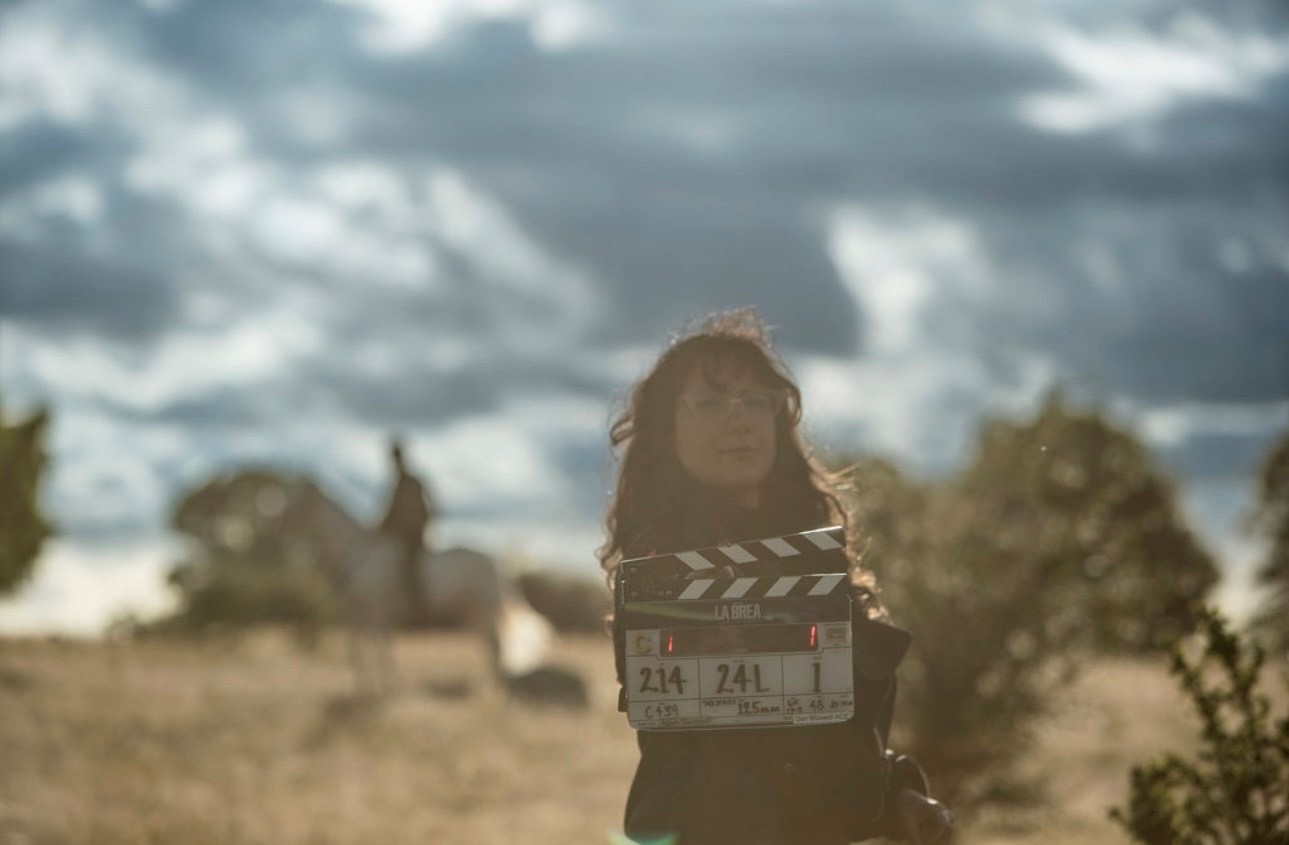 Hazal Alakus on the set of
La Brea
S1, photo by Sarah Enticknap.
Today, as Hazal wraps up on season two of La Brea, her dreams are still materialising. "I have aspirations to work internationally…which you can do in this industry," she says. "It's so wild. That's what's so cool about it, I could go and work in a country that doesn't speak English, because it's a skill-based job. Sure, the lexicon might be different, but you'd be able to do exactly what you needed to do."
If you are an early-career screen practitioner looking for your industry break (behind the camera), apply to join the VicScreen Professional Attachments Register.