Supporting local productions to tell their stories, Film Victoria has announced a $3.9 million investment in 12 screen productions including the third series of popular LGBTIQA+ YouTube series, Flunk.
Through Film Victoria, the Victorian Government is backing the state's digital creators to create stories specifically for online platforms like TikTok and YouTube, which already engage millions of fans across the world.
Created by Lilydale Films, Melbourne-made YouTube series Flunk has already attracted 50 million views and 200,000 subscribers since its release in 2018. The first instalment of the series follows 16-year-old Ingrid as she starts to explore her sexuality, juggling the pressures of attending a country high school and her conservative Chinese-Australian family.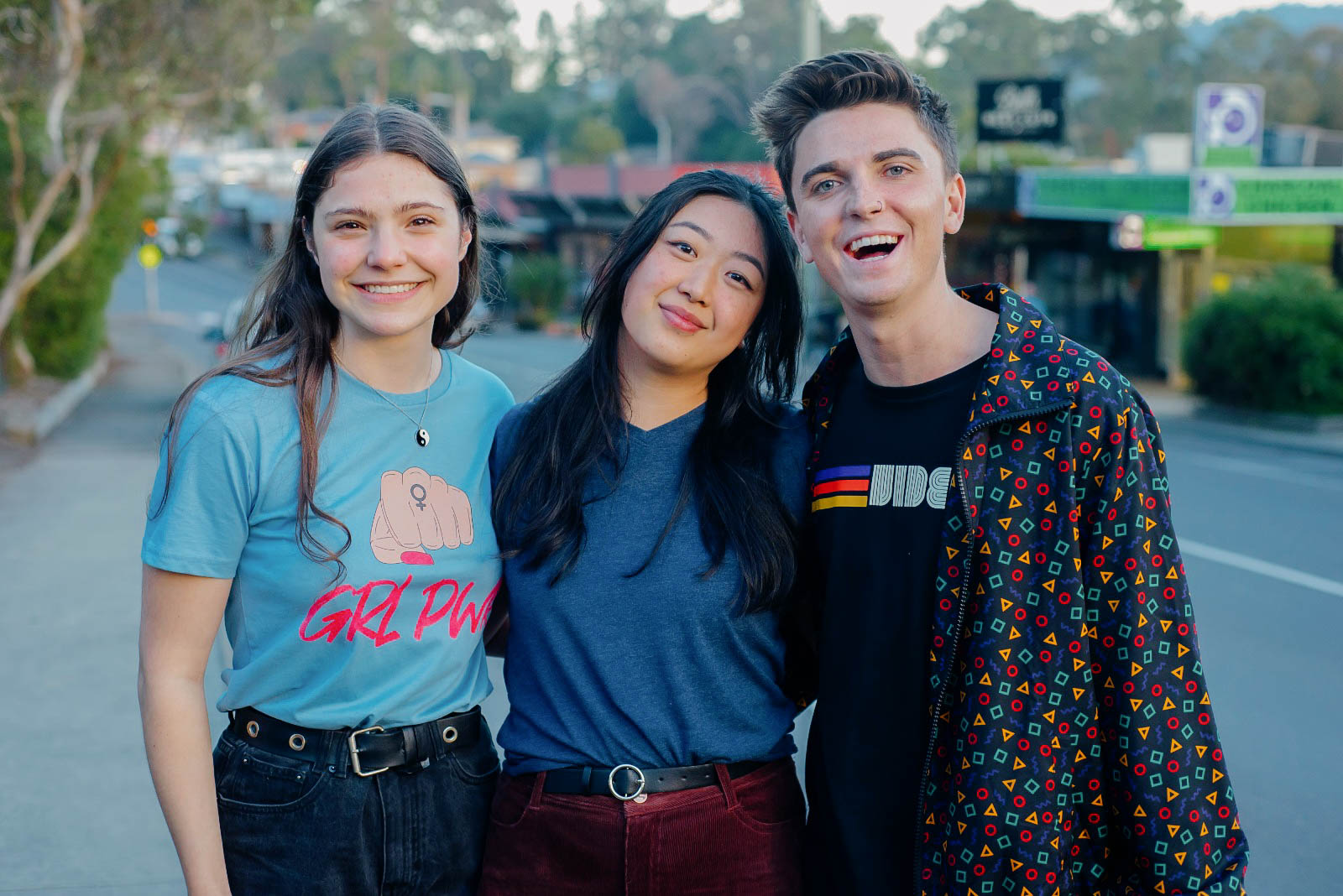 Behind the scenes of Flunk, featuring actors Madison Dell'aquila, Jessica Li and Caylen Forbes filming on location in Mt Evelyn, Victoria.
Producer Melanie Rowland says she and writer and director Ric Forster had felt there was a gap in the market for a youth series that focused on underrepresented and marginalised Aussie teens.
"Australian LGBT youth are turning to online platforms to find content which speaks to them. Given the huge reach, YouTube was the best platform to launch Flunk. The show isn't glossy, it's a gritty exploration of the struggles young queer people face," shared Melanie.
Film Victoria's investment in series three of Flunk follows the recent success of Scattered, a Film Victoria-supported narrative web series for TikTok which has gained more than 47,000 followers since its launch in mid-May. Navigating themes of grief, love, loss, and friendship, Scattered is a queer drama that showcases a large variety of Melbourne locations; unfolding over 38 x 1-minute episodes that are posted daily.
Producer Hayley Adams says developing the series for TikTok ignited conversations within the creative team around what the audience would expect to see on the platform.
"TikTok audiences love seeing people representing them. They've grown up used to that as well, so it's expected, and they demand it of productions too. As Scattered is about a group of queer friends, it was important that the writing team and cast reflected that as well," said Hayley.
Celebrating global Pride Month, the funding announcements have been a welcomed addition to Film Victoria's ongoing commitment to diversity and inclusion.
"Pride Month celebrates our LGBTIQ+ community and brings to the forefront the importance of investing in narratives that encourage inclusiveness and celebrate individuality all year round," said Film Victoria CEO Caroline Pitcher. "Screen stories can be incredibly powerful and it's a testament to our local creators that our home-grown content is resonating with young people across the globe."
In addition, the 12 projects funded by Film Victoria are also expected to inject $39.8 million into the Victorian economy and generate 1,749 job opportunities, adding even more local production activity to the state's thriving screen sector.
"Creating a screen industry—and jobs—for the future is at the heart of VICSCREEN, the Victorian Government's new $120.7 million screen strategy. We are proud to back our young digital creators to lead the way in generating high-quality compelling local content, creating stories that reflect who we are as Victorians and connect with millions of viewers globally," said Minister for Creative Industries Danny Pearson.
Series 3 of Flunk is currently filming in Melbourne and will premiere on their YouTube channel in late 2021. Scattered is available to watch on TikTok now at @scatteredseries.
Cover image supplied by Flunk, showcasing actors Olivia Wright, Holly Monks, and Madelyn Sheahan filming on location at Mt Evelyn Skate Park.