VicScreen spoke to supervising director and Warumungu and Luritja woman, Beck Cole, about the origins of acclaimed project We Are Still Here, the joy of working with filmmakers from other Indigenous nations, and the reaction of audiences around the world to the film.

We Are Still Here is an eight-part anthology of shorts from First Nations filmmakers, woven into a patchwork feature film. The anthology traverses 1000 years – through the bone-dry desert of Arrernte country (Central Australia) to the lush, dense rainforests of Aotearoa (New Zealand) – examining the enduring suffering of Indigenous peoples at the hands of colonisers. Throughout these centuries, First Nations people have continued to rise and find kinship, strength, and resilience in the face of unending discrimination. We Are Still Here is testimony that despite relentless racism, imperialism and the attempted erasure of Indigenous lives and culture, First Nations people have survived.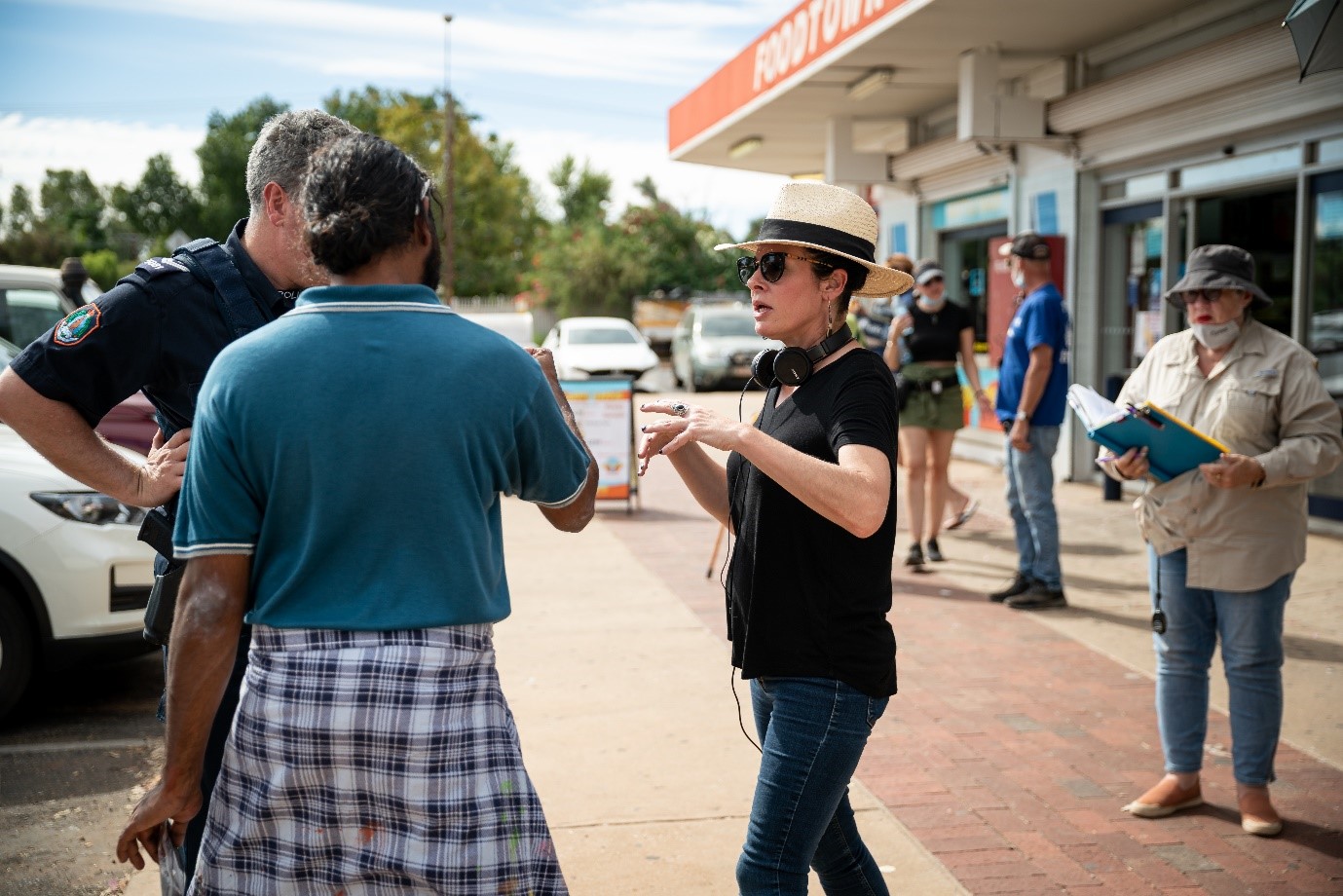 Beck Cole directing Grog Shop. Photo Jackson Finter
We Are Still Here is the result of a joint initiative between Screen Australia and the New Zealand Film Commission, Beck explained. "It came about through our desire as First Nations filmmakers in Australia to collaborate with Indigenous filmmakers in New Zealand, because [geographically] we're so close and it's never happened before." The original concept was a response to the 250-year anniversary of Captain Cook circumnavigating the Pacific region. "But when we all got together, everyone was like, 'Oh, no, in fact, we don't want to talk about Cook…we've got more important things to say,'" Beck said.
As a director, Beck was drawn to this project by the opportunity to make a short again. "I think once you've made a few features and you get more advanced in your career, you're kind of out of the league of making short films," Beck reflected. "Whereas I really love shorts; I love watching them, and I enjoy making them."
With collaborator and writer, Samuel Nuggin-Paynter, the two created Grog Shop, starring Clarence Ryan (Cleverman) and Megan Wilding (Mystery Road: Origin) as romantic leads in a story about determination, pride, and the eternal quest for love. Beck and Sam wanted to create a short that would leave audiences with a bounce in their step, whilst still conveying the essential message of survival. "When we started talking with the broader team about what the feature would look like, it felt like we needed something with a bit of humour and a bit of romance…something a bit lighter."
"I've wanted to work with Megan since my Black Comedy days," Beck continued, "so I had her in the back of my mind from day dot. There's something so captivating about Megan, and so fun. She immediately makes you like her. And for Clarence, I think he's one of the best actors that we have in this country, hands down. So, it was amazing to get those two together and see how generous and kind they were. I've had so many people say, 'I wish you'd do a little spin off rom-com with those two.'"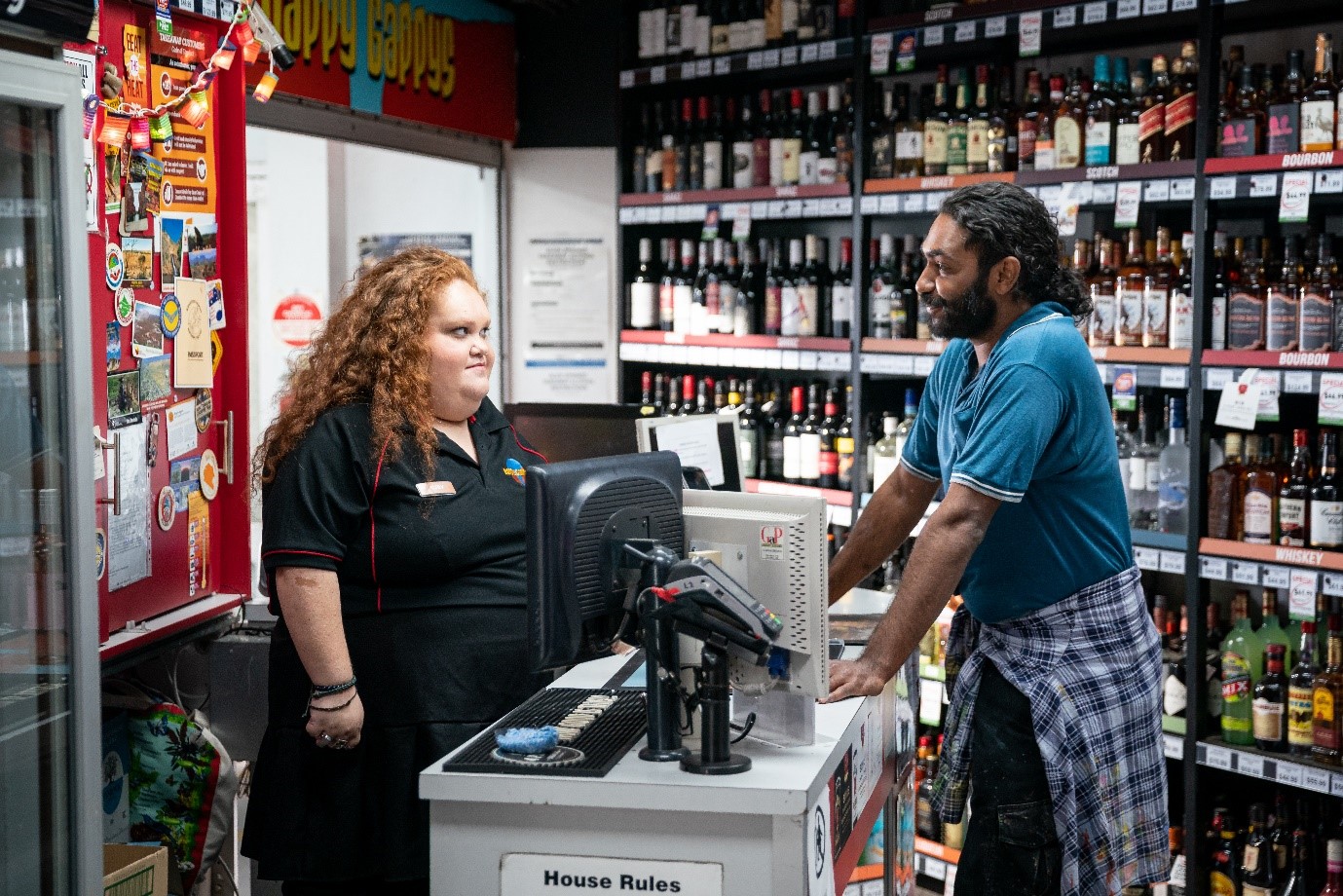 Megan Wilding and Clarence Ryan in Grog Shop. Photo Jackson Finter
For Beck, directing a short in her own backyard in Alice Springs was a dream. "Grog Shop was literally shot on the corner of my old street. I live in Melbourne now, but I've lived in Alice most of my life. So that's my local shop."
"Making a film back home was lovely for starters; even in a town that's as highly politicized, and with as many factions and issues like ours, I think people are genuinely warm and supportive. It's also so nice to be hearing a bit of your own language, because it can get a bit isolating being in Melbourne."
Connecting and collaborating with filmmakers from other Indigenous nations on We Are Still Here also brought a lot of joy, Beck explained. There was a lot to learn and discover about each other's cultural practices and customs. "People were really brave with what they wanted to say… there was a sense of having this is one opportunity, that would never happen again, so we thought, 'Let's throw ourselves into it.'"
Tying together animation, a speculative futuristic dystopia, a second world war story and all the cultural nuances of each film, as well as finding a cohesive visual identity for this feature, was both a massive undertaking and a unique opportunity, Beck admits. "I think one of the challenges of a project like this is just finding that balance and making sure that you're communicating so many of those cultural nuances to your audience. It was really fascinating because all our stories, even within Australia are very distinct. This idea that it's just one big group of [Indigenous] people is so incorrect. When you bring in another country, with their cultural nuances it's more complicated again. We had Samoan filmmakers, as well as Māori filmmakers; so, we were just learning about each other's stories and histories every day. It was fascinating."
We Are Still Here opened the 2022 Sydney Film Festival to widespread public and critical acclaim. "I came out of that screening and genuinely felt the warmth of the audience," Beck reflects. "Sometimes those festivals feel like a poison chalice; where films are highly criticised…I always say to people, filmmaking is such a gamble, because you never know if you're on a really good wicket with something, particularly with blackfella films. I think it's largely to do with the political climate at the time, and how progressive [the audience is] in their thinking…there are lots of things that can go wrong."
After Sydney Film Festival, Beck felt a groundswell of confidence in the project. We Are Still Here went on to screen at Toronto International Film Festival and ImagineNative, where it took home the Dramatic Feature Award. "I don't really care for awards," she admits, "For me, audiences seeing the film is the grand prize."
Beck hopes that We Are Still Here will be screened all across Australia, Oceania and beyond. "It's for everybody," she says, "I think that's the beautiful thing about Indigenous films…as much as they're made for the community, they're also made with the hope that broad audiences will see them. And not just the sort of sophisticated film festival crowd. We want younger people; we want people to take their kids…we want the film to be shown in schools. It's a film that straddles a really diverse audience…It's a gift from us to the wider community."
We Are Still Here is currently screening in select cinemas.