Robert Connolly and Eric Bana chatting behind the scenes on the set of The Dry.
THE CREATIVE TEAM BEHIND AWARD-WINNING FILM THE DRY REUNITE TO FILM FORCE OF NATURE IN VICTORIA
The team behind last year's box office smash hit The Dry, are reuniting to adapt another bestselling novel, Force of Nature, by award-winning Victorian author Jane Harper.
Force of Nature will continue to tell the story of The Dry's Detective Aaron Falk, with Eric Bana reprising his leading role. Even more Australian home-grown talent will be joining the cast, including Anna Torv, Tony Briggs, Deborra-Lee Furness, and Richard Roxburgh. Bana will also produce the Australian thriller, with Robert Connolly returning to the helm of the production as both Writer and Director.
The film will follow the story of five women heading out into a remote wilderness on an executive retreat. When only four women return, Detective Aaron Falk investigates, discovering secrets lurking in the mountains and tangled webs of friendships, suspicion and betrayal among the group.
Force of Nature is set to film solely in Victoria, showcasing stunning regional locations including the Dandenong Ranges, Yarra Valley and the Otways. The highly anticipated production was supported to film in the state, through VicScreen's Victorian Production Fund and Regional Location Assistance Fund. The production will create an estimated 300 jobs, with 250 of those jobs being filled by Victorians.
Minister for Creative Industries Danny Pearson said the Government's $191.5 million VICSCREEN strategy was "bringing more productions to regional destinations and creating thousands of jobs across the state."
"From Jane Harper winning the Premier's Literary Award for The Dry to now having a second Victorian-made feature film in the works – this is a stunning Victorian creative success story that will inject $10 million into the state's economy and showcase Victoria's regions to the world."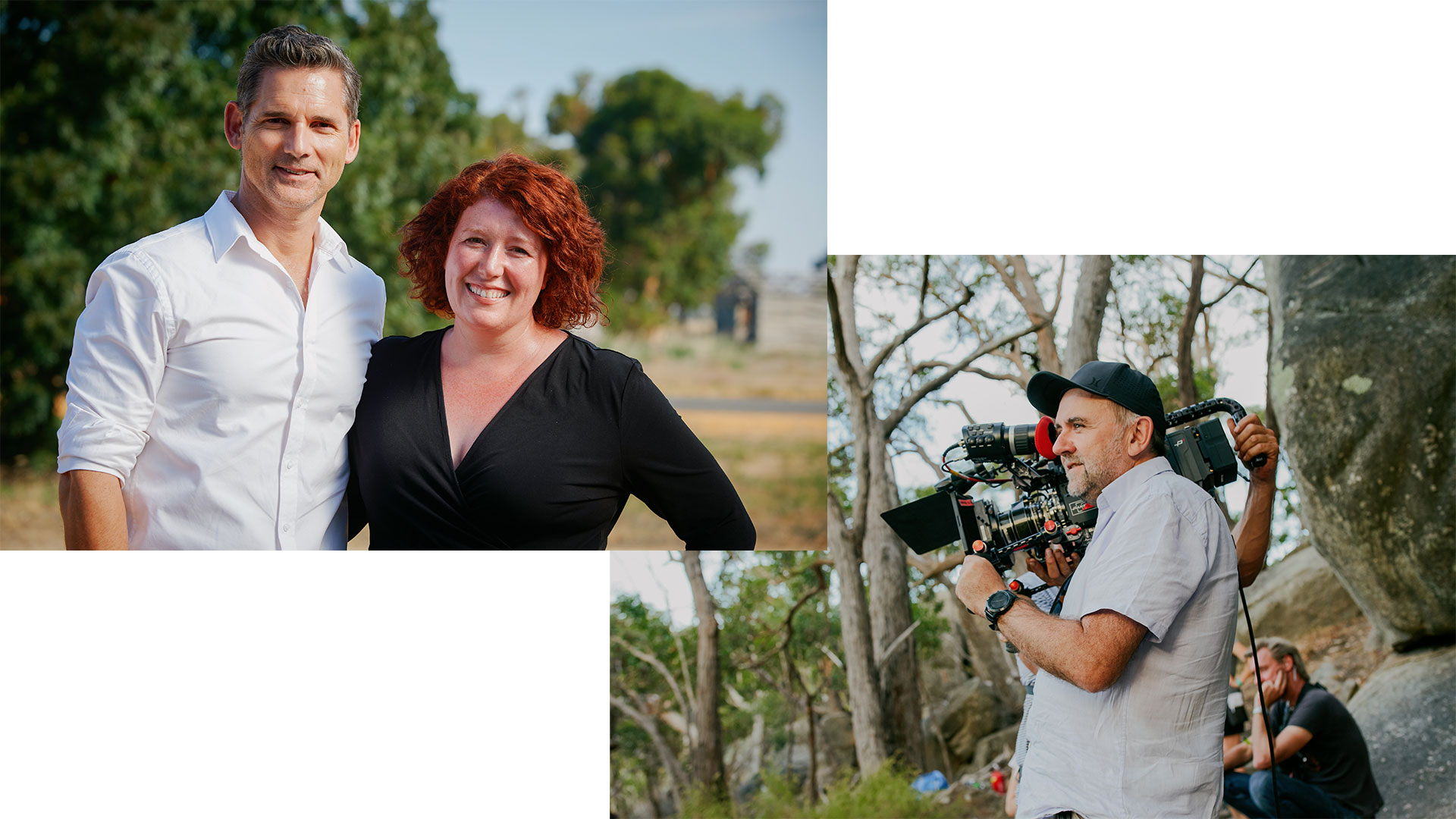 Image one shows Eric Bana and author Jane Harper behind the scenes on the set of The Dry. Image two captures Robert Connolly working on the set of The Dry.
Writer and Director Robert Connolly said, "I'm so excited to return to the world of Detective Aaron Falk and to be able to work once again alongside Eric Bana, Made Up Stories and such an impressive creative team. We're also delighted by the exceptional cast of established and emerging actors joining us on this journey. Jane Harper's Force of Nature is a deeply emotional and thrilling story showcasing the extraordinary world and landscape of the Australian wilderness."
Eric Bana said, "I am thrilled and proud to have the opportunity to follow up our efforts on The Dry with Force of Nature. Jane has once again provided a thrilling story that gives us another chance to showcase a unique and incredible Australian landscape. Whilst it was always our dream to bring this story to the big screen, it's fate always rested with the Australian cinemagoing public. Their overwhelming support of The Dry turns this into a reality."
Made Up Stories' Bruna Papandrea, Jodi Matterson and Steve Hutensky are producing alongside Bana for Pick Up Truck Pictures and Connolly for Arenamedia. Ricci Swart, Andrew Myer, Robert Patterson, Joel Pearlman and Edwina Waddy are executive producing.
Said producers Papandrea, Matterson and Hutensky: "We are delighted to be re-teaming with Rob, Eric, Roadshow, Screen Australia and VicScreen to bring another beloved Jane Harper novel to the big screen. Force of Nature is also a wonderful opportunity for us to showcase the talents of an amazing group of women in some of the most stunning landscapes in the country."
Force of Nature is a Made Up Stories production in association with Arenamedia and Pick Up Truck Pictures. The film will be distributed by Roadshow Films in Australia and New Zealand. WME Independent is handling rest of world sales.
For more information about funding support and incentives for filming in Victoria, check out: vicscreen.vic.gov.au/funding/