Run Rabbit Run heralds the arrival of a new screen talent, award-winning Burial Rites author Hannah Kent. This modern-day ghost story, directed by Daina Reid (The Handmaid's Tale), has made its world premiere at Sundance, and Daina could not have asked for a better result, she says.
"I don't think I'll ever forget that phone call from Sundance…we were premiering at the Egyptian theatre on opening night, it was astounding."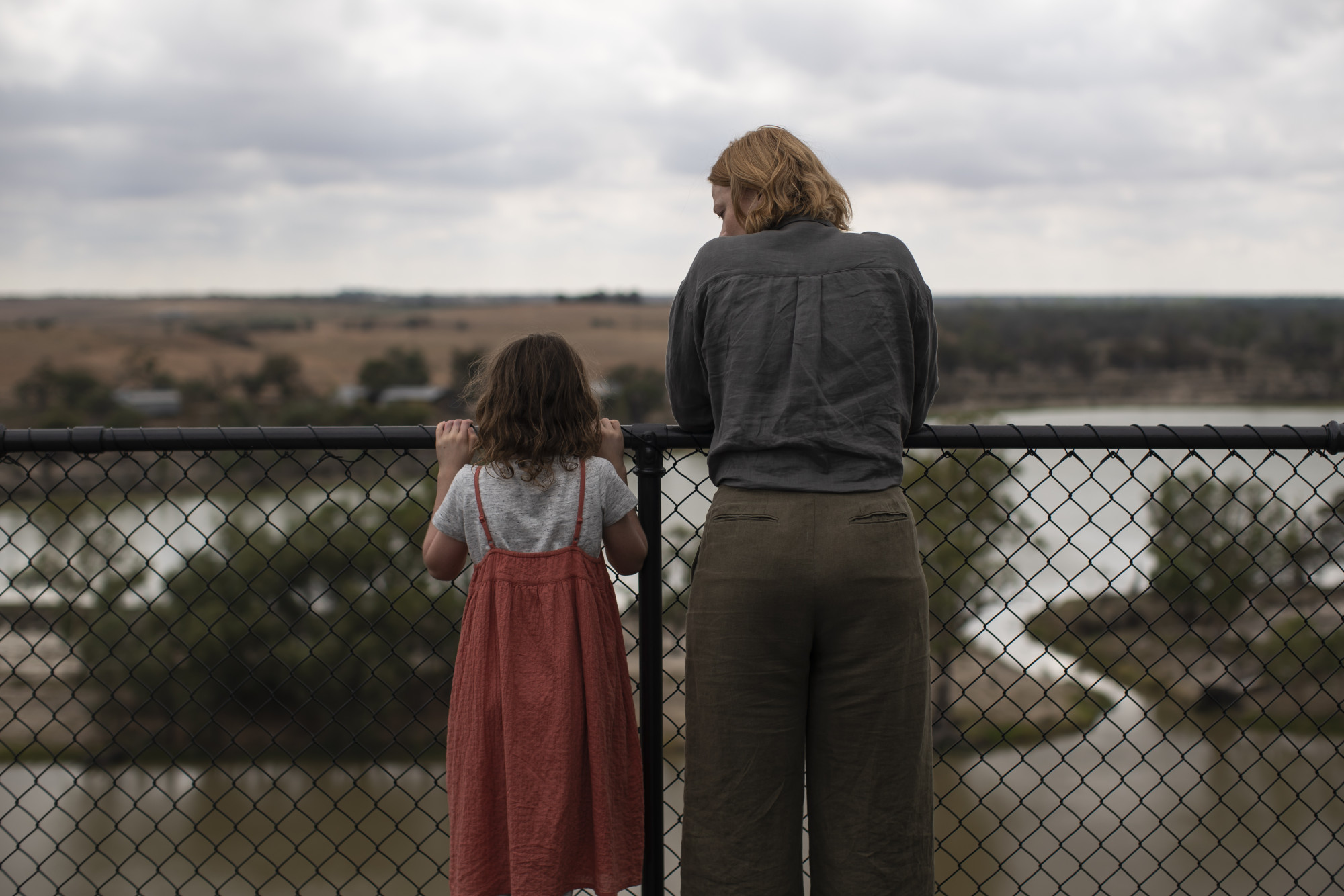 Lily LaTorre as Mia and Sarah Snook as Sarah on location in Run Rabbit Run
It's been a wonderful journey to get to this point, Daina explains, but not without its difficulties, as COVID-19 caused regular and major interruptions to production schedules and restricted the team's access to crucial rural landscapes in Victoria and South Australia. "I've been wanting to do another Australian production for so long. We have such a unique landscape; people want to see it."
The narrative of Run Rabbit Run centres around Sarah (played by Golden Globe-winning Sarah Snook), a fertility doctor, who believes she has a firm grip on the cycle of life. That is until her young daughter, Mia, increasingly exhibits strange and inexplicable behaviour which begins to unravel the ghosts of Sarah's past.

Sarah Snook on location in Run Rabbit Run
Daina was directing the SBS mini-series Sunshine with producers Sarah Shaw and Anna McLeish of Carver Films when Run Rabbit Run came across her radar. "To be collaborating with Hannah Kent was an incredible experience for me," she explains, "I had read Burial Rites…I went to Iceland because of it." Like many literary tourists before her, Daina travelled to the far-flung corners of the Arctic Ocean to retrace the steps of Hannah's most famous protagonist, Agnes Magnúsdottir.
Daina vividly remembers reading early drafts of Hannah's script and jumping with fear out of her chair. "I can't say too much, because anything I say will give it away. I just remember when I was reading it thinking 'Oh, My God!' Hannah never failed to surprise me."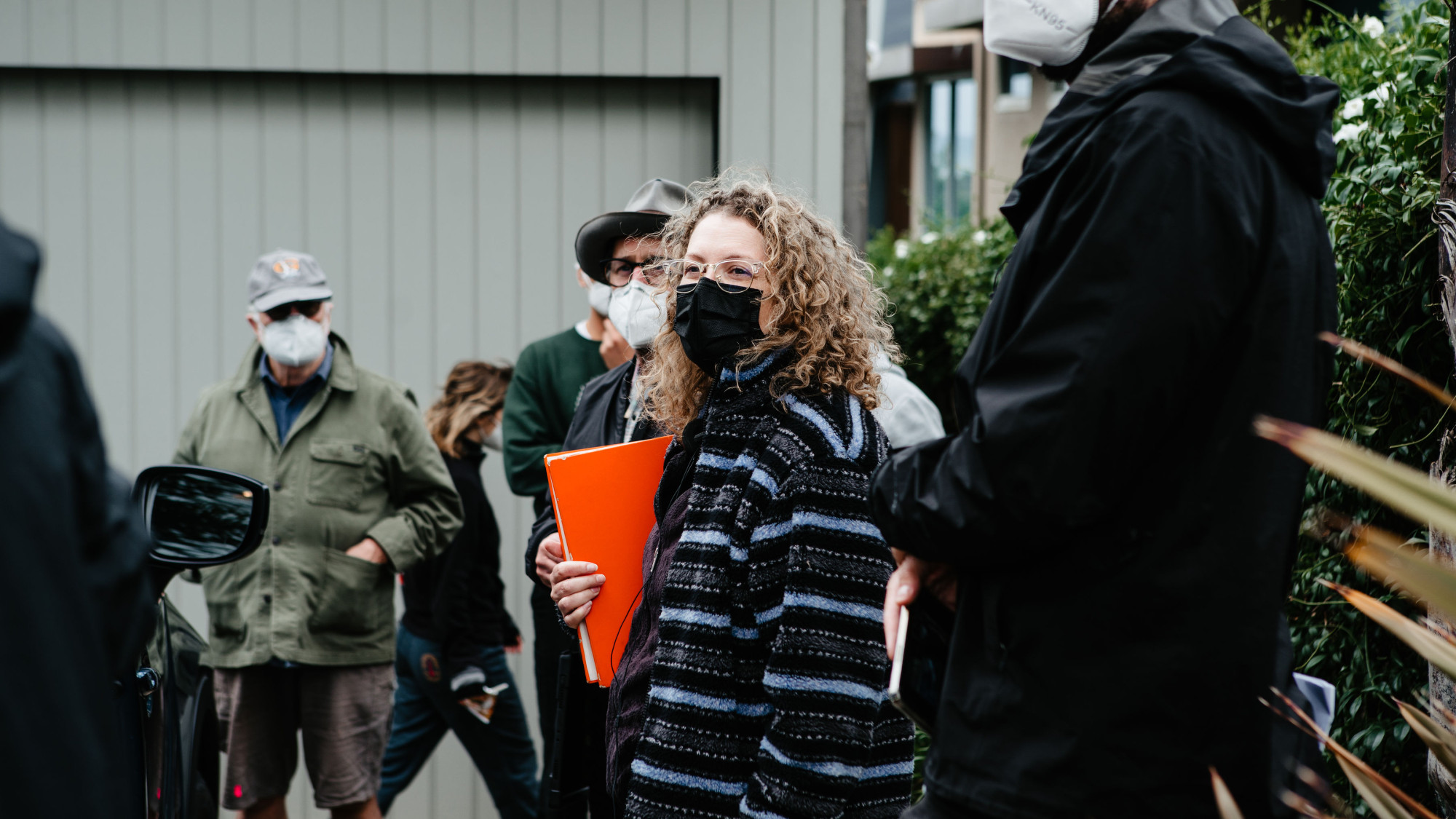 Director Daina Reid with the crew on Run Rabbit Run
With a long list of directing credits under her belt, including iconic Australian productions like The Secret Life of Us, Offspring and Miss Fisher's Murder Mysteries, as well as major international TV series such as The Handmaid's Tale and Shining Girls, Daina was eager to dive into a gritty Australian film with a writer she greatly admired.
"We've got a world-renowned novelist, writing what we call the "big print"….the prose is written so incredibly beautifully, but the prose doesn't make it into the script, so the pressure is on the director to translate that on screen."
"It was so wonderful to be to be working with Hannah from that very early stage, on an end-to-end development of such an intriguing story."
The creative team collaborating on Run Rabbit Run helped eliminate some of this pressure, Daina says, by building an environment where Hannah's words could come to life. Cinematographer Bonnie Elliott, Production Designer Vanessa Cerne and Locations Manager John Greene were crucial in constructing a set that allowed the cast to reach the depths required of them. "It's a real challenge, but it's also a gift," Daina says, "Because it's a landscape movie as well as a psychological thriller; it's about a human being in that landscape."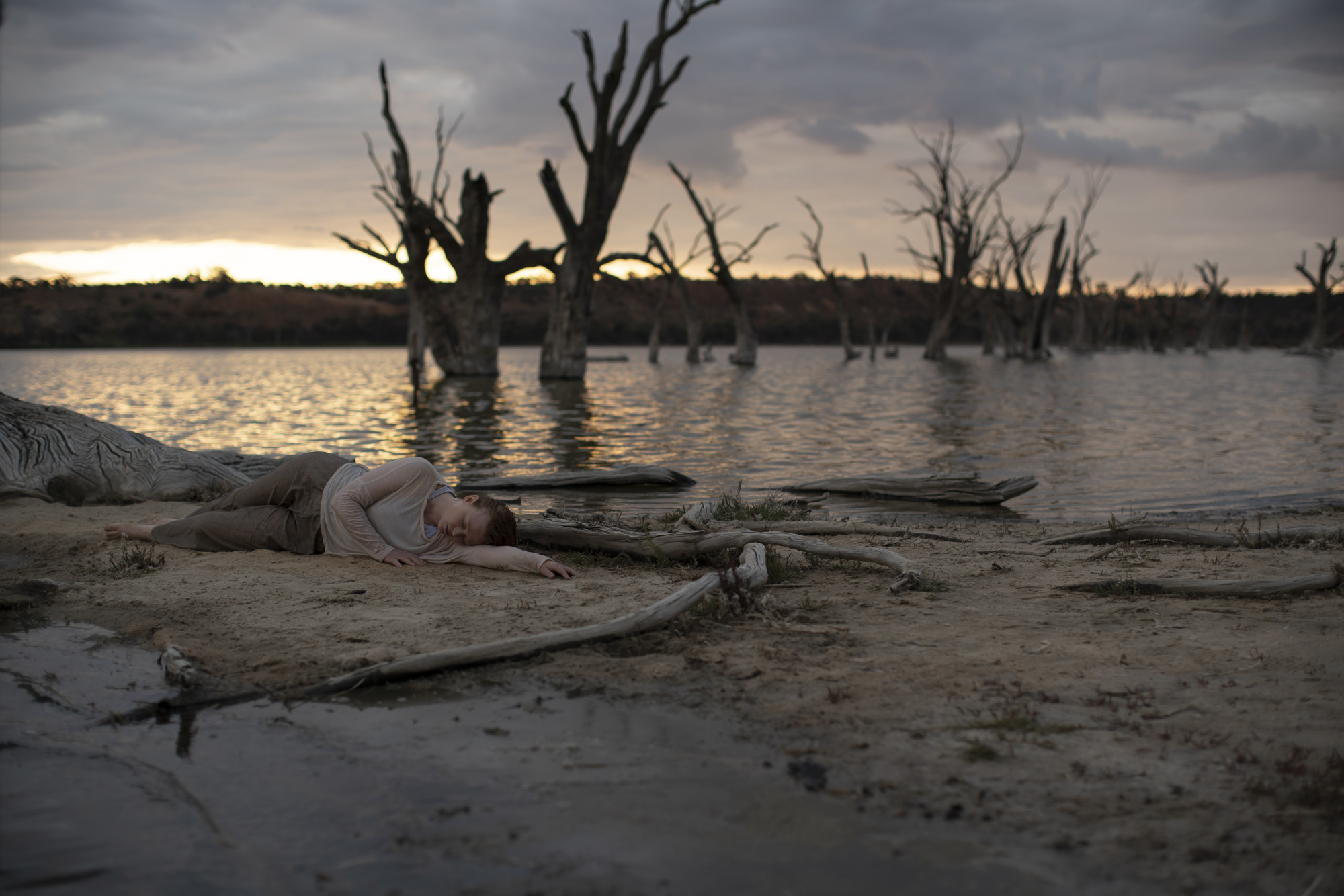 Sarah Snook on location in Run Rabbit Run
The journey this cast went on was one that embodied an increasing sense of dread and doom; a surging resurfacing of trauma that required a complex maturity from its performers.
Working with child actors in the thriller/horror genre can be tricky, Daina admits, however Lily LaTorre, who plays the tormented Mia, displayed a wisdom and sensibility beyond her years. "She was one of the first people we cast…she'd be mucking around on set one minute, just like any ordinary kid, and then as soon as the camera rolled, she was so incredibly focussed. Lily was just amazing."

Lily LaTorre as Mia on location in Run Rabbit Run.
"We protected her a lot. There were certain bits of the script we didn't show her."
Locking in Sarah Snook was a dream moment for the creative team after various delays and casting changes due to the pandemic. "I worked with Sarah on The Secret River…which was also a difficult project, in terms of being emotionally challenging. We had that working relationship established before we got on set here, which helped."
"It was a real journey for us to dig in to find this character; this is someone who has been closing a lot of doors." Sarah, the character, has been burying her grief and trying to outrun her demons for so long, and after her daughter's seventh birthday, these demons finally catch up with her. "We had to go on this journey of reopening all these doors. So, you really can't hope for a more instinctive, incredible actor than Sarah [Snook]…she looked amazing in the landscape as well, she's just so talented."
Seasoned Australian actor, Damon Herriman, took on the part of Sarah's estranged husband, Pete. "I've worked with Damon on quite a few occasions," Daina said, "And I think he's one of the best actors in Australia. Actually, the world."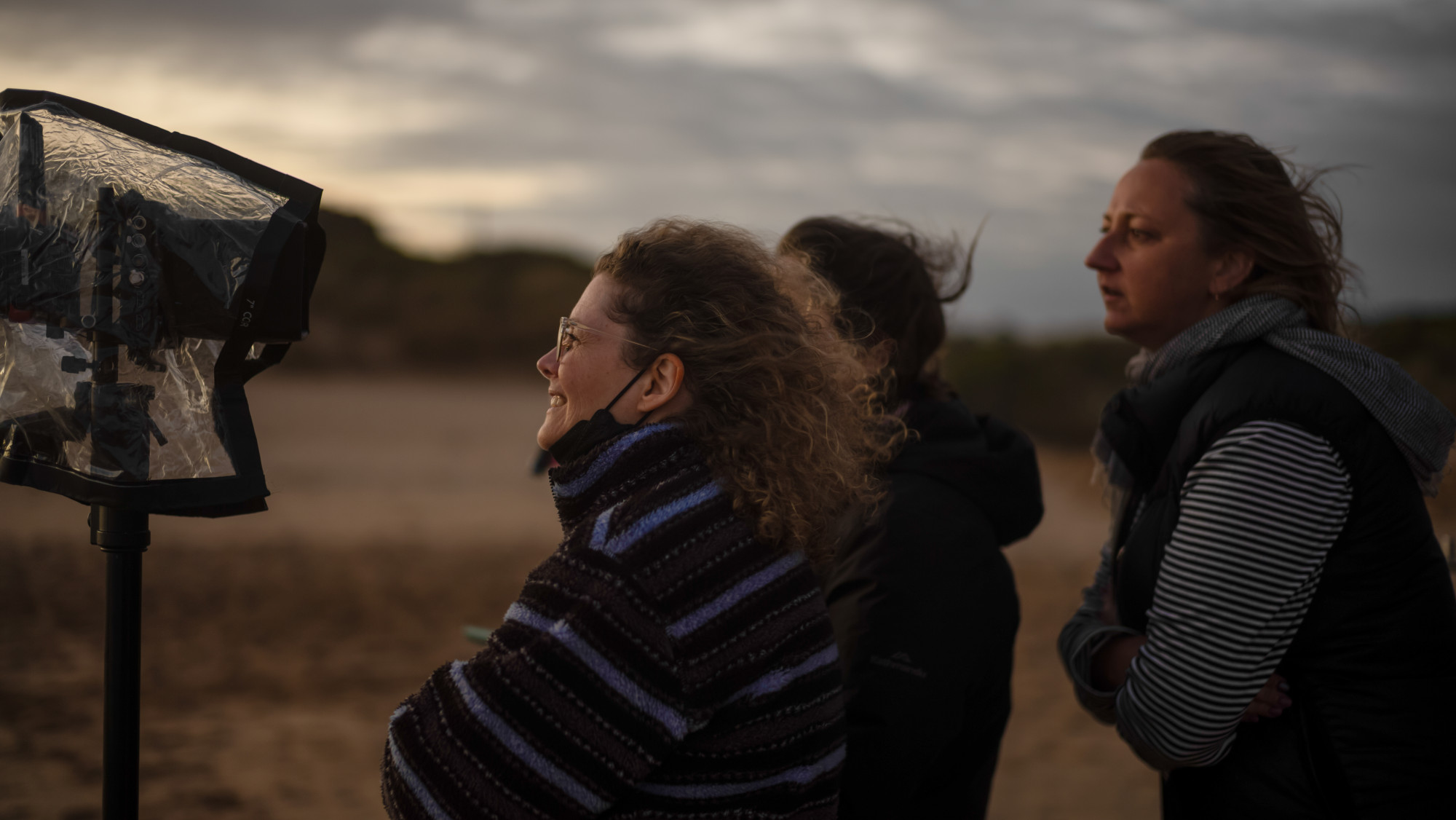 Daina Reid with crew members on location in Run Rabbit Run
Tackling themes of motherhood guilt weren't easy, but carried a sense of importance, Daina says. "I know when I became a parent, I was really worried about infecting my child with my foibles. You have that fear that you haven't done enough work on yourself, and that you're going to inadvertently spoil your child. That idea really compelled me to this story."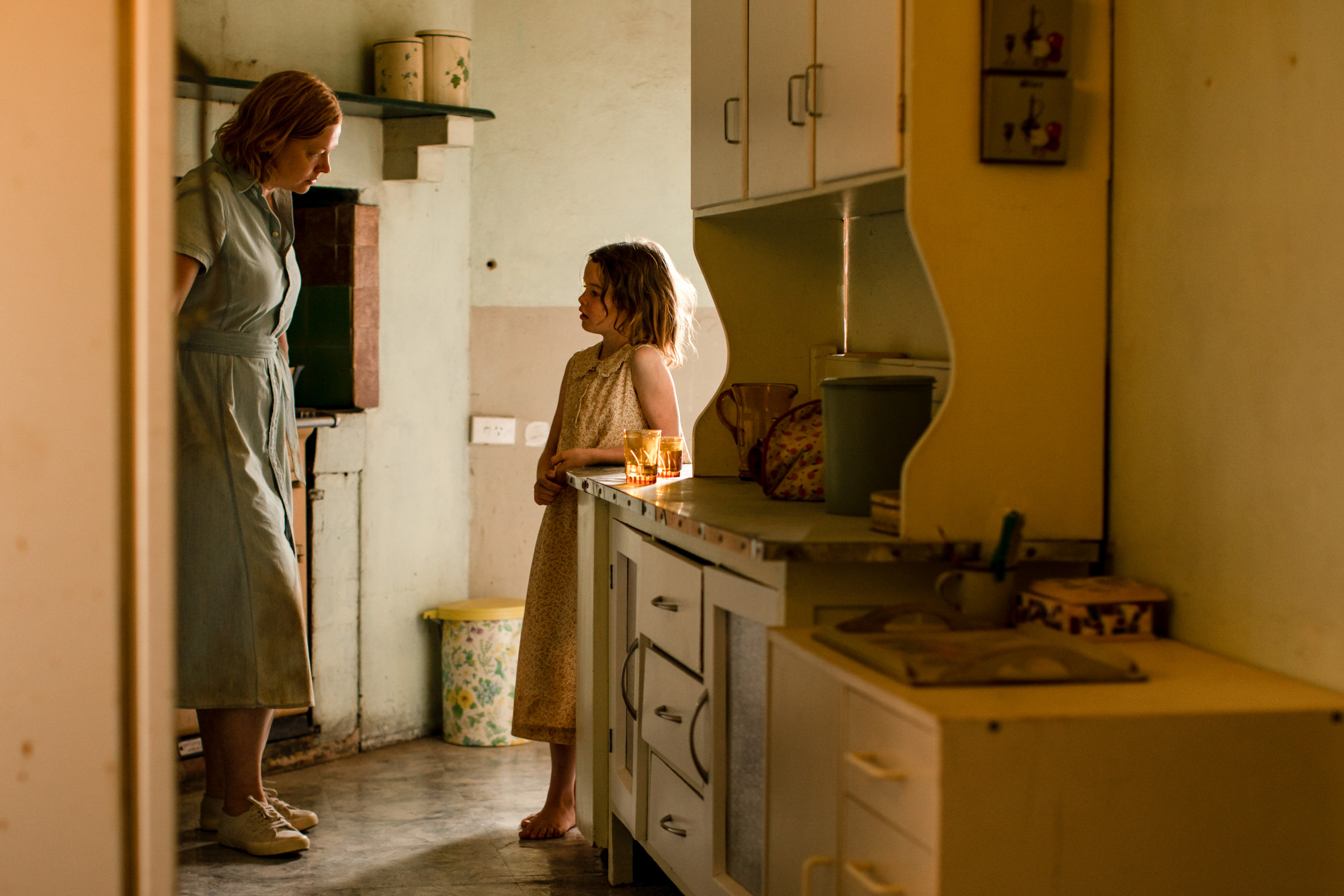 Sarah Snook and Lily LaTorre
Shooting Run Rabbit Run in rural Victoria and South Australia helped convey the duality of beauty and terror. "The locations we shot at were drought-stricken and today, they're fully flooded…it's a beautiful but threatening place," Daina reflects.
"It's amazing how many people overseas talk about the spiders and the snakes and the things that will kill you in Australia. There's a fascination with the beauty of Australia, but also with the fact you might die. I think that's fun. And I think people find that attractive, for sure."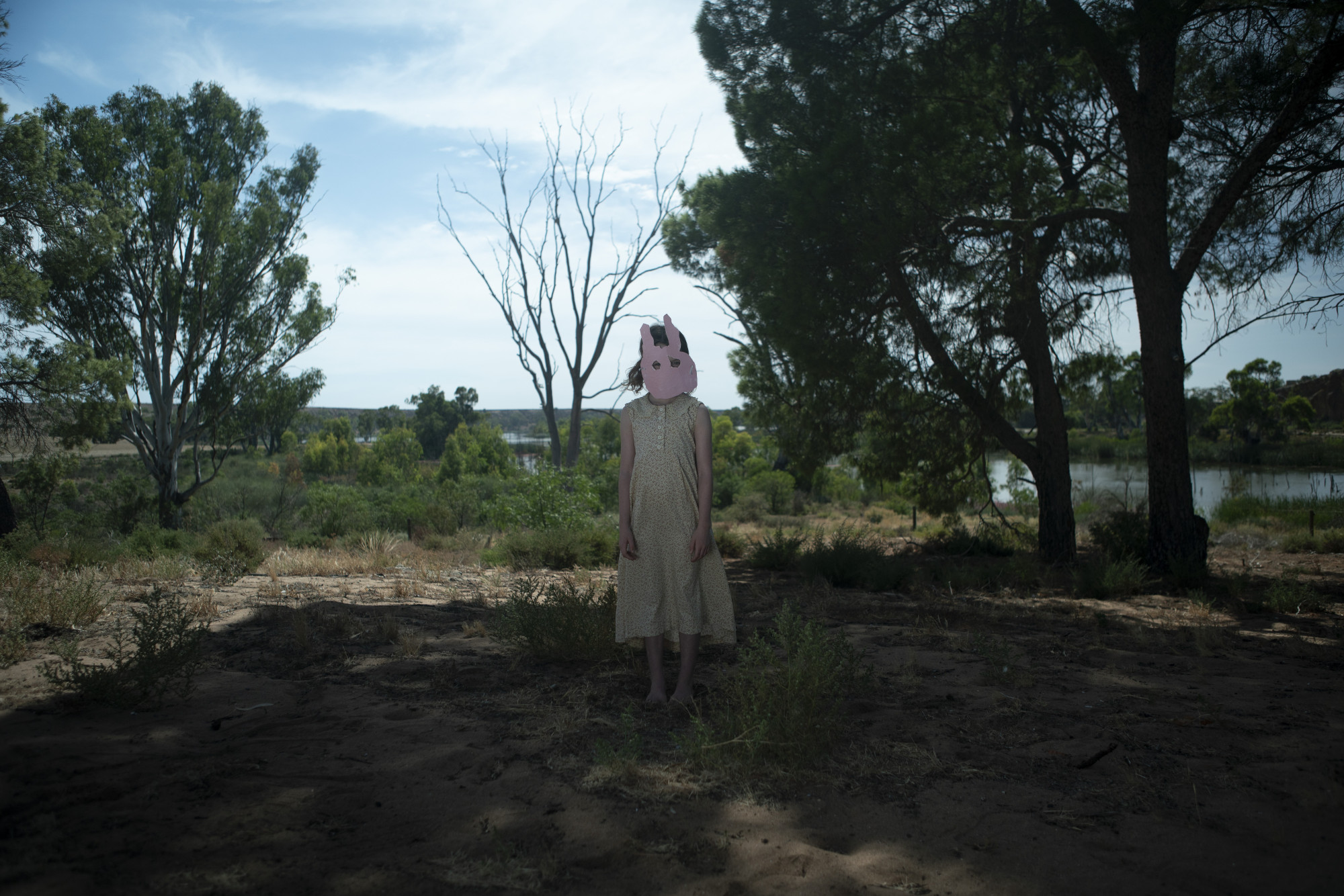 Lily LaTorre playing Mia in Run Rabbit Run
Run Rabbit Run is a cross-state project, with combined support from VicScreen, South Australian Film Corporation, and Screen Australia. "VicScreen have been so supportive…they supported my first director's attachments…they were instrumental in making sure that my trajectory kept going. [Run Rabbit Run] has been an incredible journey, and now that we're here, this is a very rewarding result…we're all thrilled."