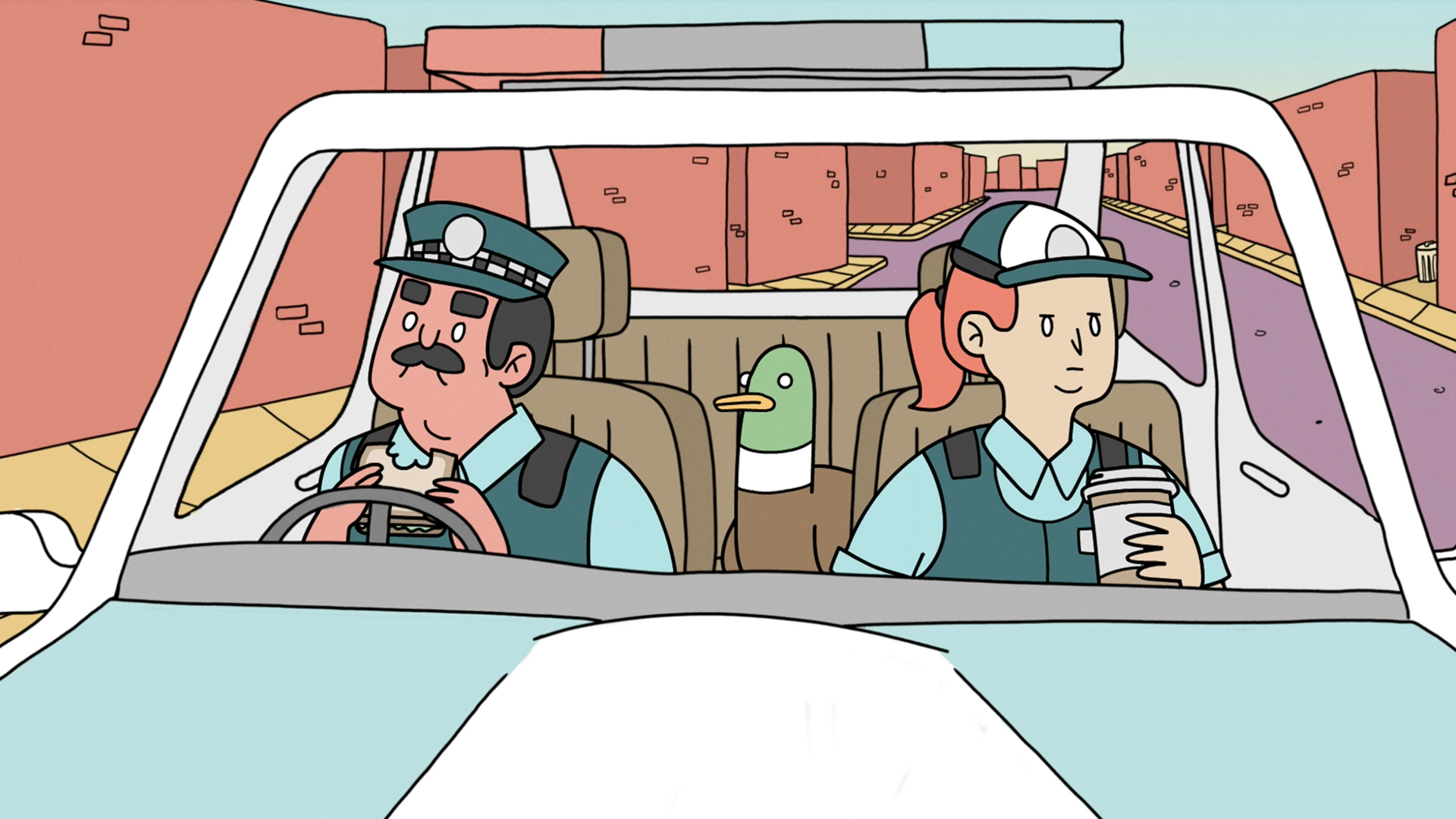 Still from The Future of Everything, featuring a duck in the back of a police car.
From the mind of online comic sensation Mike Greaney (@gricheal.meaney) comes the highly anticipated, animated absurdist comedy series The Future of Everything featuring a stacked cast including Tony Armstrong, Geraldine Hickey, Celia Pacquola, Vidya Rajan, Nath Valvo, Dane Simpson, Sammy J, Luke McGregor, Luke Heggie and more.
The Future of Everything is narrated by and dedicated to the late, great Uncle Jack Charles, and created on the lands of the Gadigal, Wurundjeri and Wathaurong people.
The show is written and directed by Mike Greaney (YOLO: Silver Destiny, Smiling Friends) and produced by AACTA-nominated producer Nicholas Colla and Nicolette Minster of LateNite (The Wizards of Aus, Rebooted).
The Future of Everything's first episode UNLIMITED DUCKS has launched to international audiences on YouTube, having premiered in competition at Austin Film Festival and Adelaide Film Festival, where it was nominated for Best Digital Series and Best Short respectively.
Featuring stories of a 40-something guy named Keith who's determined to fight God, a Government funded resort built to encourage intergalactic tourism, and internet-radicalised ducks at war with socialist seagulls, the 5 x 5 min anthology series projects Australia into alternate versions of the future, challenging toxic masculinity, housing affordability, online radicalisation and internet dependency through a satirical lens.
Creator Mike Greaney says "I can't wait for audiences to see The Future of Everything. I think we've created something that manages to be both politically prescient AND completely absurd and silly. To butcher an aphorism: there's a message in the madness."
The Future of Everything is a LateNite production, with principal production funding from Screen Australia and financed with support from VicScreen. Episodes premiere weekly on Wednesdays 11am on YouTube.