Here in Naarm (Melbourne) at VicScreen, we're celebrating NAIDOC Week. Exploring this year's theme 'Get Up! Stand Up! Show Up!', we've pulled together a list of 10 projects—supported by VicScreen or made in Victoria—across film, television, animation and documentary to watch.
Getting Up, Standing Up, and Showing Up can take many forms, and we invite you to move beyond acknowledgments by supporting and recognising the incredible screen practitioners, crew, and storytellers that are telling some of the most important stories today.
Off Country (2021)
Following the lives of seven indigenous students, Off Country shares the experiences of each child as they leave home to spend a year at one of the most elite boarding schools in the country.
Taking place at Geelong Grammar School, the documentary focuses on the internal struggles and conflicting identities each student faces moving between boarding and home life, strained by the chaos of the pandemic. Creating a historical record of Australia's key Indigenous education pathways, Off Country is a complex portrait of what it is to be an Indigenous child in Australia today.
Where to watch: SBS On Demand (July 7), Amazon Prime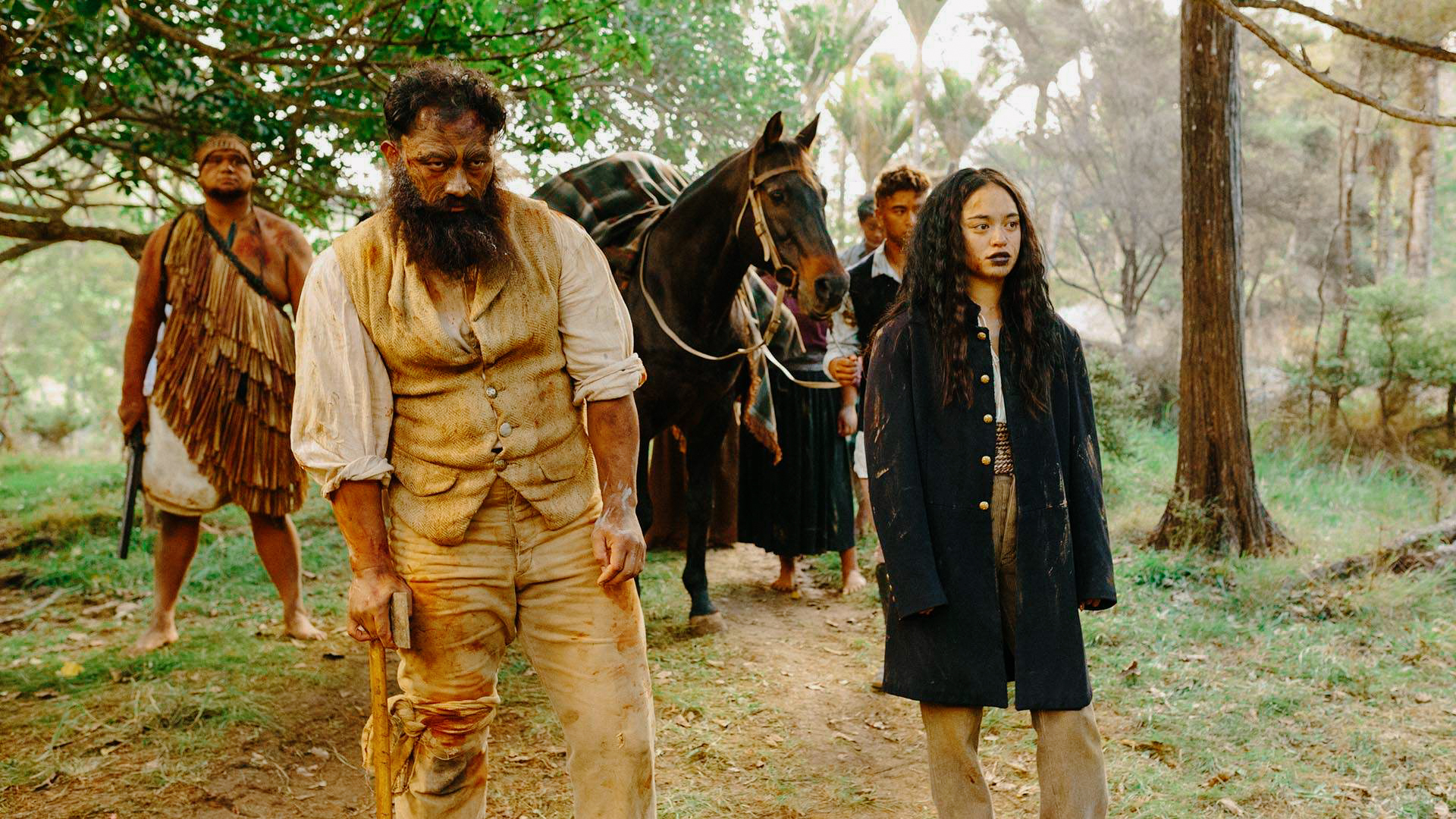 Image from We Are Still Here (2022). It shows a family returning from a battle, a Father and Daughter looking into the distance with resolve.
We Are Still Here (2022)
We Are Still Here is a sweeping tale that spans 1,000 years and multiple generations—from the distant past to a strange, dystopian future—to create an ambitious, genre-hopping anthology film that traces the collective histories of Indigenous peoples across Australia, New Zealand and the South Pacific.
Diverse in perspective, content and form, We Are Still Here is led by supervising director Beck Cole (Black Comedy; Making Samson & Delilah), bringing together Australian filmmakers Danielle MacLean, Tracey Rigney (Man Real, Endangered) and Dena Curtis (Jacob, Hush), with New Zealand filmmakers Chantelle Burgoyne, Richard Curtis, Mario Gaoa, Miki Magasiva, Renae Maihi and Tim Worrall. It tells eight formidable stories that embrace everything from animation, sci-fi, drama and romantic comedy, crossing terrains like grief, love and dispossession.
Where to watch: Melbourne International Film Festival 2022

Image from Wrong Kind of Black (2017). It pictures actor Clarence Ryan as DJ Monty Pryor, DJing at the decks in a slick fit wearing a leather jacket, open-button shirt and large belt.
Wrong Kind of Black (2017)
Set in the '60s and '70s, Wrong Kind of Black is based on experiences from the extraordinary life of Boori Monty Pryor, author and storyteller, who grew up in Townsville before moving to Melbourne to pursue modelling and DJing.
From the cops and crocs of Queensland to the disco dance floors of Melbourne, this is a hilarious, inspiring and heart breaking story of an Aboriginal man who stood against the tide of Australian racism, refusing to be labelled.
Where to watch: Netflix
Little J & Big Cuz (2022)
Little J & Big Cuz is the Logie Award-winning animated children's series that follows the adventures of Indigenous Australian kids Little J and Big Cuz living with their Nanna and Old Dog. With the help of Nanna and their teacher Ms Chen, they learn about culture, community and country.
With a star-studded voice cast as Little J (Miranda Tapsell), Big Cuz (Deborah Mailman), Nanna (Ursula Yovich) and Old Dog (Aaron Fa'Aoso), there's always something surprising going on whether it's at school, in the backyard or beyond.
Where to watch: SBS On Demand, ABC Kids + iview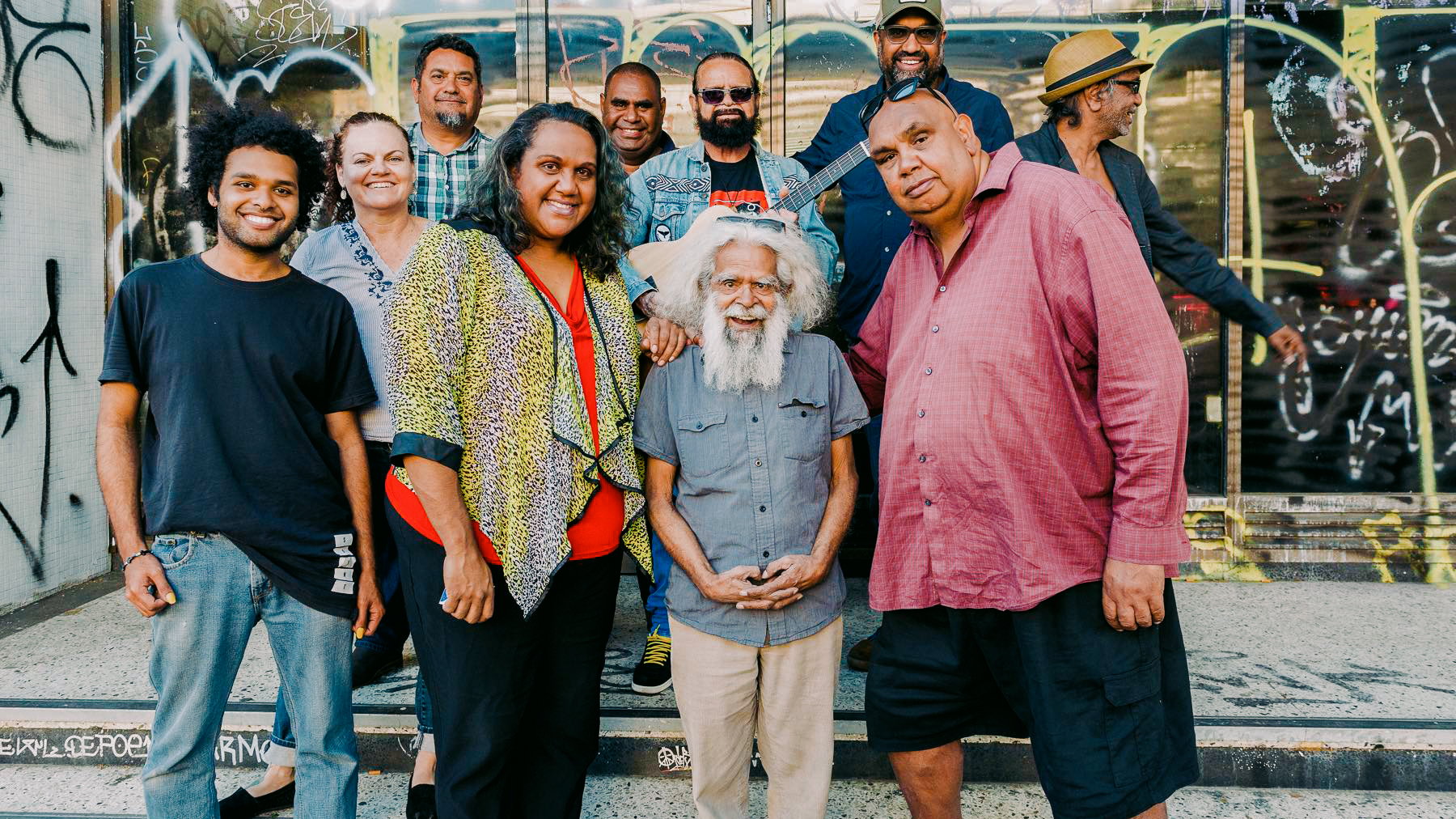 Image from Kutcha's Koorioke, featuring key cast members including Uncle Jack, Kutcha Edwards and others smiling at the camera.
Kutcha's Koorioke
Join Mutti Mutti man Kutcha Edwards and his celebrated passengers on a series of musical journeys through Wurundjeri country, the inner Melbourne suburb of Fitzroy. Jumping in the car for a ride and a song, Kutcha's Koorioke features a massive line-up of local talent, including Archie Roach, Dan Sultan, Alice Skye, Emily Wurramara, Uncle Jack Charles and many more.
Focusing on a strong Aboriginal connection with place and the musical talent of each artist, this feel-good series explores the personal inspiration and journeys of each guest, with the second season coming out in the near future.
Where to watch: Kutcha's Koorioke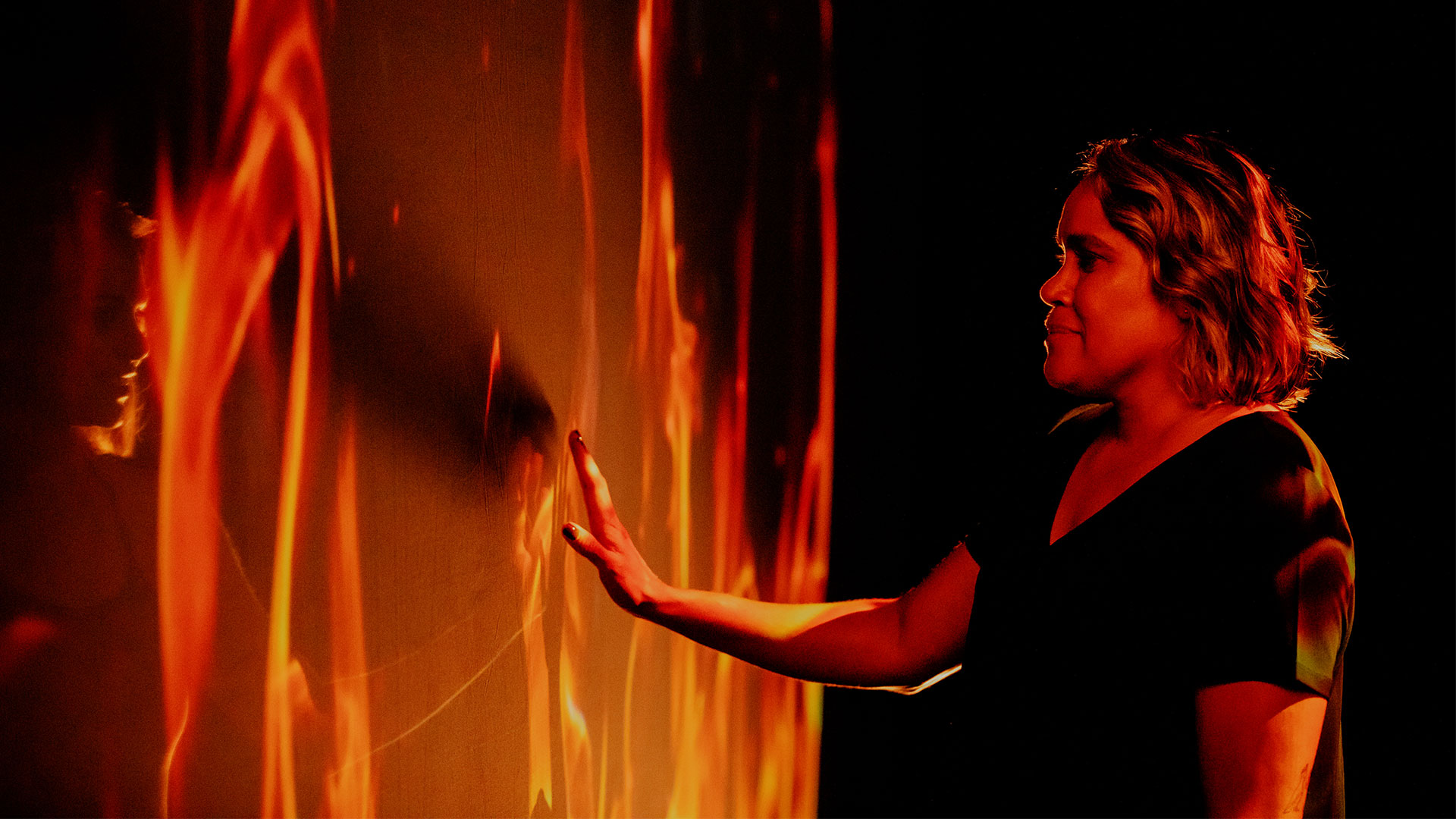 Image from Freeman, taken by Daniel Boud. Cathy Freeman touches a wall with an open palm, looking into the projection of flames reminiscent of the Olympic torch.
Freeman (2020)
Cathy Freeman's win at the Sydney 2000 Olympics is undoubtedly one of the greatest collective experiences in Australian modern history. Watched by billions of people worldwide, the 400-metre sprint on the evening of September 25 had everyone from Sydney to Arnhem Land glued to the TV. Twenty years later, Freeman explores the beauty of this singular moment and celebrates the power of human connection.
A cinematic portrait of the 49-second race, this doco shares archival footage and a series of intimate conversations with Cathy Freeman, taking us on a journey through her remarkable sporting career and the frenzied build-up to September 2000. Cathy's fast-paced climb to the top of the world is mirrored by the rise of a people's movement supporting reconciliation between Indigenous and non-Indigenous Australians as her story becomes the symbol of a much larger struggle for equality.
Where to watch: ABC iview

Image from Sweet As, taken by Nic Duncan via MIFF. Shantae Barnes-Cowan is walking an outback trail, looking off to the distance with a camera in hand.
Sweet As (2022)
Described as "The Breakfast Club meets the outback", Sweet As is an uplifting coming-of-age road movie by Nyul Nyul / Yawuru director, Jub Clerc (The Turning, The Heights). With problems on the home front, 15-year-old Murra is on the verge of lashing out—that is, until her policeman uncle thwarts her self-destructive behaviour with a lifeline: a "photo-safari for at-risk kids". While Murra isn't entirely convinced, she soon finds herself among new friends and experiences.
Starring Aboriginal luminaries Tasma Walton (Mystery Road, Cleverman) and Mark Coles Smith (Last Cab to Darwin, Pawno), Chilean-Cuban-Australian actor Carlos Sanson Jr (Bump), and a magnetic Shantae Barnes-Cowan (Total Control, Firebite) in the lead, Sweet As is sure to take you along for its thrillingly cinematic, life-affirming ride.
Where to watch: Melbourne International Film Festival 2022
The Art of Incarceration (2021)
Award-winning documentary The Art of Incarceration explores how art and culture can empower Australia's First Nations people to transcend their unjust cycles of imprisonment. Seen through the eyes of Indigenous prisoners at Victoria's Fulham Correctional Centre and narrated by Uncle Jack Charles (Boonwurring Dja Dja Wurrung), this feature documentary follows the inmates' quest for cultural identity and spiritual healing as they prepare for life on the outside.
Following three main artists at different stages of their artistic development and 'rehabilitation'—both within the eyes of the system and within their own introspective consciousness—the film both analyses and humanises the over-representation of Indigenous Australians within the prison system, whilst seeking answers and striving toward solutions.
Where to watch: Netflix

Image from Treaty docuseries, featuring a person in a "Treaty for Victoria" t-shirt, looking off camera.
Treaty (2020)
A documentary series made up of four short films that explore what Treaty means to Aboriginal people in Victoria today, Treaty tells individual stories through the lens of emerging Aboriginal filmmakers.
From young Aboriginal people voicing their questions and concerns to Nayuka Gorrie realiseing their position on Treaty has evolved, the short episodes uplift community opinions and give insight into the discussion.
Where to watch: SBS On Demand
The Australian Dream (2019)
The Australian Dream is a must-watch documentary that uses the remarkable and inspirational story of Indigenous AFL legend Adam Goodes as the prism through which to tell a deeper and more powerful story about race, identity and belonging. Unravelling the events of the 2013-15 AFL seasons, the film asks fundamental questions about the nature of racism and discrimination in Australia today.
Walkley award-winning writer Stan Grant and BAFTA award-winning director Daniel Gordon join forces to tell this remarkable story of one of the most decorated and celebrated players in AFL history—a man who remains a cultural hero; the very epitome of resilience and survival, who continues to fight for equality and reconciliation. As Stan Grant writes, " If the Australian Dream is rooted in racism, what can be done to redefine it for the next generation?"
Where to watch: ABC iview
NAIDOC Week is a national celebration of Aboriginal and Torres Strait Islander peoples, history and culture, and runs from July 3-10. Join the conversation #NAIDOC2022.